7 Best Alternatives to 10 Minute Mail in 2018

10 Minute Mail is one of the popular disposable email providers on the internet. It provides you with a new temporary email whenever you open the website.
The temporary email is valid for just 10 minutes.
In case if you are not interested in using 10 Minute Mail for whatever reasons, there are some really good alternatives to it.
We've jotted down some of the best alternatives to 10 Minute Mail.
Some of them are better than 10 Minute Mail with unique features.
What is the purpose of a temporary email?
Filtering through the thousands of junk and spam emails in your email inbox is not an easy task. It eats away lots of time and it's the most boring task ever.
Disposable emails or temporary emails are meant for avoiding the messy inbox.
You can give a temporary email to new contacts or unknown websites instead of your REA (Real Email Address). Once you find that the contact is sending spammy stuff to you, you can just delete your disposable email.
Here are some of the advantages of using a temporary email service.
Keeps the risks away by securing your personal information.
You won't have to deal with the messy inbox.
You can use temporary emails on rewards websites.
You can evaluate a new website by signing up first with temporary email.
Alternatives to 10 Minute Mail

MailDrop is an opensource throwaway mail provider. Unlike 10MinuteMail, MailDrop allows you to choose your email address.
You'll get an email address like example@maildrop.cc. Most of the online website forms accept the email addresses from the @maildrop.cc domain. MailDrop is often appreciated for its powerful spam filters and security.
Once you get an email address from MailDrop, you can see the inbox whenever you enter your email address on the website. It's that simple.
There is no privacy.
Anyone can enter your email address and have a look at your inbox. There are no passwords or signups to access your email from MailBox.
It discards all the attachments. Before any email makes it way to your MailDrop inbox, it must go through dozens of spam filters.
So, it ensures that your email is not flooded with spammy messages.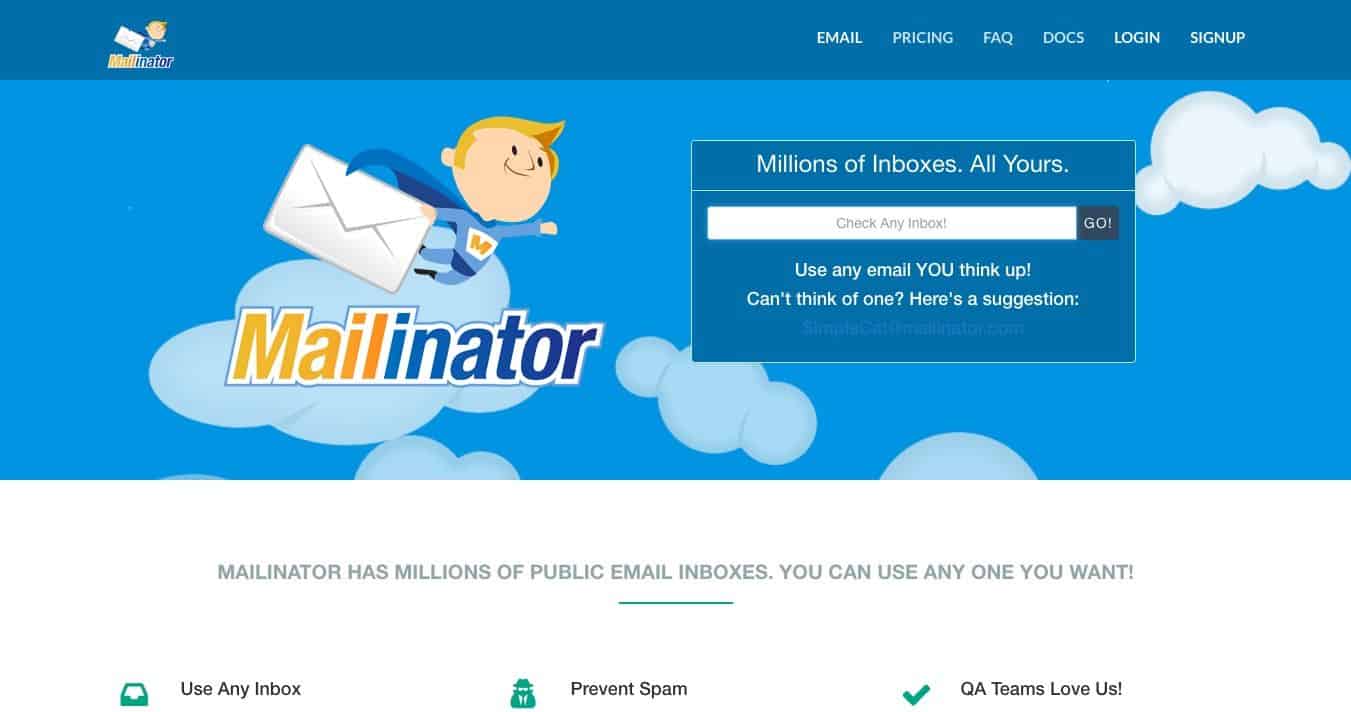 Mailnator is has got millions of public inboxes just like MailDrop. It has been a reliable disposable email provider since 2003.
Basically, you don't own any email address from Malinator as it is very public and anyone can access it. There is no privacy, no password and signing up is not required.
All the emails in the Malinator inbox will get deleted in a couple of hours. Unline MailDrop, Mailnator is a receive-only email service. You cannot send emails from Mailinator email. It uses mailnator.com domain to provide email addresses.
In case, if the website is not allowing your signup using @mailnator.com email address, Mailnator provides the email addresses with alternative domain names.
Mailnator also provides a private email service for the teams. It costs you around $1500 per year for 5 team accounts and 2000 emails per day.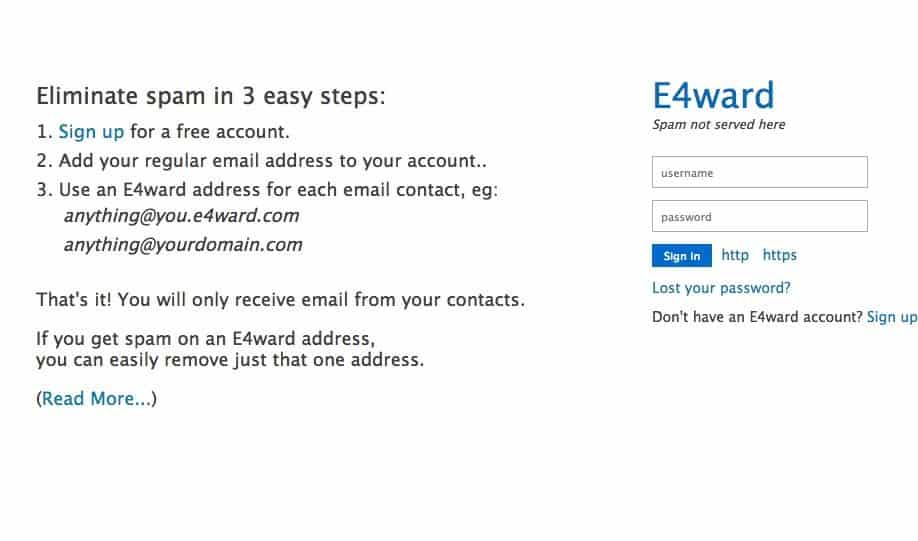 E4ward email service is super efficient when it comes to preventing spam to your real or official email address. It's a humble and a handy disposable email provider which allows you create as many aliases as you want.
You can create an alias for each and everyone in your contacts.
All the aliases forward the emails to your real email. If you notice any spam from one of the aliases, you can just delete it and create a new alias. E4ward creates the aliases with username.e4ward.com.
However, you can also use your own domain.
E4ward works like a charm to protect your privacy. You can send email from the aliases without revealing your real email address.
E4ward is much more than a temporary email.

Fake Mail Generator has been there for a long time. The core intention of Fake Mail Generator is to keep bots and spam away from your disposable email.
It is super easy to use Fake Mail. Just visit the website and you'll see a temporary email on the home page. It has a simple interface which helps you to create an email real quick when you are in hurry.
There is no official destruction process for the temporary mail from Fake Mail Generator. In case if you want to change the email address of your temporary email, you need to just tap on the "Change" icon and enter your choice of name for the email address. You can choose the email extension from a bunch of ten domains like @armyspy.com, @jourrapide.com, @gustr.com etc.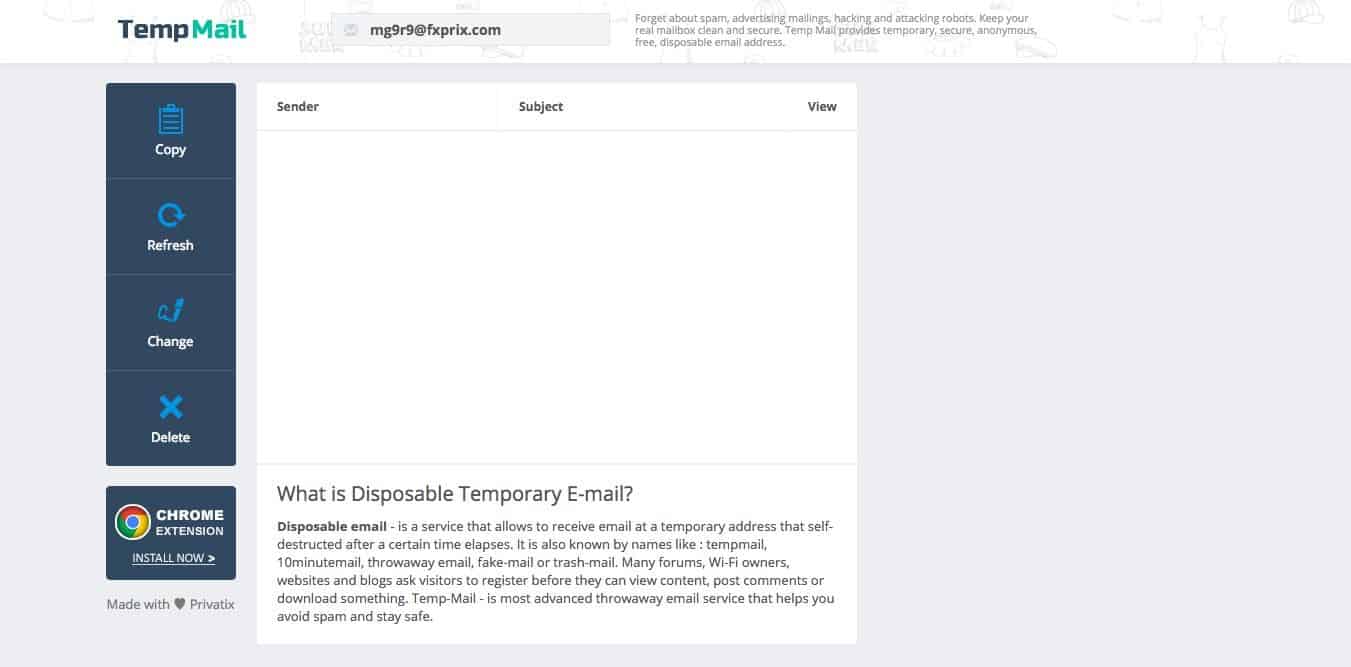 TempMail is one of the popular temporary email services. The unique thing about TempMail is if any two people choose the same alias name then they both receive the same emails.
So, there is no privacy when you use TempMail. There is a special feature in TempMail which allows the user to access multiple domains.
As there is no privacy, TempMail is not recommended to signup for any websites. There is a good chance of it getting hacked by someone who is using the same alias name. It's easy to get your email address from alternative domain names.
Click or tap on the change icon to change the domain name for your temporary email address. You can also download in from playstore.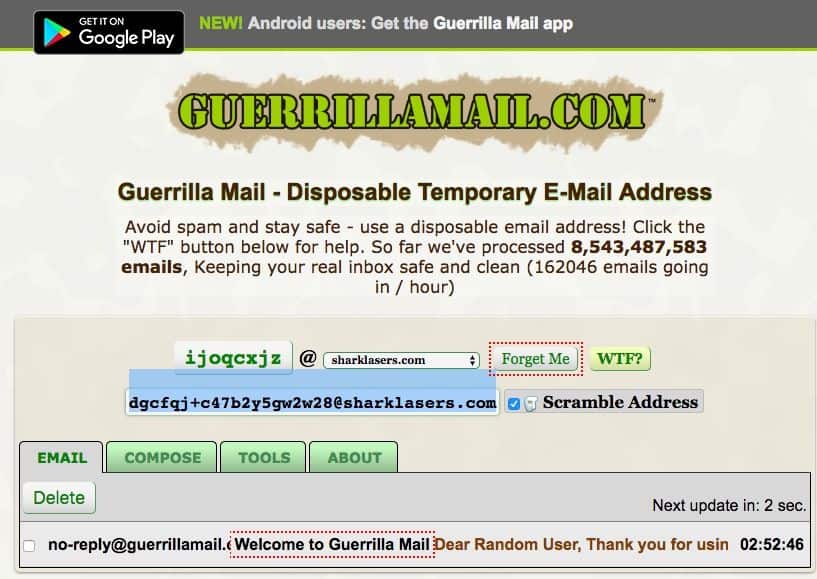 If you are searching for an efficient anti-spam temporary email service provider, you must give Guerrilla Mail a try. You can get a professional email address from Guirella Mail by adding a custom domain to your account.
Note that even the custom email address is a temporary one.
Inbox auto-refreshes for every 10 seconds which is cool. It's easy to start using Guerrilla Mail as the homepage is very basic and straight to the point. The stats on the homepage shows that there is over 15000 email being sent or received using Guerrilla Mail.
You can also access Guerrilla Mail from Android devices by installing its app. It is currently available on Google Play Store. It has over 10,000 installs with 4.0 rating on Google Play Store.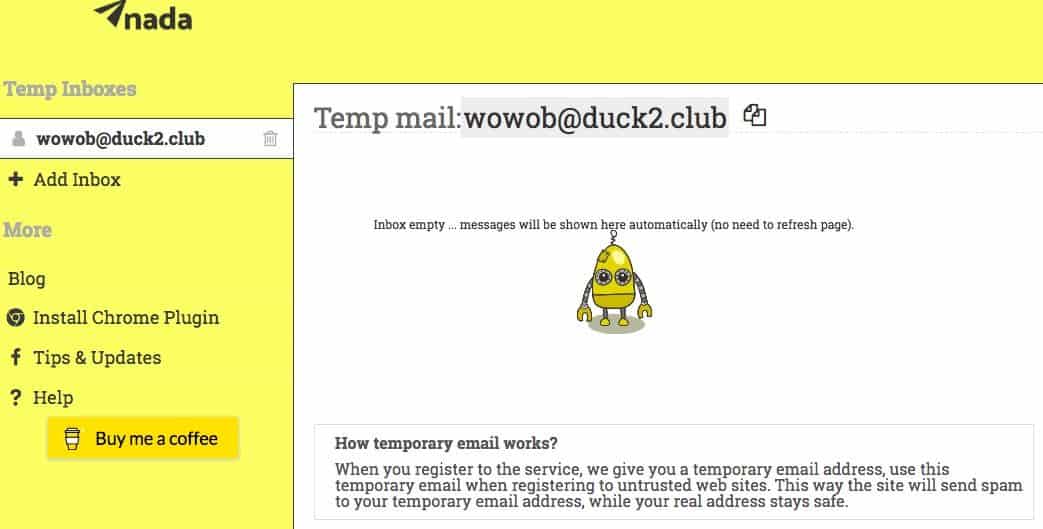 NADA provides a simple interface for using temporary email services. The most used domain for providing email addresses is getnada.com. It can be used in place of your REA. There are more than 10 domains which provide different email extensions like @cmail.club, @duck2.club, @amail.club, @cars2.club etc.
There is an option to add a random disposable email address.
The subsidiary temporary email providers include GivMail and AirMail. NADA is developed by the developers of AirMail.
You can use NADA email till the domain expires.
Of course, you will be notified one month before the domain expiration date. It's easy to create domain combinations and multiple aliases using NADA email.
Just tap or click on the Add Inbox button and you are good to go.
Once you are done with the alias, you can delete it whenever you want.
Wrapping up…
Though 10 Minute Mail is an excellent temporary email provider, there are many other services who are providing temporary emails with some additional features.
We hope our post helped you to know about some of the best disposable email service providers alternative to 10minute mail.
Please let us know if we miss anything in the comments below.