Recover Lost Samsung Contacts with DiskLab for Android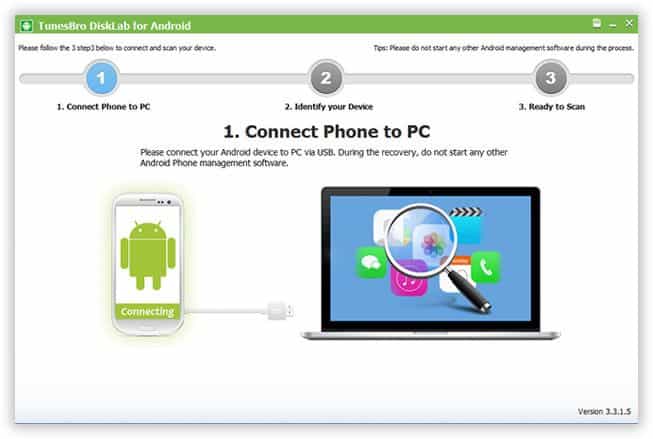 Contacts are an essential part of each smartphone.
Have you accidentally deleted all the contacts in your smartphone and also don't have a backup of your contacts to restore?
Well it's a serious problem. But there is no need to worry at all. There is always a solution to every problem and you have Disklab data recovery software from TunesBro which will help you recover all data including your lost Samsung contacts easily.
The Disklab software is one of the most popular data recovery tools for Android devices as it is quick, safe and easy to operate. You can also preview all your lost contacts and only restore the contacts you want with the Disklab software. Now let's take a look at how you can recover lost Samsung contacts with Disklab for Android:
Download and Install Disklab for Android
First step is to download Disklab for Android and install the software on your computer based on the instructions provided. Once the installation is completed, you can start the Disklab data recovery software from the desktop shortcut or from the startup menu on your computer.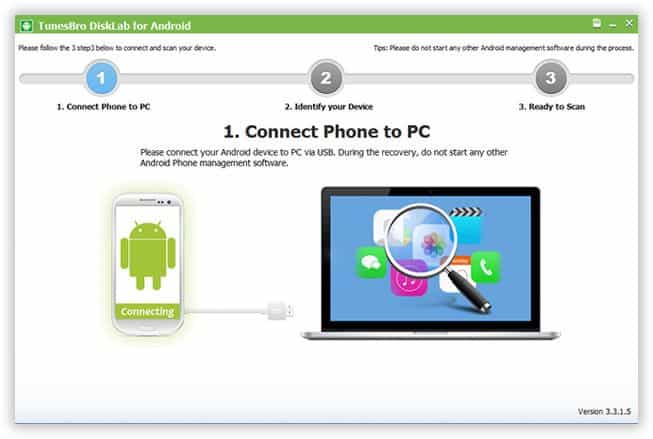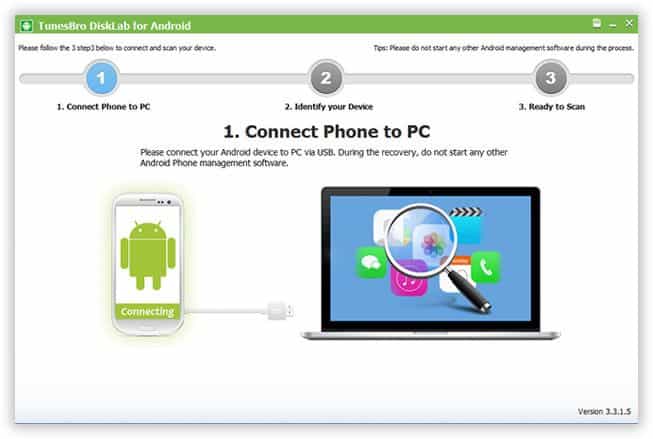 Turn on USB Debugging option
If you need your computer to communicate with your Android phone easily, then you need to enable the USB debugging function as any data recovery software like Disklab can easily communicate with the Android devices to send messages directly through the help of the USB debugging option and recover the needed files easily. If you know how to enable USB debugging, then skip to next step, or else read on to know about how to enable this option:
Go to Settings Click Developer options
If you don't see Developer options in your Settings menu, don't worry, it just takes seconds to enable it. Just go to Setings About Phone option.
In the About Phone screen, you can see the last item as "Build Number". Just click the Build Number 7 times and you will see the Developer options enabled
Now click Developer options and scroll down in the screen and enable the "USB Debugging" option
Connect Your Samsung Smartphone with Your PC
Now that you have successfully enabled the USB Debugging option, it is time for you to connect your Samsung Smartphone with your computer using an USB cable. You'll see the name of your Samsung Smartphone appearing in the screen immediately. If you don't see your phone's name in the Disklab software, it means your USB driver is outdated and that is the reason it is not showing. Update the latest driver and then try connecting your Samsung smartphone and your phone name will start showing now in the screen.
Scan for Lost Contacts
Now the Disklab software will start scanning your phone after the USB debugging is enabled. The scanning process will analyze all the data to search for the lost contact in your Samsung smartphone. The scanning process will normally take around 10 minutes to complete.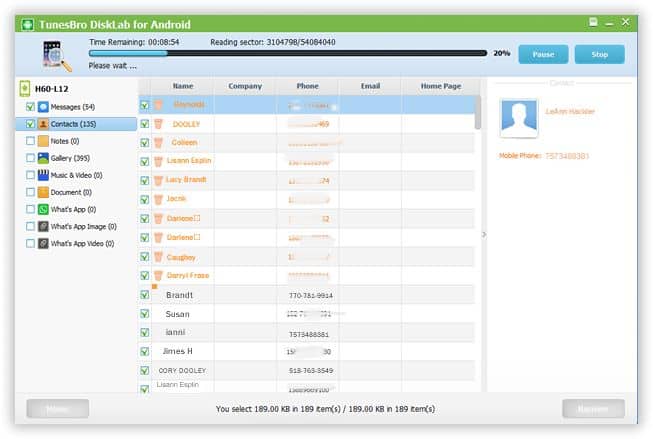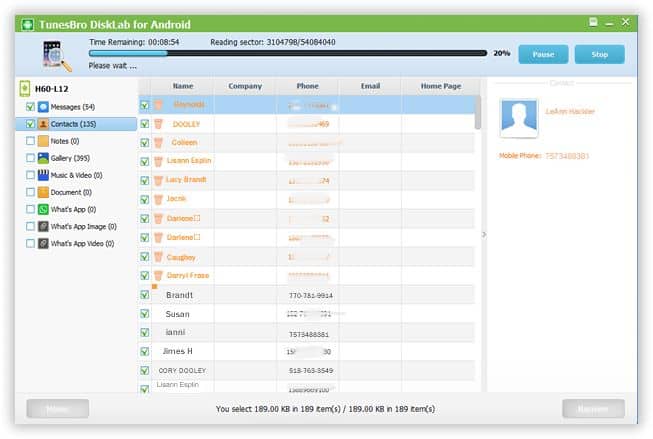 Recover Your Lost Contacts
Once the scanning process is completed, the software will automatically list all the deleted contacts in your phone for your preview. You can view all the contacts and select only the contacts you want to recover and then click the "Recover" button to recover all the contacts to your computer.
Hope the above guide to recover deleted Samsung contacts with the help of the TunesBro Disklab software is helpful for you to understand how to recover your lost contacts easily from your phone. As usual, send in all your queries and suggestions to us and we'll be happy to respond to all your queries immediately.