Chatwing Review- A Leading Chat Software in the Business
If you are in online business then you must take the advantage of real-time interaction with the customers. Usually, it has been seen that if you are resolving your customers' issue quickly, there is 54% chance that they will sooner or later get converted into a sale.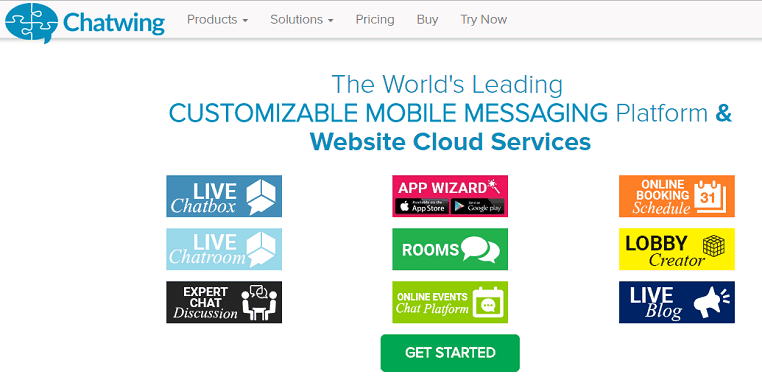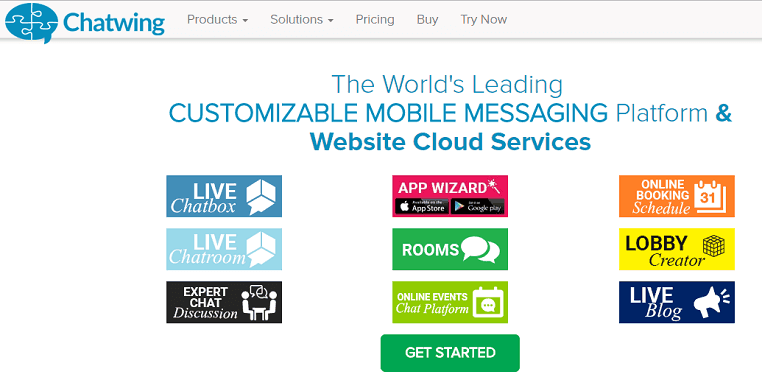 But the question is how to interact with your customer in real-time?
Well, you can add chat software in the website for the same. There is many chat software available in the market which you can try. But the one I recently tried is the Chatwing and found it quite helpful.
The best thing is you can even use it for free initially and later once your business needs more, you can subscribe to the paid plan. We will discuss the pricing options later in this post.
Chatwing Review
Chatwing is a leading chat software company helping you talk to your customers in real-time. Nowadays, people go with the brand who provides 24×7 supports and that too through chat and calls. Because no one wants to wait for hours just to get the response or resolution. And so, the demand for a good chat software has increased.
Chatwing offers all the features and integrations one should look for and you can easily create chat room for website. You can handle the chats through website and apps easily. Also, there are many other features which will make you productive and help handle the operation of your business.
Let's start and see some of the amazing features of Chatwing which you will be using throughout the software.
Create Chat Room and Integration
You can easily create the chat room from the Chatwing dashboard. If you are working on WordPress or Drupal platform, you can also download the plugins and extension. This will help you create the chatroom from the plugin itself. Just you need to enter the code of Chatwing on the plugin to activate it.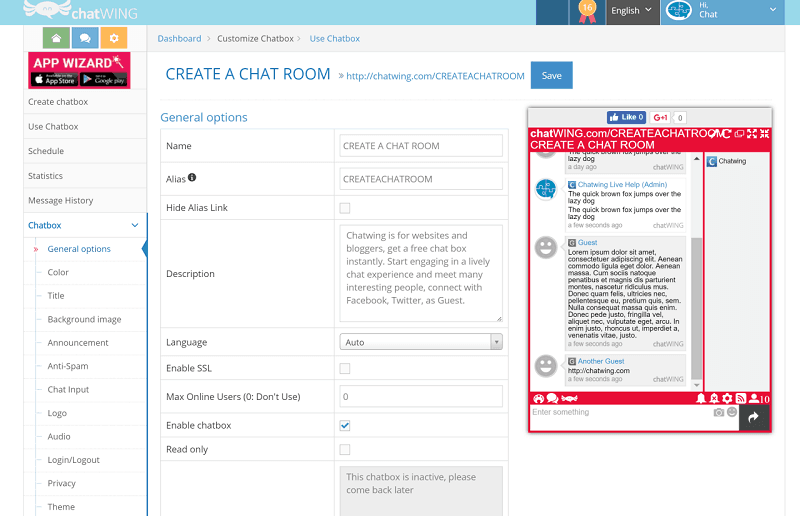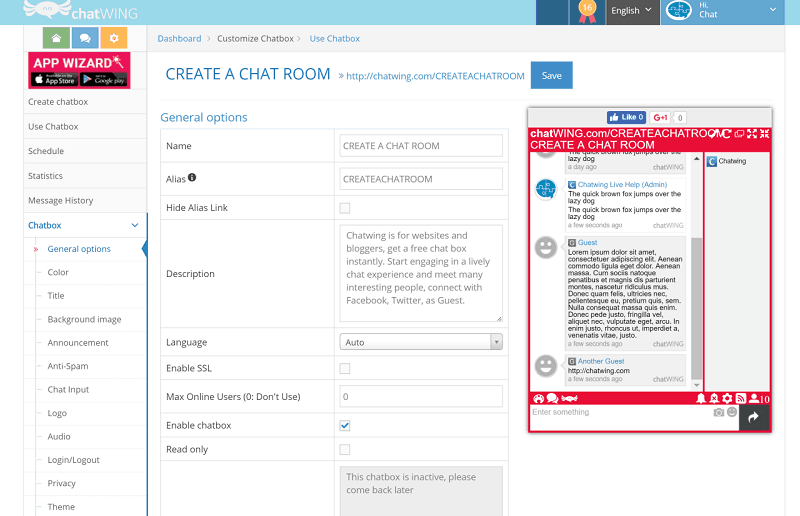 Add Chat Agents & Templates
You can add as many chat agents in the chat room as you want. Also, it allows you to add role based access so that they can handle the stuff as per their role. Also, you can add some templates like thanks for contacting etc. for the quick response and reply.
Such templates help your chat agents extends helps quickly and so response time will be quicker and faster.
Integrations & Apps
Chatwing allows direct or indirect integrations with many platforms like WordPress, Facebook, LinkedIn etc. and help you connect easily. Also, Chatwing allows ten plus social login which again you can customize allowing your customers to log in.
Chatwing also offers dedicated apps for iOS and Android. And the best thing is Chatwing will customize the apps as per your need. They will add your logo, make it look like your company's app etc. This helps in branding and promotions as well.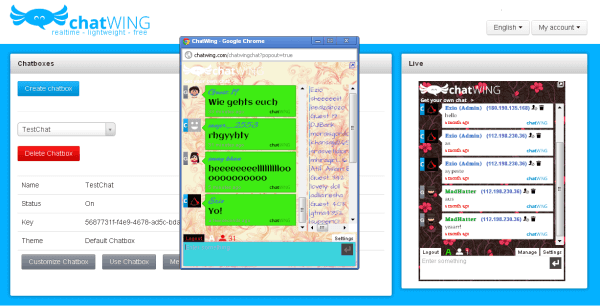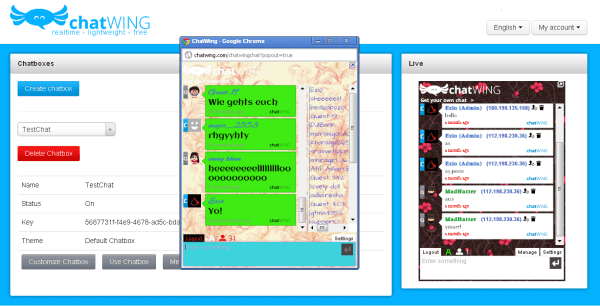 Calendar and Meetings
This is the extra feature I liked about Chatwing. You can connect your calendar with Chatwing which allow you the customer to schedule meeting with you. This will help you stop the collide the schedule with other meetings. Once someone will book an appointment with you, you will receive a confirmation through both email and SMS. And the person who has booked it, they will also receive confirmation.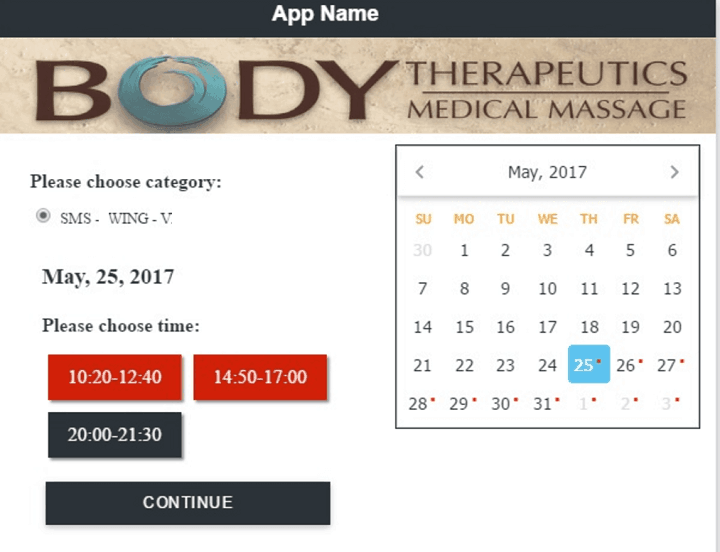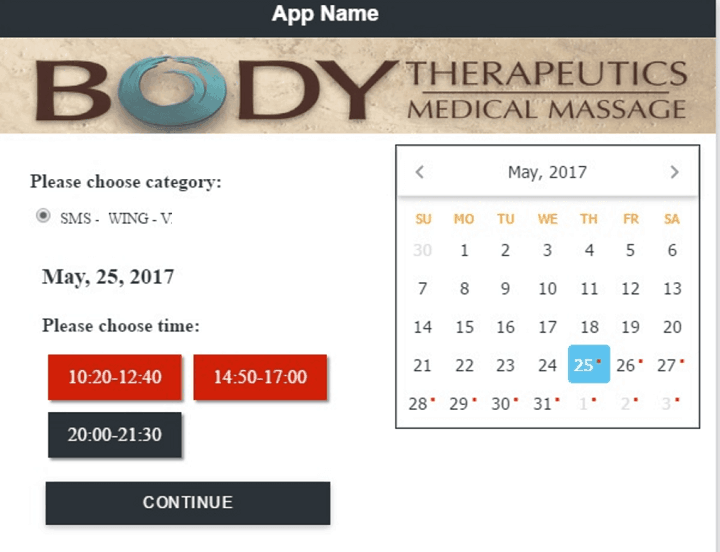 Pricing of Chatwing
Chatwing offers both free and paid plans. The plan depends on the chat room you want. The paid plan starts at $11.2/mo. If you sign up for a yearly plan. For monthly it is $14 per month. You can check more about pricing below.


Conclusion
Chatwing is a leading software where you can easily integrate the chat software on your website. Once someone will start the chat, you will get notifications, and your agents will be able to handle it. Even the chat can be transferred to other chat agents.
If you're dealing online, you must take the benefits of chat and real-time interaction for best benefits.