SendPulse: Most effective Bulk SMS, Email Marketing & Campaigning Service with AI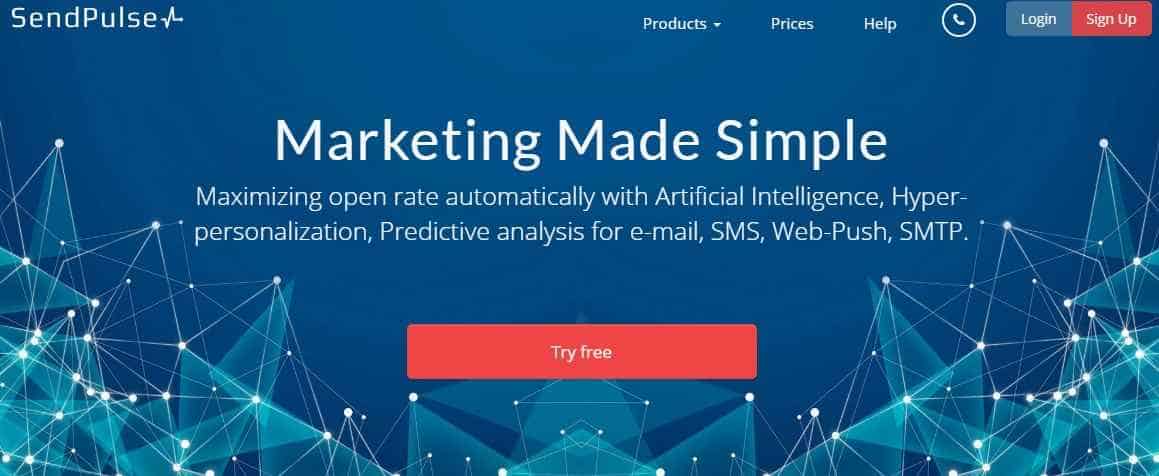 No matter how good your product is, it is ultimately marketing that will bring lead for your product. There are some cases where word of mouth has done a marvelous job but most of the time you will need an effective marketing campaign for your excellent business product. Even if your product is of top notch with 100% perfection you cannot solely rely on word of mouth advertisement. You never know, some new player come and kick you out of the market.  So it ultimately boils down to that you need to have a good progress of your business all the time.
There are tons of marketing companies that are always ready to provide services. But it all ends down to how much potential lead they can get for you. Not only this, if you target people through different mediums then you can further sort out the best marketing medium for your product.
Recently I came to know about one of the best marketing platform i.e. SendPulse.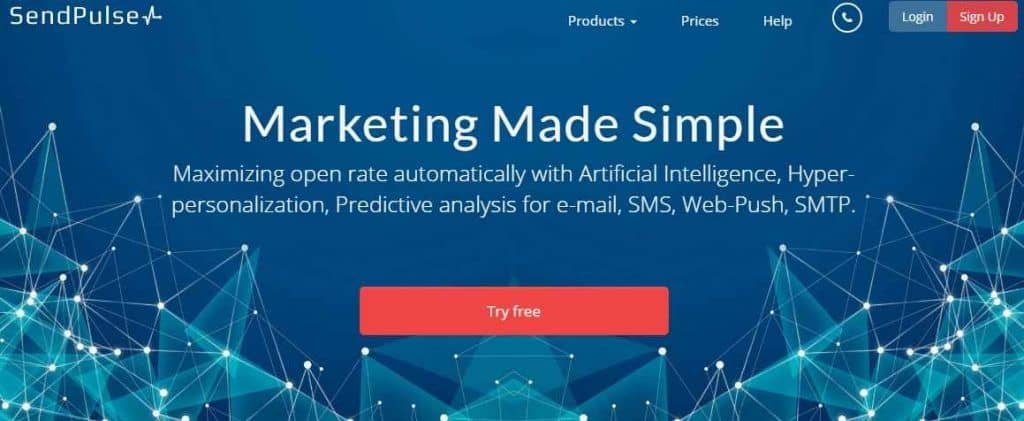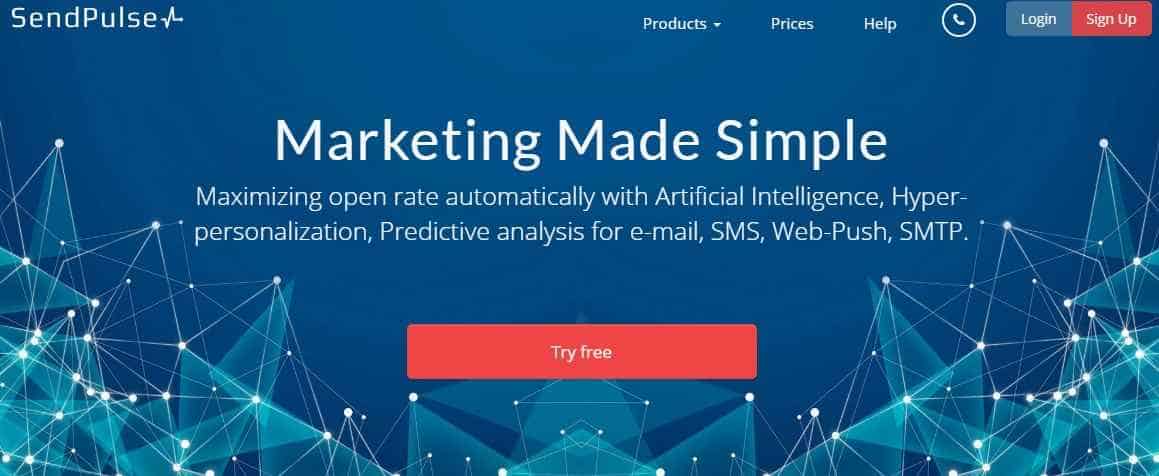 This is an advanced marketing platform which has an artificial intelligence system to get the maximum conversions and lead from the given marketing budget. It has all the necessary tools, content and other creative ideas to make your marketing campaign successful.  You can also read out benefits of direct mail remarketing and white label adwords remarketing services
Introduction to the SendPulse
SendPulse is an online platform that provides various marketing services, notably push and email notifications.
There are lots of other marketing companies.
Why only choose SendPulse?
Here is my answer.
The next level of artificial intelligence system.
It can predict the email-opening time, their behavior, interest and many more of your user. This is the main reason why The Next Web featured SendPulse in best startup of 2016.
SendPulse is not only into email-marketing services but they also provide bulk SMS service, SMTP, web push notification for your business. You can now target many sector at once with maximum lead gains through only one company.
How to start marketing with SendPulse?
If you don't believe my word and cannot agree that SendPulse is one of the best of its kind, then will believe after knowing this feature. SendPulse has a free plan for lifetime.
Surprised?
The free plan of SendPulse will give you a good idea about its marketing strength.  Although the free plan have some restrictions but you will get full capability and feel of SendPulse. If you try this service for free once then I am sure you will definitely opt for its premium plan later and enjoy your marketing lifestyle at your own comfort. However, You can go with free plan forever too but it doesn't simply suit for everybody. As your business will grow big then you will need high level for your marketing. But don't worry SendPulse pricing are pretty much affordable. 
SendPulse has also a great drag and drop editor to make things simpler for its user. Editor provides all kind of editing functionality. I will now stop telling about functionality and will describe about how you can take maximum marketing benefit from it.
Also Read : How to hack into someones phone ?
First thing first, go to SendPulse and register for free.
Verify your email id.
Inside SendPulse
Easily Manageable SMS & Emails
Now sign in with your credentials. It's interface is one of the best in the industry. The first page after login will directly tell you all the SendPulse functionalities.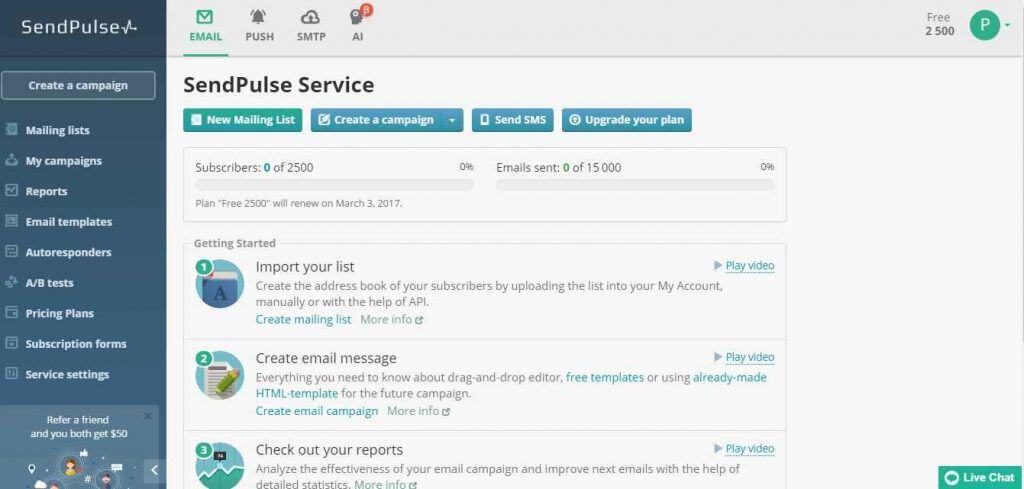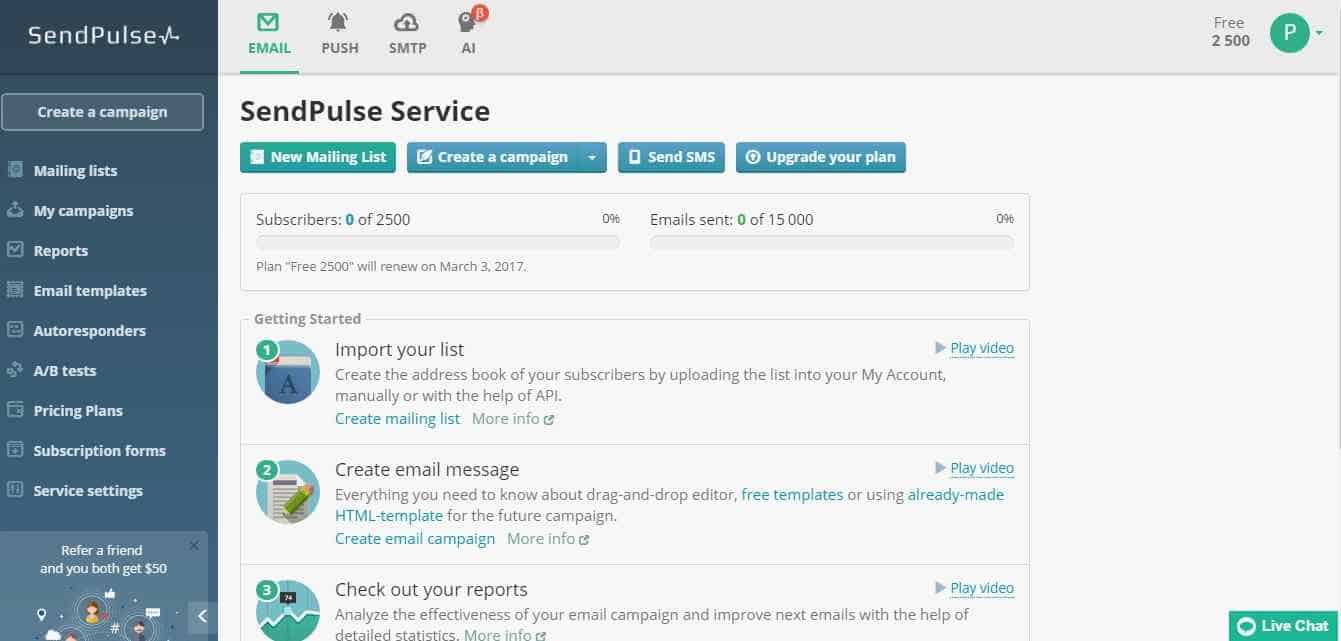 Here you can create your first marketing campaign for free. There are a lot of attractive things you can do with SendPulse. If you are using this for the first time then you will need to import your email list first. After that you can create your first marketing email from the available templates or HTML template. These template are fully customizable and you can make them the way you want according to your need. If you want to take a backup then you can do this via exporting data in CSV, XLS and XLSX file formats.
Simple & Effective Campaigning
Even if you are new to the marketing then you also don't need any guidance here. All things are quite easily understandable. You only need to focus things on first time. Next time when you are again going to market, just edit and tweak the templates a little bit and that's it. You are good to go.   
SMS campaigning & AutoResponder
If you are on the free plan then you can contact 2500 subscribers and 15000 monthly emails. These features are more than enough to test SendPulse functionalities and do a bit of marketing for free.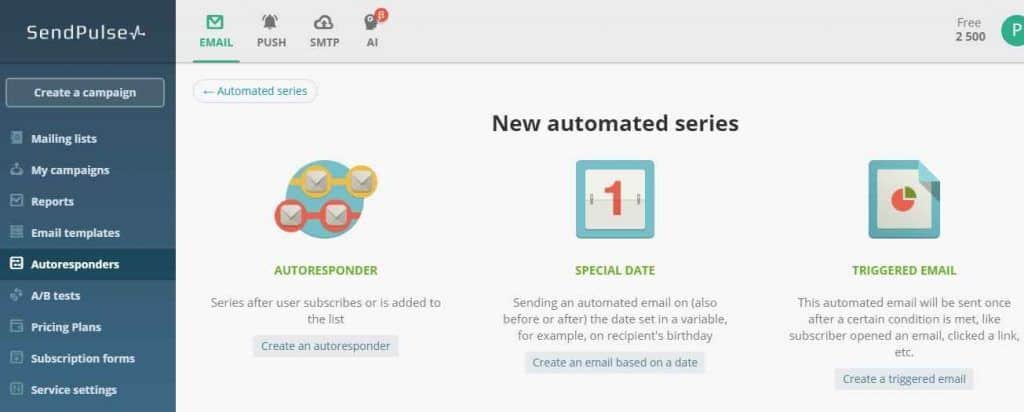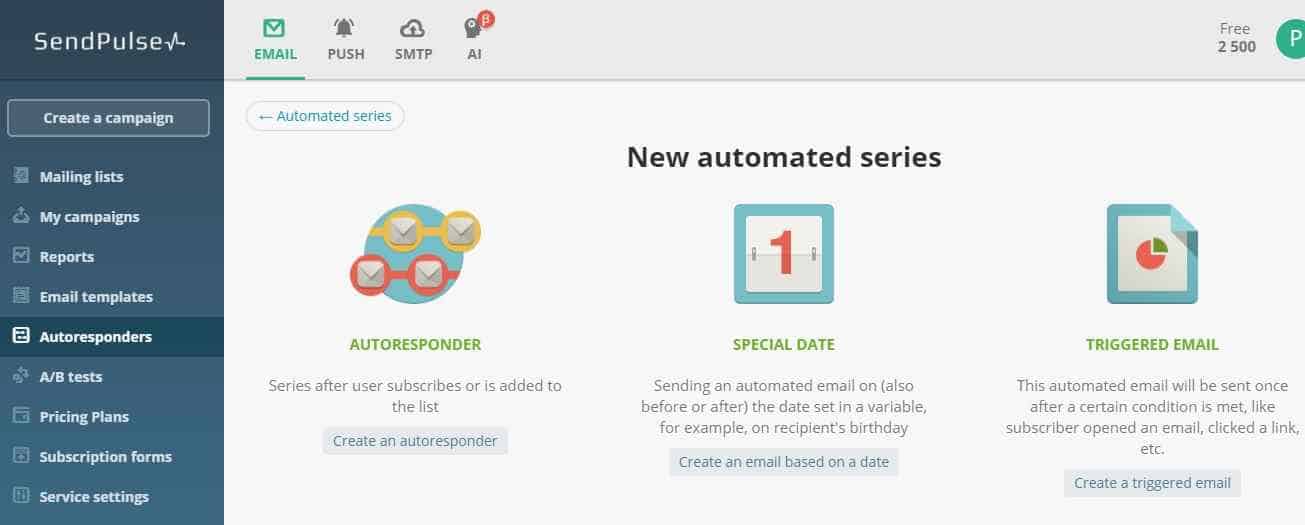 Apart from the regular features SendPulse has AutoResponders, A/B testing (Split testing), Subscription forms and many other.
TechGeekers view on SendPulse
This platform is must have tool for all marketers. You can always opt for premium plans with some nominal monthly fees. Its lowest plan for 2500 subscribers will cost you only $9 per month. You can check full pricing details here after login.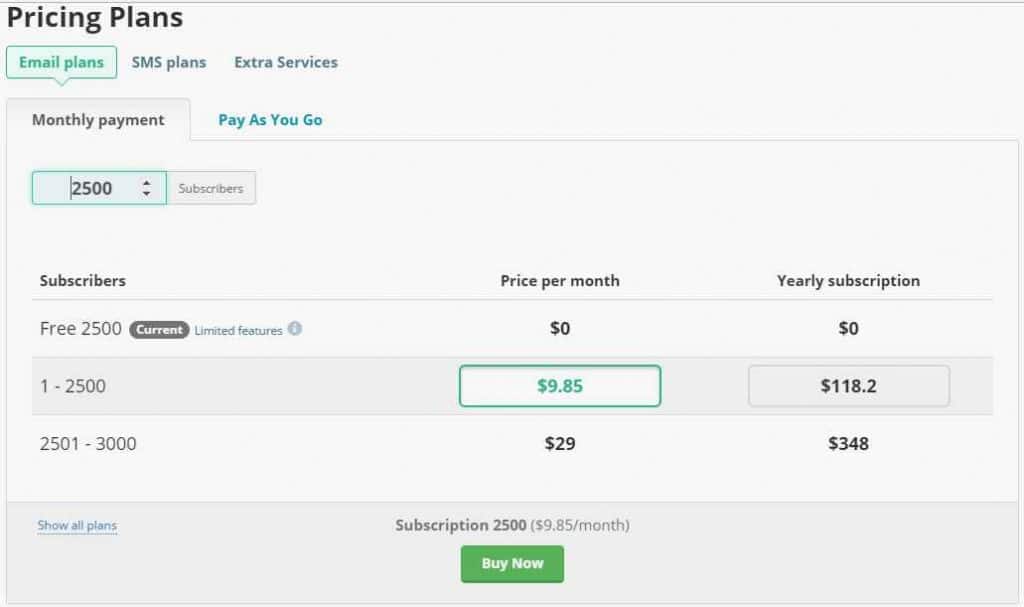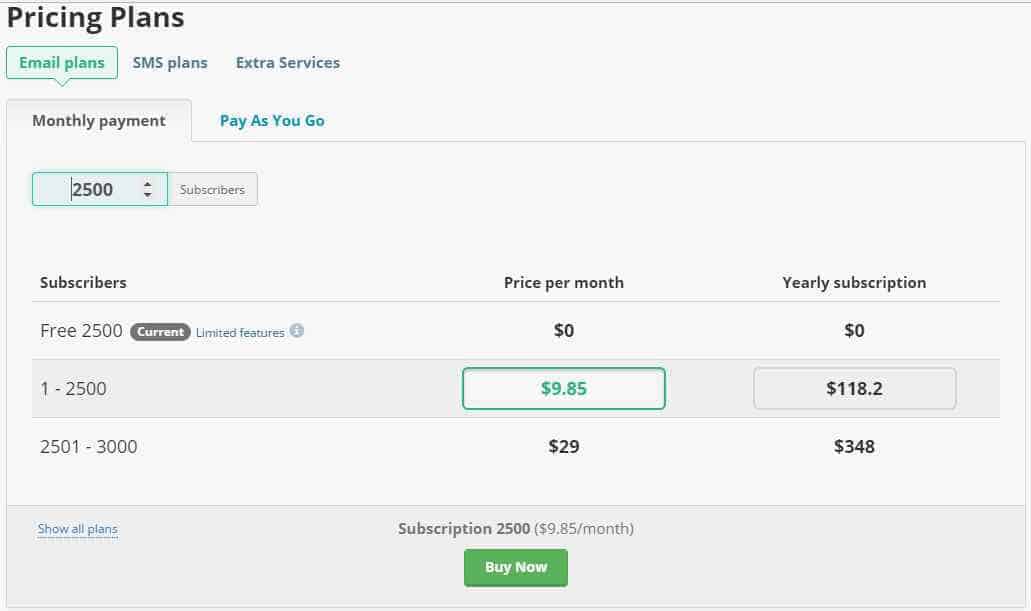 I hope you will have a great experience with SendPulse. If you have any query related to this advanced AI enabled marketing platform then do let me know in the comments. I will try to reply them asap.