Transfer Data Automatically to SD Card Using MoveIt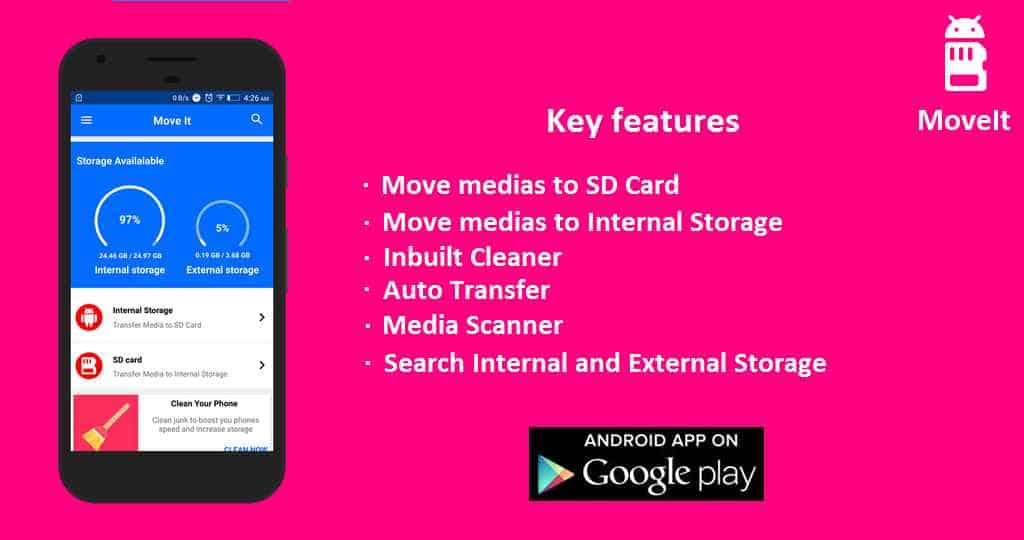 Nowadays many Android phones come with Low Storage Space. A lot Storage Space is occupied by Android OS and Inbuilt apps which cannot be uninstalled. And a lot of the remaining Storage space is occupied by Medias some of which are important and some of which are not important.
To clean up some space The one which are important need to be Transferred to SD Card and the one which are not important need to be deleted. Transferring Media to SD Card can be a tedious task and may take a lot of time as you will have to search each and every folder to find all the Images, Videos, and Audios on your Phone.
To solve all your problems regarding Storage there is an app called MoveIt.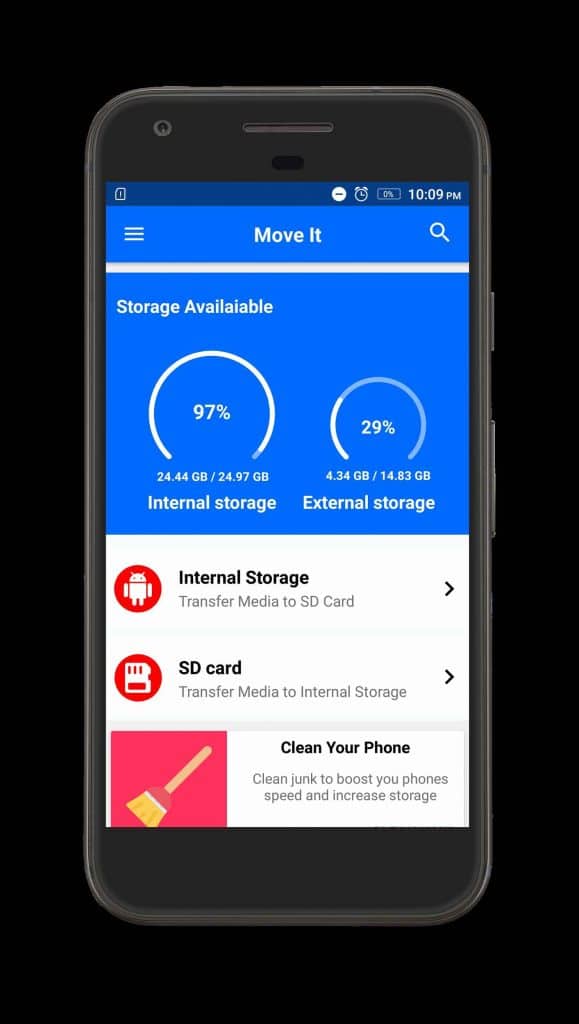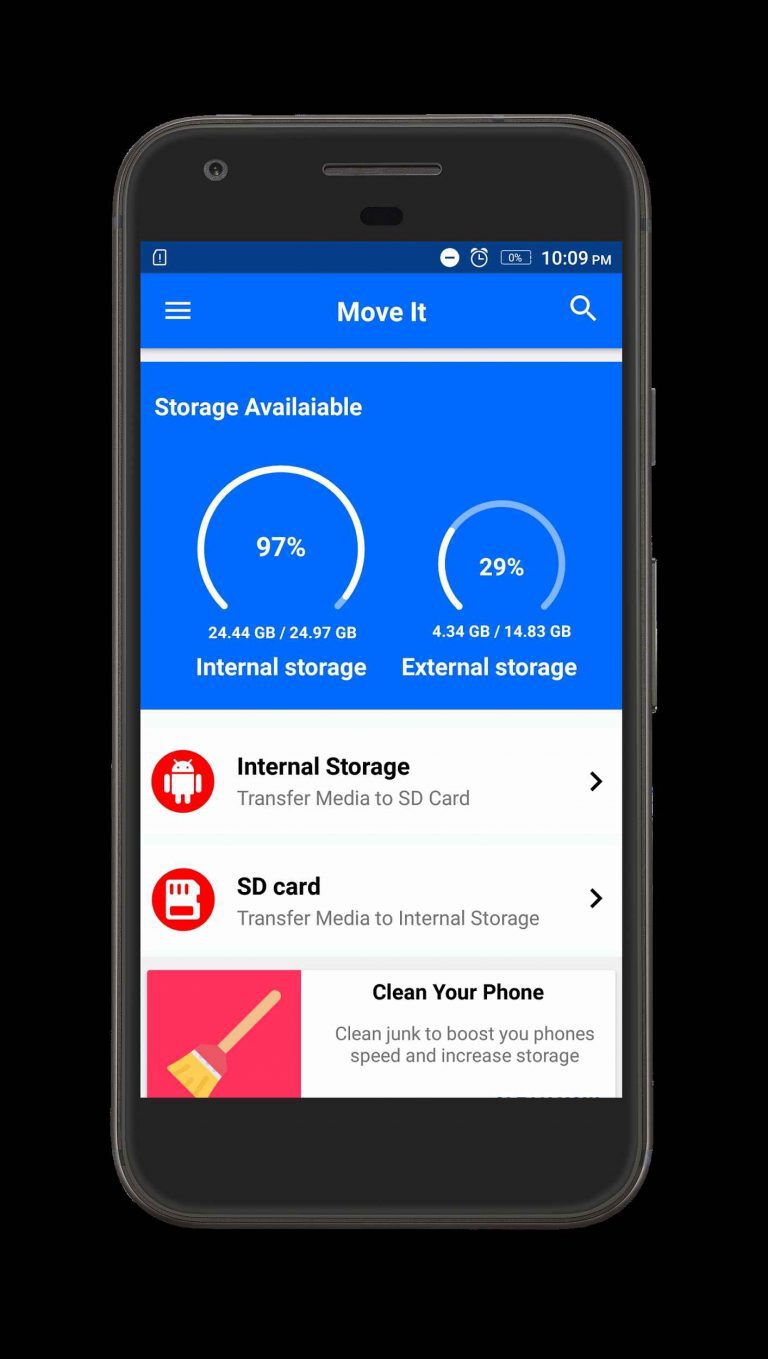 PS: You can always go for backup things but sometime things are not easy as it seems. If you know what I mean 🙂 (Hard drive glitches, crashes)
Here is some info on some of the other Features that MoveIt has-
Transfer to SD card.
MoveIt shows you all the Images, Videos and Audios separately sorted Date-Wise which are present in Internal Stores. You can simply select all the Media which you want to transfer and then select the path and transfer them to SD Card easily and efficiently.
Transfer to Internal Storage
Many a time we are in a need of transferring our Images, Videos and Audios back to Internal Storage. So MoveIt lets you do that also. MoveIt will Display all the Images, Videos and Audios present in SD card so that you can easily and efficiently Transfer them to Internal Storage. If you want to ever destruct the whole data for your cooperation then I would recommend you to go with data destruction service.
Cleaner
Many times we find our-self in a situation in which we immediately need to free up some space to Download an App or Game or to Click a pic or Capture a Video that time this cleaner will help us by Removing all the unwanted files such as Apk Files, Temp Files, and Thumbnails etc.
Media Scanner
Many of our Images, Videos, and Audios are hidden and are not displayed and many times they are not even displayed by file browsers. Deleting or transferring them can help us Clean a lot of Storage. So using MoveIt's Media Scanner you can find your Hidden Images, Videos, and Audios.
Auto Transfer
Auto Transfer is one of its kind feature which will automatically transfer your Images, Videos, and Audios to SD card without opening the app.
Some other features that MoveIt has
Search – Search for Images, videos, and audios in Internal Storage and SD Card by their name or the name of the Folder in which they are present.
Media player- MoveIt has an inbuilt Image, Video and Audio player which helps to view/play your Media while selecting them.
Large medias- Transfer Media of Any size.
Easy UI- MoveIt has an easy and user-friendly UI so that you can effortlessly and easily Transfer your images, videos, and audios to sd card and vice-versa.
New Folder- Easily create new Folder using MoveIt.
Media Manager- Moveit also serves as a media manager as it shows, move and also delete your medias.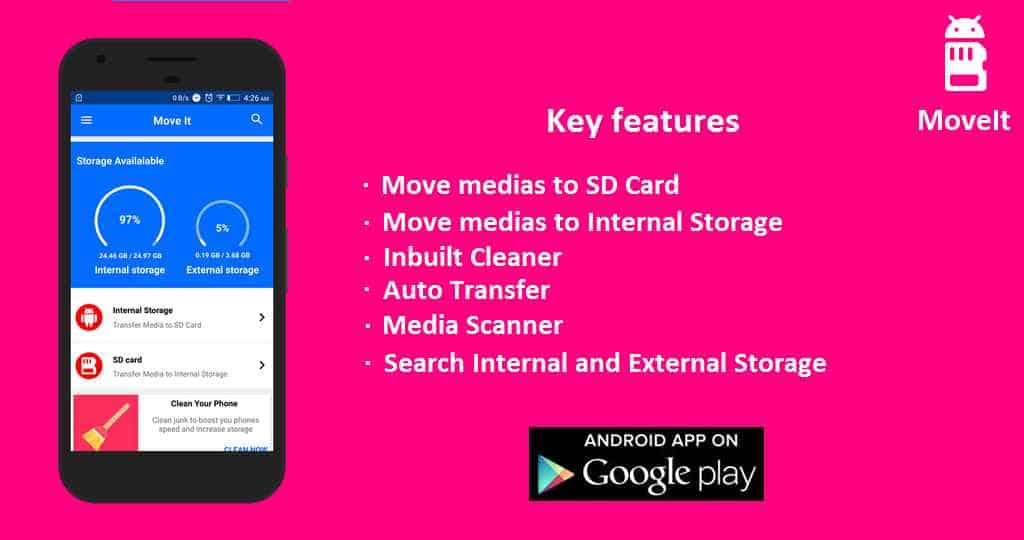 Conclusion
If you are the one who has many Images, Videos and Audios in your phone then MoveIt is a must have app for you as it Displays all the Images, Videos and Audios separately storage wise. This way you don't have to go to each and every folder to find your Media. Also, MoveIt will help your regularly transfer your Images, Videos and Audios easily and efficiently which will help to keep some free space in your Phone and use that space the way you want to.
Download MoveIt for free: