How to share files of different formats by whatsapp(ZIP, PDF, APK)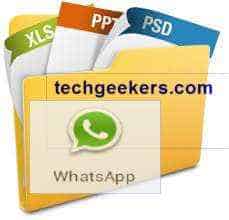 There is no doubt that WhatsApp is the most popular Instant Messenger available in the present date. With company recently claiming to have more than 700 millions users available in the world is truly defines its supremacy in its field. WhatsApp is messenger which lets you send your messages to your loved one.
You can also share different types of multimedia such audio, pictures, video etc. Maps and contact sharing facilities are also available in the WhatsApp app. But if we talk about different file format file which you may want to share at a time WhatsApp doesn't let you do this.
Also Read:
WhatsApp has also restrictions. It has maximum size limit of videos which you can share (it is 16MB). Although you can compress your video, before sending but there is certainly a limit beyond which you cannot share the video. Also if we talk about image media, WhatsApp compresses your photo before sending. The difference between original and sent one may not be clearly visible in mobile devices but if you see them in desktop there is clearly a huge difference between them.
So in this article, I will guide you for an alternate way which lets you share files of different format without difference in quality to share through WhatsApp.  
Requirements
Steps for sharing files of different format on WhatsApp
Download and install Dropbox on your android device. Sign for a free account and login into it.
Download and install CloudSend for your device. Authorize the CloudSend app. It will make a folder named CloudSend in your DropBox app.
In file manager, navigate to the file which you want to share through WhatsApp. After finding the file, press and hold it, and choose the share option when the popup menu appears.
Choose the CloudSend option in the list of available app for sharing. This step will upload your file in the DropBox's CloudSend folder.
If your file has large size, you may have to wait for some time. Also it may take a longer time as compare to usual if you have slow internet connectivity. This is the one side of CloudSend app which has time delay problem. But main important thing is its other side, which lets you send file of any size (No Size limitation).
When the file gets upload on the Dropbox server, you will be provided with the two option viz. Copy and Share. Copy option is for copying the file link.
When you choose the share option in the previous step, you will be again provided with the list of available apps for sharing. Choose WhatsApp from the list (you can also select other apps if you want to share your file through them).
When you select WhatsApp, as you know, you will be asked to select a contact or group for sharing of your file. Choose your contacts. Here you are sending the file link to your friends (remember it). If the file format supports on friends phone then it will display a preview of file.
Your friend can download the file by opening it in his/her browser.
Other notice: Bumble dating app for android is trending these days. Read more about bumble dating app for android . You can also try other app like Megabox hd . if you are searching for a bluestacks alternative then try this android emulator droid4x .
What are the alternatives to above method ?
You can download Hide chats in whatsapp and Hide chats in whatsapp apk from Google Play, through this app you can share files in any format in WhatsApp but the main problem is both the users must have these apps installed on their phone. And also there are some file size limit that can be sent so i don't think this is good option.
Although if you want to avail the facility of directly sending the different format files then my recommendation is use hike messenger. It is clearly competing now. Read the full story of HIKE VS WHATSAPP.
Showbox app is the most searched app for smartphone market. It let's you stream and download movie, tv series on your smartphone
I hope friends, you are with me, and successfully share the file of different format. However if you have any problem you can tell us in below comment section.
Comment below if you like this post or have any questions,
Cheers,
Pushkar Singh