Why Should Everyone Have EaseUS Data Recovery Wizard?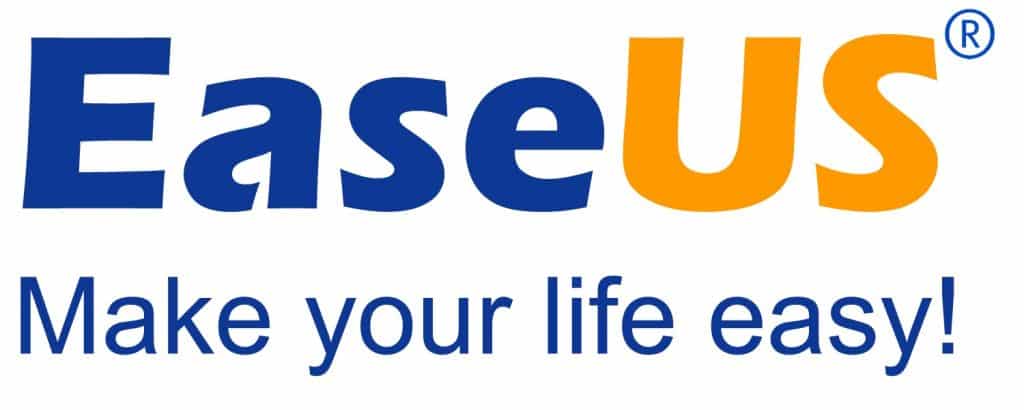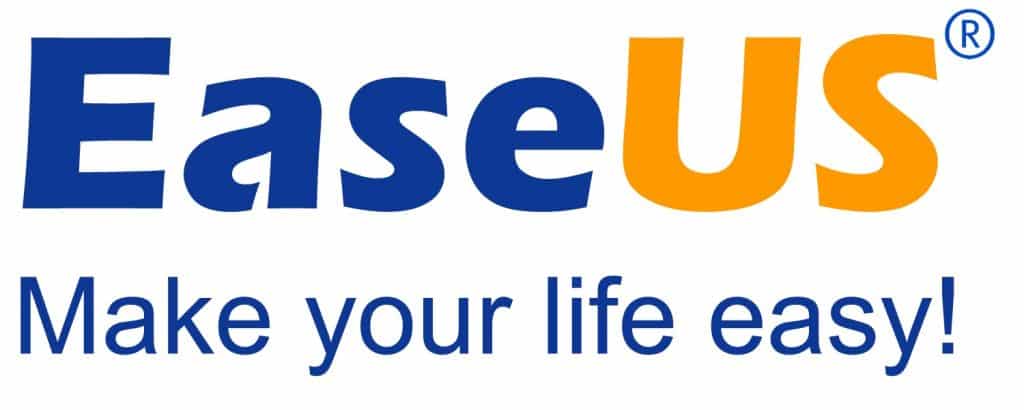 A virus attack on your office's computer systems can be the worst nightmare for a manager and staff. The ugly truth about malware attacks in offices is that it can affect multiple systems. Losing your client data has wide-ranging consequences, including legal complications. If there is no data backup, you cannot even imagine the results of losing even a part of your office data. But using a file recovery software can prove to be one of the best decision you make. EaseUS Data Recovery Wizard is an easy-to-use and powerful program that can recover data from all kinds of situations, except if the data storage device is physically damaged. So whether it is a virus attack, formatted hard drive, corrupt USB drive, or any other situation, you can get your valuable data back using this program.
The best thing about using this free data recovery software is that anyone can use it. There is no need to have advanced IT skills.
Get Data Back from Any Situation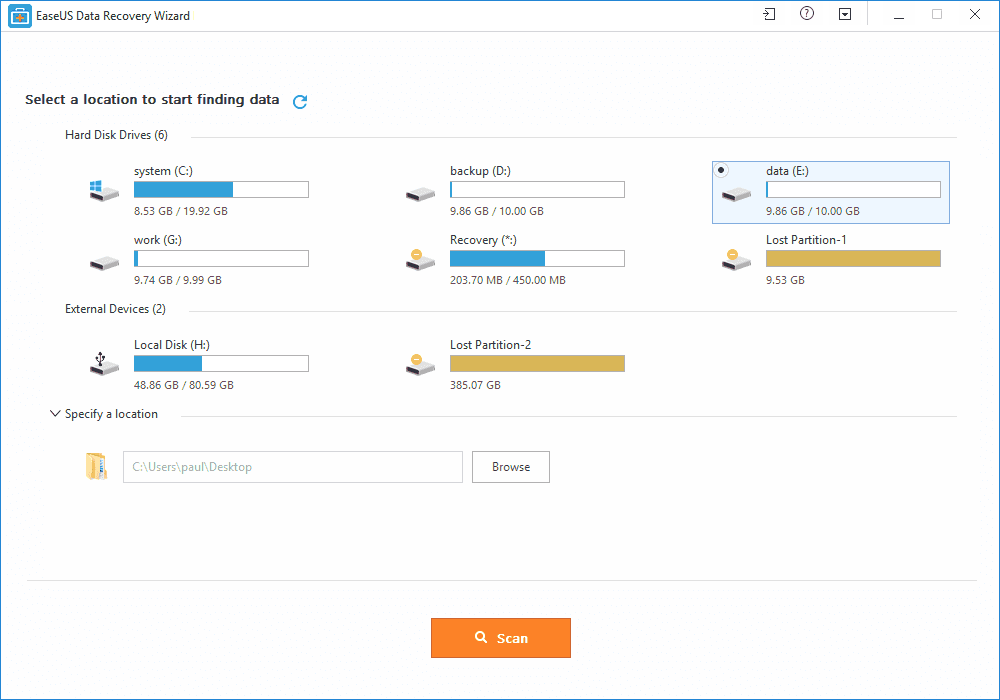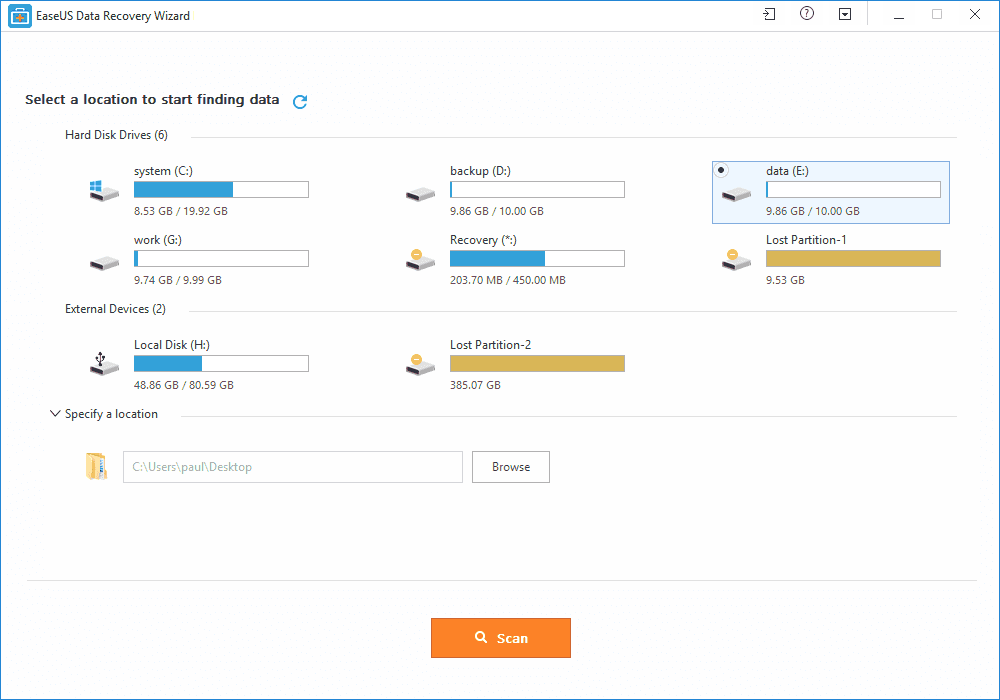 Using this file recovery software, you can recover your data from any situation (except a physically damaged storage device). You can use it in case of any of the following situations:
Formatting: You can recover data even from a formatted drive.
Accidental Deletion: Use this powerful software to recover data even if a file has been accidentally deleted (even from the recycle bin).
Malware Attack: Once your systems have been infected with a malware attack, most of the data is rendered unrecoverable. You can recover your data even after complex ransomware attacks like Petya, Bad Rabbit, and WannaCry Ransomware.
Failed Hard Drive: A hard drive can fail for any number of reasons. But that doesn't mean that you should lose all the data saved on it. Recover that data using this free data recovery software.
Crashed System: Your computer system can crash anytime, without any warning. But you can still get your data back using EaseUS Data Recovery Wizard.
Partition Loss: Even if a partition is lost, it is not lost forever. This software allows you to get your data back without going into complex procedures.
Whatever kind of data-loss situation you are facing, you can use this program to recover your data.
Simple Data Recovery Process
All you will need is basic IT skills to be able to recover your lost data using this file recovery software. It involves just 3 simple steps on the graphical user interface. There is no need for any kind of coding.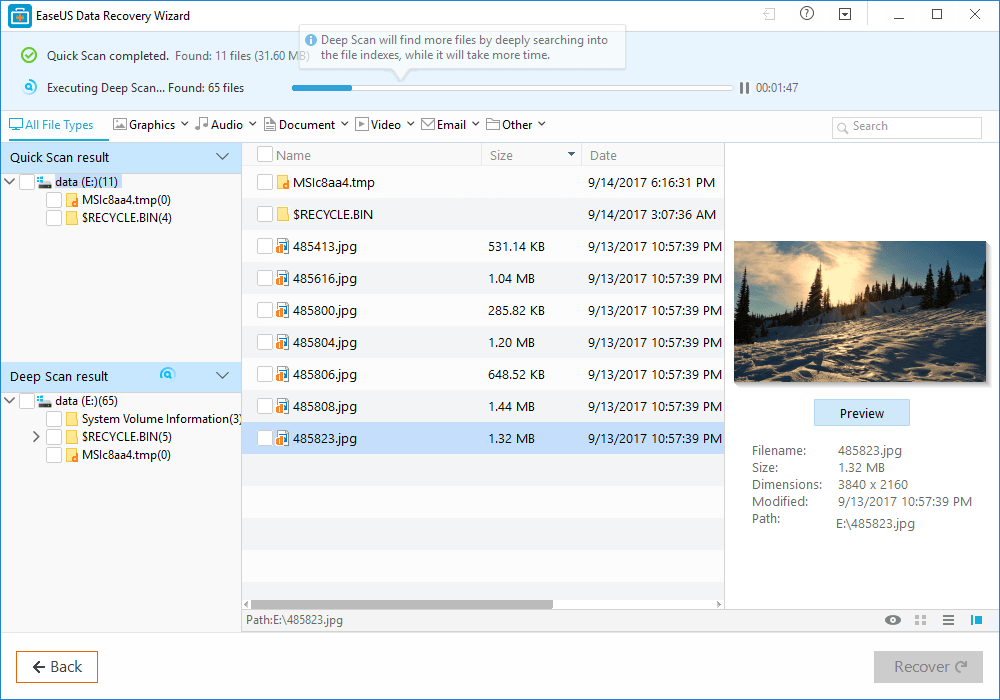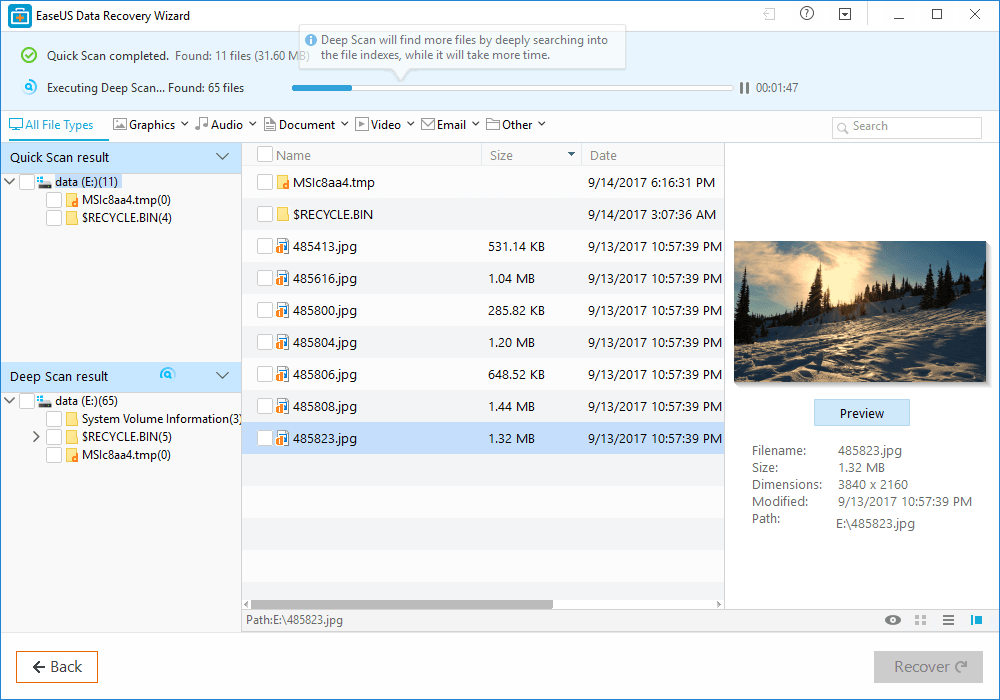 You can recover your data using 3 simple steps:
Launch EaseUS Data Recovery Wizard
Scan the storage device
Select and recover the files
All you will have to do is click through all these different steps while the software lists all the lost files. You can then choose the specific types of files or even each individual file to be recovered.
During the recovery process, it will list out the different file types you want to be recovered. You can recover all types of files including documents, images, music files, video files, emails and much more.
Recover Data from Any Storage Device
You can use this free data recovery software to get your data back from any kind of storage device. This can include:
Servers
Laptops
PC
Internal or external hard drives
UBS drives
SSD drives
Memory cards
You can recover data even from your mobile device and digital cameras.
As already mentioned, the only limitation that EaseUS Data Recovery Wizard has is that the storage device shouldn't be physically damaged. As long as that is not the case, you can retrieve your data back from any kind of storage system using this free data recovery software