How to safely switch Themes in WordPress?
Inevitably, there will come a time when you want to change the look of your WordPress blog. The good news is, this can usually be done with just a few clicks of the mouse. The bad news is, without the proper preparations, you could end up with a non-functional WordPress site.
In this article, we have covered in detail about how to make your experience of changing the theme a 0% risk endeavor. Let's get started!
Why should you take safety measures while changing themes?
A WordPress theme doesn't just provide the frontend styling of your blog, but many of the functionalities that come with it, such as built-in widgets, shortcodes, and other custom features.
Due to this, you have to be careful while changing your theme because if you pull out the wrong piece or miss any element, the whole website structure might collapse. And then the retrieval process is lengthy and you may need costly expert's help to get your site back in order.
Step 1 Preparing for a WordPress Theme Switch
Backup
Better safe than sorry. Backing up your entire site should be the first task before making any major changes to your site. There are lots of free backup plugins available including, with the one we recommend being UpdraftPlus Backup and Restoration.
Maintenance Mode
Depending on the complexity of your site, the process of changing theme can take from few minutes to several hours. So instead of exposing your visitors to the broken site, it is a good idea to place your site in maintenance mode while you're making the adjustments to it. There are several plugins available to help you place your site into maintenance mode while you work under the hood. We recommend WP Maintenance Mode.
Check Your Existing Theme for Shortcodes and Widgets
Before you switch over to a new theme, you'll want to make a note of any theme-specific shortcodes and widgets you may be using on your live site. When you switch themes, these features will no longer be present, which may leave your site in a bit of a mess.
We asked our friend Jon Muller who runs ErgonomicTrends.com, a rising WordPress site on Office Ergonomics and Reviews, what issues he had when switching from a free theme to a premium theme. He says:
"In particular, shortcodes have the potential to be most problematic. These are bits of code such as [myshortcode] that you add to your blog posts that get replaced with rendered markup, such as a comparison table- when the site is loaded. Check your blog posts to see if you're using any theme-specific shortcodes, and either replace the shortcodes with the actual rendered markup, or search WordPress's plugin library for a plugin that can mimic the same functionality."
It's also a good idea to always check your functions.php file for code snippets you might have added manually. Make a copy of the changes and be prepared to add them to the new theme's equivalent file.
Inform Your users
Sudden changes can confuse your regular visitors. Always notify your visitors, subscriber or customers about when your site will be down for maintenance and for how long. Once you've made the change, let them know that a change has been made.
Step 2: Installing a New WordPress Theme
There are both free and paid WordPress themes available for you to pick from. First, find a good theme for your needs. Before you can switch themes, you first need to install the new theme on your site.
How to Install a Free Theme on WordPress
If you're changing to a theme that is in the Theme Directory on WordPress.org, then you can install it directly from your WordPress admin area.
Login to your admin dashboard and go to Appearance >> Themes and click Add New button a the top of screen.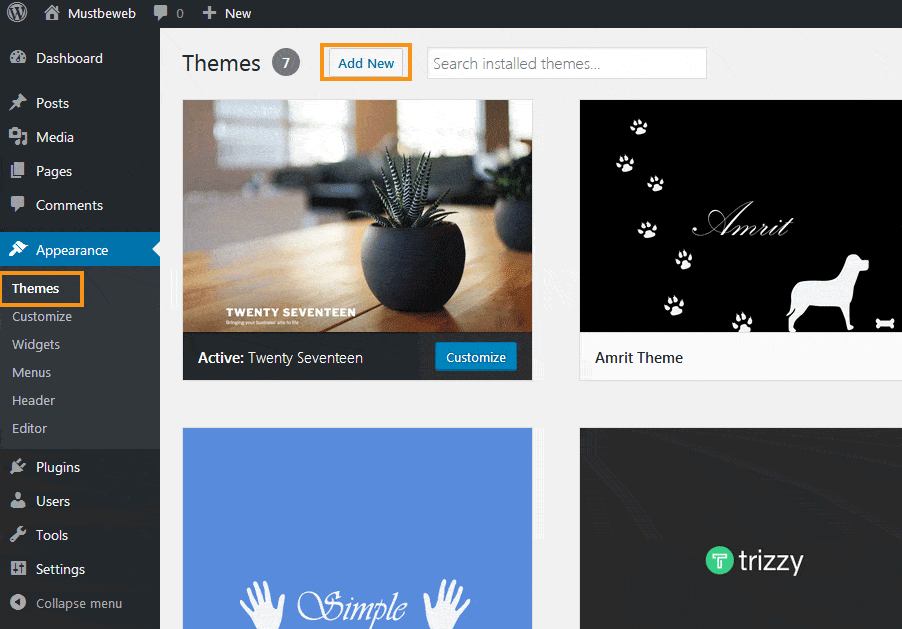 You will reach the Add New page. Search the theme name in the search box or browse any free themes from WordPress.org themes directory.
Once you find your theme, take your mouse over to the theme's screenshot, and you will see an install button. Simply click on the install button and your theme will be downloaded and installed.
Remember your theme will not be active unless you do it manually by clicking activate the button by going to Appearance >> Theme.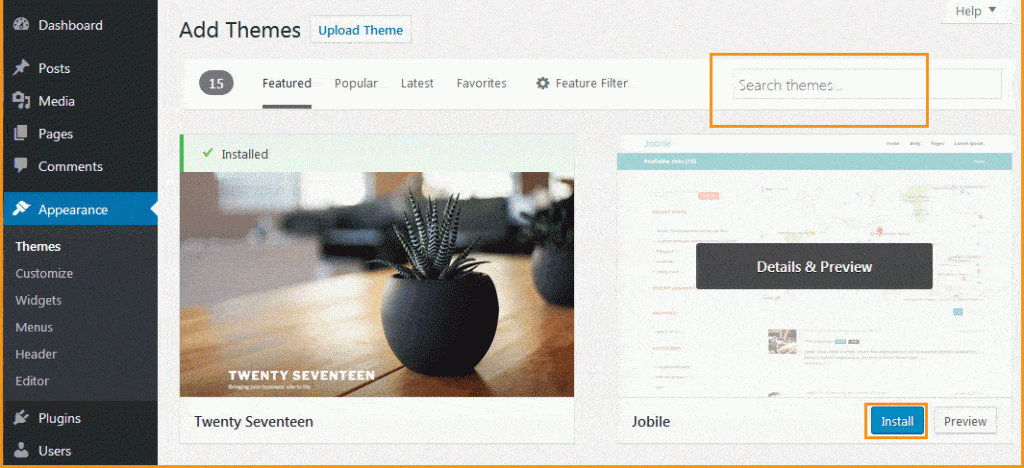 Installing a Theme from a Zip File
Another way to install a theme in WordPress is to upload the zip file of the new theme. When you get a theme from any other websites, you will get the zip file. To install the zip file follow the similar process as earlier by going to Appearance » Themes and clicking on the Add New button. This time you have to click the Upload Theme button.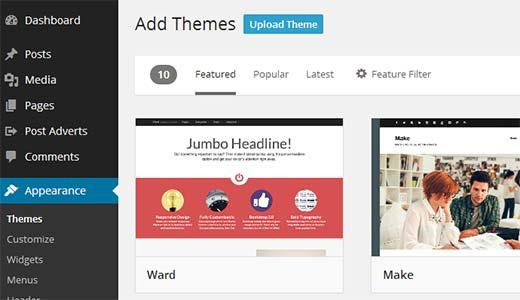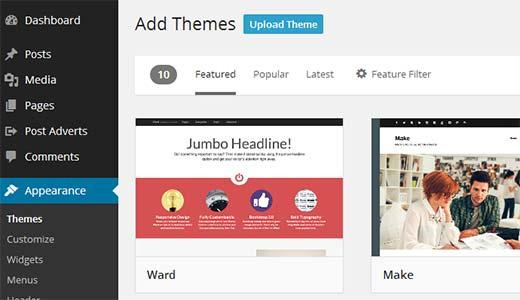 Now simply click on the browse button and then locate the zip file on your computer. Click install button and WordPress will upload the zip file from your computer and install it for you.

Again to activate the theme you installed, you may need to manually click the activate button by hovering over the particular theme.
Conclusion
In general, the process of switching themes is a simple one, though it's never a bad idea to be overly cautious before making the jump. Furthermore, WordPress theme clubs that offer multiple themes as a bundle generally make it seamless to switch between any of their themes, with minimal risks of things breaking. This is another route to consider.
Good luck!