Hide My IP Review – Access Blocked Websites |Protect Your Identity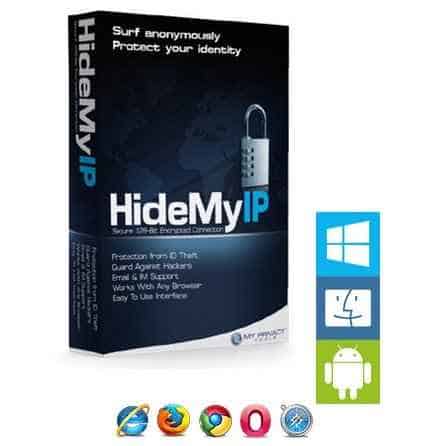 Many countries have banned some specific site within their territory.
Like in Pakistan Youtube, in china twitter, facebook are banned.
It is really frustrating sometimes but you have to live with it because you have no choices.
But here is a tool call Hide My IP, which let's you access the any blocked site.
It provides you IP of outside of your country. There is no way your ISP can trace you.
What is Hide My IP?
Hide My Ip provides you a list of IP, you can choose from. Like you are surfing from Australia but you can pretend you are surfing from some other part of the world.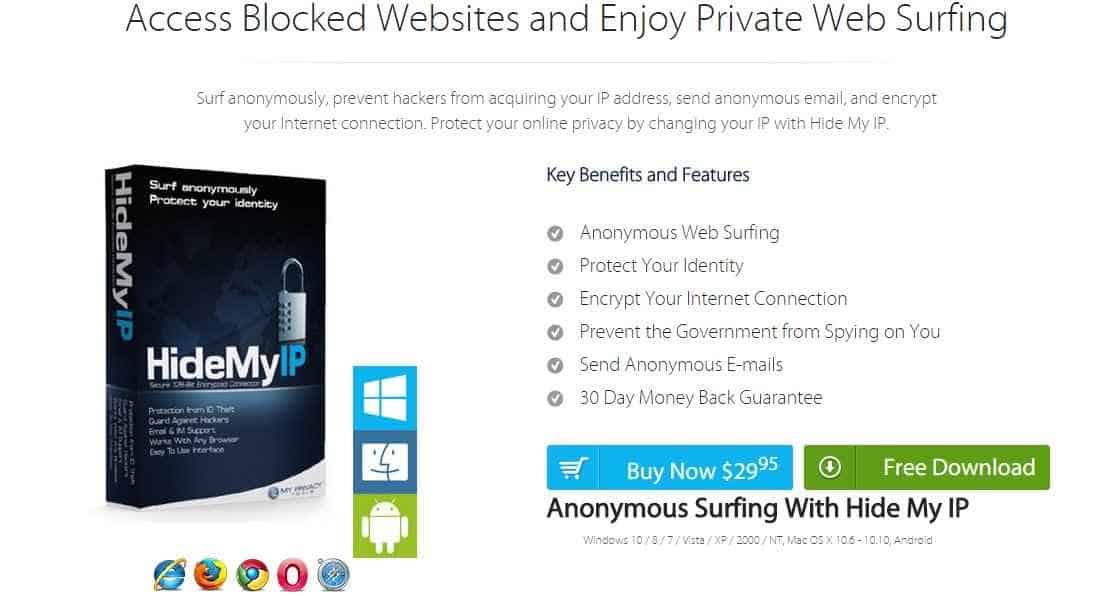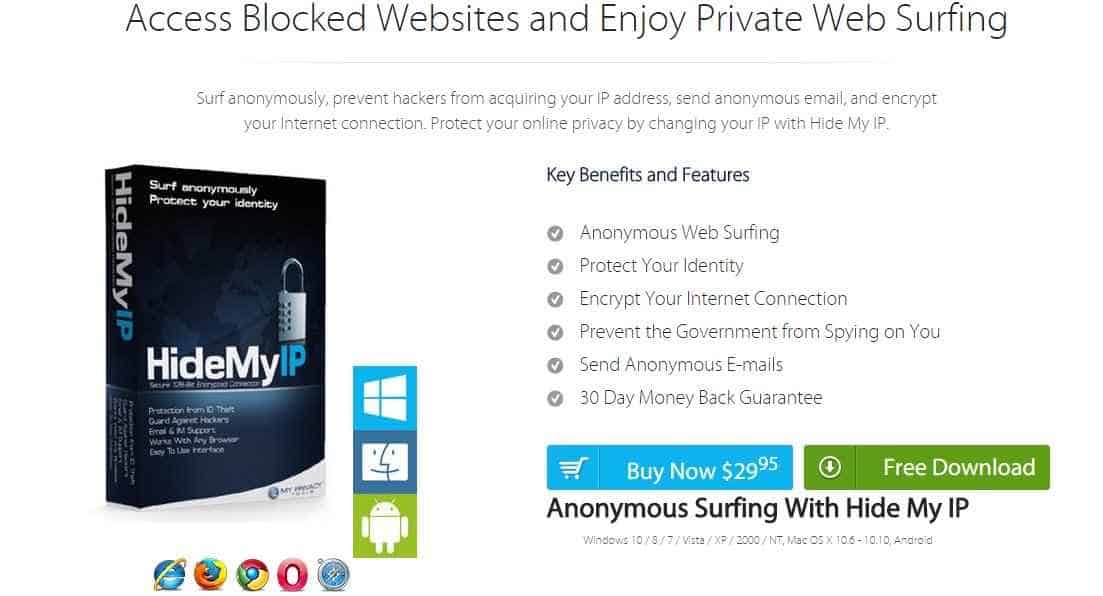 Hide My Ip defines itself as a private proxy and VPN tool. It is available for Windows, Mac and Android platform.
What else do you need? 🙂
Why You should choose Hide My IP over other?
You have probably heard of many same kind of tool providers in the market too. At first when I came to know about this tool, I also asked the same question to myself.
Why I should choose Hide My IP?
What is different in Hide My IP or what are the things in Hide My IP which are not present in other VPN providers?
Let me tell you,
Hide My IP has advanced features over most of its competitor.
P.S. : I have personally checked this tool and found it useful over other. It contains my own experience too.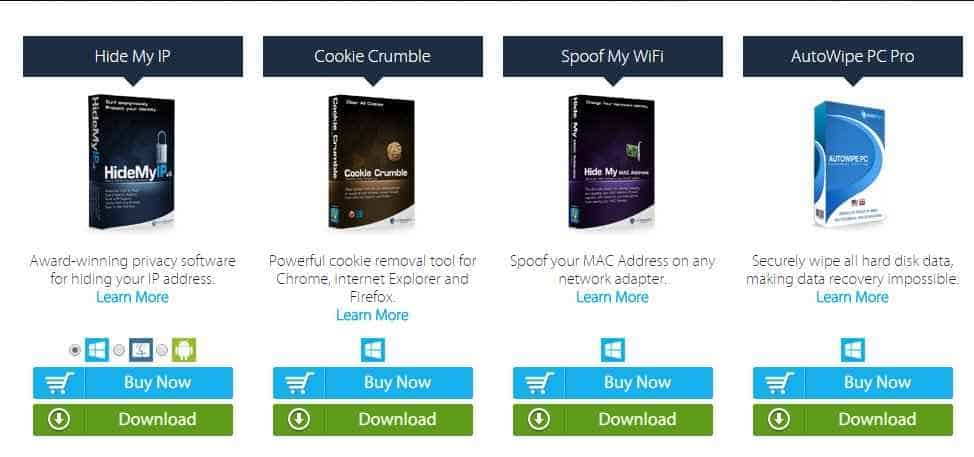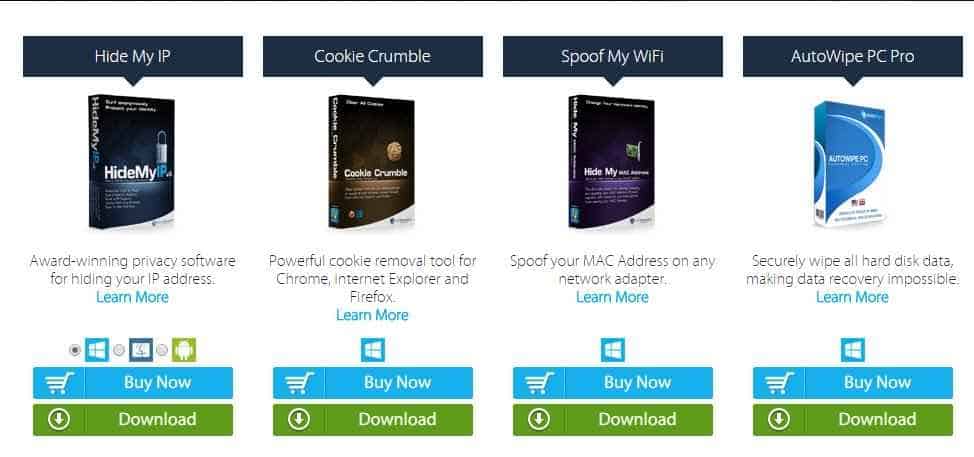 Most Importantly Hide My Ip provides this world-class service at a very low-cost.
I compared prices of all VPN providers and found that other VPN providers generally has prices over $30 but Hide My IP has less price in most of them.
I will write my complete Hide My IP review in this article. It is complete guide about how to use Hide My IP tool to get access to blocked sites by hiding your IP address.
Hide My IP Review – Advanced Features:
To catch your attentions, I should highlight you the main advantage for choosing Hide My IP.
Hide My IP comes with free trial of 7 days. So you can first check this tool before actually paying for it. I don't think there is any harm to give Hide My IP a try. This is the thing, you will find missing in most of the VPN providers
Most importantly, If you purchase this tool, it's a one time payment. I mean, you are buying this tool for lifetime. It comes under pay a one time fee. They are providing this tool for lifetime but you will find this tool more useful than others, I bet you.
One time payment for Hide My IP is lesser than other VPN providers.
Features of HideMyIP
It will help you to encrypt your Internet connection.
Facility for surfing the web anonymously.
You can choose your location to surf from.
Supportable browser are: Google Chrome, Firefox, Opera, Safari
HideMyIP also provides a premium subscription plan. It is available for only $7/month. You can also buy this tool for lifetime in $84.95.  In this plan HideMyIP provides you faster service then earlier, also faster downloading and will prevent any third parties from monitoring you.
How to Use Hide My IP to Access Blocked Websites?
Step 1: Download HideMyIP from it official site. It is available for Window, Macintosh, Android. Here is the HideMyIP official site
Step 2:  Install it in your computer by providing admin privileges. Run the software HideMyIP. Here is the dialog box you should probably see.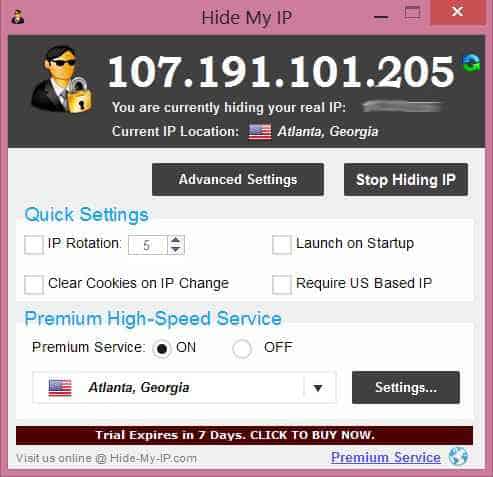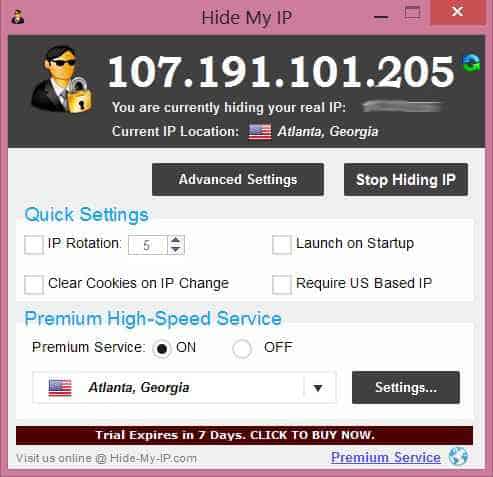 At first you wouldn't be hiding your IP address so you need to enable this function. It is just saying you are not hiding your real IP.
Now click on HideMyIP button. HideMyIp has a pool of random IP's in it. It will now search for available IP address for you. It will randomly select an IP address for you.
You will now start Hiding your real IP now.
You can now access your favorite website freely. No restrictions on you anymore. 🙂
Any website like YouTube, Netflix, Twitter or any.
Hide My IP Settings:
The main thing which HideMyIP does is, hide your actual IP address from outside the world. The other function is provide you a fake IP address, so that no one can catch you.
Hide My IP provides some advanced setting features. Here I am providing guide for how to use HideMyIp settings to use it more efficiently.
Quick Settings:
When you open Hide My Ip, you will find a see a window like this.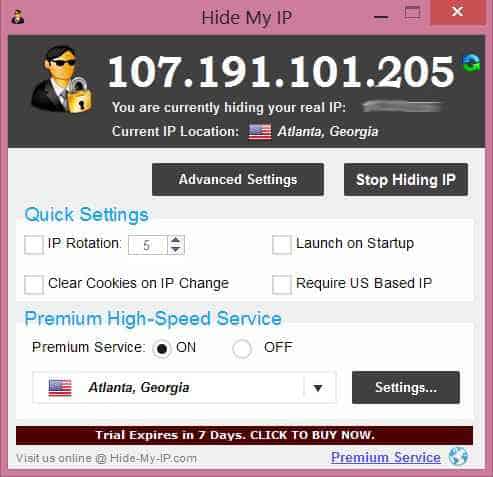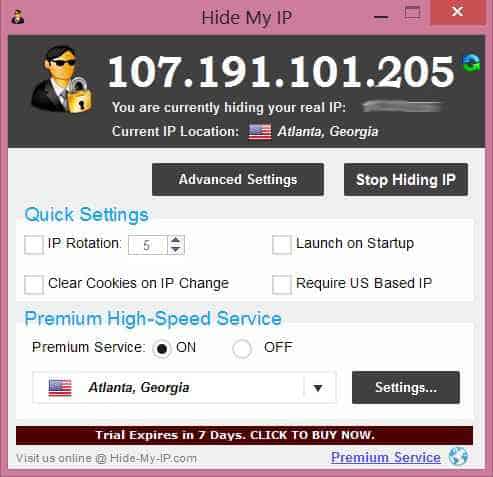 It contains Quick Setting section first. It has four options
IP Rotation: This number tells you to use the number of fake IP for you. If you have selected 6 then you will get 6 Fake IPs. HideMyIP will continuously switch between IPs. So that no one can track you.
Clear Cookies on IP change:   It will flush out all your cookies stored in your computer for advance security. This will be done when HideMyIP switches among different IP available.
Launch on Startup: My suggestion is you should always enable this option. It will make this software to start at the same time with window startup application.s.
Require US Based IP :  This will select IP address which are from US. It means, this will make world think that you are surfing from US.
Premium High-Speed service
You can manually select any location from the available you want to surf from. After choosing the location, HideMyIP will provide you IP from the selected location only.
Premium Service Settings: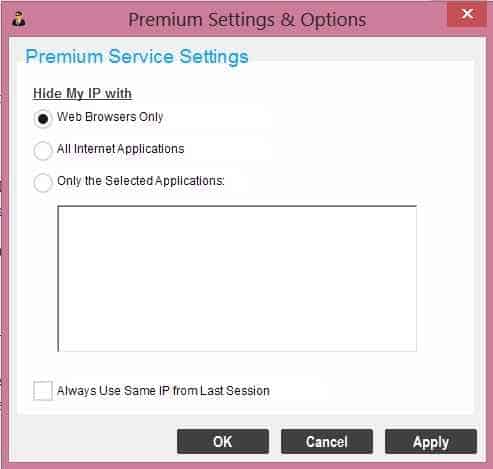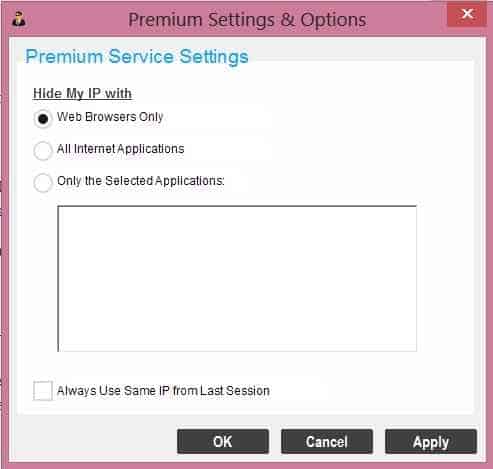 first thing, ability to select from different locations.
You can apply Hide My Ip to all Internet based applications. It is available under Premium Service Settings. 
It has mainly three options.
Web Browsers Only
All internet Applications
Only the Selected Applications
Choosing first will let you surf the web anonymously from browser only. The third and second options provide you the facility of choosing other applications, you want to use Hide My Ip with.
Last option Always Use Same IP from Last Session.
This will let you keep the same IP address which you were using in your last session.
Advanced Settings:
In the advanced setting window. Advanced setting button is next to the Hide My IP button. Just click on it.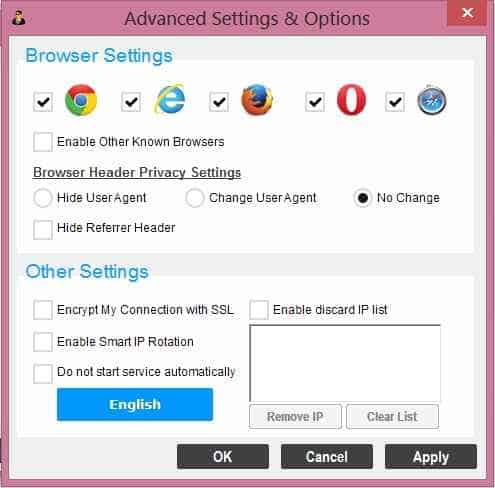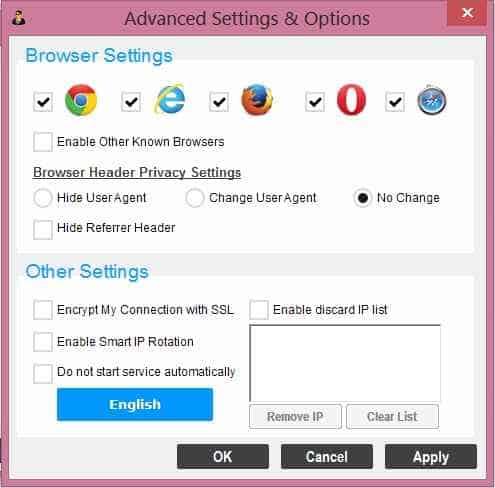 Advance setting options
You can configure browsers, to which you want to use HideMyIp service enabled.
It has also some other options like Hide user agent, change user agent, Hide referral Header. You can also encrypt your connection and work only on SSL. The other options like "enable discard IP list" provides you to selectively remove some IP addresses.  Enable smart IP rotation switches between IP in a more smart way, so that it will look like natural.
HideMyIP Review – Conclusion
If you are experiencing a need of VPN providers, I strongly  recommend you to go with this tool. Hide My IP is really a great VPN and proxy tool provider. It is available for all well-known platform like Windows, Macintosh, Android etc.
Hide My IP provides you many location to choose from. Here is the list of IP locations which Hide My IP provides you.
Download Hide My IP VPN
The bonus thing is , it provides you a free period where you can use all HideMyIP service for free.
If you are not sure even now, Just go for free trial of HideMyIp.
>> Download Hide My IP VPN <<
Hide My IP is cheaper than all its competitors.
So this concludes, Hide My IP review. 
I hope you will at least give it a try if you are not sure whether to go for Hide My Ip or not.
Do share your experience with Hide My IP in the comments below.