Best iPhone Photo Manager – Import, Export and Transfer iPhone Photos and Data to different Device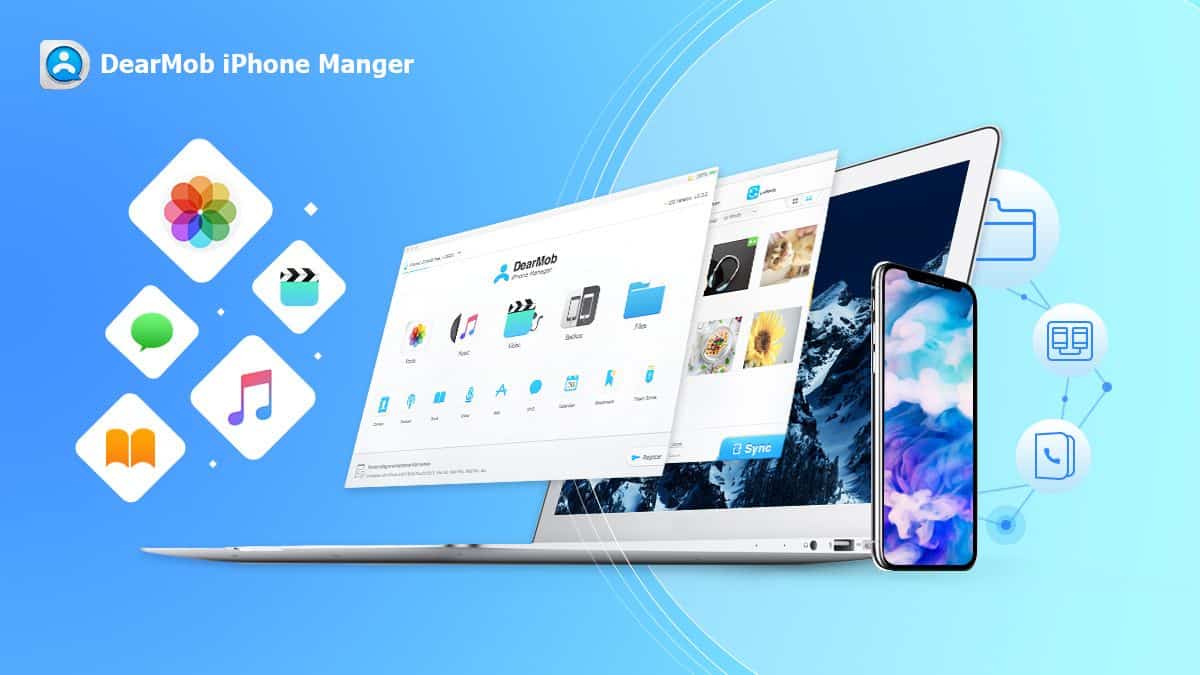 iPhones are great, and that is a fact that has been established for some time now. However, at the same time, they are somewhat difficult to manage as compared to Android counterparts. With an iPhone, you cannot simply connect it to your laptop or computer, and start managing it. You either have to use iTunes or some 3rd party iPhone manager. The problem with iTunes is that there are some limitations, but that is where the DearMob iPhone Manager comes into play.
Your iPhone needs to be in sync with your Mac and iPad so that you always have the same library of photos, videos, documents, contacts and much more on the go. With one click on the iCloud drive on your iPhone, you can very well access all the important files, music & videos.
But, has this thought ever crossed your mind that your iPhone is always in the most vulnerable position to accidental damages being always in your hand or pocket.
Giveaway:
DearMob has a limited giveaway offer for its lucky customers. If you are an iPhone user and looking for a perfect iPhone manager then this can be the right choice. Free license to everyone is being given as a promotional offer, so hurry up & grab the deals as soon you can. The listings is as follows:
iPhone photography accessories pack X 10: 10 lucky winners
Following prizes are included in the pack.
Osmo Mobile 2 (Gimbal for iPhone) $129
Lifeprint 2X3 Instant Print Camera for iPhone $149.95
Olloclips's Lenses for iPhone $ 99.99 – $109.99 varies from devices
A great offer is waiting for you !!
And although Apple Care might provide a physical cover and iCloud might bring back some files, what about the locally stored data?
Now you might be wondering that there are so many other iPhone managers in the market; how is this any different?
Well, the developers have made sure that the process of managing your iPhone is as easy as it can get. I am going to review this software in detail and mention all the reasons why it just might be the best iPhone manager there is available. You will never need to search for how to transfer photo between old to new iPhone now.
DearMob Features:
Before going any further, I think it would be fair if we just discuss the features before we take an in-depth look at the software itself.
Photo Transfer:
The saddest thing about an iPhone or any other Apple mobile device is that it does not offer expandable storage, and while you can always get an iPhone with 128 GB or more storage, the thing you need to keep in mind here is that if you take a lot of photos, you are likely to run out of storage a lot quicker than you may think. The good thing is that DearMob offers photo transfer and it is easy as clicking away a few times.
Music Sync:
In order to make sure that your music library is in sync every time you put in new music onto your iPhone, music sync is the feature that you need the most. Sadly, the syncing a lot of files on iTunes. The good thing is that DearMob is relatively faster when it comes to music syncing, so you are not going to have any issues whatsoever.
Video Management:
If you like to shoot a lot of videos on the impressive iPhone camera, then it is safe to say that managing them might feel like a hassle. The good thing here is that with the DearMob, you can manage the videos with great ease. You can even convert the videos that are not supported by Apple to work on the device with ease.
Backup and Restore:
The risk of losing data is something that lingers on in every phone user's mind, this goes for both Android and iOS users. If you are really worried about losing your data, then do not worry as DearMob allows you to backup and restore your data with great ease.
App Management:
I still do not understand why Apple remove the app management feature from iTunes. However, if you did use that feature frequently, then DearMob will make things easier for you as it does have the app management.
Installation:
As with every other software that we test, installation and the user experience is something that matters a lot. Keeping that in mind, the DearMob iPhone Manager is rather simple and straightforward as far as the installation is concerned. Once you are done installing the DearMob iPhone Manager, and launching it, you will be brought to this screen.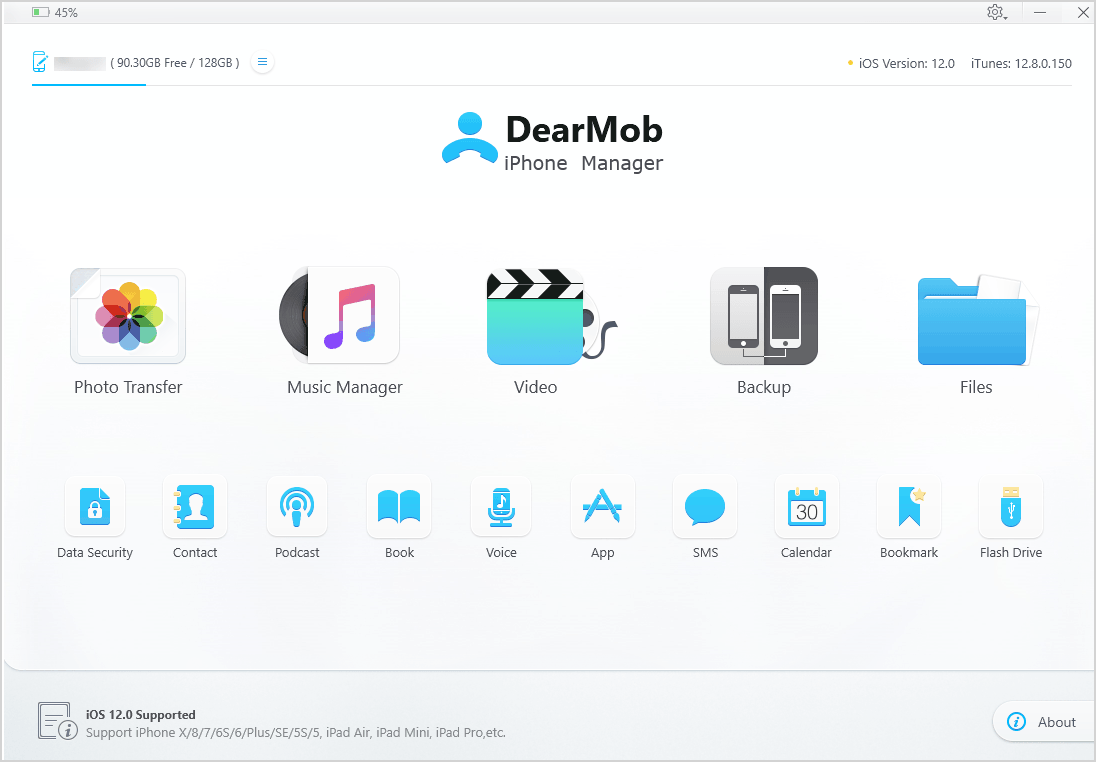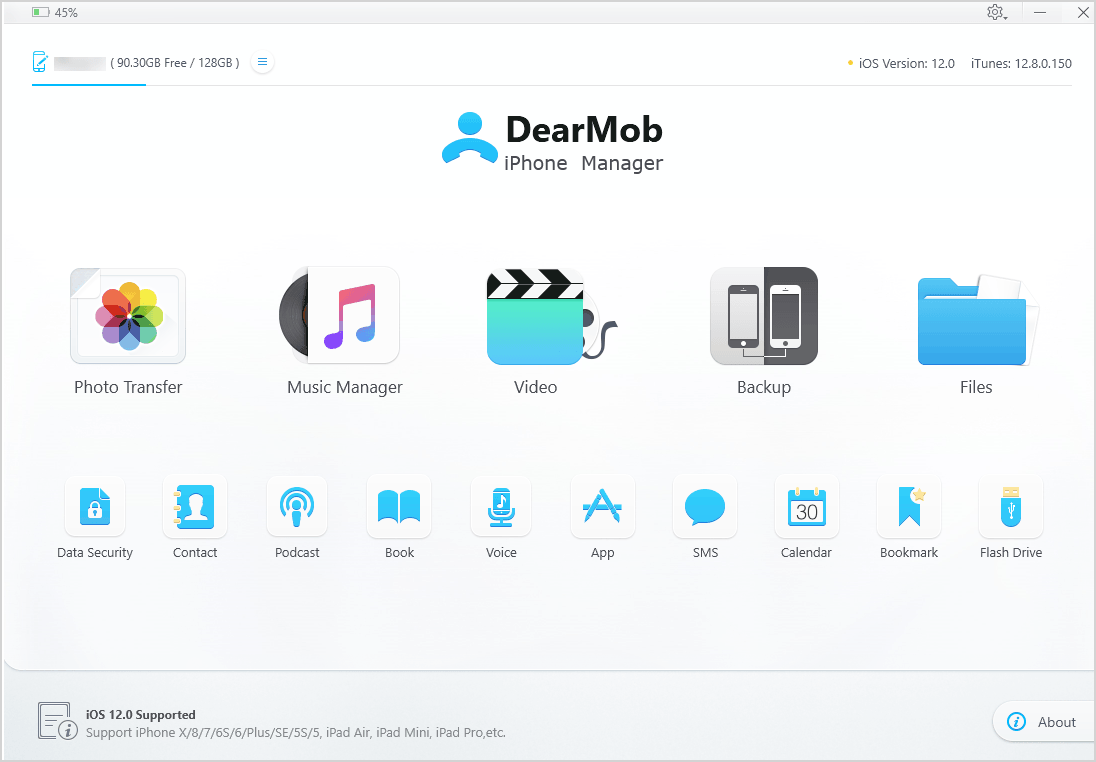 The screen above shows you all the information regarding what the software is capable of; this involves photo transfer, music manager, video, backup, and files. In addition to that, some other information regarding your phone is listed below. As far as the ease of access and navigation is concerned, the interface is as clean as it can get without causing any clutter for the user.
Clicking on the Photo Transfer will bring you to a new window where you will see all the photos that are stored on the phone. The navigation here is super easy and simple so you would not have any issues with that either.
Navigating the entire photo section is as easy as it can get; everything is properly detailed and you will not run into any issues. You can explore the pictures that are put in different folders as well. Needless to say, you will be able to access your photos really easily. On the bottom right, you have the feature to sync the files as well.
Similar to the photo section is the music section that does look similar and serves the same purpose. All video files are categorized based on the folders they are in
One thing that I have to add here is that all the user files are actually protected by military-grade encryption that is being used by the software. You can get more information about the encryption by heading over to https://www.5kplayer.com/iphone-manager/data-security.htm
Photo Manager: Working & Usage
Once you connect your iPhone to your Mac via DearMob, you'll see all your photos get synced to the software and are visible under the Photos icon on the dashboard of the application on your Mac. The good part here is that you'll see all your photos in an exactly same manner as your iPhone. You can see all the albums on the left as they are on your iPhone.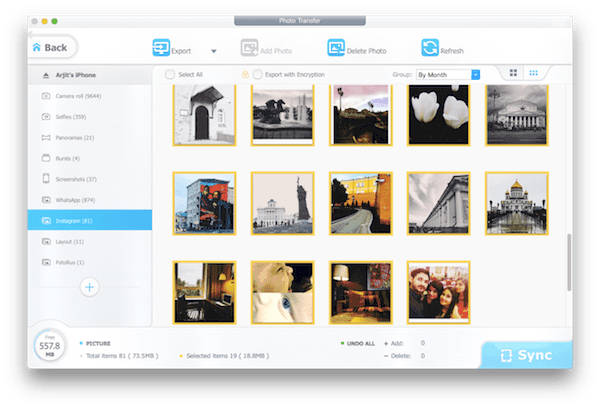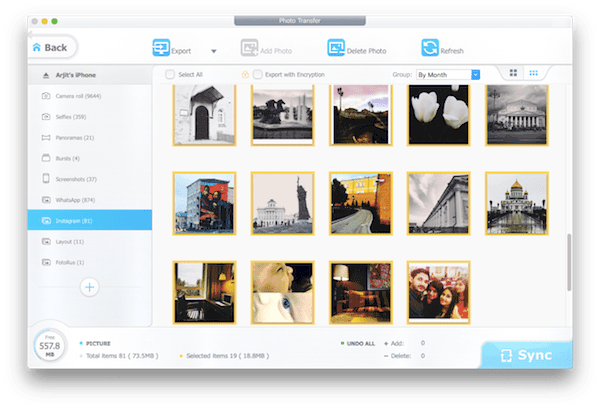 The application, as the name suggests, will also let you manage your photos. You can add/delete pictures, add/delete albums and also export photos to your Mac. The photos you export to your Mac can also be exported with password-protected encryption.
The best part of the application comes in when you add photos to your iPhone from your Mac. DearMob will automatically convert the picture files into the best-supported format for your iPhone so you don't have to worry about the file size and formats etc. Also, DearMob has a high rate of transfer with around a thousand 4K pictures in less than 2 minutes which makes the management easier. Similar functions go for the videos except for the part that there are no album creations but rest assured, the transfer and management are smooth and easy.
Pros of Dearmob iPhone photo management:
• 2-way transfer photos between iPhone and computer.
• Selectively transfer whatever the photos you want, you can transfer by album, by date, or by random selections.
• Support convert HEIC to JPG while exporting iPhone photo to make HEIC photo view-able on PC.
• Keep iPhone photo metadata while transferring including time and geotag (when and where the photo has been taken)
• transfer live photos and keep both video and still photos including the default photo and selected specific frames.
• Backup and transfer iPhone photos that come from different sources/albums, no matter its WhatsApp photos, snapshot photos or photos/wallpapers you downloaded online.
• Delete undeletable iPhone photos from Mac/PC (iPhone pictures imported from Mac/PC are undeletable on iPhone)
Advantages:
The benefits of backup iPhone photos with DearMob iPhone Manager :
• No iTunes needed, DearMob iPhone Manager runs independently without any apple service. While the mainstream iPhone backup software will need to install iTunes or rely on "Apple Support Service" and "Apple Mobile Device Support" to be able to connect and access iOS device, otherwise, it cannot do anything but showing the warning window.
• Password protect iPhone photo transfer to further protect your privacy by adopting multiple aced encryption algorithms from both asymmetric and symmetric cryptography, including 1024-bit RSA, 256-bit AES, PBKDF2, Argon 2, it tightly locks down your iPhone data no matter in transit or at rest.
Conclusion:
In all, DearMob is a tool that allows you to have full control over the content management between all your Apple devices just like any Android device. Be it password protected files or Backup & Restore options, DearMob will make everything work for you in the manner you like. The feature we liked the most is the file/folder specific password protection which is usually not an option in any Apple device. With this, the security of files in the local memory of Mac has risen enormously. Well then go ahead and try your hands on the DearMob iPhone Manager(Don't forget the giveaway).
DearMob, a vigorous software provider with forefront developing outlook. DearMob is led by its innovative tag-line products including DearMob iPhone Manager, free apps like 5KPlayer, iPhone Photo Manager, iPhone Music Manager, etc. The brand is ready to enable more dynamic growth with compact and competitive products for Mac/Windows/iOS/Android users in the near future.