Rip DVD 2018: 6 Reasons to Try WinX DVD Ripper Platinum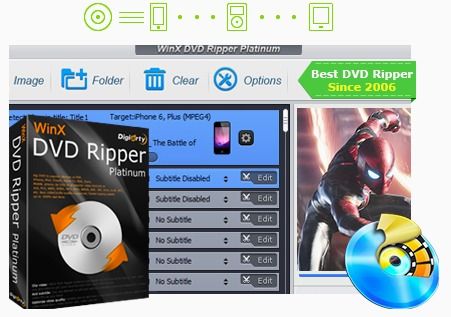 We all want to store our precious memories, and for that DVD is the best way to protect your old memories and data for the prolonged period.
You may find lots of DVD Ripper on the online market but to be very honest WinX DVD Ripper Platinum is the best DVD ripper 2018. It is a window based software that is capable of ripping any file to the hard drive. This ripping software allows the user to maintain his all memories into digital form.
This can support any type of file whether you want to rip DVD to MP4, AVI, MOV, FLV, MPEG, and Apple and so on. It has unique copy modes such as clone DVD disc to ISO image, to a folder at 1:1 ratio etc. It is a convenient way to make a backup of files by not compromising with output and quality that is why I'm here to give you six genuine reasons that why you should try it?
1. Supports Tons of formats
Every person has different video formats and they want that method which easily converts video and audio formats into a video. You will be glad to know that it supports over 200 different formats with the highest quality and output. In short, you can say that it will never indulge your quality whether you want to rip any kind of format.
2. Fast ripping speed thanks to hardware acceleration tech
What makes WinX DVD Ripper Platinum differentiate from other DVD ripping software is its unique level-3 hardware acceleration tech to encode and decode videos. To put it simply, WinX DVD Ripper Platinum makes full use of your computer's hardware resources, this will convert your file within couples of minutes at a lowest possible CPU usage. It is the fastest way to transform disc to digital with ultimate quality.
3. Video editing
This will make easy for you to cut the beginning scenes or that sequences which within seconds while ripping which you don't want to see.
4. Read scratch DVDs
As you know if we want to use scratched DVD there is no tool that provides quality content over your computer but this ripping software does not provide any issue because of it has great correction algorithm tool that re-reads the disc and provides quality.
5. Valid for both mac and windows
The best one is it is available for both Mac and Windows software so you just pick this DVD ripping and digitize the content with you want to store for the problem Period.
6. Best User interface
Unlike other DVD ripping software, this one is best because it has the best user interface software that supports correctly, and makes your task easy. It is cool software that will easy to understand even if you are new to this. Let's take rip DVD to MP4 as the example.
How to Rip DVD to MP4 on Windows 10?
Step 1. Download and install WinX DVD Ripper Platinum
WinX DVD Ripper Platinum is available for both Windows and Mac. Just download the setup file from the official site and follow the instructions to install. 100% clean and safe.
Step 2. Open the program and click "Disc" to load a DVD
Launch this DVD Ripper on your computer, click the "Disc button to choose a DVD to convert. You can also rip your ISO images and video folders to digital formats.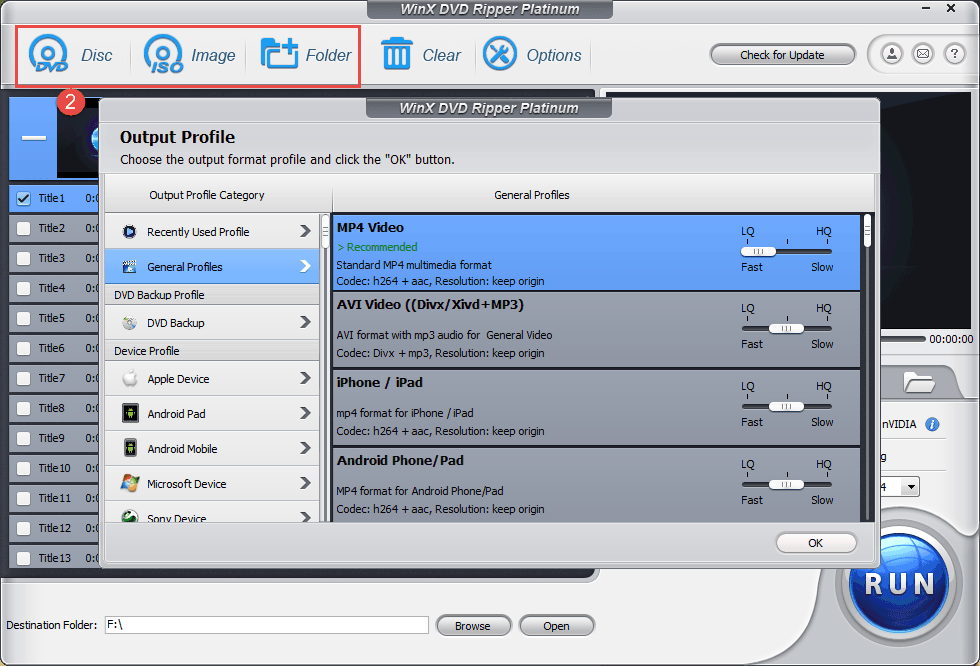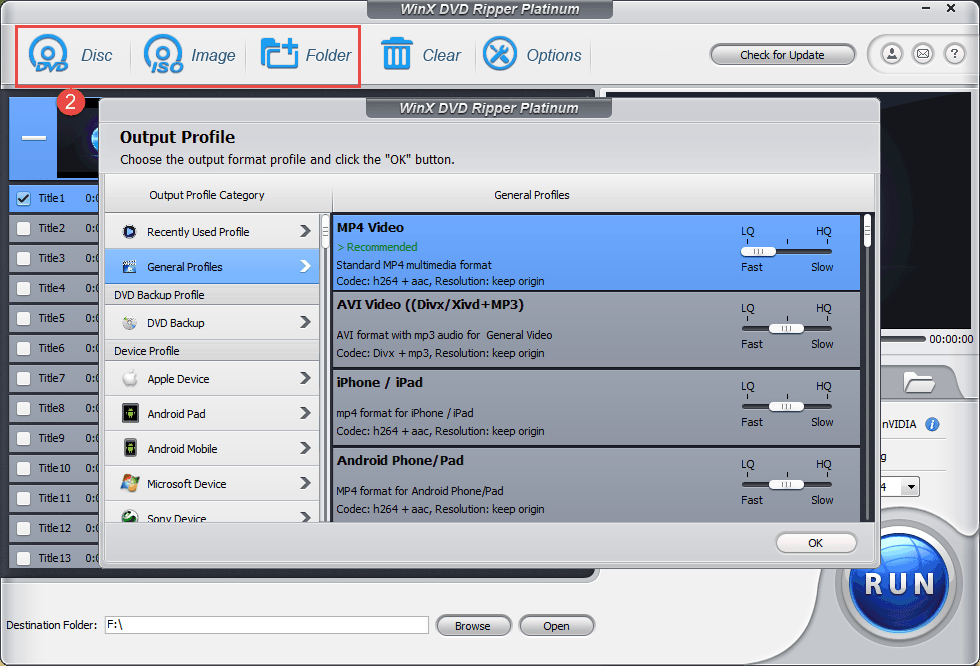 Step 3. Choose "MP4" as the target format.
After loading your source DVD disc, an Output Profile window will pop up, where you can choose to rip DVD to MP4, AVI, FLV, MOV, WMV, MPEG, iPhone, iPad, Samsung, Huawei, Surface, Xbox, etc. This guarantees perfect playback experience on any device you own.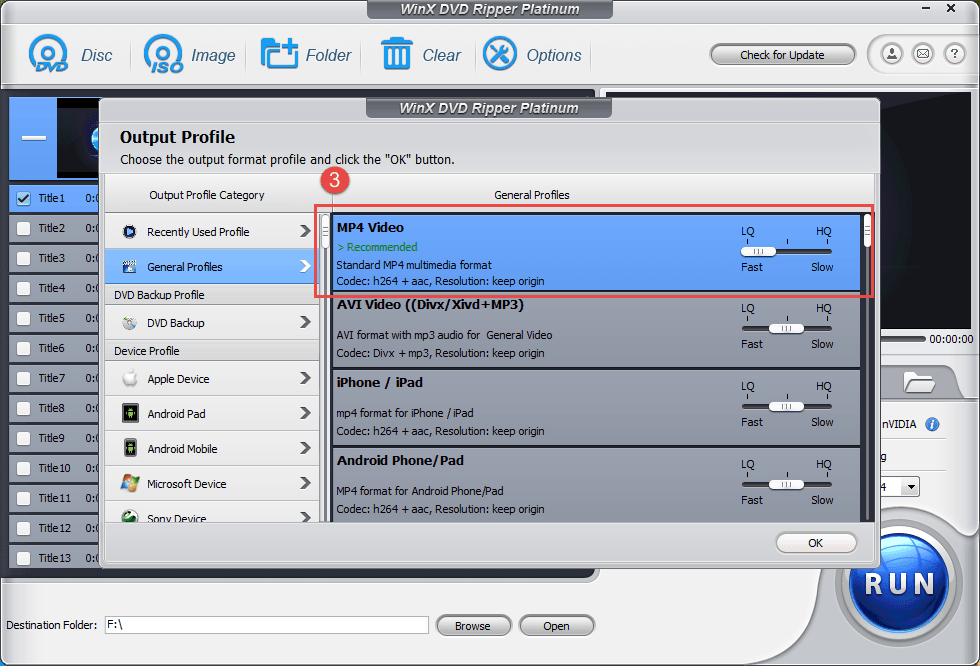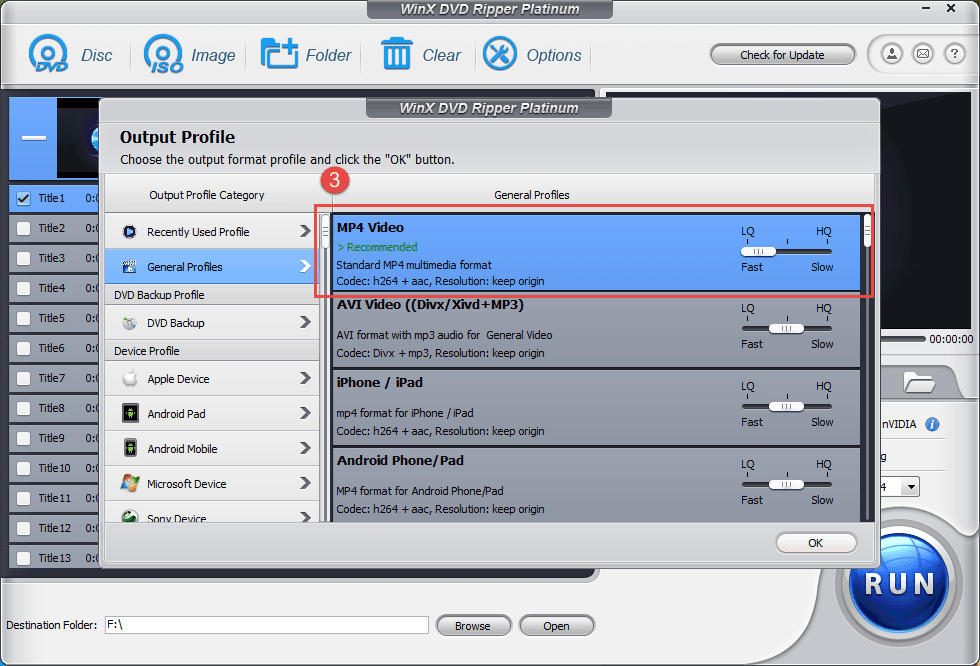 Step 4. Click " Run" to start ripping
You can choose a destination folder and click "Run" to start ripping your DVD to digital copy.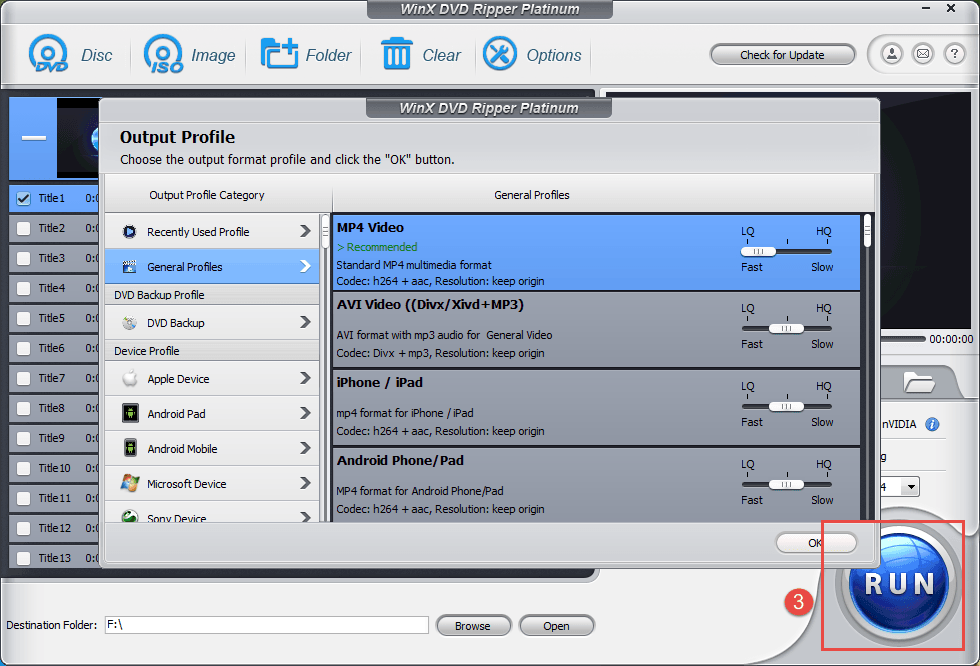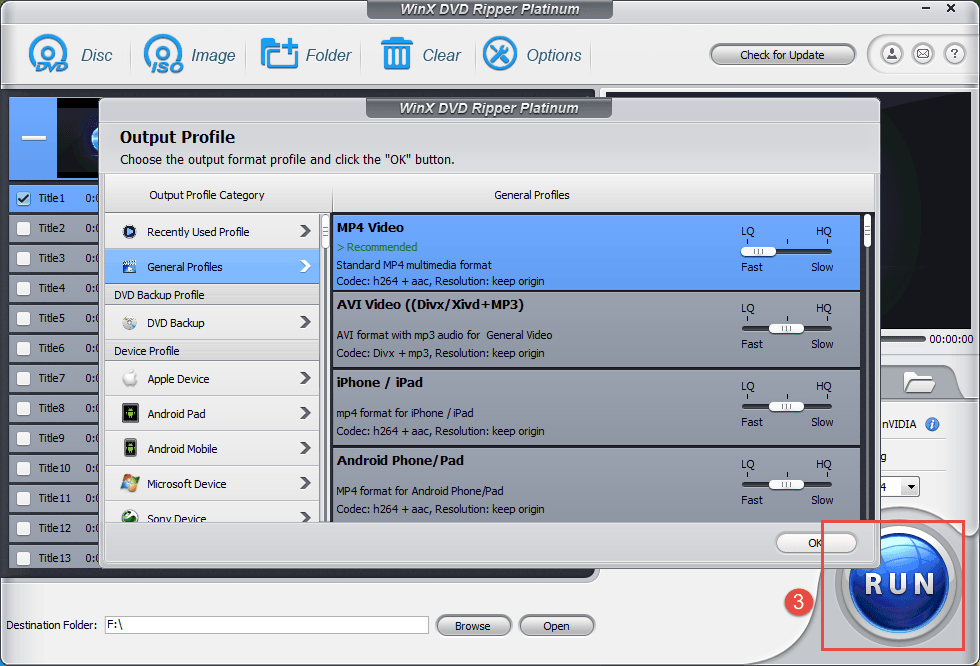 Note: If you want to watch a video guide on ripping DVD to MP4, check this video tutorial on YouTube.
Conclusion
WinX DVD Ripper Platinum has the great number of features which make this software prime and handle for all the person. The interesting fact about this software is it is the best tool which makes copies of your DVDs and even burns them. This will never damage the quality and output. That is why it is such a flexible supplement which you should try.