How to Install and Use Realpopup Lan Chat?
Realpopup is a state-of-the-art local area network messenger which allows you to chat with and send files to people who are connected to your network. It is an excellent solution for businesses, with no internet connection being required in order for employees to send and receive communications over the application. Not only will you save money that would otherwise be spent for an internet connection and server data usage, but you also prevent employees and co-workers from being tempted to waste time and cut into the company's productivity by talking with friends and family online while using public messengers like AIM, Yahoo, Facebook, and Yahoo.
Realpopup Lan Chat is easy to install and extremely user-friendly. In this article, we're going to show you how to install and operate the application as well as to highlight the most beneficial features.
Installation
Downloading and installation of the Realpopup Lan Chat is a breeze. First, you will want to visit the Realpopup official website, https://www.realpopup.it/; if you want to learn more about the application, you can navigate to the features section and give it a read before downloading. There is a help section located on the website, as well as a contact page, for any queries that you may have.
When you are ready to download the application, simply navigate to the download page and click on whichever file type works best for your machine and operating system. Realpopup Lan Chat works well with Windows and Mac machines and comes with three convenient extensions including .exe, .msi, and .dmg. You will want to save this file to your desktop or downloads folder, somewhere it can easily be found once the download is complete.
Next, you will want to double-click the downloaded file to launch the automatic setup wizard. After selecting your language, and clicking the next button a couple of times, you are now ready to start using the application for all your day-to-day internal communication needs over your local area network.
Messaging
Chatting with co-workers and employees couldn't be made any simpler than with Realpopup Lan chat. A pop up will appear on your home screen, and all network users will automatically be available on the users' list. Messaging is as easy as double-clicking on a name from the list. A chat window will pop up, and you can begin direct communication.
You can add multiple users to the chat quite simply with a couple of clicks. Select "invite" and add the users you wish to bring into your ongoing conversation. There are additional features in chat which allow you to browse information about other users such as which type of machine they are using and their activity history within the application.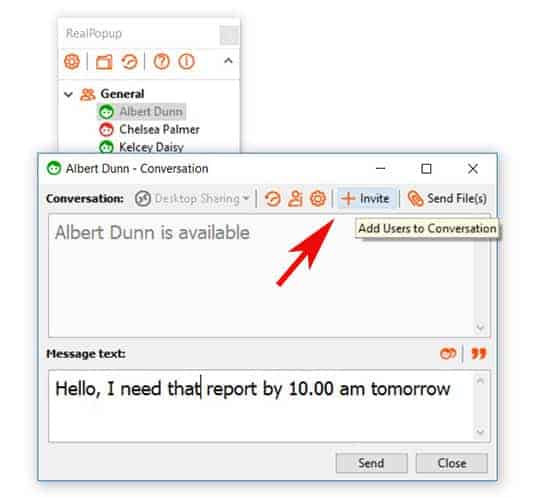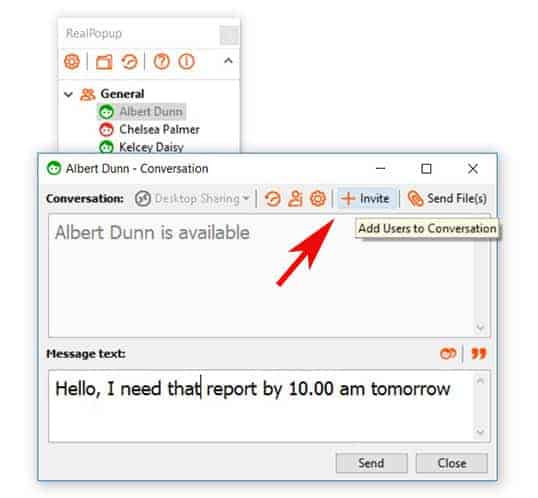 File Transfer
The application also supports super smooth transferring of files. Again, you will double-click a user from the list, and a chat box will appear. In the top right corner of the box, you can click on "send files" and then choose between manually browsing for files or dragging and dropping files directly on to the chat window. It doesn't get any easier than this. A convenient shared items folder will automatically be created for all files which you have received from other users over the messenger's file sharing system.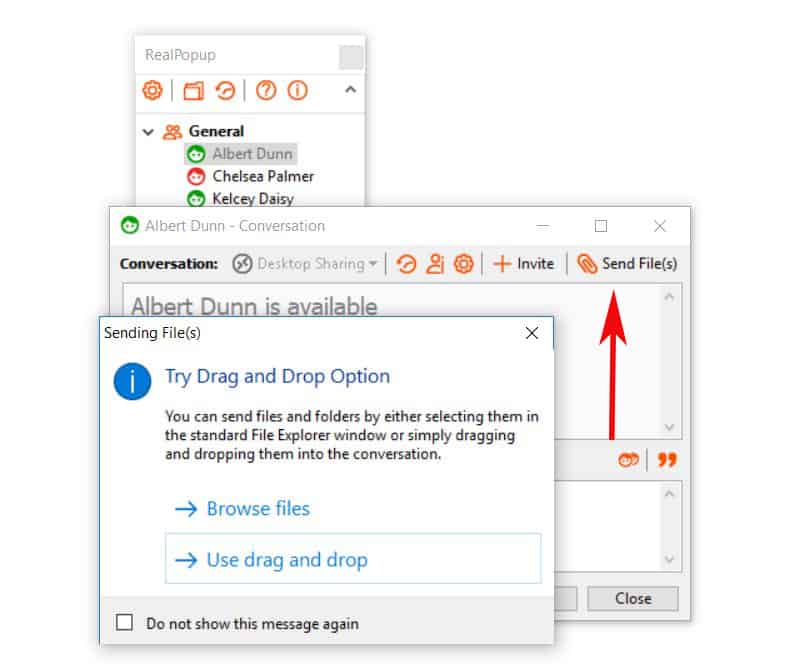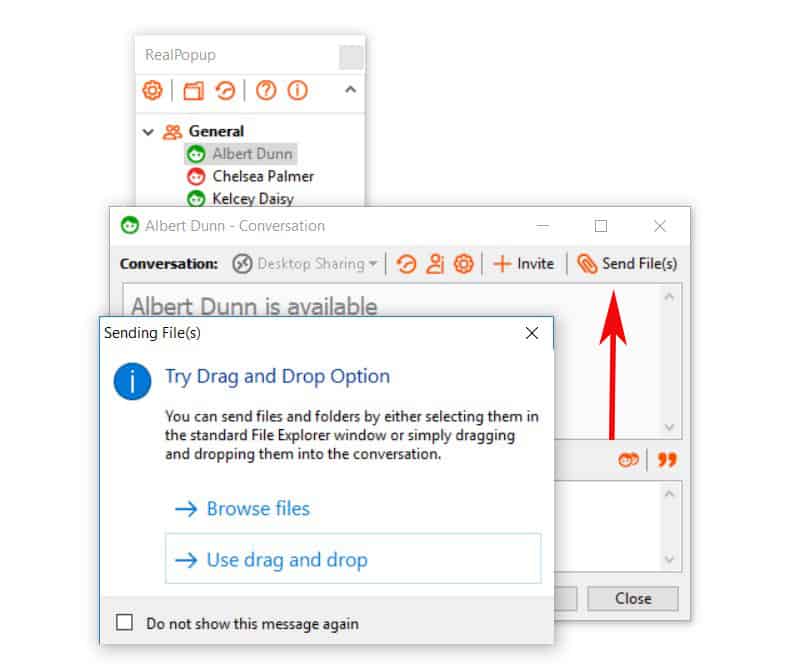 Remote Access
The desktop sharing options allow users to remotely access each other's machines to collaborate on work and other useful team functions. Troubleshooting and walking co-workers through processes with which they are not yet familiar is made easy with this feature. Get the maximum productivity out of your employees by helping them stay connected on the job.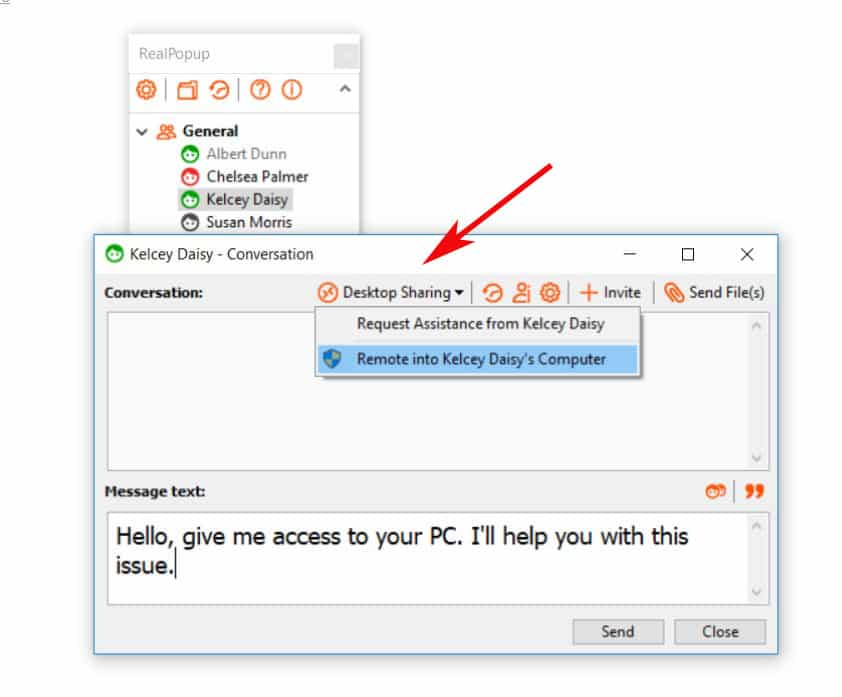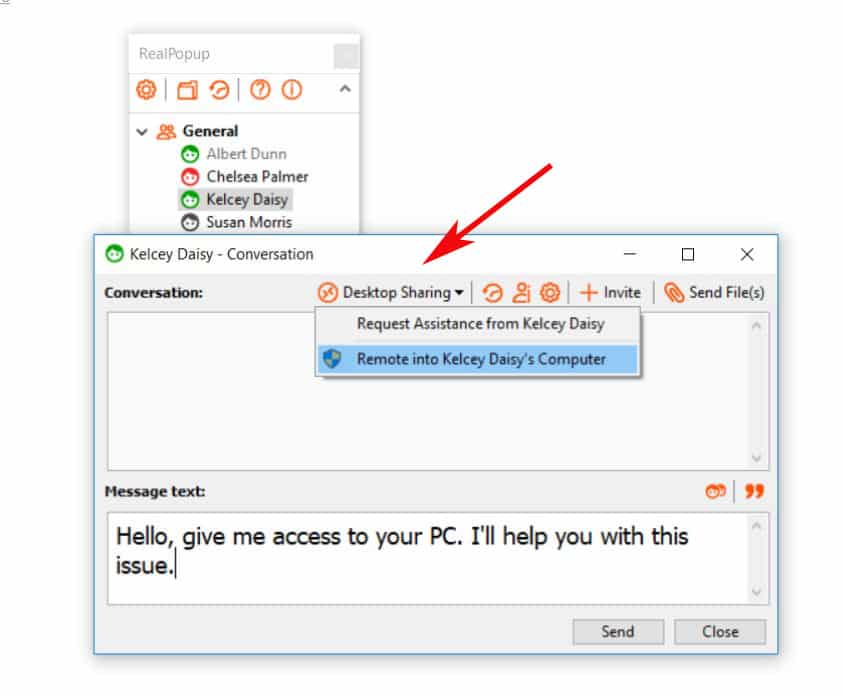 The #1 Messaging Solution for You and Your Team
When it comes to the internal communications in an office setting or workplace, there is no better solution available than Realpopup Lan Chat. Auto installation, a directory of active users, desktop sharing, quick and easy file transferring and group chats are only some of the benefits that your business will gain by switching to this powerful and user-friendly application.
Visit Realpopup LAN chat website today. Download Realpopup messaging software and try it for free. You will thank yourself later!