Wondershare Technology Launches FilmoraPro to Power Up Your Video Creation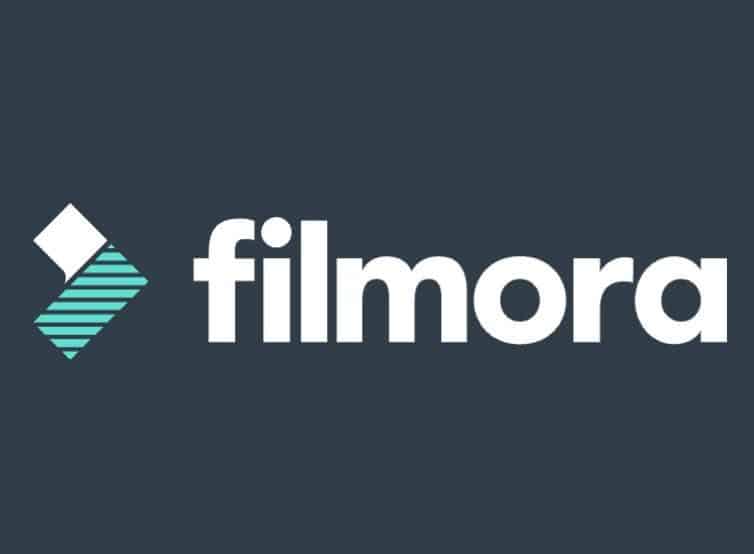 A video editor is a tool for creating professional looking video presentations. And not only for business purposes; a versatile video editing tool will make special occasions like weddings and birthdays more memorable. Whatever your needs are, a video editor that delivers professional and quality results is something you want to use.
Luckily, there are plenty of tools to choose from.
Are you looking for a professional video editing software which has features which compete with the best professional video editing software?
It's time you check on FilmoraPro. This video editor comes to you from the makers of Filmora9 Video Editor and competes with some of the best in the market including Final Cut Pro and Adobe.
Wondershare Technology, the maker of Filmora Video Editor, announced the launch of FilmoraPro — a professional video editing program designed for creators who are looking for greater productivity, better control, and more ways to flex their creative muscles. FilmoraPro is perfect for YouTubers or anybody who feels like they're outgrowing entry-level video editing software.
"FilmoraPro is us evolving with our users," said Ricky Cheung, product manager for FilmoraPro. "A lot of editors who started out with us, who made all of their early videos with Filmora, are starting to need a greater variety of professional tools to keep growing creatively. FilmoraPro will let them take those next steps into developing their skills without having to turn away from the ease of use – or affordability – they can expect from us as a brand."
Millions of stories have already been told through Filmora Video Editor. Launching FilmoraPro not only expands Filmora's product lineup, but it also empowers even more people to tell even more stories using a sophisticated, professional, toolset.
Core features of FilmoraPro
Dynamic Timeline
Edit more efficiently with unlimited tracks, advanced editing modes, grouped timeline clips, range markers, split edits, and more.
Powerful Audio Editing
Perfect your audio with audio sync, compression, noise reduction, and audio transitions.
Keyframing for motion graphics: create custom animations for text and graphics. There are even ease in and ease out tools to help replicate real-life motion.
Hollywood-Style Visual Effects
Access a large library of customizable visual effects including lens flares, chroma key, blurs, and distortions.
Professional Color Correction
Transform your clips with sophisticated color tuning tools including color wheels, scopes, and controls for highlights, mid-tones, and shadows.
Installation and Usage
Once you install FilmoraPro, launch it, and click on New project to get started. Next, you would see a well-organized video editor. It comes with a timeline editor; media place holds where you can import all audio, and video file, trimmer, live preview section, and so on.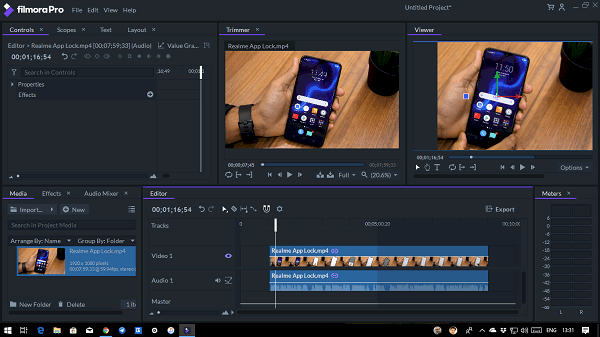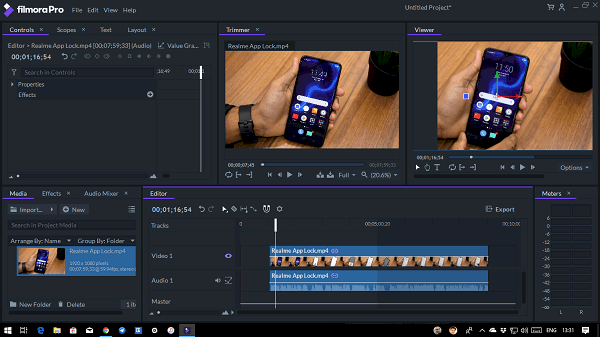 Drag, and drop the file into media section, and then drop it on the timeline editor. On top of the timeline, you have the option to cut, slip, rate stretch tool, snapping tool and so on. Its very easy to use the tools, and with unlimited undo redos, you don't have to worry much.
Slip part of editing is very useful. You can scroll part of the video to exactly where you want it to be. It can be part of a large video, but you can always scroll back and forth no matter what.
If you have a different part of videos you need to track, make sure to use Label feature to help you identify parts of the video easily. You also have access to Effects, and Audio mixer to add a new style, and manage any audio issues in your video.
Once you are done with editing, trimming, etc., its time you look at customizable animation. Its an important part of the video editing, and you can use it to add text in videos, and tracking.
The software allows you to set keyframes to control the effects. It also supports you to change the speed and duration of animation to make it feel fluid during the change of scene. It also includes highly customizable motion graphics and text effects.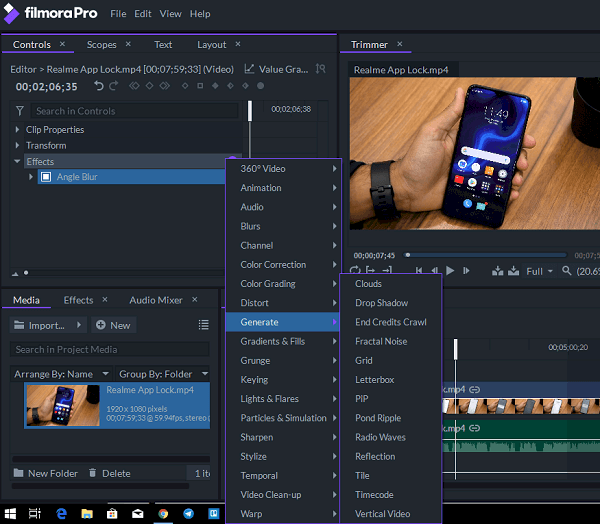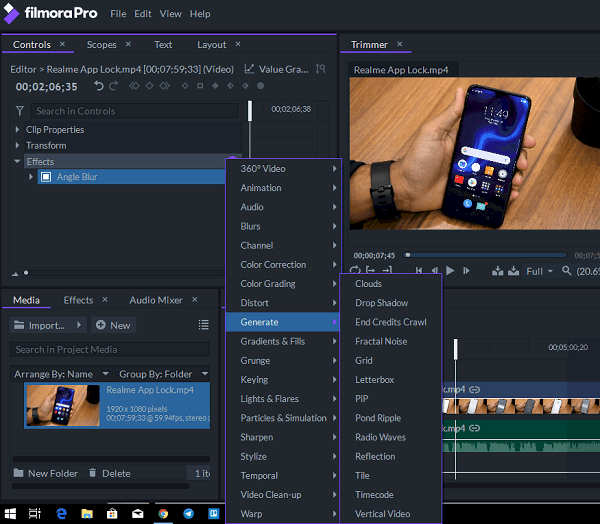 It offers tons of control you can apply to video. You have a final view section, trimmer, timeline for videos, audiometer, and so on. This video editing software also supports GPU rendering if your computer has a dedicated graphics card.
FilmoraPro Advanced Video Editing Highlights
Video Editing
The auto-correction mode can set the right color tones for your video. If your final footage came out a little bit extra bright or dark, you can choose auto correction for an instant fix or manually change exposure, saturation and so on. It also means you can manually control shadow, mid-tone, and highlight control.
When using scopes, you can make changes to be consistent throughout the video. It offers Histogram, Vectorscope, Waveform, and Parade.  When using Histogram, you can change the mode between Luminance, RGB, CbCr and so on.
Audio Editing
Most of the audio recording is done separately, and it's important that you can sync it properly. Audio features in FilmoraPro allows you to automatically sync. You can do it for use different shorts from the same scene, and sync the audio from them.
One of the annoying parts of the audio recording is sudden high & low. While you can do it manually, but the editor can do this for you. It can equalize the highs and lows of your audio to normalize the volume of your clips. This is useful when your volume rises all of a sudden when a scene changes.
It can also get rid of unwanted background noise which usually comes in handy when you record outside noise. It can cut down the level, so it just doesn't feel annoying. However, for usual background noise, you must use a good microphone every time. Adding to this, you can always use crossfades or overlap audio to smooth the sound between clips.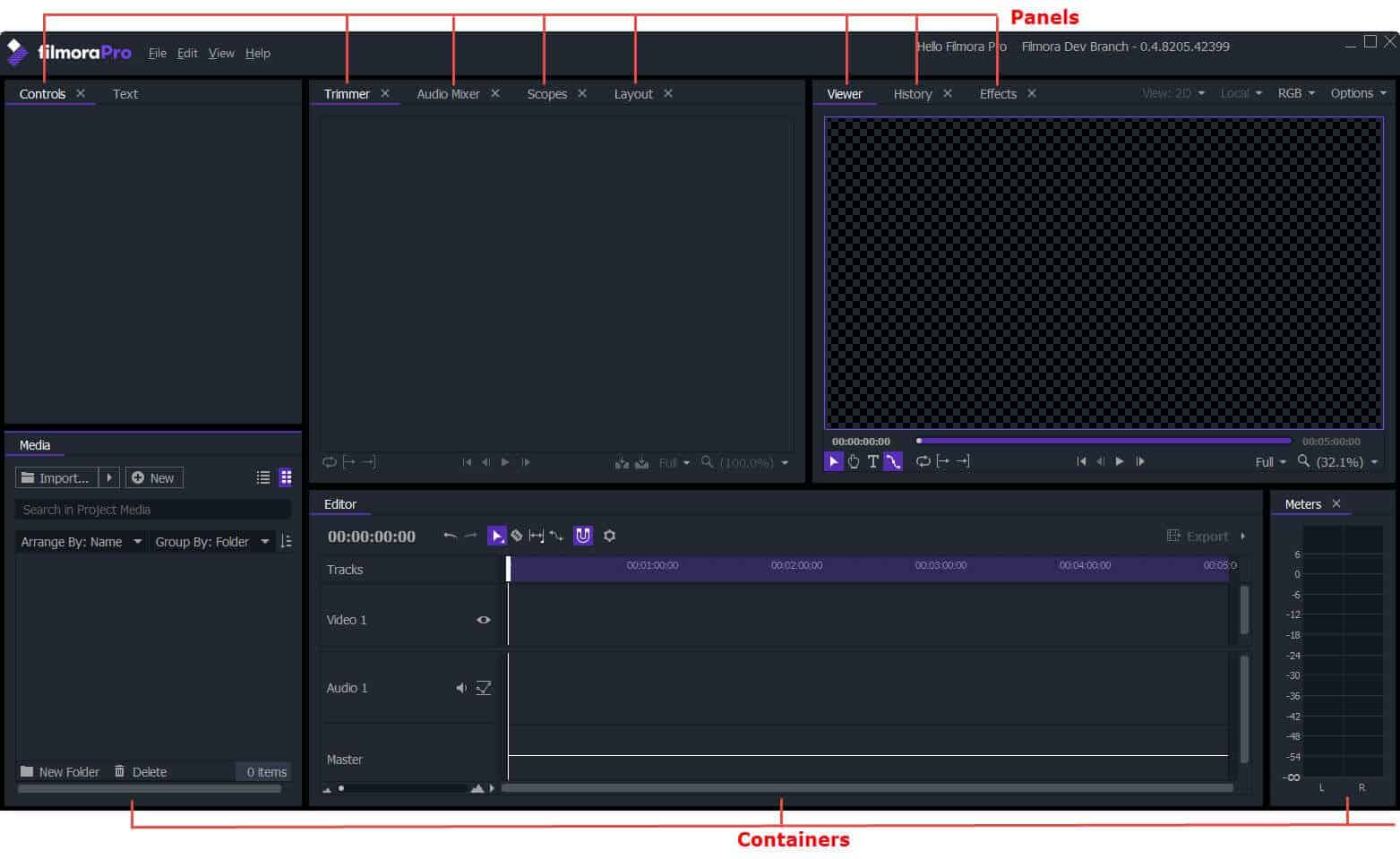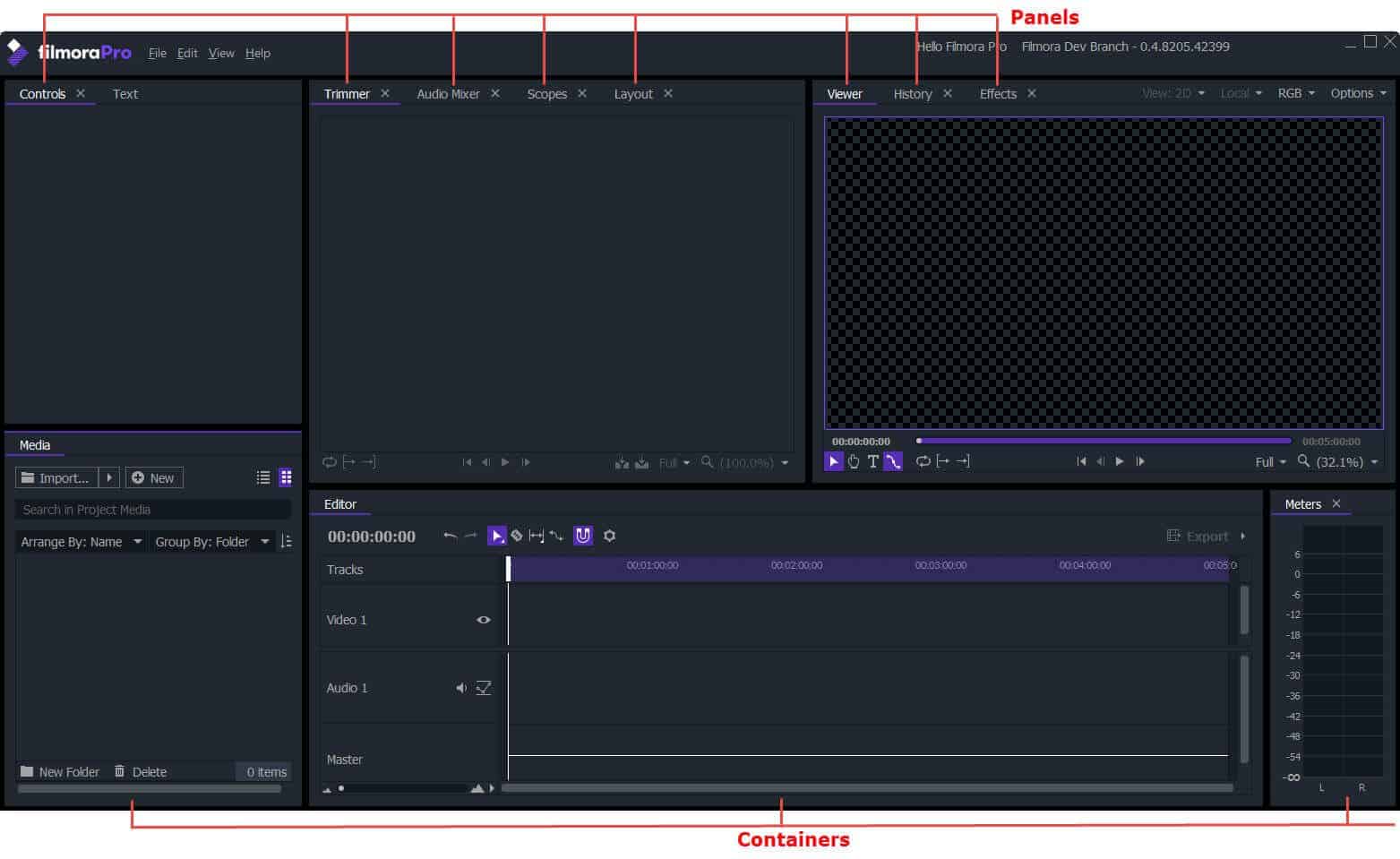 FilmoraPro Effects
Sold separately, but if you are into serious editing, it's a must-have feature. You can buy a lifetime pack deal for $299(pricing varies from time to time) and get access to 1000+ effects for videos which will make your video stand out. The best part is that they keep adding new effects especially for seasons, and festivals around the corner.
Technical Specifications (as per website)
Supported OS
Windows: Microsoft Windows 10 (64-bit), Microsoft Windows 8 (64-bit)
Apple: macOS 10.14 Mojave, macOS 10.13 High Sierra, OS X 10.12 Sierra, OS X 10.11 El Capitan.
Processor
Intel Core i3, Core i5, Core i7 or AMD equivalent.
Disk
At least 1.2 GB free hard disk space for installation
RAM
At least 4 GB
Graphics Processor
Graphics processor with at least 1 GB video memory.
NVIDIA GeForce 400 Series (2010), AMD Radeon HD 6000 Series (2010), Intel® HD Graphics 4000 (2012)
Internet
Internet connection required for online activation and web services.
Recommended Minimum Hardware
Processor
Intel Core i5-3550, Core i7, or AMD equivalent
RAM
8 GB
Graphics card
NVIDIA GeForce GTX 970 or better
Intel® Iris™ Plus Graphics 640 or better
4GB Video Memory
Supported Formats
Supported Input Formats
| | |
| --- | --- |
| Video Formats | AVCHD (M2T, MTS, M2TS), AVI (including 10-bit and 12-bit GoPro Cineform) (Windows only), DV & HDV, MP4 (AVC/H264 & AAC), MPEG-1 & MPEG-2 (TS, PS, MPE, MPG, MPEG, M2V) , MXF (DVCPro HD), MOV (including 10-bit and 12-bit Pro-Res and Cineform), WMV |
| Audio Formats | AAC, MP3, M4V, MPA, WAV, WMA |
| Image Formats | BMP, GIF, JPG, PNG, TIFF, OpenEXR (including 32-bit) |
Supported Output Formats
 AVI(Cineform, Uncompressed, PAL DV, NTSC DV) (Windows only)
 Quicktime(Cineform) (Windows only)
 Quicktime(ProRes, AVC, Photo-JPEG) (Mac only)
 OpenEXR
 MP4(AVC/H264 & AAC)
 Image sequence(PNG, JPG, BMP)
Rating:
Quality: 5/5
Supported formats: 4.9/5
Multiple executions:4.5/5
Speed: 4.9/5
Templates available: 4.5/5
Pros:
A large variety of operations can be performed
Huge template library
Cons:
Conclusion:
In the end, when it comes to rendering the output, FilmoraPro is good at it. It also supports GPU based rendering which can make it work even better both in terms of quality and time. FilmoraPro supports 4K UHD quality @ 100 FPS and goes as low as 24FPS in its Instagram template. You can chooseAspect ratio from the templates as well which include Square Pixel, NTSC, PAL, HD Anamorphic, DVC Pro and so on.
There is no doubt that FlimoraPro from Wondershare is one of the best video editors on the internet right now, and with constant updates, it can compete with likes of some of the professional video editors.
Verdict: Highly Recommended !!!!!
FilmoraPro is a complete package to work on, so please do give it a try and thanks for reading this article. Please do share us and give us your valuable feedback. Thank you!!