Conver Text to speech/Audio/voice|Converter without online software

Text to speech software, which are currently present in the market are all paid.  If you want to convert any text to audio then surely you will have to pay some handy money for such software.
I will here reveal a trick for making best text to speech software in notepad. It is vb script in notepad and doesn't make use of any third party software.
Yes, you heard it right friends. With this trick, you can convert any text to Audio without the use of third-party software.


Isn't it Interesting?
I guess, it is.
So let's start friends…
Steps for converting any text to audio| Best text to speech software
For converting any text to speech just make use of following notepad trick. This trick has been successfully performed on our system. It doesn't take help from any online software for converting text to audio. Below are the steps.
Recommended:
This article will able to answer your queries like text to speech, text to audio, best text to speech software.  The main thing about this trick is, it doesn't take any online help.
Step 1.
First, Open the notepad then copy the following text and paste it in notepad.
Dim msg,spi
msg=InputBox("Enter the text for conversion–):","By Tech Geekers")
Set sapi=CreateObject("sapi.spvoice")
sapi.Speak msg 

Step 2:
After Pasting the Above Code in notepad , Save the file with the name Text2Audio.vbs.The name of the file should end with  .vbs extension. Its nothing but a Vbscript(Visual basic script) File.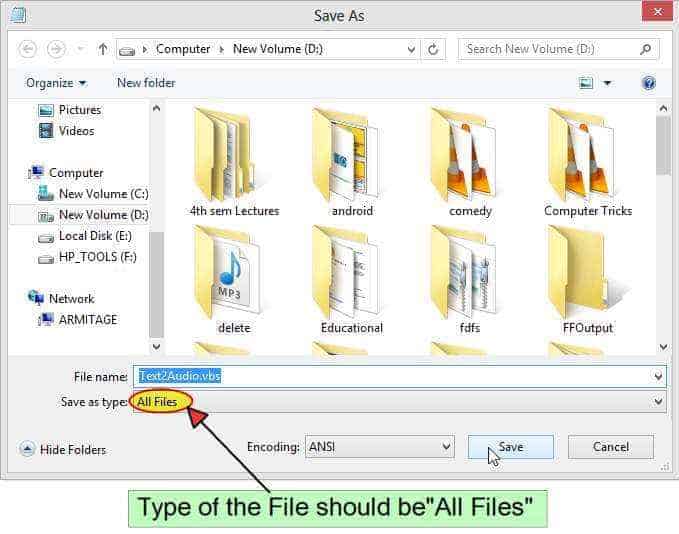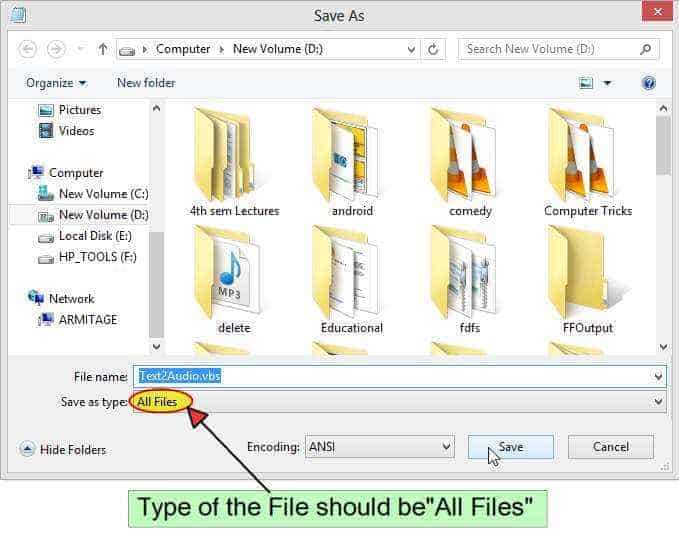 Step 3:
After saving the file, double-click on its icon as shown in below left picture and you will see a box like the below picture.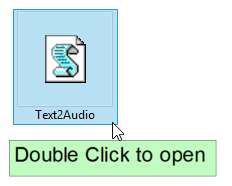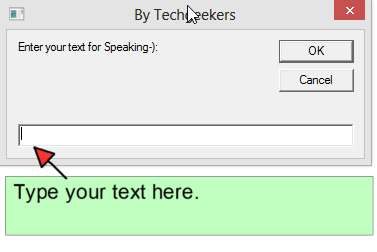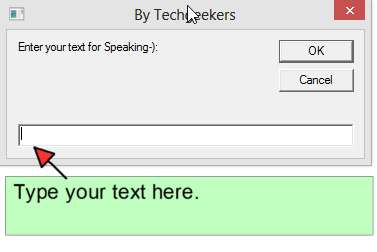 Step 4.
Type any text which you want to hear, and then press OK button.
This will convert text to audio when typed in text box. Just give it a try on your computer.
Note: The above window will close automatically. Don't worry about it. 
That's it friends. All Done.
You can hear it, loud and clear.
 
Isn't it amazing friends?
Note: If the speaker is mute. You will not able to hear the sound.
This trick performs offline not online. However if you are online then also no problem. 🙂
Also read:
This is really an amazing trick for converting any text to speech. I hope you have successfully performed this trick on your system. I would love to hear your experiences about this trick.
I know you will like this trick for sure.
Keep visiting the site and stay updated to techgeekism.
Please like us on facebook to get our daily tech updates.
Thank you…