Why I'm using Plagramme plagiarism checking software?
A plagiarism checking software should run in-depth web searches across all databases and should be easy to use. These are two factors that Plagramme perfectly addresses.


And then there's more to this online tool. Here I would like to give the main reasons why I am using this plagiarism checking program.
Free to Use
Plagramme is free to use and offers basic features without any need to spend anything. This makes it perfect for students. At the same time, detailed reports and additional features are available for a price. The platform has a system to work around it – you can earn credits by sharing your experience on the social network. Share it on multiple social sites and you would be able to earn a decent amount of credits.
Ease of Use
A plagiarism checker should be easy to use, and Plagramme offers simple UI and process to check your documents.
Visit the website
Sign-up for an account using your email address or login using your LinkedIn, Facebook or Twitter account.
Upload the document that needs to be checked and the software will compare the content with the entire web.
A report is generated showing multiple factors such as risk score, similarity percentage, potential matching resources, paraphrases and bad citations, and much more.
It is a free program to use, but detailed reports can be accessed with credits. You could load your account using a card or by earning points.
Advanced Features
The advanced features that make it a more special tool include:
A Scoring System: You can find out the risk score, bad citation, and paraphrases. The software provides similarity score and matching resources in the detailed report. The advanced info gives it an edge over other plagiarism checking tools.
Multi-Language Support: Many people create documents in languages other than English. Plagramme is a versatile tool that can also check your documents for plagiarism in other languages. So if I write a paper in French, I could still check it with this software.
Paraphrasing: Another unique feature that makes Plagramme special to me is its ability to identify paraphrasing by a writer. If you given a piece of work to someone else and they turn up with paraphrasing the original content sourced from someone else, this is the software to use and detect it. If someone changes the paragraphs in a way that the final copy seems to be original, this plagiarism detecting software can identify it.
Source: When I check plagiarism in a document, I would want to know the source. This software can simply list all the sources after running an in-depth search on the web. This allows me to quote the sources rightly and make an original piece of work.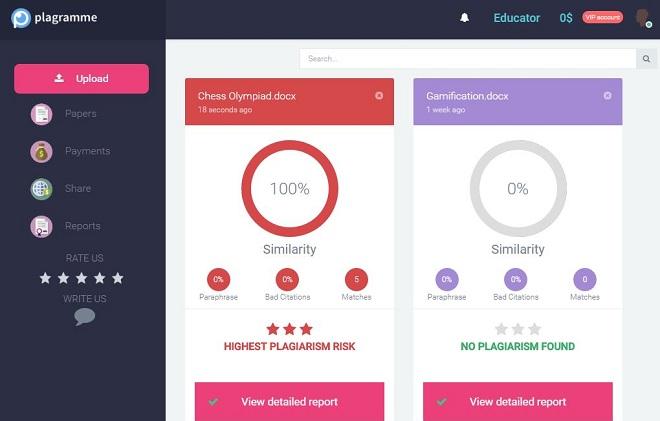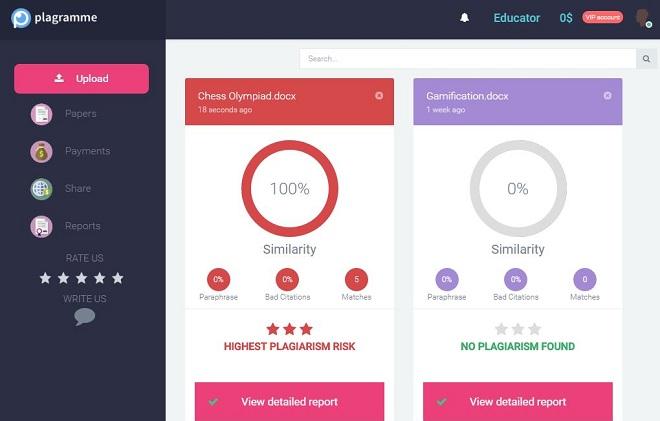 Plagramme also has a Cloud feature. This is something unique for a plagiarism checker. It allows you to upload and store your documents in the cloud. Even when the documents are checked for plagiarism and the report is generated, you can keep them in the cloud for future use.
Simple Interface
The online tool has a simple, intuitive interface that is easy to understand for everyone. You can easily and instantly upload a document or even multiple documents, have them checked and the report is presented on the same screen.
Plagramme is easy-to-use. It is quick and runs deep searches in an instant. It supports multi-language searches and can generate advanced reports. I can share the reports and documents with others for review. I cannot ask for more from a plagiarism checking software.