IOTransfer 3 – The Ultimate iPhone/iPad Manager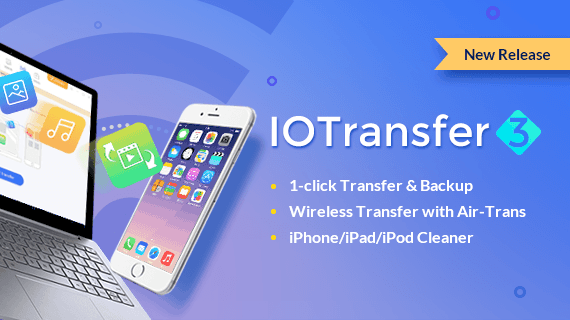 Product Name: IOTransfer 3
Version: 3.0.0.1038
Short Description:
The ideal iPhone manager, the IOTransfer 3 transfers and manages contents from iOS devices to PC.
Long Product Description:
IOTransfer 3 is 1-click, user-friendly, effective for transferring contents from iOS devices (iPhone, iPad, iPod) to PC. Typically, it is used to manage photographs, music files, videos, contacts, data backups.
Content:
The IOTransfer 3 application helps you to import, export and delete contents of apps, iBooks, Podcasts, and Voice memos – basically you can "manage" all the files using the MANAGE tab.
The CLEAN feature removes unnecessary cache and junk files such that your iOS device has more free space.
This iPhone transfer software comes with the latest features for downloading and converting videos from diverse websites. All video formats are compatible because of IOTransfer 3 so feel free to download to iPhone, iPad, iPod and PC to watch offline. Also, use Converter feature in VIDEOS to convert video to an audio file for transferring to other iOS devices.
The latest AirTrans enables you to use the WiFi connections instead of USB ports. You can quickly transfer contents from iOS devices to PC present on the same local network using this software for wireless iphone transfer.
Operating System Requirements:
You would require Windows versions 7/8/8.1/10 on your computer
Other Minimum Requirements:
The IOTransfer 3 works with iPhone, iPad, and iPod with iOS 8.3 or later
Direct Download Link:
You can download this application directly from this link – http://download.iotransfer.net/download/iotpc/20180612/iot-installer_v3.exe
Screenshot of the product's UI – please send these in a separate file.
Provided separately
License Type:
Shareware
Price:
$39.99 for 1Year/1 PC
Buy Now Link:
https://www.iotransfer.net/store/index.php
Functionality Limitations:
IOTransfer 3 runs on PC with Windows7/8/8.1/10 where it has to be installed for use.
Download free iPhone manager, IOTransfer 3, to use for 7 days trial period. During this time, you can transfer a maximum of 20 various files per day.
Access iOTransfer Advanced features to upgrade to iOTransfer Pro version. You enjoy limitless file transfer from iPhone, iPad, iPod Touch to PC. You get 24/7 technical support and Pro version gets updated automatically.
What's new in this version (attach/list ChangeLog):
1-Click Transfer:

Photos

Transfers from iPhone, iPad, and PC.
Photo backup to PC without iTunes.
Preferred albums with retainable photos.
Delete unwanted junk photos.

Music

Transfers all music formats from iPhone, iPod, iPad to PC.
Music shareable with family and friends.

Video and Movies

Drag-and-drop movies for transferring from iPhone, iPad to PC.
Watch movies offline.

MANAGE:

View and remove contents on iOS devices (iPhone, iPad, and iPod).
Backup contents regularly so you can retrieve data from PC to iOS device in case of accidental deletion.

CLEAN:

It removes junk files and caches from iOS devices to make more space.

VIDEOS:

Free video download

All formats of videos can be freely downloaded for watching offline.
You can search YouTube and download your favorite video for free download using IOTransfer 3.
You can save these videos or movies directly to your iPhone, iPad to enjoy on the go.

Easy Video Converter

Converts videos to audio and other video formats. These include AVI, FLV, MP3, MP4, MKV, MP3 and others.
After converting, you can transfer the videos to iPhone, iPad, iPod and PC to enjoy top quality.

AIR-TRANS:

Wireless Wi-Fi connection

No USB restrictions. Can use your devices anywhere in the area where Wi-Fi signal works.
Transfer contents from iOS devices to your PC on the local network.
Conclusion
So, here, is a quick review of the latest IOTransfer 3 that is still in its development stage. Once it is available to all, it is going to be the ultimate tool for transferring and managing data and files from iOS devices to your PC.