Adsterra Review: Best Advertising Network for Advertiser & Publishers
Nowadays, there are many websites in the advertising and monetizing network sector which allows the owners of the website to earn money with the unique contents of their particular websites. Here, we are going to discuss Adsterra, which is one of the new websites in the advertising industry and try out the latest findings with it.
There are many platforms on the internet which are available for bloggers and publishers. Some of those ad networks come and go within a small span of time with or without paying the required amount of money. But some are reliable and worth of using quite perfectly.
So, one should be very careful while joining an ad network. This applies well both to the publishers and the advertisers.
Started in 2013, Adsterra is one of the premium ad networks which mainly specialises in performance-based solutions for advertisers and media partners all over the world. Currently, Adsterra is performing well and has been delivering over 10 billion impressions per month. It delivers various ad kinds for good returns, but what they truly master is popunder ads.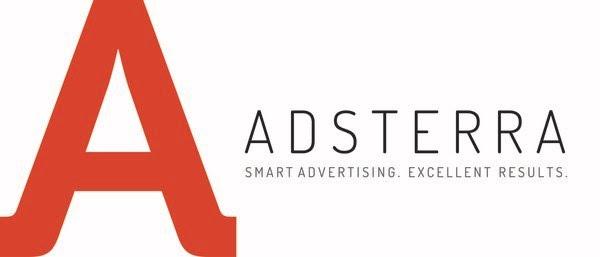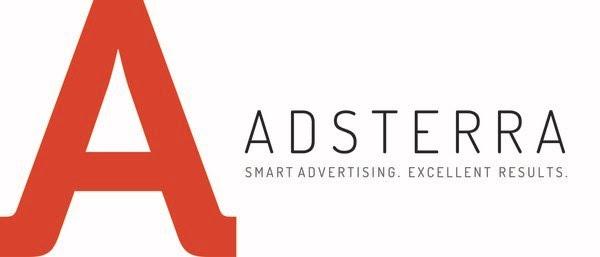 Now to understand this topic, we have to know what is a pop under ad. The most common example can be cited by the situation while watching a video on Youtube. Most of us might have come across the situation of skipping an ad. Now, this ad delivers a good impression on our minds through a short span of time. These are delivered by the companies like Adsterra.
Adsterra covers almost 190 countries for their work and a big number of companies from these countries.
Adsterra delivers good services ensuring the fact that the customers get their money returned properly in the best possible way. The best part about Adsterra is that the company provides a total technology-based platform which makes it easier for the clients to get the best results which are deserved by them.
Features of Adsterra
Now, we can look at some of the best features which makes Adsterra one of the best ad networks in the world today. The company has come a long way to achieve such stats which every other ad company would dream of. They can be listed as under:
Account manager (personal): The clients will receive a dedicated personal account manager. They will help them to optimize the better ways to get the best possible results available in the market today. Moreover, they will help to be updated with the latest news and suggest better methods for the campaigns that are being planned by the client.
Security: Adsterra maintains a strict technology-based platform for doing the works and uses a third-party fraud detection system to stop any undesirable problems. It will automatically monitor any kind of frauds and tackle the situation with ease about the campaigns, maintaining the security of the whole project.
Track Conversion: The company will track the conversion factor whether the ad would be made for mobile or desktop platform and traffic according to the subject. It is made to fit the highest conversion through the best possible payment model. It is done by choosing the best plan available in the market: CPM, CPL, CPA, CPO, CPI (PPI).
Statistics in time: The statistics can be accessed in real time so that the detailed performance can be tracked quite perfectly. This has been a great step in the way of ad publishing. Companies like Jabong, Mobvista, Jumia, StarGames etc. are using this website so that the publishers can expect a great return.
As we have said before that Adsterra helps to monetize the traffic. You can easily become Adsterra publisher by signing up. You can choose between mobile and desktop traffic according to various criteria. At the same time, advertisers can also target and opt for a particular platform and vary their ad sizes.
Types of Ad formats in Adsterra
So, we are going to discuss some of the main ad formats provided by the company which are available separately for mobile and desktop platforms.
For Desktop, following ad formats are available.
Leaderboard: This ad comprises of a size 728*90 and the publisher places it after the logo is made in the header part. This is not very efficient for its purpose but well enough for branding purposes.
Rectangle format: This is one of the most common ad sizes as it is the Classic ad format which can be a perfect alternative. The most significant feature is that it can be placed anywhere wherever one will find a place.
Pop-under: If the stuff has viral content, this type works best for maximum clicks and the publisher can get really good returns from this. This ad format is only
Skyscraper: According to this type, the ad is placed in the sidebar and is very useful to get a good number of clicks for it.
Video Banners: This type is based mainly on the CPM model and they can be placed into any space of the publisher's website.
Direct Links: In this type, there is no need to create any form of video banners and any other materials for promotion. There will be a link which can be placed anywhere according to the publisher i.e. it might contain any kind of banners, texts or videos. But it should be noted that Direct links are a part of pop-under.
For Mobile, all desktop formats Ads are available. Apart from those, below ads formats are also available for mobile only.
Push Up Ads: This ad can be placed on the above & right corner of the screen simultaneously. This type of ad format converts quite well, as it grabs the attention of the visitor quickly.
Sticky Footer: You can place a sticky ad in the footer of the screen. This ad will stay in the footer even while scrolling the screen. It can convert well depending upon the product.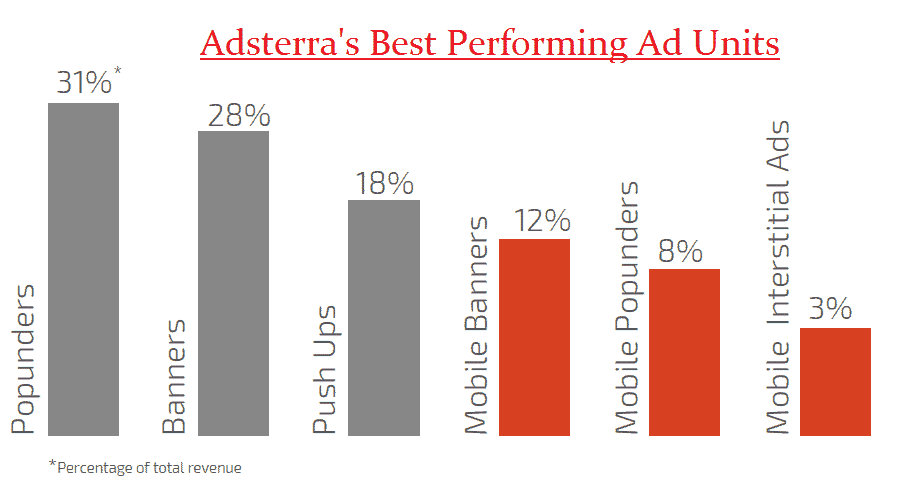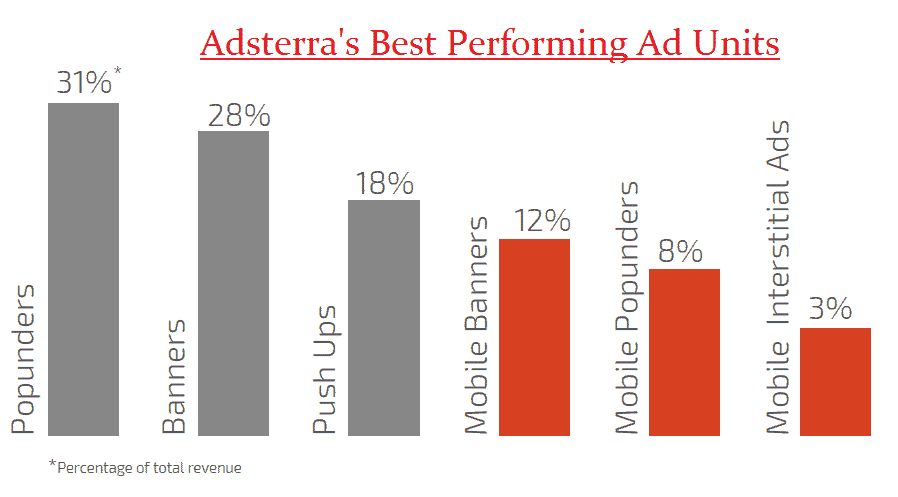 Another powerful feature of this website is that it provides something for everyone. Even the publishers can get benefitted from this website and they can earn a wholesome amount for every stuff.
Retargeting System
It is hard to convince every visitor on their first visit. Adsterra understand this. So they have made an advance retargeting system. It will re-target the visitors who have visited your site but have not opted for your service. For re-targeting system to work, you need to place a small code on your site. This will let Adsterra that a particular user has visited your site. Adsterra will then retarget those visitors.
Referral Program
Adsterra has a great referral program. You will get 5% revenue for every referred publisher, for the lifetime. There are many ways you can let your friends know about Adsterra. Some of the best ways, you can promote are social networks, writing a blog about Adsterra, through forums comments & text links etc.
CONCLUSION:
In conclusion, we can say that the website known as Adsterra is very user- friendly and the interface it maintains is also quite nice. The network can be understood in a very simple way and it is also one of the fastest growing networks. Since it is quite secured, no one would have to think about the security purposes.
Every feature is aligned in a creative way and the smart technology it follows adds to the benefits. So, if anyone is looking for the promotion of their websites, they can become Adsterra advertisers. Adsterra is the ideal destination for advertising. The dedicated personal manager would help in any form and language to help the Adsterra clients benefit in a more profitable way.