5KPlayer : An Innovative 4K Video Player, Downloader and More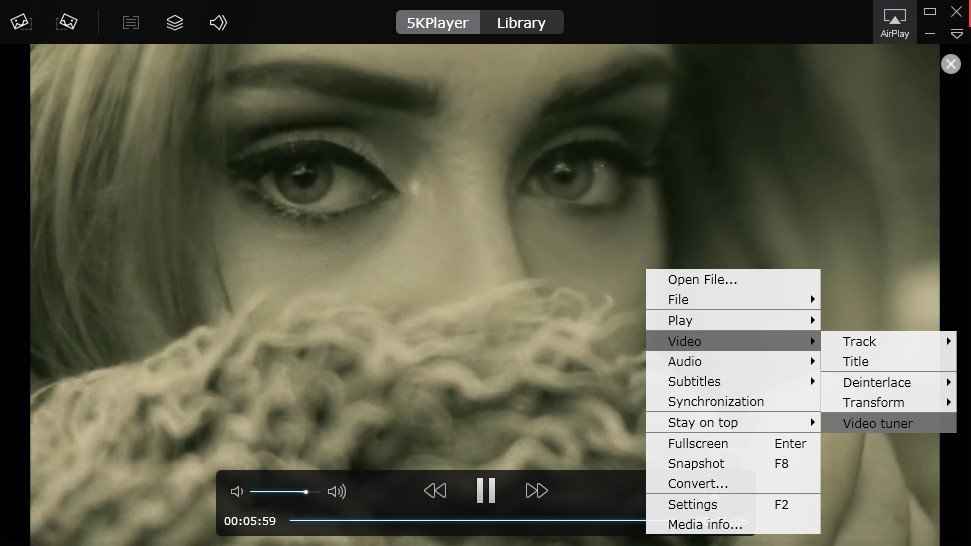 Media Player is an indispensable program on any Windows, even on the newest Windows 10. VLC is definitely one of the best free media players for its professional and powerful ability to handle kinds of video and audio files. However, deficiencies still exist, such as the messed-up library management, non-smooth playback of UHD videos, etc. Hence, I decided to find a free but unique media player for my Windows 10.
5KPlayer : 4K Video Player, Downloader
Searching on filehippo, a lot of media players pop out: Media Player Classic, GOMplayer, Potplayer … None of them is enough when I've used VLC. My search ended with 5KPlayer, which is an innovative and unique media player that is worthy of recommendation. Also, check out You TV Player , You can watch your favorite show for free in it.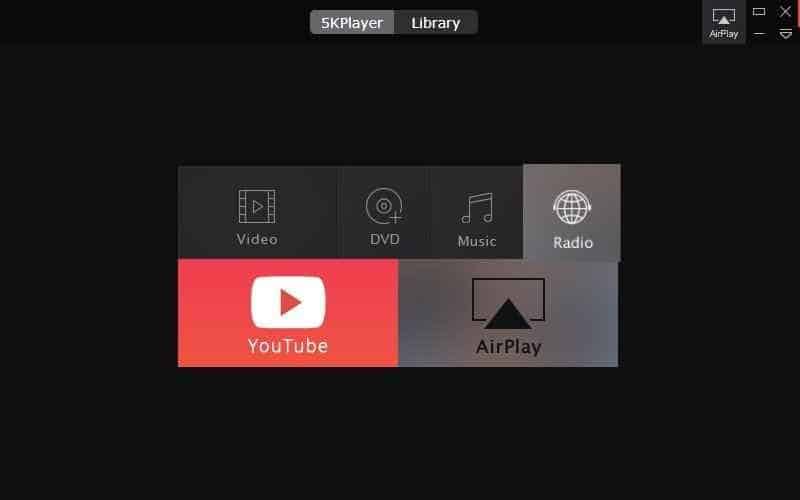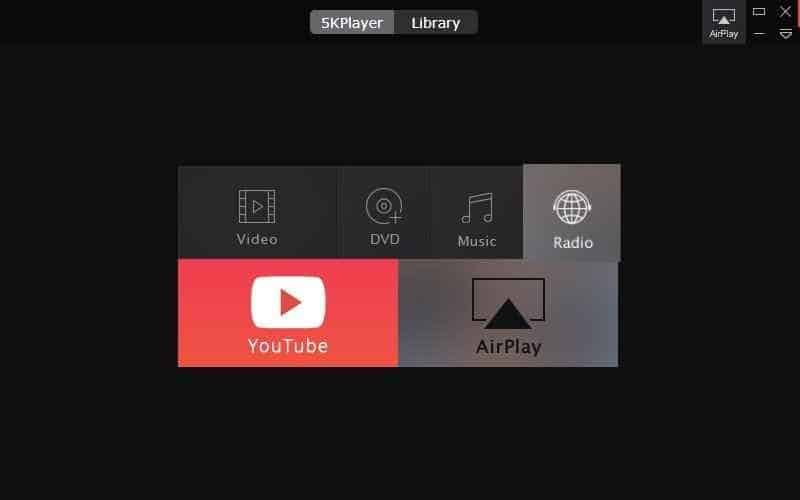 Why Is 5KPlayer Innovative?

 
5KPlayer, compatible with all Windows versions including Windows 10/8/7/XP/Vista, is a combination of UHD/4K video player, music player, online video downloader as well as AirPlay receiver and sender. It brakes the tradition and embraces new technologies, making itself modern and innovative.
You can find more from its official site: www.5kplayer.com
Here I am going to introduce you the specialties of 5KPlayer one by one.
How to Play 4K Videos on Windows 10 with 5KPlayer
"4K" has been a tag on YouTube, and even the newest iPhone 6S can record 4K videos. What's the adequate tool to enjoy 4K UHD video download, and watch 4K 5K videos on my Windows 10? I used VLC to play 4K videos, however, the smoothness is barely satisfactory. I used 5KPlayer to play some of my 4K videos, and the result is a delight. I have to say that the picture and smoothness is quite a visual feast, 5KPlayer is and represents the true meaning of top media players for Windows 10.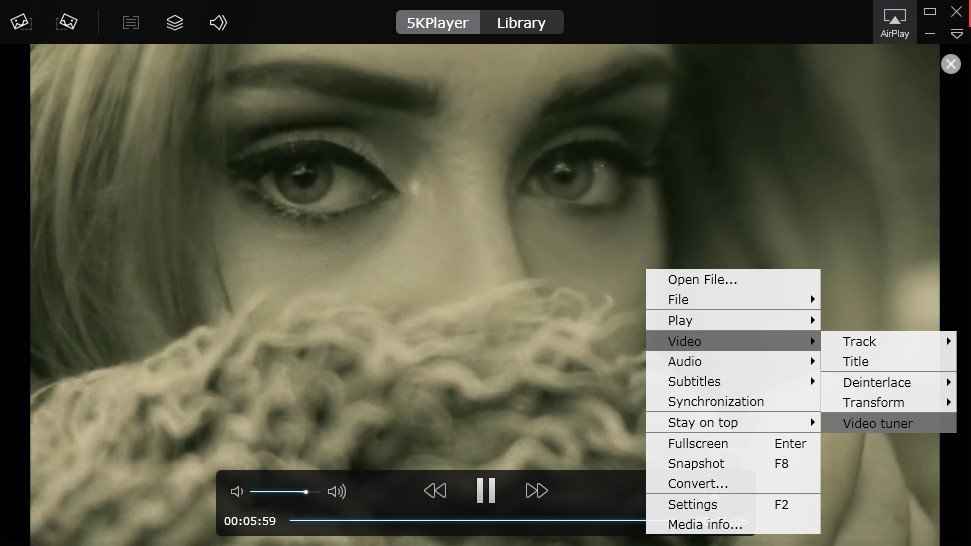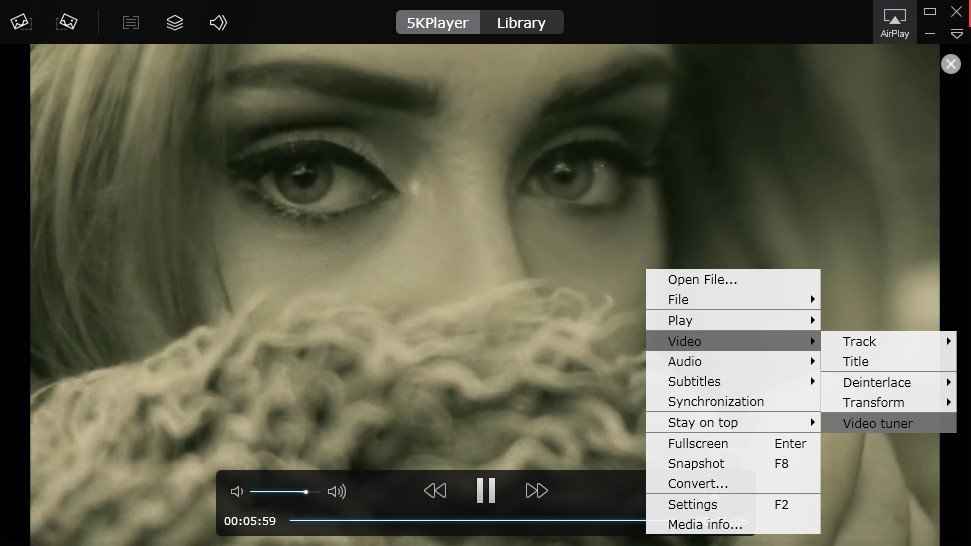 The steps to play 4K videos with 5KPlayer is much simpler than others. Click the "Video" icon on the slick interface, and choose a video from your file folder. Still there are other ways to play videos with 5KPlayer too. Like VLC, you can right click to open a file or just drag and drop.
To better enjoy 4K/UHD videos, you can make some proper adjustments about video, audio, subtitle. All are available on a right click. If you are not satisfied with the picture, you can tune contrast, brightness, saturation and gamma in "video tuner". Moreover, you can convert the video to MP3 or AAC.
You can rotate videos by 90°/180°, in case of recording problem on some portable devices.  


How to Download 4K Online Videos to Windows 10 with 5KPlayer
To avoid buffering and ads, it is a good choice to download videos for offline playback on Windows 10 PC. 5KPlayer is able to download 4K online videos from YouTube, Facebook, Vimeo and other video hosting sites. The procedure of downloading is not rocket science, a few clicks can get the job done.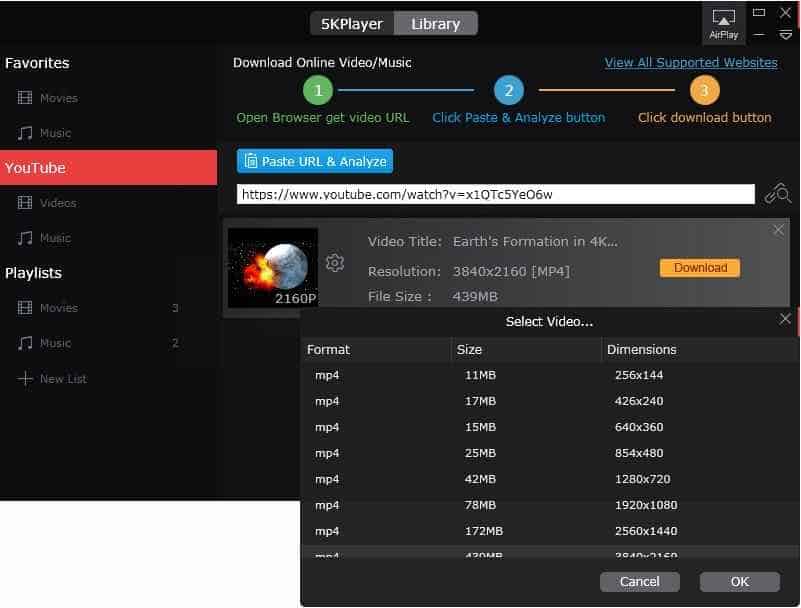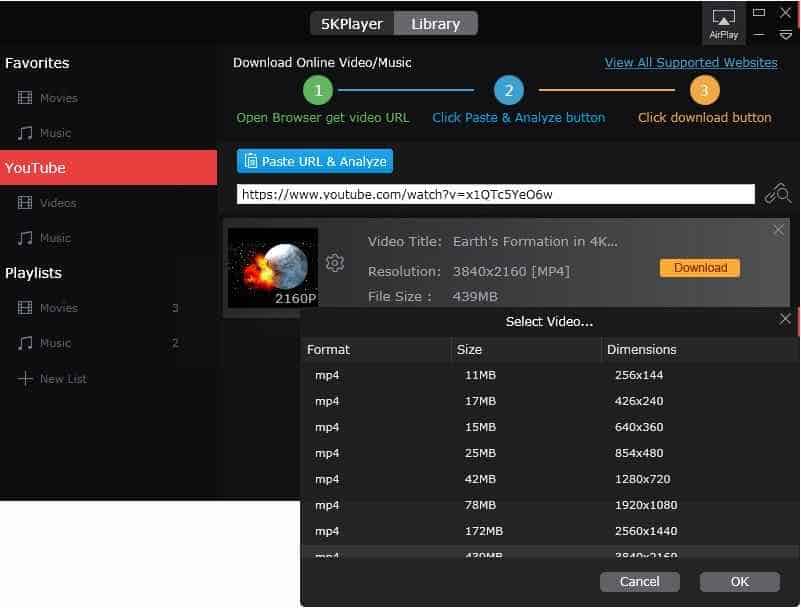 Steps to download 4K videos:
Step 1: Copy URL from your browser.
Step 2: Paste the URL in the blank area and let 5KPlayer do the analysis job.
Step 3: Strike the "Download" button.  
According to your need, you can select the video resolution and format to download by clicking the gear icon.
How to AirPlay from Windows 10
AirPlay iPhone/iPad/iPod to Windows 10 is possible with 5KPlayer. Besides, 5KPlayer is able to AirPlay Windows to Macintosh OS and Apple TV. It is a pity that AirPlay android phones to Windows requires installing other third party app on Android phones, even AirServer cannot do it alone, which not introduced here.
Steps to AirPlay to Windows 10 (Let's take iPod as an example):
Step 1: Open the control center of iPod
Step 2: Choose the Windows PC you want to do AirPlay to
Step 3: Tap "Done" and you can AirPlay music/video to Windows 10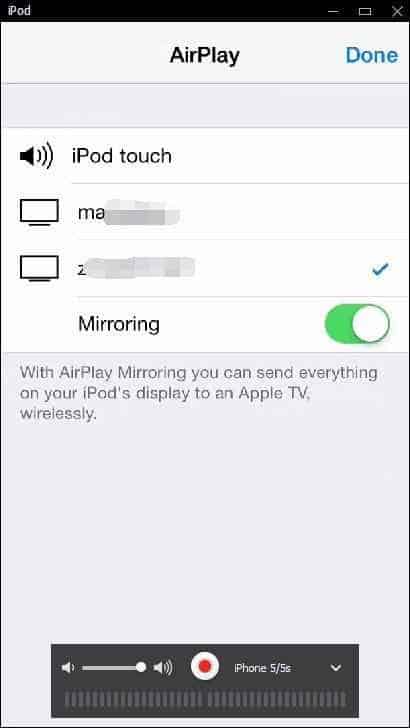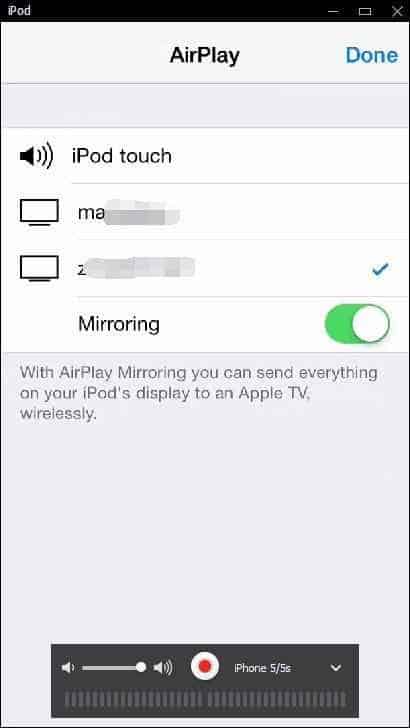 Make sure:
Both devices should be under same network circumstances.

The compatible media formats for AirPlay are MP3, AAC, MP4, M4V and MOV.
And if you want to mirror iPhone/iPad/iPod screen to Windows, you can switch on mirroring in the control center. Furthermore, 5KPlayer is capable of recording the screen while mirroring.
Other Essential Functions of 5KPlayer
As a media player, 5KPlayer also can deal with the general tasks such as playing music, DVD, Blu-ray videos. In addition, 5KPlayer can play satellite radio too, extending your horizon of entertainment.
Unlike VLC media player, 5KPlayer owns a neat library management. Here, you can tick a music or video as your favorite by click the heart shape icon.
My Further Requirements about 5KPlayer
It is fairly good enough, though we always hope more about it. Below are my own opinions:
It would be better that 5KPlayer can provide an APP version for smartphones and tablets.

And a cutter is needed in its conversion function.
Although English is OK, a Hindi version would be good too.
A more beautiful icon will be appreciated.