Is Manual Antivirus Scanning important or not ?

How many times it has been that you did Antivirus scans on your Computer or external storage device such as Hard disk or pendrive and thinking your Computer System will be safe?
Well this step is not necessary in most cases. You are unnecessarily doing Antivirus scan and waiting for it to finish and then accessing your Storage Device. I'm not saying that you shouldn't do Manual Scans but smart people don't waste their time doing manual scans everytime they get any time new files in their Storage Device.
Why it's not always a smart move to do Manual Antivirus Scans ?

It's because your Antivirus is already protecting you by doing background scanning especially if you are using reputable tools like the Norton Kaspersky tools that the reviewers just love. Yes, your Antivirus is very smart and does the background scanning for you without telling you.
What are other names of Antivirus Background Scanning ?
Its also called Real-time protection, On-Demand Scanning or resident protection.
How Background Scanning Works ?
Whenever you download any file or get any new file in your Storage Device then your Antivirus automatically scans that new file and does Virus or Malware checking. If Virus found then it will automatically remove that file and show you message such as "Virus or Malware Detected and Antivirus is taking actions to remove it". If file is safe to use, then there is no problem, you PC is safe.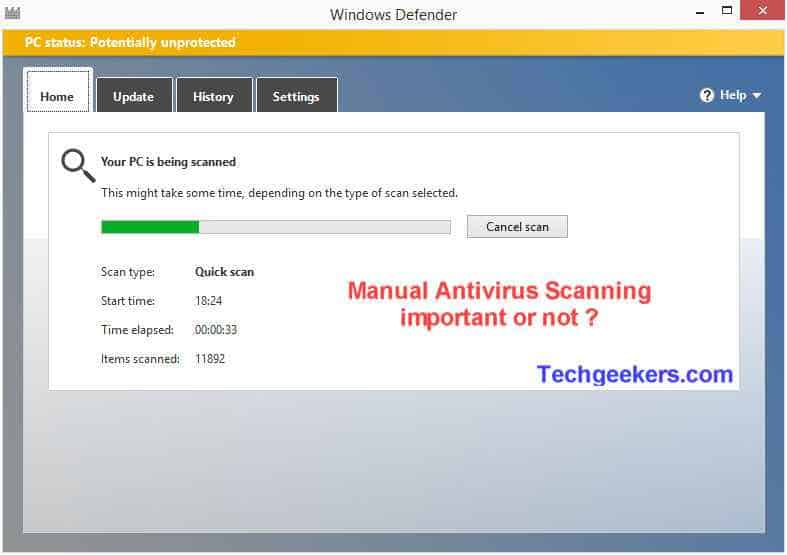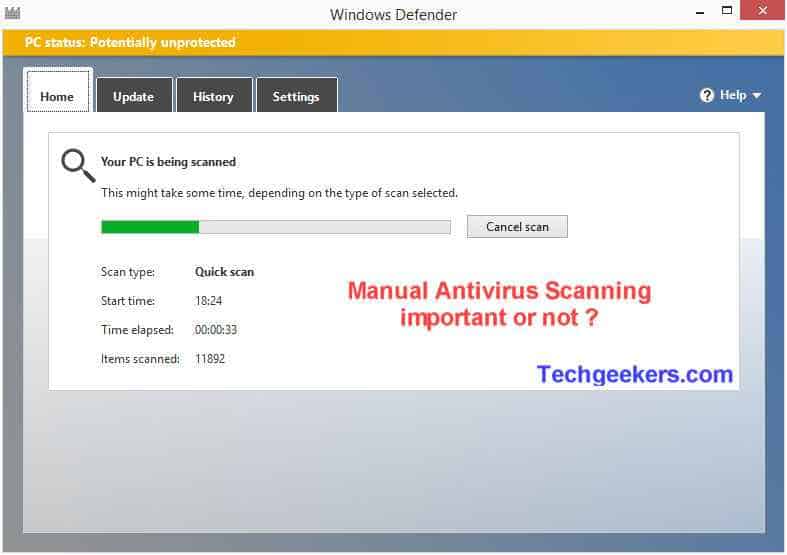 When Manual Scanning is important ?
Whenever you have installed Antivirus in your PC for first time:It may be that previously your PC may have some malwares or viruses then Antivirus will not automatically scan your whole computer, for that you need Manual Scanning. Although when manual scanning is done then you don't need to worry. Everytime your computer gets some new files your Antivirus will do Background Scanning and will detect viruses or worms and remove them.

If you haven't updated your Antivirus for a while, and recently updated it
When your Antivirus was outdated there may be some new files that may be harmful to your PC but Antivirus doesn't detect it as your Antivirus definition is not updated.
If you Don't update your Antivirus then Manual Scanning is of no use.
Important Advice:
Always keep your Antivirus Updated if you want to keep your PC 100% safe.
Final Words:
Do Manual Scaning just for your own sake and when its necessary. By manual Scanning your can double check your PC for any malwares or viruses.
Hope you liked our Advice, If you have any advice related to antivirus problem, You are free to ask.
Cheers,
Aman Bisht
Recommended

Awesome Articles

for You at Techgeekers
1.How to share files of different formats by whatsapp(ZIP, PDF, APK)
2.Use WhatsApp on browser using WhatsApp web
3.How to Install Whatsapp on Your PC Step by Step
4.Top 10 Reasons Why Hike is Better Than Whatsapp
5. WhatSim Is it really worth of its price?