How to Back Up SMS from Samsung to PC
SMS has become an important part of everyday life and modern-day communication. People rely on these messages to get their word through and receive information from their recipient. For this very reason, SMS messages may contain important and sensitive information, and it becomes vital to back them up through some medium.
Fortunately, programs like Smart Switch and Android Assistant allow users to easily back up their SMS messages from their Samsung device to their PC. Here's how you can go about it:
Back up SMS with Samsung Smart Switch
Step 1. Install the Software
Begin by downloading Smart Switch on your desktop and install the software. It is available for both Windows and Mac and can easily be obtained from the Internet. Once downloaded, run the setup file and install Smart Switch on your desktop.
Step 2. Connect Your Device
Once you're done installing and running Smart Switch, connect your device to the computer and wait for the program to recognize it. When it does, you will see your phone's model pop up on the Smart Switch window. This ensures that connectivity has been established between the computer and the mobile device.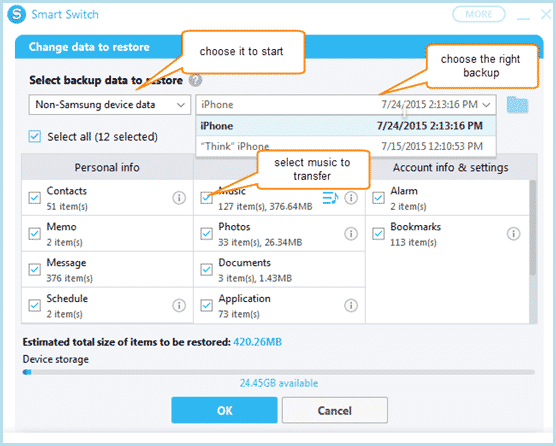 Step 3. Backing Up
Now that your phone has been connected to the computer, we will move toward backing up the data. Look for the "Backup" button on the Smart Switch program. Hit the button, and this will begin the backing up process. It may take a few minutes to complete. The information being backed up includes SMS messages. By default, the backup is stored in the "Documents" folder of your system, but you can change the destination from the settings.
Step 4. Find Your Backup
You can locate the SMS backup in your Documents folder and confirm that the messages have been backed up. Now, your information is safe and stored in a device other than your mobile phone.
Backup Android SMS with Androidphonesoft
Step 1. Install the Software and Connect Your Decide
Once again, begin by downloading Androidphonesoft Android Assistant on your computer. Install it and have it running when it is time to back up your SMS messages. Then, connect your Samsung phone to your computer and observe the screen as it detects your phone and reads its model information.
Step 2. Save Your Messages
Once the phone connectivity has been established between the computer and the mobile phone, we can now move toward the backup process. On the main user interface, you will see a column on the left which should have a button titled "SMS." Click on that button and notice that all your Samsung phone messages will be brought up on the right side of the screen. You can now pick the SMS messages you want to back up by ticking them or select all of them by default.
Once you have selected your messages, click the "Save As" button, which should open a file browser window. Locate the desired place or destination where you would like to save these messages and select the type of file you would want to save your messages as. This could be either a text file or an XML file. Once that is done, hit save and the backup process should begin.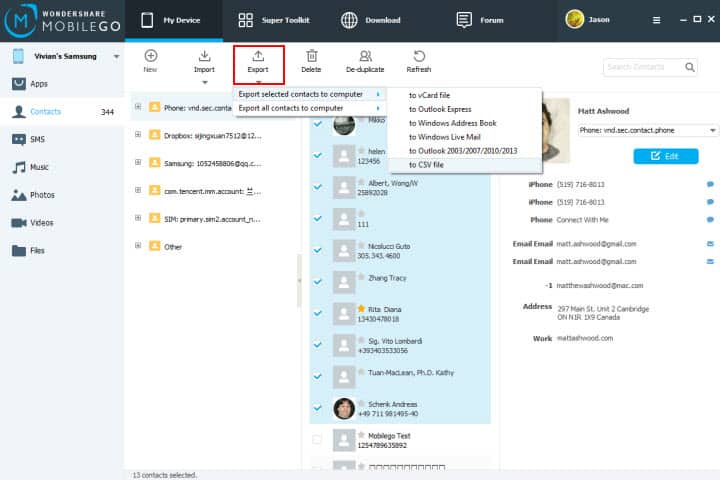 Step 3. Find Your Backup
Once the saving process is complete, go to your destination folder to confirm if the messages have been saved. Once located, you have successfully backed up your SMS messages from your Samsung device to your PC.
Final Words
Both programs provide mediums for one to easily back up their Samsung content to their desktop. Given that SMS messages may contain important information, it is always a good idea to back them up, as the phone may go corrupt any minute due to a malfunction or a virus. All you need to do to back up your information is to begin by connecting your phone to the computer which has the right kind of software installed and then hitting the right buttons to transfer data from your Samsung phone to your computer. It just is a matter of a few clicks!