10 Questions to ask before hiring an SEO Company in 2018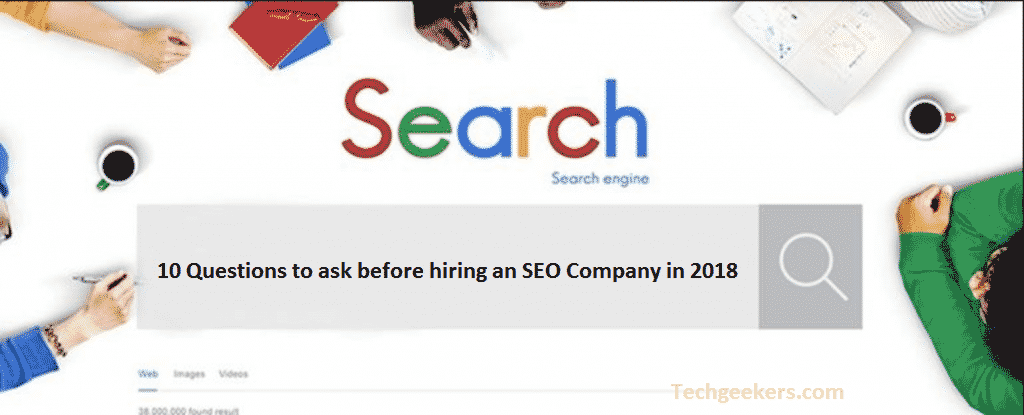 Are you looking to hire an SEO company for your business?
That can be hard if it is your first time around. Digital Marketing has evolved over the years with technology boom.
So wanting to rank your website on Google can be a definite marketing step for you and your business. And believe me, getting a good ranking works magic for your company.
It is not hard at all to for you to hire an SEO company, and most small businesses may need one. SEO and Digital marketing companies are pretty hard to miss. The hard part is not to get fooled into some below quality services.
So, I am going to help you hire the right SEO company to market your business.
The ten questions you should ask before hiring your first SEO Company-
These will get you the right Digital Marketing company.
How long have you been in this business?
SEO in other words, Search Engine Optimization is an industry that changes very rapidly, so you would want to have someone who has been around long enough.
You would not want to hire a company that uses techniques in Google that works only for now, but someone who has a long-term vision. Because Google introduces updates every other day, so you are better off with a company that has lasted long.
How long will it take you to rank my website?
Many companies will answer you this by saying 'in two months'. If they do, then know that it is nothing but crap.
Some on-site adjustments and backlinks can help push your website to the first page of Google.
But no company will just promise you that without thorough research done on your company. Because nobody can guarantee you that in the first place.
How do you strategize my backlinks?
It is crazy how many SEO companies do not have a backlink strategy for you.
Backlinks are vital to Google's algorithm. If the quality of your backlinks is not good, then getting your website ranked on Google is next to impossible. Measuring your domain authority with that of your competitor's help in gaining idea on how to make your backlink strategy to draw traffic and get ranked.
So, when your SEO company says that they will create backlinks for you, ask them and how and take a look at the backlink profile.
What reference do you have as an SEO Company?
If the SEO company you are interviewing can't provide four legitimately satisfied clients, chances are they will not satisfy your website requirements too.
Do the background check about the company, call their clients and ask about their services. Don't forget to ask the clients for how long did they work with the SEO company.
Are you offering On-Site Optimization?
SEO is an ongoing process that requires you to innovate ways to keep users on your page continually.
Google is also paying attention to how long users are staying on your page and whether they have had a good experience there or not. So, your SEO company should be innovating your pages time to time to meet user experience patterns.
How are you strategizing my Local SEO?
Local SEO is essential if you are a small business. Having a prominent presence on Google's local searches makes sure your website is visited by people who have a higher chance of attending your store/service.
So, ask them if they have submitted your business to local directories and whether they have optimized your title tags locally.
Also, you should make sure your SEO team keeps updating your NAP and is visible throughout your site and local searches.
Your SEO company should know how to list you on the 'Best of' lists for your local searches. Google your own business and cross check for that too.
SEO Guarantees? Do you give them?
Now here is a question I as an independent SEO consultant do not like being asked. But I usually have to.
It is crucial for you to understand that SEO is ever changing like Google's algorithm. So, companies that give you an absolute guarantee be wary of them.
It is easier when both of you know that getting ranks in a long process. But I usually suggest going for the companies that offer you're a satisfaction guarantee. So if you are not satisfied with the results, you can move out of the contract or even get refunded the last month's payments.
I find that to be a very steady way to go about hiring a Digital Company.
Do I have to have a long-term contract with you?
Ask your SEO company this essential question. It is not optimum that you be locked in an extended contract. But depending on the nature and competition of your business, sometimes have a long-term SEO partnership can generate results for you.
So, I usually advise my clients to be realistic with the SEO company on what and how long will it take in generating results in your content marketing.
How will you showcase me your progress?
Oh! This is a significant one for you to be concerned about, in hiring your first SEO company.
Many Content Marketing firms can confuse you with a not so easy to understand keyword list. I advise my clients to go for companies that can generate you secure and convertible top 20 keywords list for your company.
The keyword list for your company is crucial and sets your future progress. So, having smooth and highly ranked keywords will generate your results faster.
Are you also working with one of my competitors?
You know that Google has only one number 1 spot. You want that as much as many others in the business. So, hiring an SEO company that also works with one your competitors can create a conflict of interest. But chances are only one of you guys will make it to the number 1 spot, and your SEO company just does that.
That is a risky place to be in as a small business.
Your SEO Puzzle EndNote
A good SEO company will not make you unrealistic promises but help you rank your website and help you keep the spot.
It is an on-going process and needs constant innovation. So, ask the SEO company you are about to hire, the right ten questions.
If you are looking for any company related to local or small business SEO, then click here to check the most promising company based in Canada.