MilesWeb Review: Fastest Growing Web Hosting Company of India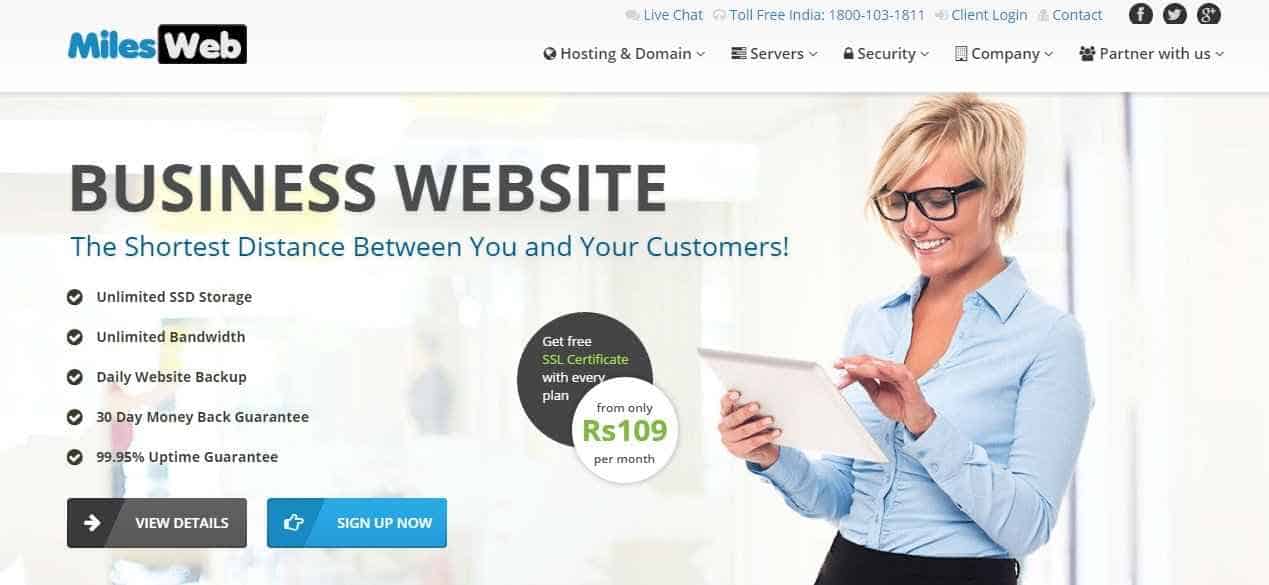 When it comes to finding the perfect web hosting provider for a website/blog, one can easily get confused with different hosting companies running over the web. But those, who are looking for a superb web hosting with support, MilesWeb hosting is the ideal solu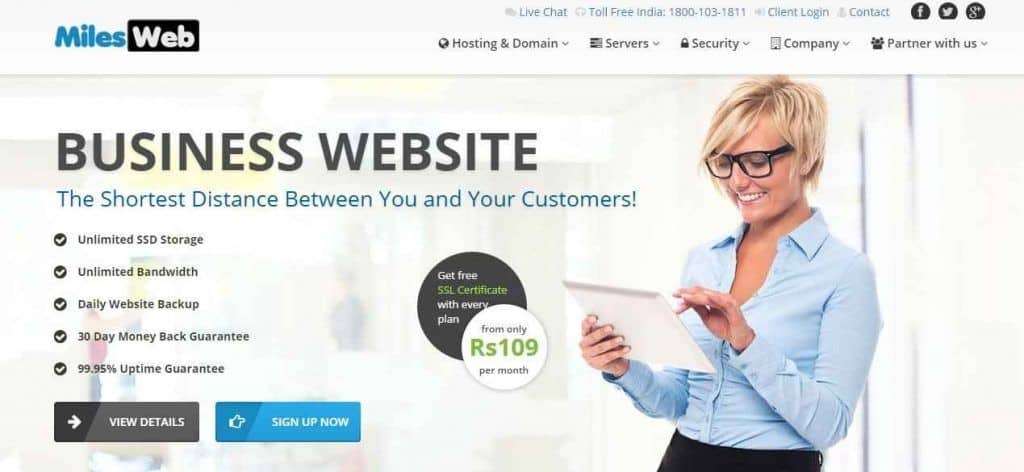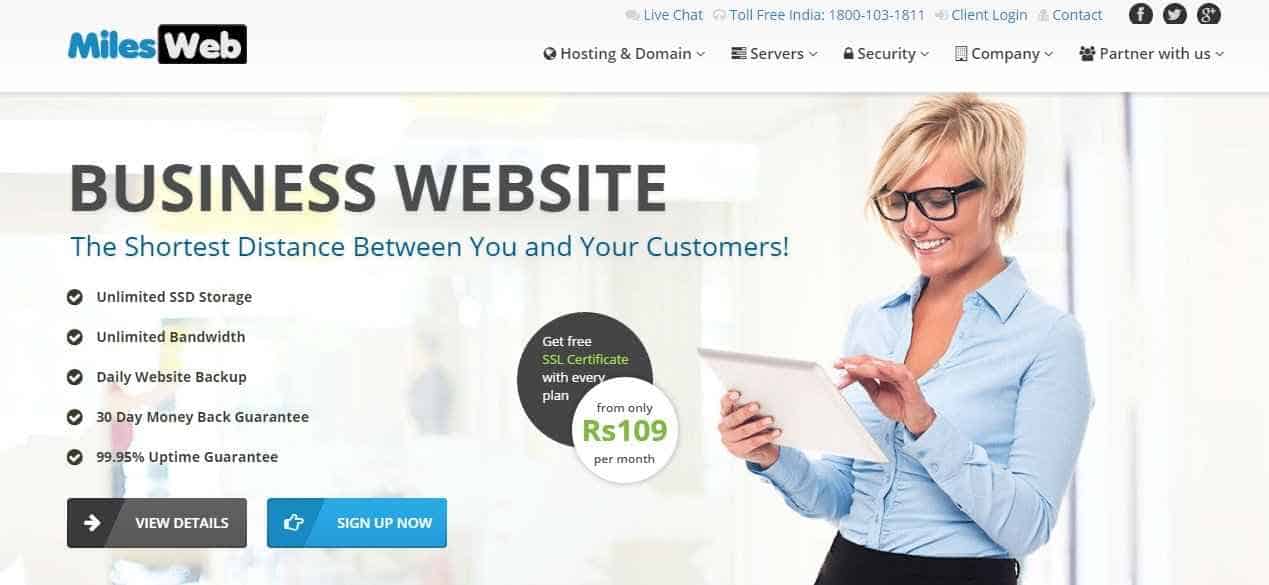 tion. It provides different hosting plans at different prices depending on user's budget and needs. Let us learn more about MilesWeb hosting in its review below.
MilesWeb: The Base
MilesWeb is a popular web hosting company based out of India. It provides affordable web hosting, site security, domain registration, and few other services to thousands of its customers. They even offer Linux based hosting, VPS hosting, dedicated hosting and reseller packages to the customers at cut-throat price. The plans are starting as low as from Rs 109 / month.


What Customers Love About MilesWeb: Top Features
Here are some of the top-notch features provided by MilesWeb to its customers along with hosting. You must have an eye over them.
Free SpamExperts
MilesWeb has partnered with SpamExperts to provide leading spam, malware and virus protection service to their customers.
SpamExperts filters over 99% of spam emails before reaching to your Inbox. MilesWeb provides free SpamExperts for one domain to you which costs around Rs 1300 per year.
Here is the reason as why you should use SpamExperts-


Free SSL Certificate
Most of you might know the value of "https" in the domain. The search engines tend to give more value to such domains and their rankings are enhanced on search engines. A free SSL certificate is offered will all the Linux Web hosting plans.
Daily Website Backups
MilesWeb give their best to keep your site safe and secure. It even protects your site from any accidental damage. MilesWeb has its own backup system and support team ready for your help all the time. MilesWeb offers automatic backup solutions to all its customers and in this way the website can be protected from any damage due to data loss or hacks.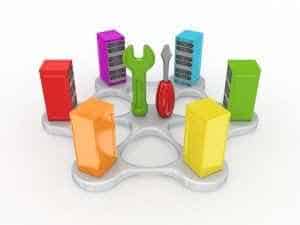 Data Centers at Different Locations
MilesWeb has datacenters at different countries. It has its datacenters in USA, UK, Romania, and in India too. In India, its datacenters are located at Nashik, Mumbai and Indore. This means that you can select the datacenter at which you wish to host your website in order to improve the load time for selected traffic. The multi-tier redundant power systems and security protects these servers from getting down even for a second.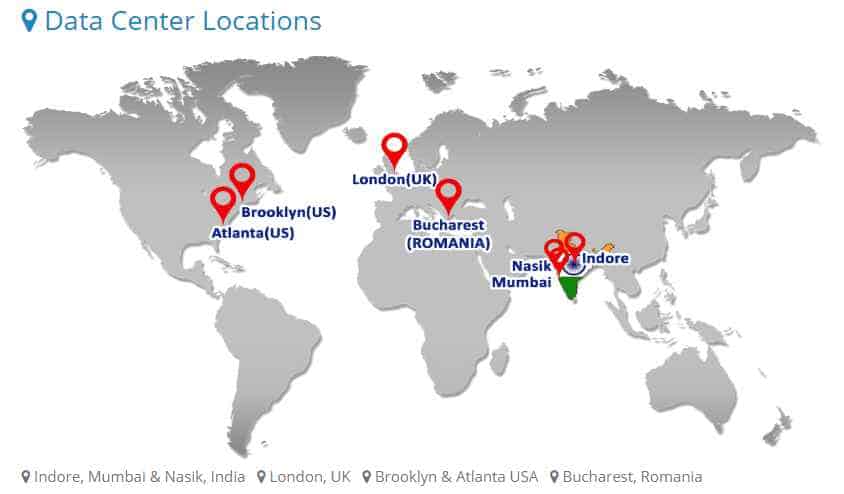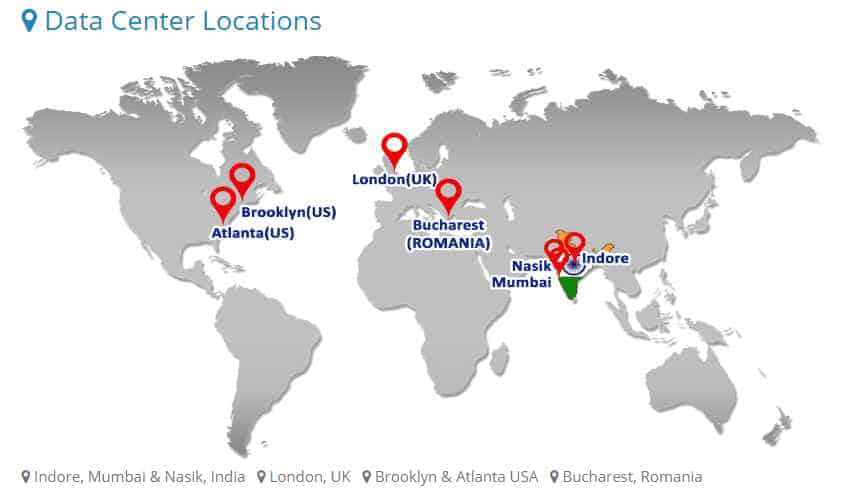 Host Multiple Websites
MilesWeb offers shared hosting plans at reasonable prices that allow you to host multiple website in single hosting package without paying anything extra. Customers can easily add multiple sites under single hosting plan.
CPanel & Softaculous
The user gets cPanel account with the hosting plan to manage it with ease. The databases, applications, domains, emails, and websites can be managed with ease. Softaculous provides you with one-click installation option for CMSs like WordPress, Joomla etc.


Support
The support team of MilesWeb is always ready to attend customer query in minimum time. You can ask for the support through live chat, email, or even through phone. The support staff is technically experienced and is proficient enough to answer all your queries. You can expect the support from MilesWeb support team 24×7 throughout the year.
Server Uptime
MilesWeb guarantees around 99.95 percent server uptime and they are doing really well to maintain their promise. The servers are installed with high level of security and power backups, so that they are not down even for a second.
30-Days Money Back Guarantee
If you don't like the services of MilesWeb after using then you can ask for money back guarantee within 30 days of your purchase. No question will be asked and money will be refunded without any deduction.
Different Hosting Plans Available with MilesWeb
MilesWeb provides different hosting plans to the users to choose. Here are few of the available hosting plans that user can buy from MilesWeb.


A user can choose the desired business or WordPress hosting plan from MilesWeb. A plan to host unlimited domains is also available on shared hosting.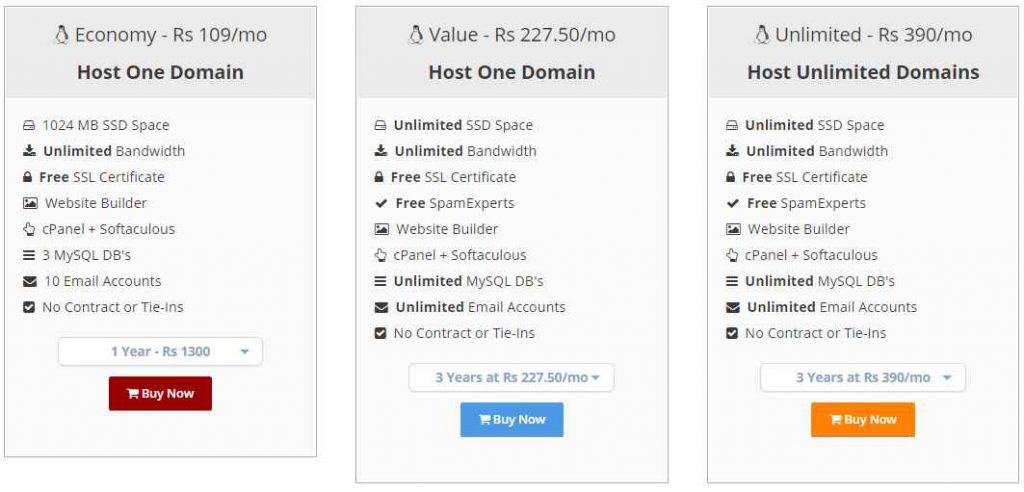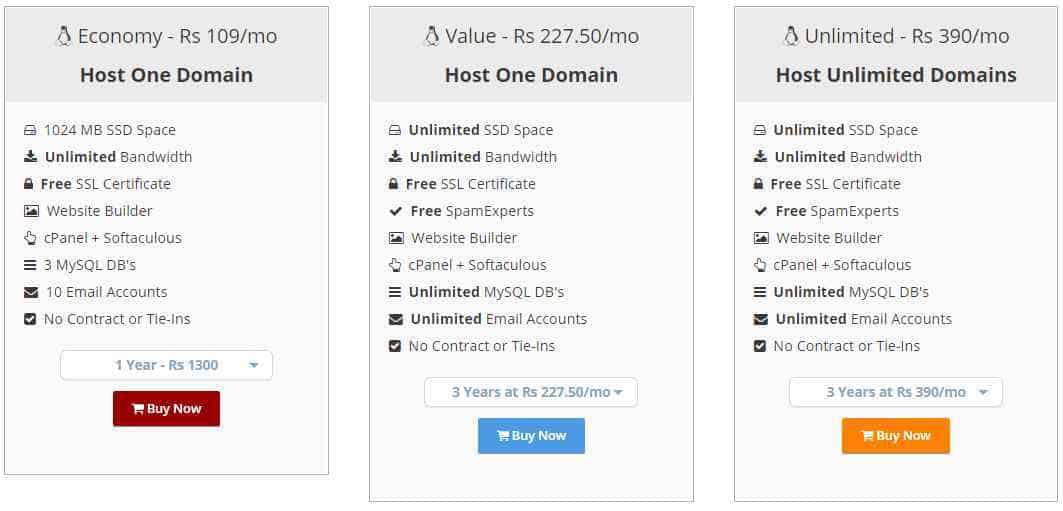 Reseller Hosting Plan
If you wish to start your own business of selling web hosting then going with reseller hosting plan is a good option. You can either choose shared hosting Reseller or VPS hosting Reseller.
Here is the list of Reseller hosting plans that comes on shared hosting. The minimum plan starts from 520 INR per month.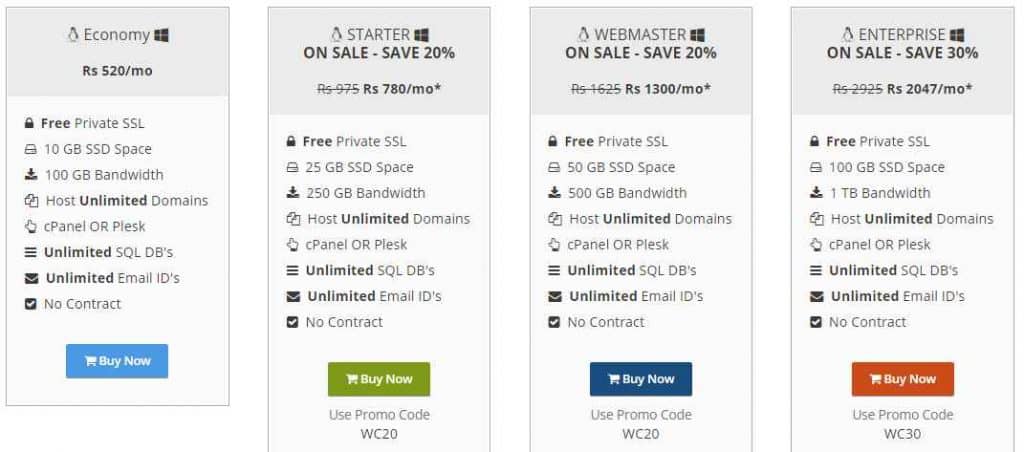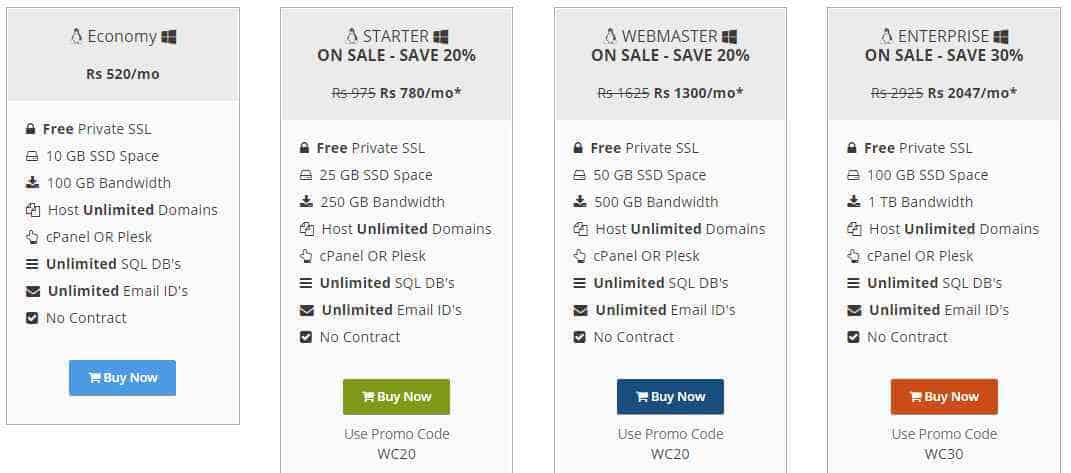 The VPS Reseller plan is also available with MilesWeb. The minimal plan starts from $75 per month.


Affordable Hosting Plans
These are special customized plans made for single domains. If you wish to host a single domain then you can go with these plans.


VPS Hosting Plans
If you want to host your website(s) on fast servers then MilesWeb provide you with quality VPS servers in India to host your website(s). One can optimize the load times of his/her website with these VPS servers. Here are some of the VPS hosting plans provided by MilesWeb. The minimum plan starts from 455/month.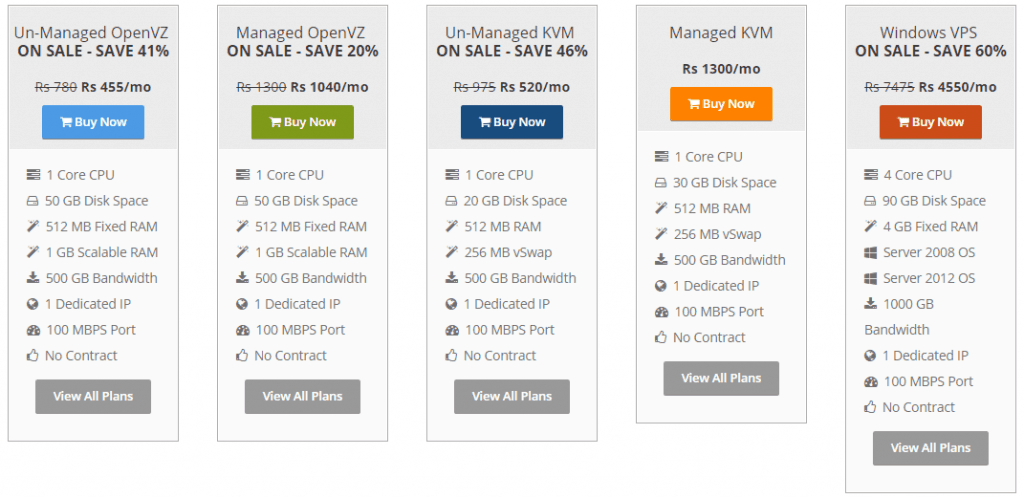 Cloud Hosting
One can also think to buy cloud hosting plans from MilesWeb. The cloud hosting plans are cheaper as compared to few other companies and the servers are of superior quality. The minimum plan is starting from $32.99 per month.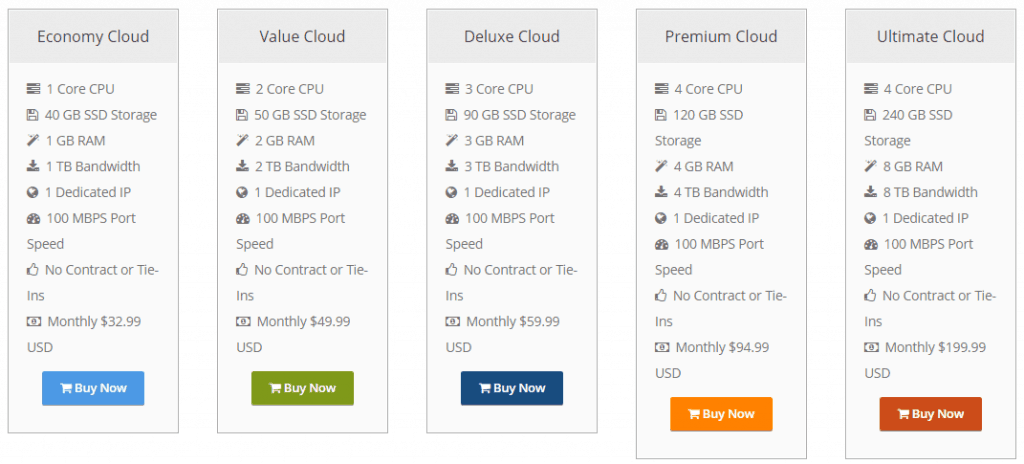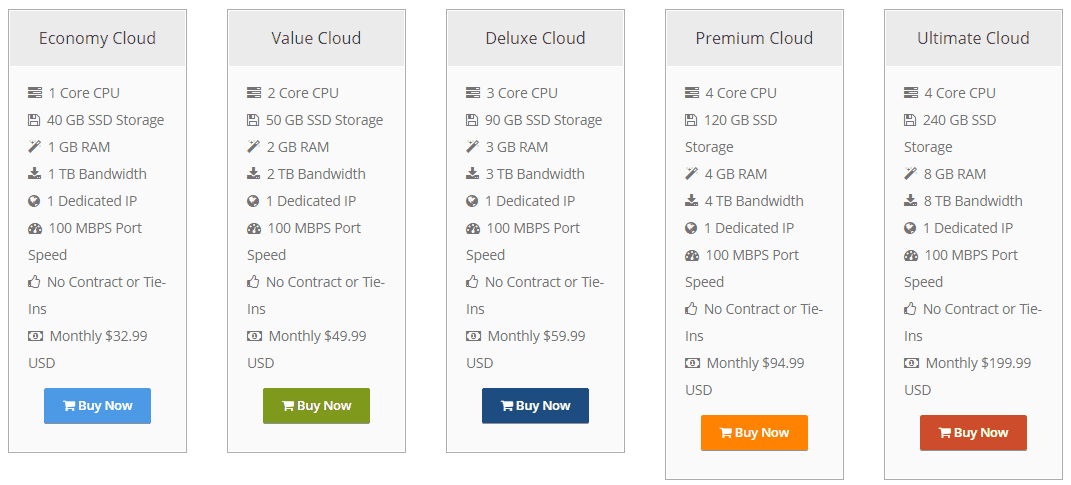 Dedicated Servers
If you don't like to share your servers with anyone else then you can buy dedicated servers in India, UK and US from MilesWeb. You can choose from number of options available according to desired configuration. Here are some of the dedicated hosting plans offered by MilesWeb.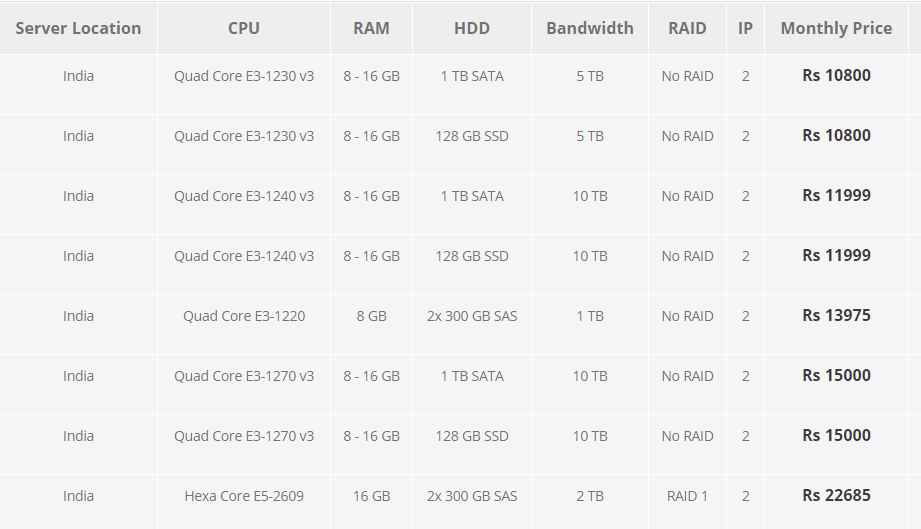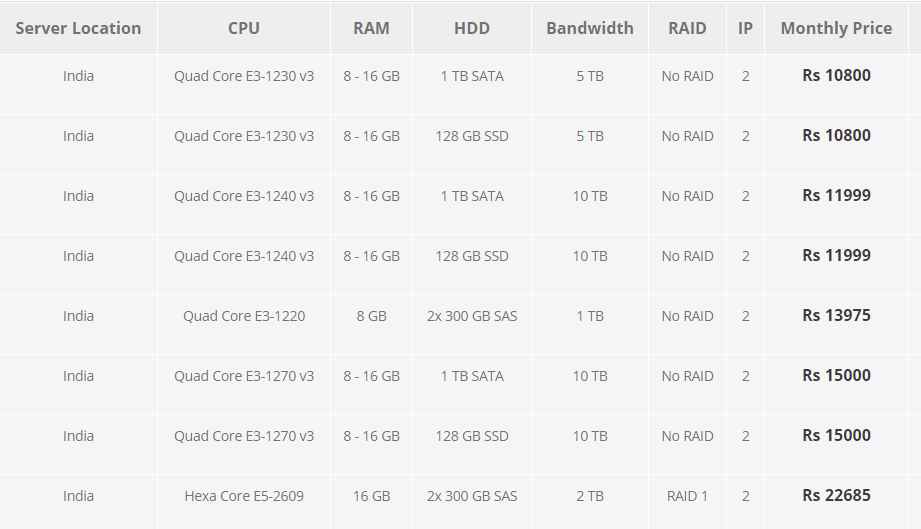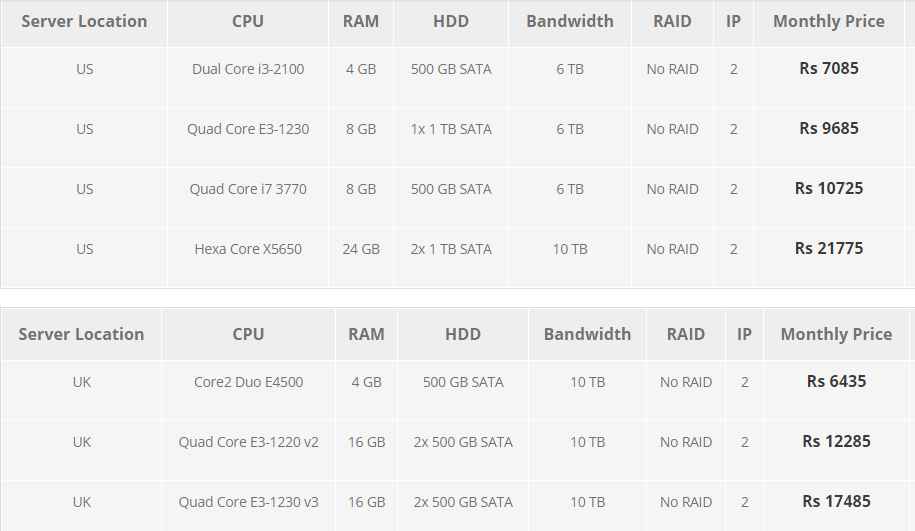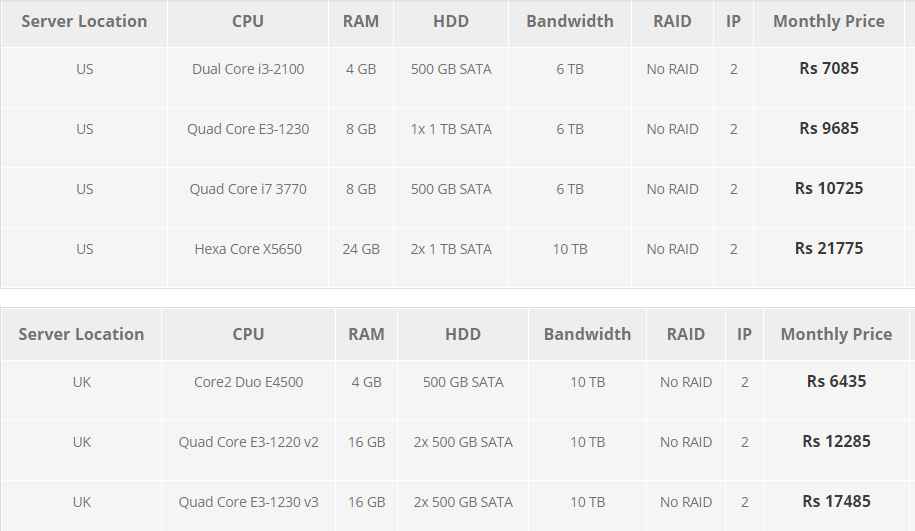 Final Words
MilesWeb is one of the emerging web hosting companies in India and USA. The efficient web hosting plans suiting the requirement of every individual to big businesses are one of the few features to admire. It provides quick technical support to customers. The multiple datacenters with fully-fledged powerful servers backed with power backups provides 99.95 percent uptime and never lets any site to go down even for a second. You must choose the best plan according to your requirements from MilesWeb without giving a second thought to it.