Stellar Repair for Outlook – Best PST Repair Tool for MS Outlook Users
For diverse storage purposes, Outlook is used by more than 400 million individuals every month. Microsoft Outlook can also be used to store data offline. As the name suggests, a PST (Personal Storage Table) is a file used by Microsoft Outlook to store many forms of personal data.
Having a large user interface raises the risk of encountering technical difficulties, which also increases the risk of losing data. This is a nightmare for anyone who has spent hours working on a project and has entrusted it to a trusted server. When you're using Outlook, it's quite normal to lose essential files, have them corrupted, or accidentally delete them. Data loss can occur for a variety of causes, including virus attacks and sudden power failures. If your PST files are corrupted, you may also lose them. In any case, there is always a way to fix the problem.
If you have lost a file on outlook, or if your files have been corrupted, we have a greatest solution known as Stellar Repair for Outlook.
Stellar Repair for Outlook: Overview
Microsoft Outlook PST files might be lost or corrupted due to various causes. Stellar Repair for Outlook is a powerful PST repair software which is useful for rapid restoration with 100 percent integrity & accuracy. With its sophisticated search engine, this software can recover badly corrupted PST files of any size, including deleted emails and contacts.
Stellar Repair Offers Special Discounts
A full Outlook PST recovery solution
PST, EML, MSG & RTF are just a few of the formats that can be recovered.
Automatically list outlook data file used to profile
Microsoft Outlook 2019, 2016, 2013, 2010, 2007, 2003, 2002 & 2000 are all supported.
All PST files, including badly corrupted and encrypted ones, can be recovered and repaired. Its size and extent of corruption determine how long it takes to recover a damaged file.
How to fix the corrupted files?
This Outlook PST repair software is aimed at non-technical users without the requirement for any prior technical expertise. It is one of the best tools for fixing Outlook PST files.
In 3 simple steps, Stellar Repair for Outlook fixes your Outlook file.
Files can be scanned to determine the specific problem.
Recoverable objects are displayed in a preview window
After selecting the desired files to be saved, Outlook Data Recovery saves the specified data.
This software has a number of unique characteristics that set it different from similar apps. You can easily repair big PST files with Stellar Repair for Outlook. There is a new scan engine in the latest version of software, version 10.0, which is capable of scanning and repairing highly corrupt PST files of very big size and reconstructing mailbox contents with 100 percent accuracy. Without the password, this programme can also restore mailbox data stored in password-protected PST files.
Outlook PST File Recovery Made Easy
Stellar Repair for Outlook offers a data recovery solution that is available immediately. Any Outlook user who uses PST files may fix faulty PST files and restore mailbox data in 3 easy steps with this software. These files are recovered in a fresh PST file that is easily imported into Outlook. Your choice is whether to save the recovered or repaired data in a new account, under a current one, or under a different account altogether.
How to Recover Outlook Deleted Mailbox Items?
YES, this software restores emails unintentionally or purposefully deleted from Inbox or from the 'Deleted Items' folder of Outlook Mailbox. Emails and attachments can be recovered if they were accidentally deleted, erased intentionally, or lost due to unforeseen system reformat or because of a virus assault on your Outlook Mailbox.
When the software scans a corrupt PST file, it displays a preview of the objects that can be recovered for the convenience of the end user.
Choose whatever objects you want to recover & choose them for recovery from the dropdown menu.
There is an expanded preview of recovered mailbox components in Stellar Repair for Outlook, which is an email recovery software. Those that can be recovered quickly.
Email body text and embedded hyperlinks can be viewed in the newest version of the software (10.0), as well as the preview of calendars, tasks, journals and contacts. From the preview window, users can retrieve and save individual emails to their selected place.
Step by Step process to use this software
If you need a fast walkthrough of how this software works, here is a basic guide:
Just launch the software and choose the PST file you wish to repair from the main interface window by clicking on Browse or Find. As of the current version, this software automatically recognises the location of the PST file once it is opened.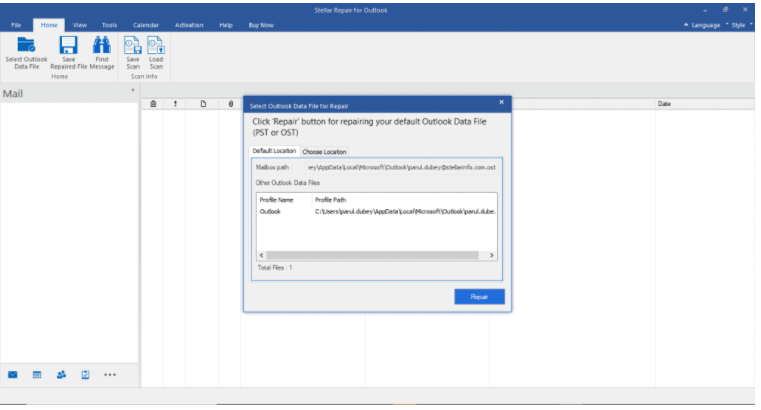 A damaged PST file may take some time to fix, depending on its size and the number of emails contained in it.

The contents of the file will be displayed on the dashboard once the file is repaired. You can also see the preview of the file.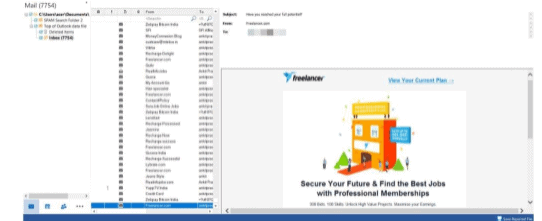 You can click on Save Repaired file, once your file is repaired and you feel it fulfils your needs.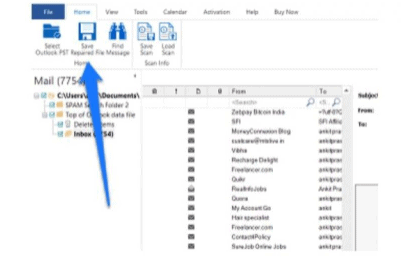 The file will now be stored to the local memory of your device.
This file should not be saved to the same location as it was previously saved, since this could cause problems with overwriting. To read the contents of the corrupted PST file, you must first fix the file and then import it into Outlook. Your corrupt PST files will be repaired in a few simple steps with this program.
Recover Your PST Files at Your Convenience
Scan findings for PST files can be saved in order to restore email recovery process later.
"Save Scan Info" allows you to save the scan result as a DAT file.
"Load Scan Info" allows you to reload the scan file.
"Restore" can be started at a later time, if necessary.
You don't need to rescan the PST files again.
Multiple file formats are supported for mailbox data recovery
PST, EML, MSG, RTF, HTML, and PDF formats can be exported from Stellar Outlook PST repair programme with one click. PST recovery gives the virtue of portability, allowing access to the mailbox information in multiple software applications, including Outlook.
Choose a location where to save your mailbox data.
In addition to email recovery, Stellar Repair for Outlook allows you to save the recovered PST file on any storage space and device of your choosing. PST file restoration logs can also be viewed and saved for later reference. Professional edition of the software may also split and compress huge PST files to enhance Outlook performance, increase management, as well as lessen the possibilities of corrupting the file.
With a single click, Stellar Repair for Outlook Technician exports the recovered mailbox data directly to Office 365. The PST file can also be saved in MBOX and DBX formats.
Reasons for going for Stellar for Outlook
The following are some of the reasons why we recommend this software:
Roughly 190+ countries are served by Stellar, they have around 8000+ partners, and around 3 million users worldwide. Stellar has earned over 100 honours and has a global customer base of about 3 million users. This kind of reputation in the market requires high-quality items at cheap prices. "Stellar Repair" is a wonderful solution for you as an individual or as a corporation.
Detailed Technical Knowledge Not Needed
It's one of the easiest-to-use programmes we've come across so far. There are other ways to fix files that are corrupted on outlook, but they involve technical knowledge and can be fairly complex. With software, however, this is not true. A file can be quickly repaired or restored with software by following the simple procedures outlined above. Making it simple to use.
The price is reasonable.
When it comes to software purchases, affordability of cost is a critical factor. When you acquire software, it's crucial to make sure you don't burn a hole in your pocket!
Genuineness and Reliability
One of the most popular and well-reviewed outlook repair programmes is Stellar Repair for Outlook. Some of the most popular tech websites and forums rate the app 4.5 stars out of 5. It also offers a free download option so you can try it out before buying. Don't spend your money without knowing what you're getting into beforehand! The software has received a lot of appreciation from its users & professionals on a number of internet sites. All of these replies from actual consumers and experts of the product send out a very powerful message about the product's trustworthiness and reliability. This product has a global user base and has earned multiple accolades.