Secure, Private and Truly Anonymous – BulletVPN Review

We've crossed paths with quite a few VPNs during our time in the industry, and a number of them succeed at impressing us as well, one such VPN is the one we're talking about here, BulletVPN.
How we claim and verify if it's worth your time and our reviews is we take into consideration the features being offered, and then how far true those features are, and finally if the price is reasonable to the features.
We will definitely take you on this BulletVPN ride, but before that let's answer some underlying issues with BulletVPN.
[toc]
When do you need BulletVPN?
There are a number of reasons when and why you might feel the need of using a VPN:


Unblocking restricted content: One of the most common reasons of people resorting to using a VPN is when they need to unblock content that has been restricted in their locality, country, state or institution.
Being Anonymous: Another reason might be when you do not wish to disclose your identity openly on the web, using a VPN grants you with a number of alternative IP addresses which change your location (virtually) for anyone who's tracking you.
Being secure: IP addresses can be used to hack into your system and cause a number of damages, so using an alternative IP address from a VPN keeps your real IP address safe, hence you can't be hacked using that particular piece of data.
These three even though being the primary reasons of people using a VPN, aren't the only ones. There are a number of additional benefits but it all boils down to the basics, that's security, anonymity and privacy.
What does BulletVPN Offer?
So how does BulletVPN fair compared to other VPNs in the industry and why is it a profitable and reasonable choice? That's what we would try to illustrate in this BulletVPN review.
It doesn't Keep any Logs:
This is the primary advantage that BulletVPN holds over many other "established" names per say, most other VPNs do keep logs, and they accept it publicly.
But as soon as a VPN stats logging you, your privacy and anonymity go down the drain. What's the point of using a VPN if you're "logged", isn't that right?
BulletVPN doesn't keep any logs whatsoever, of any kind. They do stay true to the word "Anonymous".
It doesn't curtail speed:
Again, BulletVPN unlike most other VPNs out there doesn't slow down your internet speed. It's not just sweet-talk, because their servers are hosted in Tier-1 countries which provides for this feature.
It's Literally Unlimited:
Some other aspects which are unmonitored and provided without restrictions are:
Bandwidth: There is no restriction on how much data you can use with BulletVPN.
Server-Switching: Change your country and IP address as many times as you wish, there's no limit. Again something that makes this BulletVPN review stand apart from the crowd.
25+ Countries to Choose From:


As far as the list of available countries go, we must admit it's a pretty extensive one, full of options. This was again another reason why we believe this BulletVPN review deserves to be out here.
Once you check the pricing section out, you'd notice how over-delivering BulletVPN has been in each of its features.
Some of the countries it offers are:
USA
UK
Germany
France
India
Russia
More than one Servers:
In tier-1 countries such as the United States and United Kingdom, the traffic (number of people connecting to those countries) is generally high.
So BulletVPN offers more than one IP addresses in those countries, so that your speed or usage isn't in any way limited regardless of the amount of traffic on those countries.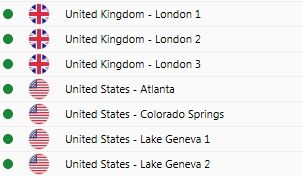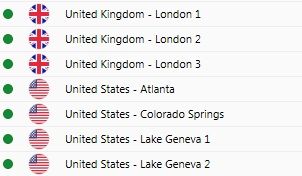 Simple, First-Timer Friendly User Interface:
The user-interface with BulletVPN is honestly one of the easiest and simplest user-interfaces we've witnessed with a VPN in a long time.
The options are neatly placed, they're easy to understand, no confusing options or buttons can be seen, and best of all, you can start using the VPN with a simple "one-click" process on the connect button.
Here's a screenshot of the same: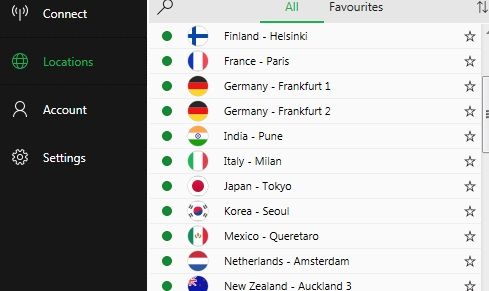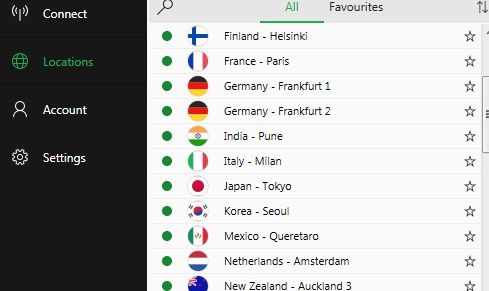 So no, not the least bit of any prior experience with any VPN is required in order to start using BulletVPN.
5 Secure Connection Protocols:
How secure are your connections?
Very!
It employs some of the most-secure connection protocols and types available to the general public to encrypt its connections. You can either use the TCP (Transmission Control Protocol) when you need a secure and reliable connection, and when speed isn't a priority.
Or maybe at other times speed might be the priority and not 100% stability and reliability?
That's where you can use its UDP (User Datagram Protocol) to connect to the Internet. Both TCP and UDP are connection types which can be used along with OpenVPN which BulletVPN very well supports. On the other hand, connection protocols such as PPTP LT2P/IPSec IPSec OpenVPN IKEv2 are available as well.
It's Cheap (And Reliable):


BulletVPN doesn't cost a fortune, they have three plans, exactly alike when it comes to features, the price-difference arises due to the difference in their billing-cycles.
If you wish to pay them Monthly, it'll cost you $10.98/month. But if you pay them once in 6 months, the price is $9.16 and the cheapest one being their Yearly plan which costs as low as $7.50/month.
So basically the idea is, the longer you pay for, the cheaper the plan becomes, a fair bargain if you ask me.
The icing on the cake is that all the plans come with a 30-day moneyback guarantee, so you aren't losing anything unless you're absolutely sure about the platform.
Free Smart DNS:
Last but not least, BulletVPN is also armed with its Smart DNS services which it offers absolutely free of cost, what this basically does is, lets you browse websites and platforms which are restricted, for e.g. Netflix or BBC maybe?
With the smart DNS, you can stream videos seamlessly without any restrictions across a number of websites!
What we Think of BulletVPN?
We never try and claim any tool or product as the "best" in its industry, that's not up to us for judgement.
We simply lay out the product's features and facts out here, and leave all the judgment up for you readers.
Our purely personal verdict, based on our experience with BulletVPN is a very positive one, although we would love to hear your verdict on the same and let us know why you're (or aren't) going with BulletVPN!