Infolinks: A Perfect Ad Network for Advertisers & Publishers


Most of the website owners earn a decent amount of money with the ads on their website but unfortunately many website owners too who failed to generate more money by the ads. Most of the webmasters dream to get approval for Google AdSense for their site if it comes to earning money with ads.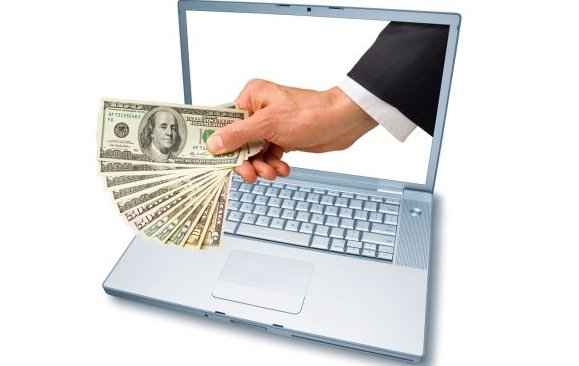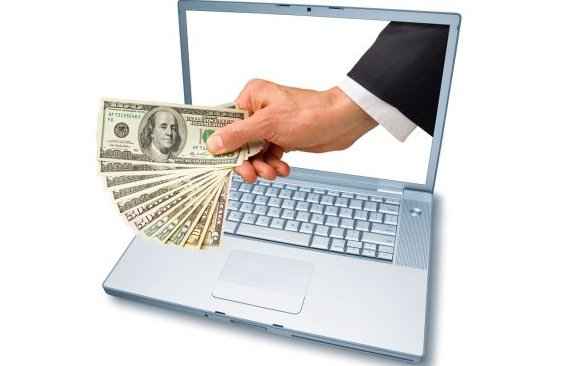 Yes, Google AdSense is very popular in pay per click type of advertisement, but I say that AdSense is not only one ad network which uses the ad in many sites for monetization.
There are many alternatives of AdSense available which gives better Ad functions and features and one of the best alternatives of AdSense is Infolinks. Infolinks is a better Ad network and many people are jumping off to this Ad network because Google AdSense is very hard to get approval because of their very strict TOS. Infolinks is the best alternative to AdSense because it is giving a good amount of money to the user and also comes with more features.
Infolinks for Advertisers: AdShop by Infolinks
Recently Infolinks has launched an amazing and new product called Infolinks which is getting utmost attention in the online ad community due to its features and reach.
AdShop is a perfect advertising tool which helps you to reach to your potential customers very easily and in budget.
The best thing is, you can just start with as low as $25 with AdShop.
Initial Steps to start with AdShop
If you want to reach to your customers, AdShop can be a best option as it is easy and reliable. Also, the cost is far less than any other network.
Just follow the below steps to register and starts with the AdShop.
Sign Up for AdShop here- AdShop sign up free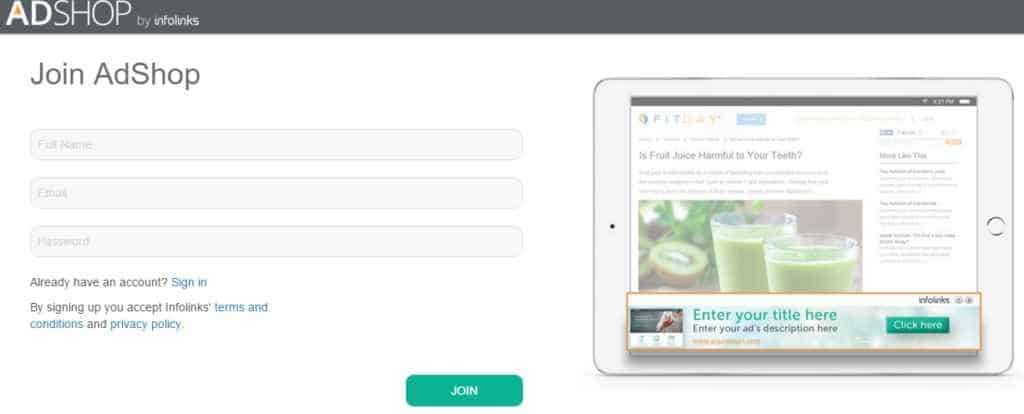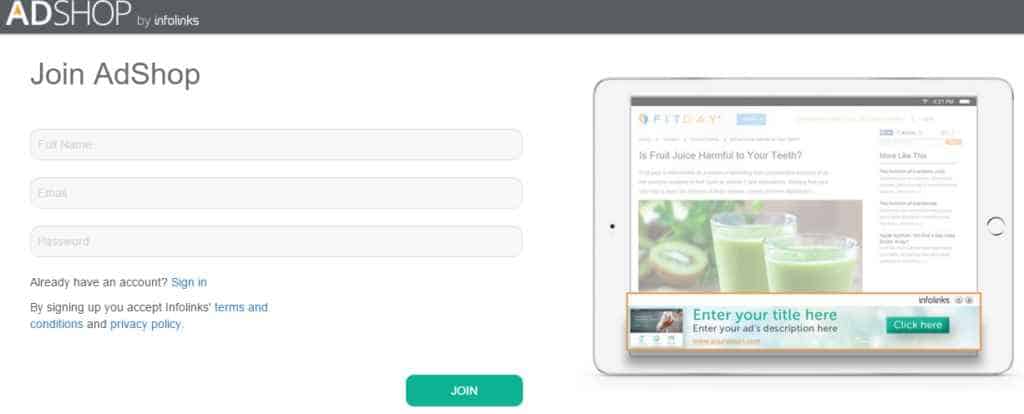 Fill all the details asked here like Name, Email and password.
2. Immediately your account will be activated and you will receive an email.
3. Login to your account and you will see your advertiser dashboard
4. Now click on create new campaign which will be something like below-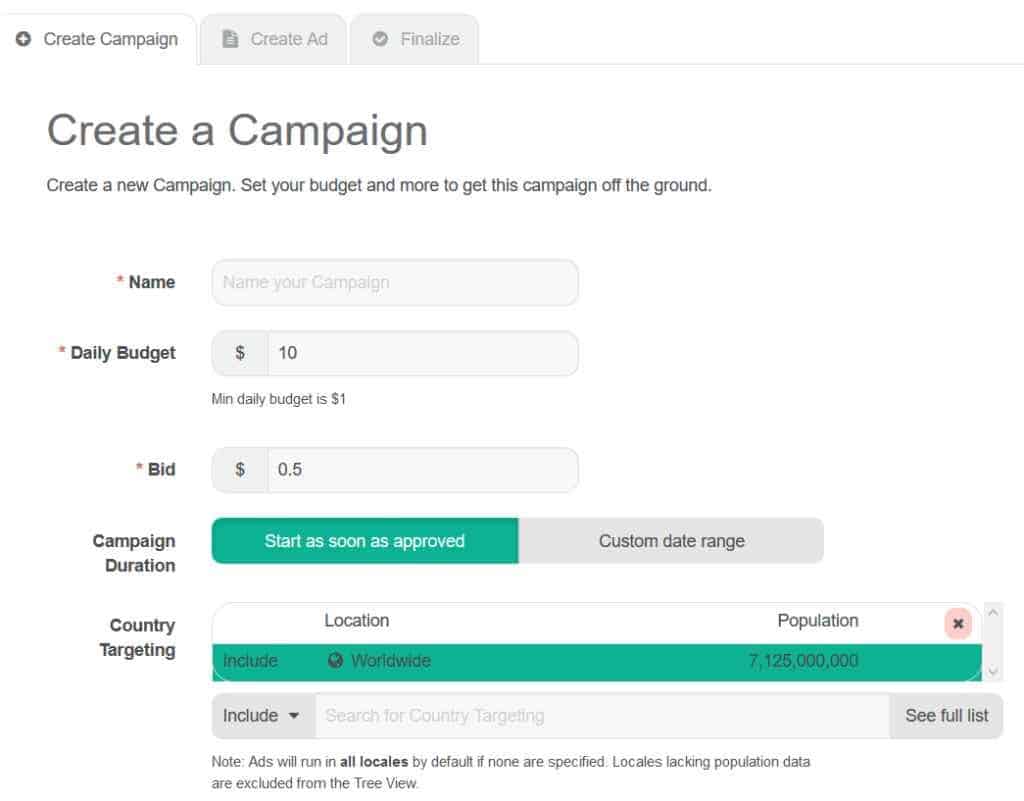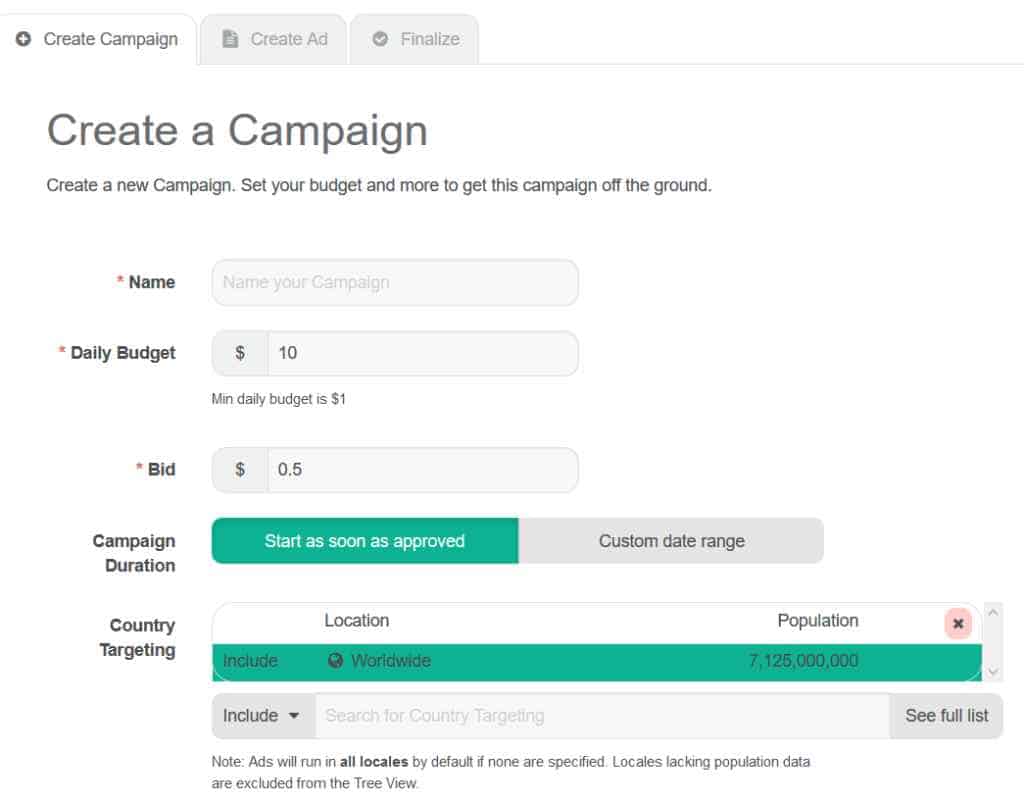 Fill these details and select the bid.
5. Bid will depend on the location you will select. AdShop also provide the suggested bid as below-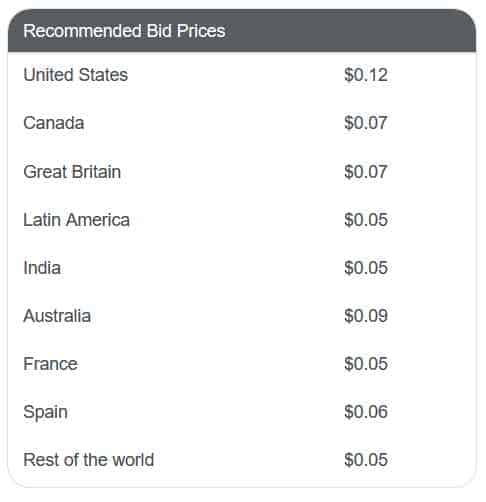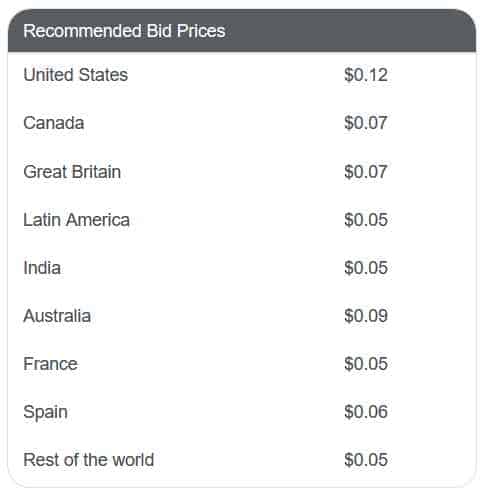 6. Once done, move on and pay the amount.
Once it will be approved by the Infolinks team, you ad will be live and you will start getting leads and views.
Infolinks for Publishers
Infolinks gives text Ad on the site which is effective enough to get clicked by the site visitors. Because Infolinks take some keyword for the site and provide ad with the keyword on the site.


This Adjust looks like some normal link in the site, thus, maximum visitors click on the Ad, taking it as a link. So this is as simple as it is, more click from the site visitors more money you get. This is how Infolinks works and gives more advantage than AdSense to the user of Infolinks Ad networks.
Infolinks Ad Types
There are many types of ads Infolinks provides to their publishers. Below are some of the major ad types-
InText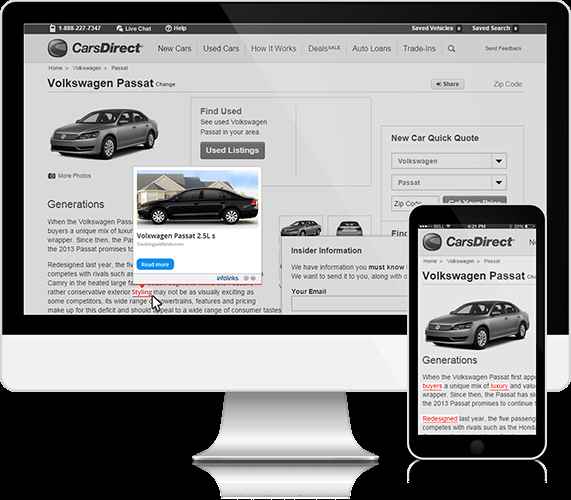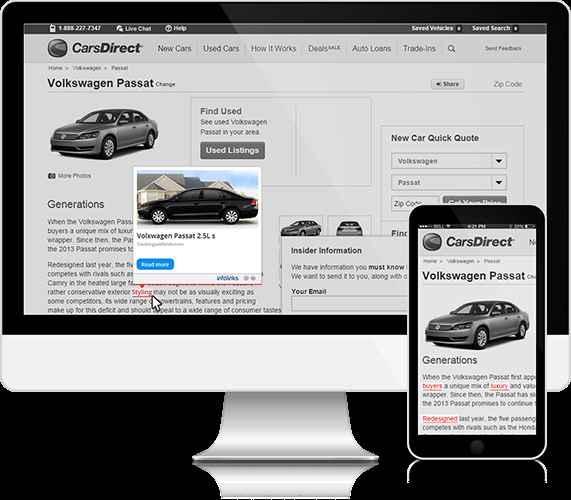 2. InFold: Search & display, above the fold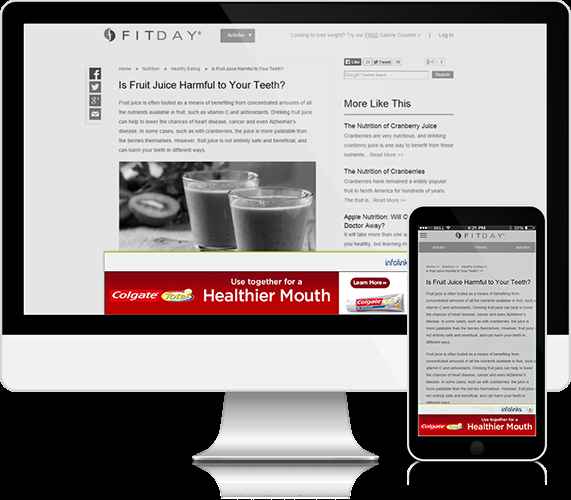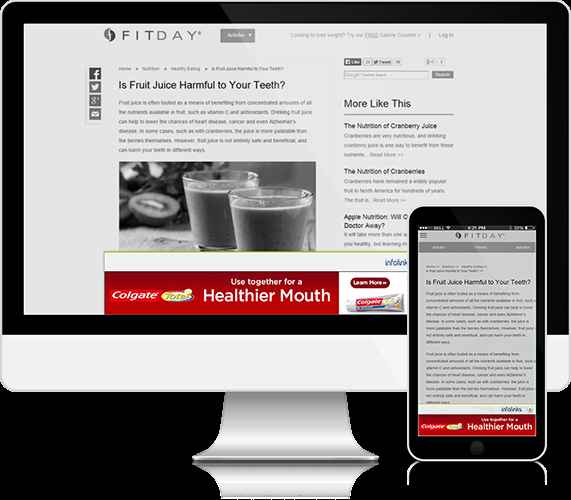 InTag: Discreet and highly effective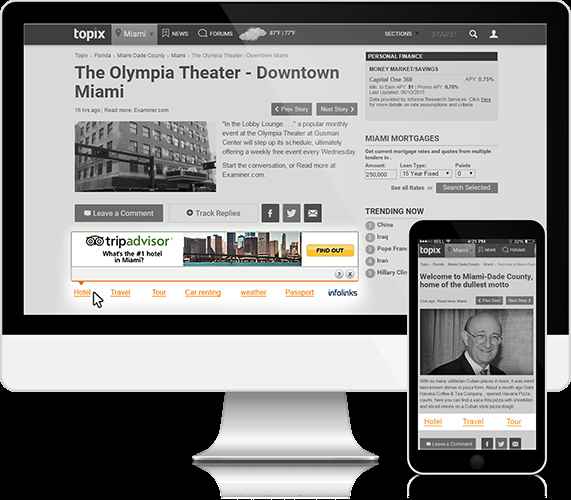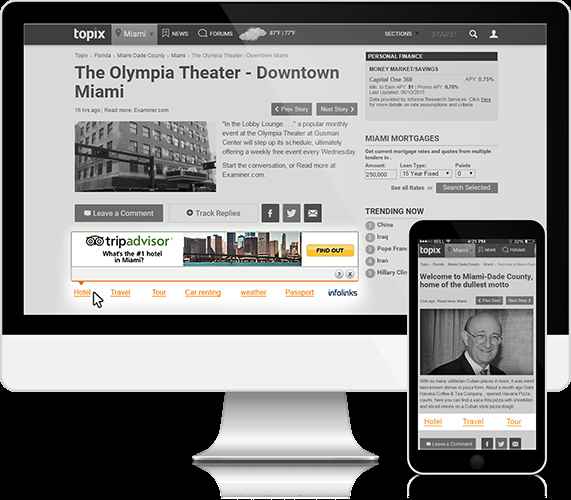 InArticle: User-initiated expanding ad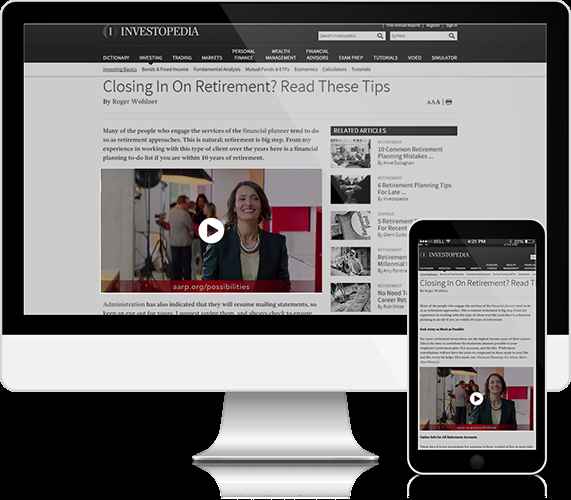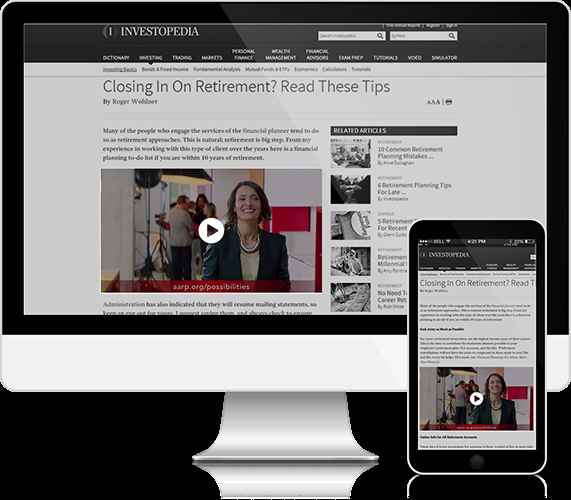 InScreen: Ad intermission between page views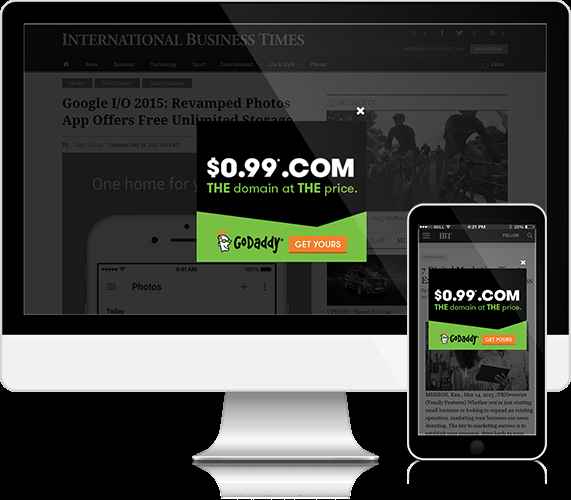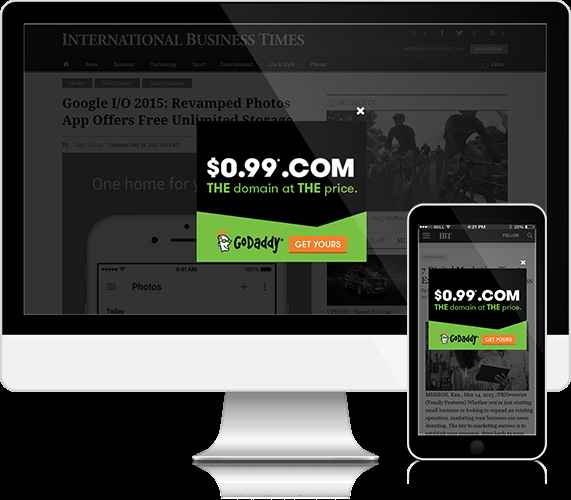 Features of Infolinks Network:
Here are some features of Infolinks Ad network which you will enjoy using it.


First and the most interesting thing is that you won't need any extra space on the website for placing the Ad. Because you can place it like normal links in the site so that your site visitor will think that it is normal interlink and you get click in your add.
Your CTR will remain on the higher side but if you place too much of Infolinks Ad on your site in order to create more CTR. Then you are going in the wrong direction because doing this can lead your site future to be dark.
The steps of installing Infolinks Ad is very easy on any site or blogs. Just the thing you will need to do is add a javascript to your website and get Infolinks Ad installed.
You can also have Infolinks ad on your site even though if you are having Google AdSense approved on your site.
And you don't need any high traffic to get this Ad network approved on your site. If you have a constant traffic than it is enough to increase your earnings easily.
You can customize Infolinks Ad easily without much effort.
The approval is very fast than Google AdSense.
One most important thing is your site loading time won't effect by adding Infolinks Ad in your site.
You will get fast payout after you reach a minimum balance of $50 in your PayPal account. But you can only withdraw after 45 days.
You will get 10% referral commission till 12 months once someone will subscribe through your affiliate link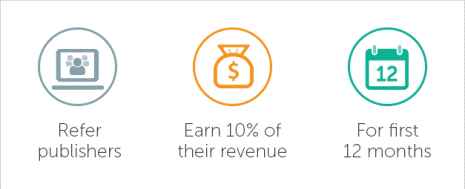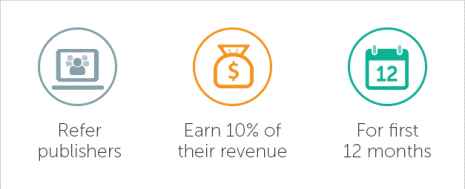 So this is all the feature of Infolinks Ad network that makes this Ad network easy, user-friendly and best alternatives of Google AdSense. This Ad network is having many advantages which have made me go through many profits, actually, I personally like using Infolinks Ad network because it is really very effective.
But one thing is that if you are getting lot traffic from the US then this Ad networks can lower your CPC. Also using this Infolinks Ad in your site for the long term can ruin your site future. But we use this Ad network for short term blog will be very helpful to us. This is some of the disadvantages that you will get on using Infolinks Ad network.
Join Infolinks Free & Earn Extra $500 per month
Final Words:
This is all about Infolinks Ad networks which are the best alternative to Google AdSense & AdWords. I must say every website owner will like this like me because using this ad network is another experience that you can add to you site or blog. Thanks for reading the article, hope you have enjoyed.
Read* : How to make Money from the internet?