How to Get Sponsored Blog Review on Top Blog with Get Reviewed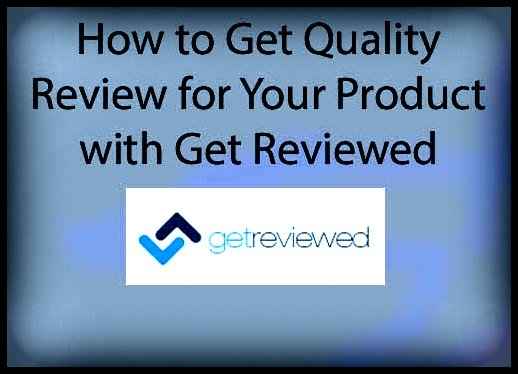 Suppose you have a great company with a world-class product that can generate tons of revenue.
Now, as it ha

s been said every product or platform (Whether it is of any type) needs healthy promotion for getting good sales. If you are into an online business too then it is quite necessary to market your product on the internet itself. That's when the internet marketing comes into effect.
One way to reach thousands of potential customer for your blog is to get the quality review published on top blogs. A quality review can not only introduce your product to thousands of readers but also can fetch direct customer.
Many of the companies do not know much about internet marketing. They just end up wasting a lot of money in paid advertising campaign like google AdWords, Facebook advertising, email marketing etc. Although these are also the good options for advertising but most of the time companies end up spending more than the value they get from these campaigns.
Introduction to Get Reviewed
One of the great and effective ways to promote your product is quality, in-depth review about your product. If visitors know about your product from a trustworthy source then it is highly likely that they will visit your product page. Now, thereafter you can get leads from landing page optimization. If you want to get a quality in-depth review about your blog from the high authoritative blog that too, at an affordable price then my answer is GetReviewed.org . It is the all in one destination for all advertisers, bloggers or say internet marketers.
How Does the Platform Works?
Get Reviewed has lots of high-quality bloggers and advertisers already registered in it. If you are a blogger then you can also get registered for free.  It can give lots of money apart from the traditional google Adsense monetization system which bloggers use on their blog. Get Reviewed is the top platform to get an honest review about your product. Advertisers can find blogs along with their DA and expected price and get featured their product on them.
If you have any doubts regarding Get Reviewed then you can find most of the frequently asked question here.
If you have any other specific question then you can contact directly from this link.
How GetReviewed is different and better than its competitor?
GetReviewed only approves blogs that have high domain authority.
All the application about blogs are manually approved.
It also provides security to advertisers by holding money in bloggers account for some period.
The user interface is neat and clean.
Dashboard for Bloggers


GetReviewed provides all in one solution from the dashboard. You can view every activity, right from your dashboard. The Dashboard provides the link for managing articles, finances, pending posts, approved posts and others.
It is equally good for both bloggers and advertisers. Advertisers can get the quality review in decent price. While bloggers can also make big money by providing a quality review.
Who can take benefit from Get Reviewed?
Get Reviewed is highly beneficial for bloggers and marketers. Lets see how you Get Reviewed can be useful to you.
Businesses, Online Marketers & Advertisers
Getreviewed.org is the top platform for all companies for promoting their product online and also building good brand among people. This Marketing Platform is also helpful for advertising firms and marketers. They can get quality product reviews on blogs at a cheaper price.
Advertisers can choose blogs from the category they required. Advertisers then can make a request to particular blogger for review. Being a blogger,  you also have rights to accept or reject the advertisers proposal. Bloggers can give reasons for their rejection.
Independent Bloggers & Tech Reviewers
Getreviewed.org provides great opportunities for bloggers too. It is one of the most effective ways of making money online by writing effective review about products. If you are good at writing good review post then you will likely to get more advertising opportunity from the other advertisers as well.
Top benefit for bloggers
Attractive Revenue:
Write more quality review about companies and you will generate a high payout. If you provide quality review then your chance will increase.
Unlimited Payout
Get Reviewed is go to the website for all bloggers for getting sponsored product reviews. You can write as many reviews as you can (Accepted).
Brand Promotion
Suppose you are writing a review about some popular company and it is most likely that advertisers will also share your content on the internet. In this way, You will add more followers to your blog. If your blog is good then you can make these viewers to your permanent readers.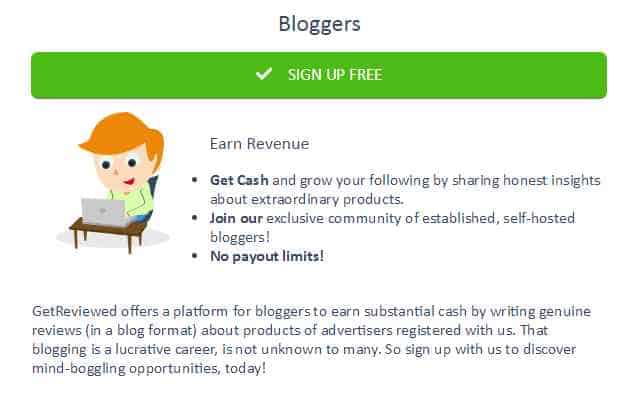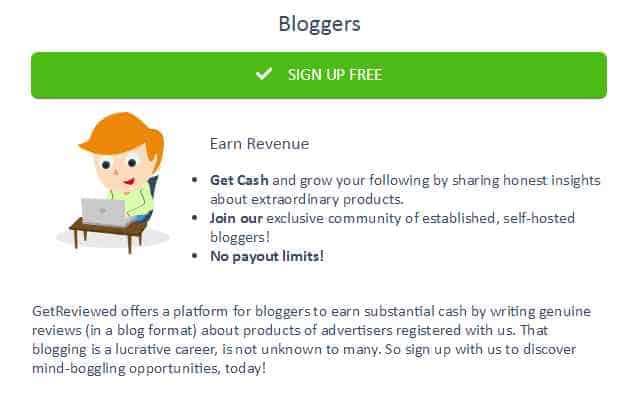 Eligibility Criteria for Blogs
The Domain Authority (DA) of the blog  must be greater than 25.
The Alexa rank for the blog should be under 2 million.
Free Hosted Blogs are not considered. Ex. Blogspot.
Blogs are regularly monitored for advisers.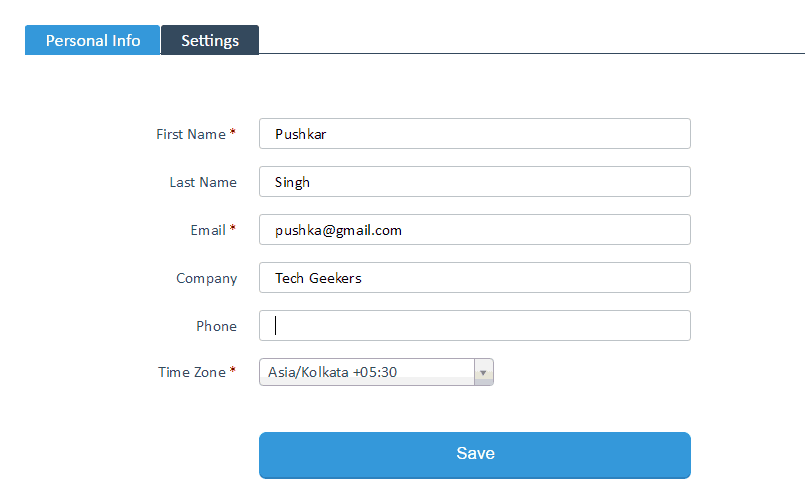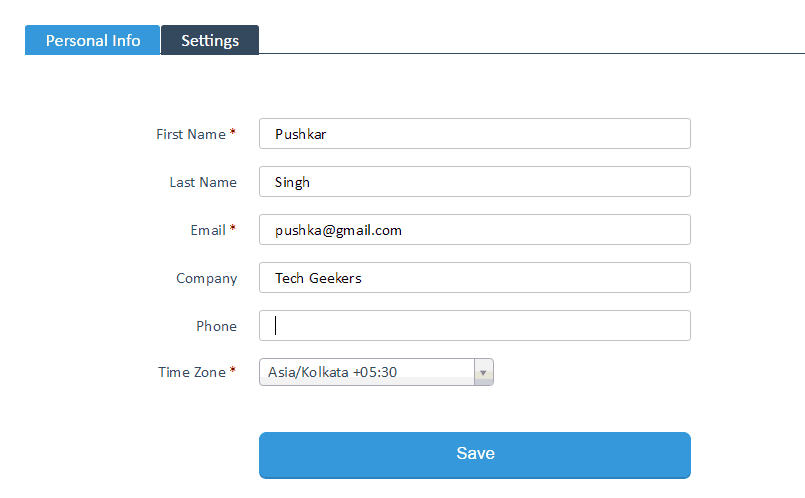 Payment & Fees
Get Reviewed provides transparent transaction process. It has attractive features for both bloggers and advertisers.
If you talk about bloggers then they can receive payment through PayPal. Suppose you have written a review for a company then you will get payment after 14 days. Advertisers will approve your post before making payment. Bloggers can withdraw money after 14 days period.
Get Reviewed is free for all bloggers. You can do registration for free if you are a blogger. You can add your blog thereafter. If your blogs qualify the predefined criteria then your blog will be approved by Get Reviewed.
For Advertisers and Internet Marketers  there is a small amount of fee that has to submit for registration. Currently, it is only $9.99 every month. Get Reviewed also give 7 day trial period for all advertisers. After that period if you think getreviewed platform is worth enough then you can keep continuing their service.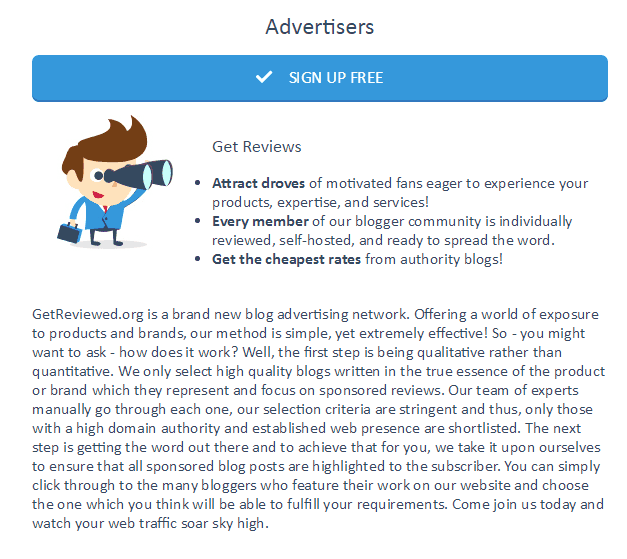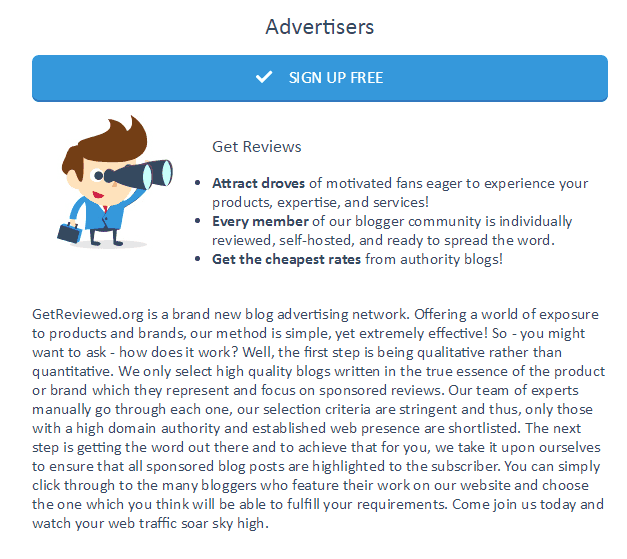 Get Reviewed provides security features for advertisers. If bloggers remove the sponsored post from their blogs within 14 days then Get Reviewed will refund the money from the bloggers account to advertisers account.  Get Reviewed has made good policy to stop any fraud kind of activity.
Tech Geekers' Take on Get Reviewed
In my opinion, it is the best platform of its kind at present. Advertisers can promote companies with the help of sponsored reviews. It is great for bloggers too. Bloggers don't need to do all hard work (Like finding email addresses of companies and spamming their inbox 🙂 That thing I have also done a lot in the past. Haha 🙂 .
If you are good at reviewing the product online then you can certainly make great money from this platform.
Coming to the advertisers, they can also promote their product in an effective way. You can also keep track of published review. Get Reviewed provides sponsored review opportunity in the authoritative blog at a good rate.
So that concludes this post.
I hope you guys liked my review about Get Reviewed. You can give your opinion about Get Reviewed in the comments below. If you are advertisers and have used Get Reviewed platform then also you can share your opinions below.