The Luxury Fashion World Turns to Live Streaming Technology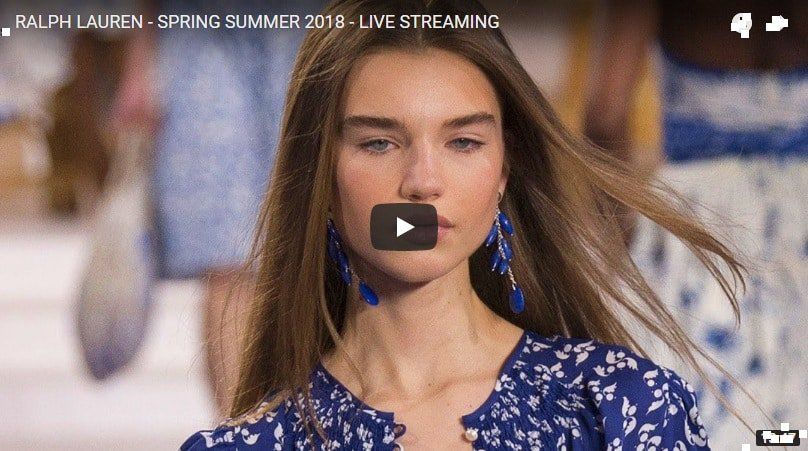 Among the many marvellous technological developments that have become popular in recent years, live streaming has lately risen to the forefront of online entertainment. While various online video content providers, including Netflix, have helped boost widespread adoption of streaming content like TV series and movies online, live streaming is gaining ground across different industries and has lately found an unlikely ally among high end fashion brands.
Why have luxury fashion designers turned to live streaming their shows and how has this newfound alliance helped them?
Live Streaming is on the Rise
Live streaming is a relatively simple concept that has seen a tremendous spike in applications in recent years. It refers to the online streaming of media content that is broadcast in real time to an audience through an internet connection – in contrast to pre-recorded, on-demand content that services like Netflix offer. Live streaming can also incorporate grey areas like streaming live TV content on your computer at the same time that the TV programme is airing. In the era of social media and digital content, it is no wonder that this extremely direct way to connect and share content and experiences is becoming more and more popular.
Social media in particular have turned to live streaming, with Facebook Live leading the way, while Twitter acquired Periscope, a service that also allows its users to broadcast live material, in 2015. And these companies are on to something: Facebook recently reported that its Live service has seen more than 3.5 billion live videos since it launched in 2016, and more than 2 billion users have streamed live content – while live videos are being watched for three times as long as pre-recorded ones and saw a rise of over 400% in watch time since Facebook Live launched. According to the same source, 1 in 5 videos on the social platform are now live. Facebook Live is ahead of the game, as 17% of users who stream live content have used the platform, while 16% have streamed on YouTube, 12% on Snapchat Live Stories and 9% on Periscope.
You will find more infographics at Statista
In other industries like video gaming, live streaming seems to be more and more on the rise. It has revolutionized the way gamers connect, as Twitch, a live streaming platform for games like League of Legends and Dota 2 has significantly boosted e-sports, reaching 355 billion in minutes watched in 2017 (up by 21.5% from 2016), with over 15 million unique visits per day – with more than 3.2 million unique monthly broadcasters in 2018 (up by almost 60% than last year). But it's also the way the games are played that has been transformed by live streaming.
Twitch Plays is a Twitch channel that is unique because it allows watchers to control the action in the game via live chat interface. What's more, some online casinos like Betway Casino-Live https://livecasino.betway.com/lobby/en/ are using the technology to live stream casino games like roulette, blackjack and baccarat in 200 frames-per-second HD quality and multi-camera angles, letting players connect to a live dealer dealing cards in real time as opposed to the usual graphics interface, which makes the experience more realistic.
Artists are also turning to live streaming, with websites like Picarto offering the service for free, while wildlife and conservation organizations also engage in live streaming nature and endangered species content worldwide.
Fashion Industry Taps into Live Streaming
The latest addition to that trend seems to be the fashion world – much to everyone's surprise. From Dior to Gucci, more and more luxury designers are stepping up to broadcast their catwalk shows live, while fashion publications like Harper's Bazaar also live stream their shows.
Designers frequently broadcast the content live on social media, in an effort to engage directly with a wider audience and promote their brand. They also use live streaming to promote their upcoming shows and their clothes beyond the few fashion weeks, using live streaming technology allows them to connect to people worldwide and not just the usual journalists and celebrities who traditionally have access to these events. This technology also helps these brands manage the content and the message directly, taking more control of their image and their relationship with fashion enthusiasts across the globe.
It seems that 2009 was the year that changed everything for the fashion world. Louis Vuitton chose to livestream its fall collection show to Facebook. Shortly after, Alexander McQueen took over and streamed their iconic spring/summer 2010 collection show live from Paris.
In 2010, Burberry, Marc Jacobs, and Burberry all opted to livestream their shows, following their competitors' lead. The following year, London Fashion Week decided to livestream the whole show – becoming a pioneer among fashion week hosts. And the trend keeps evolving:
Ralph Lauren took it to the next level in September 2016, when he decided to broadcast his stint on the New York Fashion Week on Periscope and also on huge billboards in Piccadilly, winning the hearts of every London fashion aficionado. Around the same time, Burberry showed how far the concept could go, by arranging to live stream its London Fashion Week and by making every outfit piece that was showcased instantly available for purchase online and in selected stores, moments after it left the runway.
This developing relationship seems set to redefine and re-evaluate the way luxury brands connect with consumers, but also what fashion shows are all about.
For years, the underlying myth of the industry was that of an elite undercurrent, as fashion weeks were reserved for the selected few and conducted behind closed doors before the ensembles were made available for the mere mortals to appreciate.
Now, fashion brands are increasingly opting out of this outdated notion of exclusivity, as fans demand more engagement – and this boosts sales. The Carolina Herrera label decided to not livestream their 2015 Fall show and immediately saw less impact on social media and a decrease in international press coverage. After livestreaming later on, they saw 60,000 new followers on social media and more than 51 million impressions.
In more ways than we could list, it seems that live streaming is here to stay – and it might just provide the fashion world with some impetus for a long-overdue change in customer engagement mentality and market outreach.