Hike vs whatsapp: Is Hike Messenger Better than Whatsapp?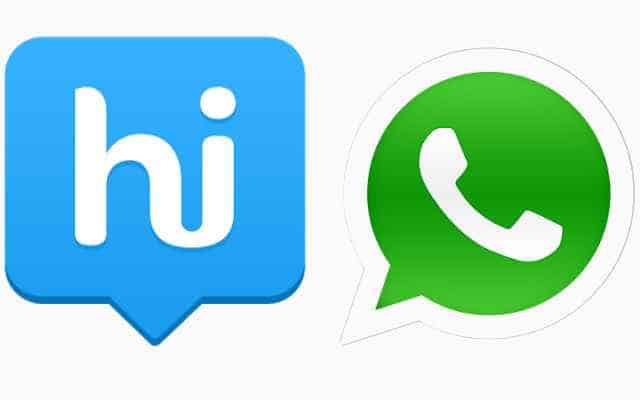 Hike vs Whatsapp Comparison: Hike vs whatsapp battle is really gaining heat now. Hike and whatsapp both are instant messengers.We will compare between various features of whatsapp and hike. Finally we will conclude who is better? whatsapp or hike. This post hike vs whatsapp will be answer to all your queries like hike vs WhatsApp vs we chat, WhatsApp vs hike vs viber or telegram, Top Android Apps or best Messenger, these type Comparison you can see on the internet but Whatsapp vs Hike Comparison is the most talked topic among all.
Also Read: Why GBWhatsapp is a king of whatsapp MOD?
Today Everyone wanna know about Hike vs Whatsapp along with their features.We will also review Hike app about its cool features.  You may like to check out best whatsapp tricks. Hike is getting popularity day by day but to be honest the rate is slow in compare to whatsapp, and it seems Hike is certainly going to compete other popular messaging apps such as whatsapp.
In june, 2014 Hike crosses the 20 million user marks globally and is among one of the top 6 apps on android, iOS and Window store in India. latest statistics show that Hike crosses over 35 million users worldwide in almost no time. More Good news now, Now hike is available for windows. You can download Hike messenger for pc easily from the link. That is the main reason I decided to write a complete review of hike vs whatsapp or say whatsapp vs hike. Let see who wins the battle of hike vs whatsapp….
Hike Vs Whatsapp: Why we choose whatsapp?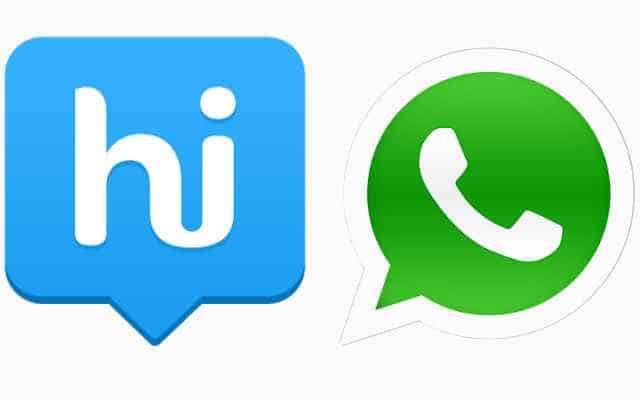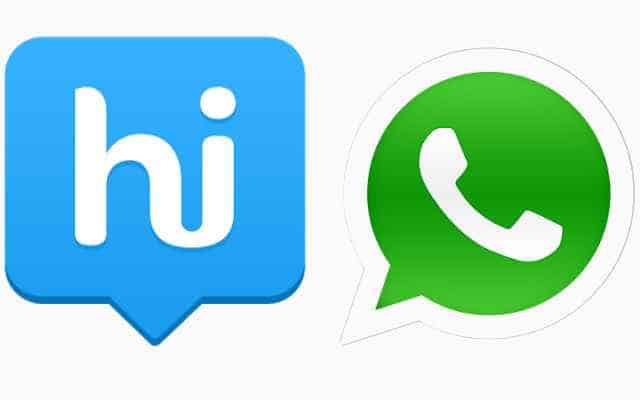 Whatsapp is clearly dominating global instant messenger market at present. If you will ask me about what I use. My answer is also the same. I choose whatsapp over hike or viber or telegram or many others. I see following reasons for which I choose whatsapp over hike or others
Whatsapp has become in a brand in the global instant messenger market. Many people know about whatsapp but they don't know about hike messenger. The reason is whatsapp has got a good promotion from the mouth of people. But Hike is still behind in this field. Specially it slow operating speed than whatsapp.
When you will use whatsapp (which I think everyone does at present), you will see that you can talk with the most of your friends because they are already on whatsapp. But when we talk about hike you will miss lot of your best buddy. So in terms of usuability whatsapp again wins the battle of hike vs whatsapp or whatsapp vs hike.
The bonus thing about whatsapp messenger is that it is add free service. Although in this field whatsapp is not clearly dominant over other popular messenging apps. Many instant messenger are providing add free service. why I put this point of whatsapp because when it came it is quite difficult for any messenging app to provide add free service. You can also record whatsapp calls nowadays. As you know adds are basic resources for monetization of any mobile application. It needs to have some great balls to provide such clutter free and non add service. Thanks to this step of whatsapp which has helped them to dominate the instant messenger market.
One of the added advantage of whatsapp over hike is that we can use whatsapp on window desktop in web based application. Whatsapp can be used is chrome web based browser. Hike doesn't have this facility currently.
After seeing above point you migh  be thinking that if I am appreciating and presenting so many facts about whatsapp in the battle of hike vs whatsapp then why the topic is hike vs whatsapp. Well my answer is this is only one part of the coin. There are lots of other things in hike which make me to try it atleast once.
Bumble dating app for android smartphone is trending bumble dating app for android . You can also try other app like Megabox hd . if you are searching for a bluestacks alternative then try this android emulator droid4x
So friends, now we will see cool features of hike which whatsapp doesn't have & has not provided till this date. This will be the attacking round from hike over whatasapp. lol 🙂
Read:
Hike Vs Whatsapp Comparison : Which is More Better ?
In this section of hike vs whatsapp battle, I will talk about the advance feature of hike which are better than whatsapp. The reality is most of the advance features of the hike messenger are not even present on whatsapp. Although whatsapp has some feature which highly attracts users but I think it is the time they should keep up with their competitor too. Because who knows who will dominate the instant messenger market in the coming years.
Hike clearly wins the battle of hike vs whatsapp. Hike is coming with more and more features in every updates. let check it out what are those advanced features which are present in hike which makes it so demanding. These all are necessary for knowing how to use hike or whatsapp.
1. Offline chat:
One of the unique feature of hike messaging app is its offline chat facility. Hike is the first to deliver such kind of service in IM. One can even chat if he or she is offline. So friend, you don't need to worry about your validity of the data pack. On the other side of the coin whatsapp app doesn't provide such kind of cool feature. Atleast not as of now. However whatsapp users never complained about this feature in whatsapp. They are happy to use whatsapp as it is. So the Hike comes first in hike vs whatsapp battle.
2. Stickers:
Hike has an amazing collection of stickers. These Stickers enhances the experience of our chat and show the real emotions of user's mood while chatting on Hike.
A user has reviewed Hike on the apple store about its stickers in these words
"Everyone is fond of its unique variety of stickers. These are best ever, rarely seen on other chatting app."
While whatsapp has no such facility, although emoji are there.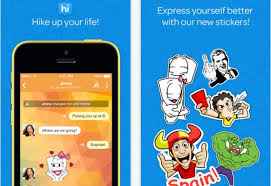 On the other side Whatsapp has only emojis. Stickers facility is not available in the whatsapp messenger. We really miss these stickers in whatsapp.  Again the clear winner is Hike.
Must read
3. Hidden Mode:
Hike provides its users the amazing facility of hidden chat. This allows hike users to keep their private chat hidden such as no person will ever came to know that they are hidden. These conversation can only be opened if we enter the right hidden mode password. This feature is extremely useful for the users from protecting their private chat from their parents. This feature of Hike is certainly a boon to its users.
If we talk about whatsapp, this app doesn't feature any of this facility.
So again the Hike comes first in hike vs whatsapp battle.
4. SMS facility:
Hike messenger provides facility of free messaging to non-hike numbers too. Although these messages are limited in a month but these can be extended by inviting your friend to hike messenger or frequently using the app. There is no limit on free messages. Whatsapp does not provide you any such facility of messaging to non whatsapp numbers.
Hike vs whatsapp -SMS facility
5. Selected online:
In hike user can show their last seen to some of the selected friends, which Hike call favorites friends. While whatsapp lacks such customization and flexibility in online visibility to others.
6. Two way wallpaper or chat theme:
while in the chat you can change the wallpaper of your conversations. If you change it this will get reflected on the wallpaper of friend's phone too. These wallpaper are called two-way wallpaper. Whatsapp has the facility of changing the chat wallpaper too but it does not have the two way wallpapers.
Must read:
7. Reward facility:
Hike provides you credit for recharging phone and free coupons for shopping. When you first join hike, you will be given an initial credit of RS 10. And each friend invited by you, if join hike through your send link within 24 hrs and send you a stickers, you will be provided another credit of RS 20. As it is the in the initial stage of its success. It needs such promotional offers and schemes. While Whatsapp has already got lots of popularity. So it does need such kind of things. But I bet you friends no one will be able to deny the opportunity of free recharges.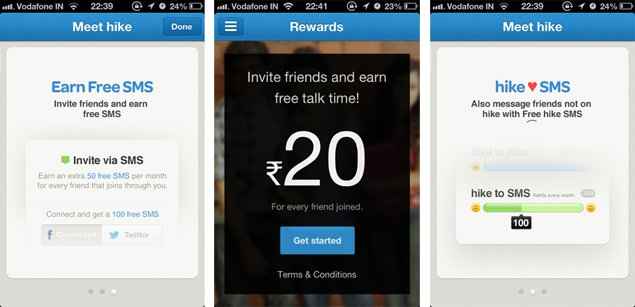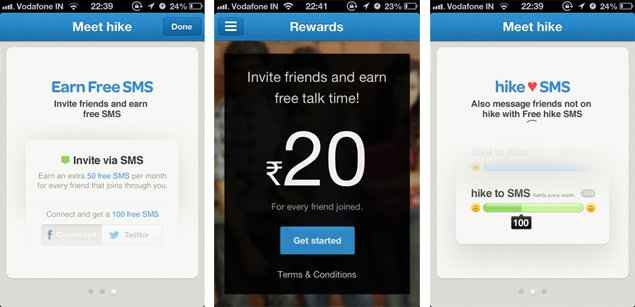 8. Larger range of content sharing:
while in the Whatsapp it is quite typical to share content other than photo, video and music. Hike provides us a range of attachment sharing. All the file format can be shared through hike like pdf,doc,zip,APK,ppt etc upto 100MB each. The figure surpasses the attachment limit of all the present messengers and more interestingly even email service providers. So this is the another area where it gets a bonus point over Whatsapp and others.  
So again the Hike comes first in hike vs whatsapp battle.
9. Furious speed:
Hike messenger has remarkable speed of delivering messages. It provides you exact details of your message while it is its way of delivering or it has reached or delivered.
10.  Routinely Updates:
Hike developers promises its users to update the app routinely. And they are quite effectively success on their promises till this date. Every months hike team comes with new updates to the app. It has good user interface. Every month hike provides updates on improving its speed and reliability. Some more functions are also included in the update.
Although it has more functions than any other instant messengers, it lacks the facility of backing up the messages. If calling functions become available in hike than we can say it would become an awesome and perfect app. Hope we get it soon too.
While it consists of all the functions of which other popular messaging app have, like Whatsapp. It provides; like last seen, auto save media, notification, blocking any specific numbers and group chat etc. One can say the it is the modernized version of Whatsapp. One could hope that this messaging app can get popularity and it will be seen on every user's smartphone as their primary messaging app which it really deserve. Hike is more appealing than whatsapp. Hike clearly wins over whatsapp in the battle of hike vs whatsapp.
11. Better Security
When we talk about the security features of hike and whatsapp, Hike agains dominates here too. Whatsapp messages log are saved into android sd card memory. These whatsapp logs are although encrypted but extracting messages from these log is quite easy. You can find many cheatsheet in the internet for how to extract messages from whatsapp log. So in whatsapp there is no high level of security.
When we talk about hike it has the option of enabling 128 bit encryption. This feature is particularly made by keeping in mind of wifi users. As while using wifi all your data pass through the main router so hacker can manipulate you and can pretend themselves as the main server. In hike even if they got your hike messages there is no way currently available by which they can read your hike messages.  That's why all your chat logs are safe in Hike. So if you are chatting on hike feel safe always. 🙂
So in my opinion hike is safe than WhatsApp.
Whatsapp vs Hike | Who is The Winner?
Although Hike has world class features which a world class instant messenger should have but the problem is from my point of view they are only restricted to India. Whatsapp is clearly the Global leader of instant messenger. If hike want to establish a global image they should promote theirself to International level. Whatsapp has already establishes its brand globally so its not an easy task to compete with them.  But what Can I say from my experience of using whatsapp alternative is that Hike is the best alternative of whatsapp.  They should target more and more customers.
But as you know you will find most of your friends on whatsapp. So the real fact is that it cant be ignored. So whatsapp is clearly dominant in the present market. But for me if you give me these two options then I will definitely go for Hike. I guess people are not well aware of Hike attractive features. 
So which one do you prefer in the battle Hike vs Whatsapp! Please let us know in the comments section below. If you want to add some more points to this Hike vs whatsapp comparision do tell us in comments.
And also "khud ko thoda hike kar le yar" (do yourself some hike friend)
Please like us on Facebook to get our daily tech updates and follow us on twitter.
Read about famous tricks for whatsapp: whatsapp group names
Thank you.
Hike Vs Whatsapp: Downloads
Click on the corresponding below link for downloading hike & whatsapp
Recommended guide: