How to Protect USB or Pendrive With Password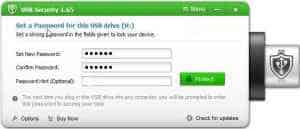 Hello friends,
In this article I will tell you how to protect USB/pendrive with password. This can be done with different types of softwares. These days pendrives has become common transmitter of data from one place to another. These pendrive can also be used as a bootable pendrive to boot to computer. Pendrive can contain sensitive and confidential data like some important document of organization. So it is necessary to protect such kind of information from unwanted people.
So friends, to protect important data, pendrives need to be protected so that no one will able to reach the data except for the authorized persons. Here I am going to provide you the trick, with the help of a third party software called USB security.
This tool protect the data inside the pendrive. If you need to see your data, enter the correct password.
Steps for protecting the pendrive withe password
Step 1:
Download the USB security.
Step 2:
double click on the downloaded file, it will then show you all the removable drives present in your computer.
Step 3:
Choose the removable drive for which you want protection. Then click on the install button. It will complete the installation of USB security on your external device.
Step 4:
After completion of the installation process, you will be provided some option related to your pendrive. Choose the password for your pendrive and re-enter it on the appropriate text box. You can also type some hint to remember the password, which should be easy to know your password for you but should be hard to guess for others.
Step5:
After this click on the protect button.
This will protect the data of your pendrive.
How USB security tool get works?
USB security tool simply copies whole data of your pendrive into a secret partition and lock pendrive with the password provided by you.
If you want to see your data, simply click on the USBsecurity.exe file presented in the USB device and provide the correct password to unlock the device.
How to uninstall USB security from your pendrive?
Because of the fact that this software gets install on your pendrive, it is somehow difficult to uninstall this tool from traditional method. For uninstall this software, you need to first unprotect your pendrive. This will unlock your data. It will then show you the two options which are Uninstall and Reprotect.
Choose the uninstall option and confirm the dialog box that appears after it. The USB security tool get uninsatalled.
Alternative of this software.
I hope, you have successfully protect your data of pendrive. If you have any query or question related to this trick, please tell us your problem in the comment below.
Please like us on facebook and follow us on twitter to get our daily tech related updates.
Thank you.