5+ Best Android Launchers for Your Smartphone in 2016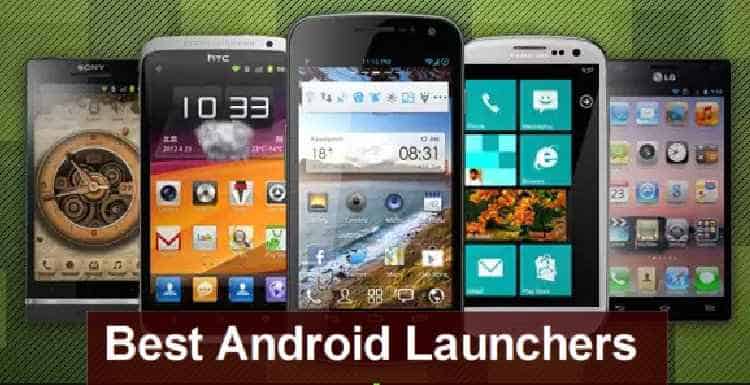 Android Launchers give new look and feel to our smartphone. As we are generally bored with our default Android Launcher, therefore, we need to have some new launcher on our phone that would provide stunning UI feel, provide many new features and also improve our phone's performance such as low RAM consumption and increase battery life.
Here are the best android launchers available on Google Play so choosing the best among them for your phone could be a problem for you. But you don't need to worry as we would be guiding you towards which Android Launcher would be best for your Android Device.
Advantages of having best Android Launcher on your phone
1. It gives new UI experience to your phone as they change the appearance of almost everything on your phone such as home screen wallpaper, menu icons, lock screens.
2. It can improve your smart phone's performance. If you use an Android Launcher that has low RAM and CPU usage then in would speed up your phone and also improve your phone's battery life.
3. Many widgets are supported with these best android launchers such as clear all apps button on your home screen.
4. Every Android Launcher provides us with variety of stunning themes to keep Android OS look cool, eye catching and you don't get bored with it.
5. Android Launchers are optimized for all the Android OS versions such as for Gingerbread, Lollypop, KitKat and MarshMellow.
So let's take a look at some of the best Android Launchers
1. Go Launcher Z- Best of the best Android Launcher for tablet and phone
Rating on Google Play
GO Launcher Z is top on Best Android Launcher 2016 list. It's stylish, smart, slim & personalized. You can get the idea of how cool this Launcher is as it has around 5 Billion(50 Crore) downloads . Also check out Nova laucher prime apk. Free version of Go Launcher Z contains some adds but you can upgrade it to pro version which is called "Go Launcher EX" by paying around $5.
Advantages of GO Launcher Z
1. It's Free
2. It has more that 10,000 cool mobile themes
3. It's really fast on High End Android Devices
4. Provides awesome and smooth animation and transition effects
5. It has 15 free App widgets such as Go Locker and Weather Forecast Widget
6. You can Hide and Lock Apps
Get Go Launcher Z on Google Play(8 MB approx)
2. Nova Launcher- One of the Best Android Launcher app
The best thing about Nova Launcher is that it has very low CPU usage therefore its the fastest Android Launcher. Low CPU usage helps save Battery also. It has around 50 million downloads on Google Playstore.
Advantage of Nova Launcher
1. It has more that 5000 icon themes.
2. It has Infinite Scroll i.e you can scroll icons menu as long as possible as it would loop around the desktop continuously.
3. Create Scrollable Dock I.e multiple docs and scroll among them
4. You can place any widget in your dock
5. You can take Backup of your Desktop Layout and Launcher settings and Restore it also.
6. Best part is its very fast, fastest among every best android launcher
7. Highly customizable Desktop
Nova Launcher Prime is upgraded version of Nova Launcher as it provides some additional new features such as:
1. Use customized Gestures to open your favorite apps
2. It has Unread Counts which would count total unread messages from your SMS, Gmail and many more using TeslaUnread plugin.
3. Hide Apps
4. Many new Scroll Effects
Get Nova Launcher on Google Play(5.93 MB)
3. ZenUI Launcher – Second Best Android Launcher for KitKat
It was previously known as ASUS Launcher but now its available for all Android 4.3 and higher devices
Advantages of ZenUI Launcher
1. It has many wallpapers, themes, folder styles, and effects to choose from therefore highly customizable.
2. Change Font Style and Font size that suits best for your Android Device
3. Preview your new theme that you like
4. Search any app by Swiping down using Quick Find
5. Customize your Home screen as per your like
6. Related Apps are grouped together automatically using Smart Group feature
7. Hide Apps
Get ZenUI Launcher on Google Play(19 MB)
4. Buzz Launcher- one of the best android launcher apk
Buzz Launcher is growing its popularity in Android Launcher Category, with 5 million downloads on GooglePlay it is also recently recognized as the best Personalization App for "the Best App Ever Awards" and the Best of Best Brand Identity award for "the Red Dot Awards". Most interesting feature of Buzz Launcher is that it has highest available themes compared to any other Android Launcher having more than 800,000 themes. And also you can create your Homescreen , share it with your friends and they can download and apply that theme on your Phone.
Advantages of Buzz Launcher
1. Multiple Transition Effects
2. Can view all Homepacks in one site at http://www.homepackbuzz.com
3. Completely free I.e no adds and all themes are completely free
4. Share your home screens with your friends on Facebook, Twitter, and Google+
5. can create your own customized widget using Buzz Custom Widget
6. Awesome themes for free and high phone performance
7. Can lock Apps
Get Buzz Launcher on Google Play(10 MB)
5. Action Launcher- Best Android Launcher 2015
Its one of the best available Android Launcher with more that 5 million downloads. It was 1st on Android Central's "Best Android launchers of 2015" list.
Price: Free / $3.99
Advantages of Action Launcher:
1. Quicktheme: Its automatically sets theme on your smart phone as per the colors of your wallpaper.
2. Quickbar: customize the Google search bar with shortcuts and apps of your choosing.
3. Quickedit: It automatically provides you with best available alternative icon suggestions thus saving your time.
4. Covers: They help us hide folder, when you tap on a Cover it would load an app and swiping a Cover would open a hidden folder that you would have set
5. Easily hide apps
Get Action launcher Now(10 MB)