How to easily earn 500 rs from Snapdeal AppShare trick
Snapdeal invite code
This is Snapdeal season as they are spending lots of money on promoting its App. Snapdeal is currently offering 50rs per referral from snapdeal trick, and the cool part is that the person who you refer to will also earn 50 rs SD(snapdeal) cash. This article on snapdeal appshare will answer all your queries like.
Snapdeal app share
How to easily earn 500 rs from Snapdeal AppShare trick
How to earn snapdeal cash
Snapdeal cash
Snapdeal refer and earn
Snapdeal sd cash
If you have already installed Snapdeal App on your phone, then also you can invite other people on snapdeal and earn SD cash.
Important: Get the latest Snapdeal App to get benefit of offer. You will then eligible for snapdeal app refer.
You have to just simply refer and earn on snapdeal. This offer is valid for all users:both new and old.
For new Users
You first have to go to menu and then select Snapdeal AppShare option. Then it will ask for your mobile number, you have to verify it by entering the code sent by Snapdeal to your Mobile Number.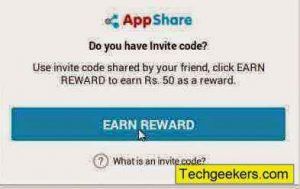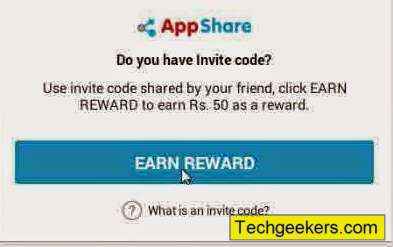 Then you have to enter referral code. You can enter any of your friends referral code or mine which is:Wwsn530237. Then follow the normal sign up process and you will be awarded with 50rs SD cash.
Then you can start inviting your friends and earn more SD cash. That's all in snapdeal invite code for new users. Below is the snapdeal invite code trick for the old users.
For old Users
For all those who have already registered on Snapdeal App, you have to invite your friends. Just go to Menu->Snapdeal AppShare->click Start inviting. You can invite via Whatsapp, facebook, email or SMS.
Note down your referral code that is included in the message your friend received whom you invited.
And then start sharing this with your friends.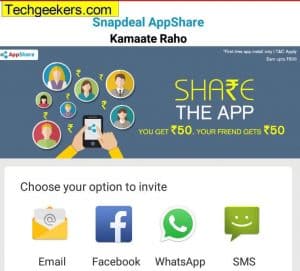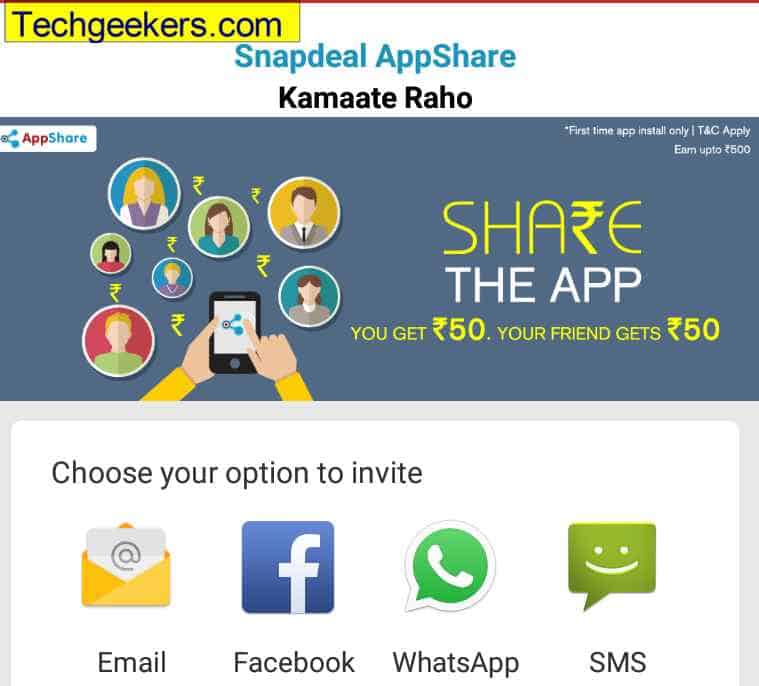 Just invite your 10 friends to Snapdeal and signup your friends.(I don't think 10 is very much people to get to).You can share the app with your friends,relatives, colleagues and many more.
Important Note:
1. Maximum limit of earning snapdeal cash per user is 500 rs.
2. Mobiles on which Snapdeal App has been previously installed will not be eligible for offer.
Hope you liked the post snapdeal invite code. If you did please do share this snapdeal appshare trick to your social circle.
# snapdeal invite code # snapdeal appshare trick # snapdeal refer and earn
As of September 25, 2016 this trick is working pretty fine. There are no official statement from snapdeal about the validity of this snapdeal appshare offer. So you may consider this as lifetime offer as of now. Cheers.
How to use Snapdeal Cash to shop for free?
The cash which you earn can be used for shopping through snapdeal. For this just shop on snapdeal in the way, you usually do. Then on the payment option, select payment through snapdeal cash. BOOM!!!
I hope, you guys liked this snapdeal trick to earn free snapdeal credit money. You can use this snapdeal invite code trick to get unlimited cash. You can comment below if you are facing any problem.
You can drop your snapdeal refer code below to earn even more money indirectly through techgeekers.
Cheers,
Aman Bisht