Acer Aspire 5 A515-51G Review: Best Budget Laptop?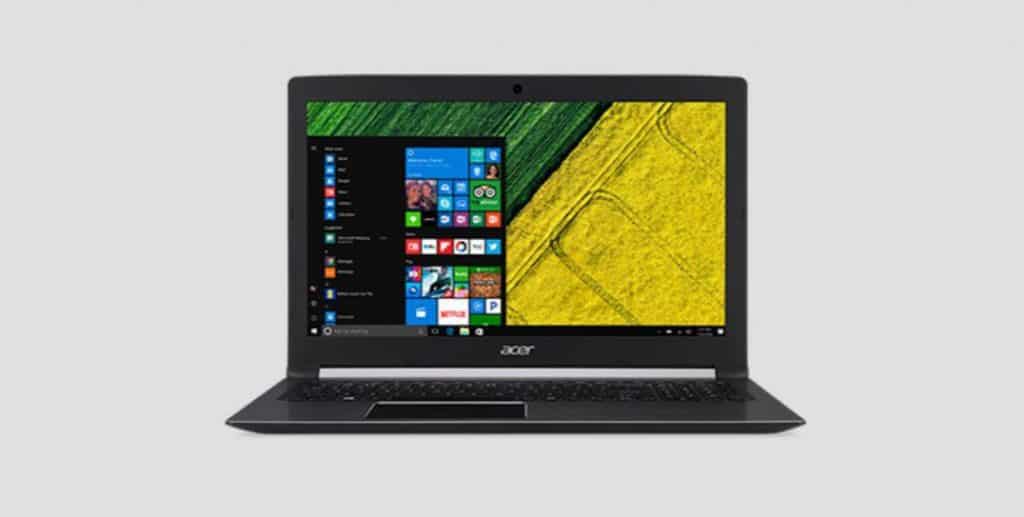 Just a few weeks after the launch of Intel's 8th Generation Notebook CPUs, Acer refreshed than Aspire 5 series with the new Intel Core-i5 8250U Processor. This is a major upgrade over the previous generation Core-i5 7200U. With 8th Generation, Intel has brought Quad-Core CPUs for the first time in the budget Notebook CPUs. Acer Aspire 5 A515-51G is 15.6 inches Laptop with Full HD Display Resolution. It has a dedicated Nvidia MX150 GPU and a 3220 mAh Battery that can last up to 7 hours.
Another major improvement over the previous generation is the Graphics Card. The Nvidia MX150 is significantly more powerful than the older 940MX. It is the notebook variant of the GT 1030 and has 2GB of GDDR5 Graphics Memory. According to Nvidia, MX150 is almost 4 times as powerful as any Integrated GPU. To find out which games you can play, check out this review of GeForce MX150. This Laptop comes with 4 GB of DDR4 RAM which is upgradable to 16 GB. In my opinion, the only downside of this Laptop is 4 GB RAM because most of the high graphics demanding games require 8 GB RAM. Nevertheless, the RAM is upgradable and in my opinion, it is currently the best low-budget Laptop for gamers and content creators.
Aspire 5 Specification
| | |
| --- | --- |
| Brand | Acer |
| Series and Model | Aspire 5 A515-51G |
| Part | NX.GTDSI.001 |
| Processor | Intel Core i5 8250U |
| Processor Generation | 8th Generation |
| CPU Cores & Frequency | Quad-Core & 1.6 GHz |
| Turbo Boost | Yes, up to 3.4 GHz |
| RAM | 4 GB DDR4 |
| Expandable Memory | Yes, up to 16 GB |
| Graphics Processor | Nvidia GeForce MX150 |
| Graphics Memory | 2 GB GDDR5 |
| Storage | 1 TB HDD |
| HDD Speed | 5400 RPM |
| Display Size | 15.6 inches |
| Screen Resolution | 1920 x 1080 (Full HD) |
| Ports | 1x USB 3.0, 2x USB 2.0, 1x USB Type-C, RJ-45, HDMI Output |
| Battery | 3220 mAh Li-Polymer |
| Battery Life | 7 hours |
| Weight | 2.2 kilograms |
| Operating System | Windows 10 Home |
The Full name of this Laptop is Aspire 5 A515-51G and the part number is NX.GTDSI.001. As there are multiple variants of this laptop, you need to make sure that you're buying the right one as there are other variants with SSDs, 720p Display, 8GB RAM and/or an older processor/GPU. You can also check out best ram brand. This model comes in black color with a screen of 15.6 inches. As mentioned before, the Display Resolution is 1920×1080 pixels. The Acer Aspire 5 is powered by the Quad-Core Intel Core i5 8250U and the CPU is clocked at 1.6 GHz.
Also check out Best Laptop for Machine learning
With the help of Intel Turbo Boost, the frequency of one of the cores can reach up to 3.4 GHz. It has the Nvidia GeForce MX150 Graphics Processor that can run almost every new PC game in Full HD Resolution.
The one place where I feel there is a bottleneck is with the HDD. The 1 TB Hard Drive runs a 5400 RPM and this isn't too good for gaming and other types extensive disk-related tasks. It uses DDR4 Memory Technology and has 4GB RAM which can be upgraded to 16GB. This Notebook comes preinstalled with the Windows 10 Home edition and the weight of this Laptop is 2.2 KG. It has USB 3.0, USB 2.0, and the USB Type-C port as well. Just like every other modern Laptop, the Acer Aspire 5 has the RJ-45 network port and the HDMI port are also present. The Battery Capacity 3220 mAh and it is Li-Polymer Battery that can last up to 7 hours.
Acer Aspire 5 Review
I'll divide this review into 6 separate sections and this should help you understand whether this laptop is right for you or not.
Design and Display
This laptop is in Gray color and the same color is present in the bezels and in the inner section of the laptop. the touchpad and the keyboard layout looks great as well. The Acer Aspire has a Full HD Display with an aspect ratio of 16:9. It has Acer's ComfyView that reduces glare and background reflection. Overall, this results in a good resolution display with great viewing angles and less glare.
General performance
It has the Windows 10 Home Operating System combined with a really powerful hardware. Performing general tasks will be snappy and you'll be able to run all the general software with ease and no lag. However, running applications that involve a lot of Hard Disk Operations will not be that great due to its 5400 RPM Hard Disk. Other than that, the performance of this Laptop is best for the given budget.
Gaming Performance
The Nvidia MX150 GPU paired up with 8th Gen Intel Core i5 Processor delivers stunning gaming performance. Almost, every game is playable at 60 FPS+ on HD Resolution and at 30 FPS+ on Full HD Resolution. Games like GTA V are even playable at 60 FPS+ on Full HD. However, you must keep in mind that some games do require 8 GB RAM. So, if you're a gamer, the first thing I'll recommend you after buying this laptop is to upgrade its RAM to 8 GB. You can pick the 4GB DDR4 Kingston ValueRAM for this upgrade.
Video Editing
With a powerful GPU and CPU, this Laptop is perfect for the Youtubers and Content Creators. All the graphics and video editing applications will run fluently and it will result in a great experience overall. In Video Rendering, the GeForce MX150 performs almost 4 times faster than the Integrated GPU.
Multitasking
Multitasking is another aspect the mainly depends on the RAM. 4GB RAM is usually sufficient for running multiple programs but for heavy tasking, I'll recommend upgrading the RAM to 8 GB. This will not only give you the ability to run more numbers of programs at once, but it will also assist in gaming.
Battery Life
While performing basic tasks like watching movies, TV shows, and browsing, the battery life is amazing. However, I will not recommend gaming and video editing without external power. The GPU will be able to give its maximum performance only when connected to an external supply. With Nvidia's Optimus technology, you can switch between the Integrated and Dedicated Graphics. The Intel UHD Graphics 620 isn't bad either while running low-end games and applications.
Price and Availability
The best price you can get this Laptop is Rs. 50,000 or $750 USD. You can also consider buying other variants of this Laptop which have a lower resolution (1366×768) or have better storage technology (SSD). As of December 2017, this Laptop is available to purchase both online and in offline stores. However, the demand is too high and for most of the times, this remains out of stock.
SummingUp
The Acer Aspire 5 A515-51G is indeed a great Laptop for its price. The best part about this laptop is that it is perfect for a wide variety of consumers. The display is great and this makes it a good deal for media consumption. For content creation and professional work, this Laptop fulfills all the needs. For casual gamers and for serious gamers that need a Gaming Laptop on Low-Budget, the Acer Aspire 5 is a steal deal. Laptops with similar specifications will be priced a lot higher when it comes to brands like Dell, HP, and Lenovo. One of the major reasons to choose Acer is because it offers the best value for money. I'll highly recommend this Laptop to anyone that falls in the above categories.