Why You Should Get a MacBook Air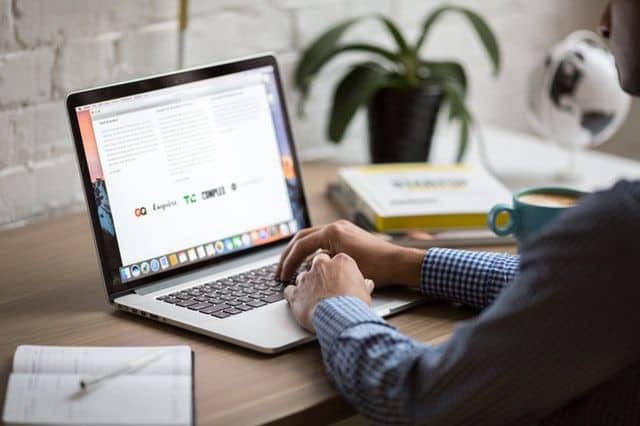 The market for personal computers is full of options, with a range of products available from a plethora of manufacturers. However, few are as tried and tested as Apple, whose impeccably high design standards help it maintain to maintain its position as a true market leader.
The MacBook Air is Apple's answer to all of your personal computing needs and is designed to be a great laptop that suits most people. Let's take a look at the laptop's winning features and explore the reasons why you should consider getting a MacBook Air.
Lightweight and Portable
The MacBook Air is known for being portable, and the lightweight design of the laptop accommodates for this. With models of the Air weighing as little as 3lbs (approximately 1.36kg), they are ideal for anyone who travels regularly and needs a laptop that won't weigh them and their luggage down.
The Air also offers a durable screen and has drawn high praise for its comfortable keyboard and generous storage options. This means that whether you're typing on a train, on a plane or catching up on work in the backseat, you'll be able to settle in and get on with your work. You won't have to go rooting through your bag to find your external hard drive or USB thumbsticks, either.
This combination of quality and portability makes the Air a great MacBook if you're a writer, media creative, or a student who often uses their laptop wherever inspiration strikes. Your MacBook Air will fit snugly inside your backpack, and will still offer all of the computing power that you need.
A Long-Lasting Battery Life
An additional benefit for anyone who intends to use their computer whilst traveling is the impressive battery life boasted by the MacBook Air.
According to Apple's own data, the the 13" Air has a 7-hour lifespan from a full charge; a battery life that should serve even the longest of commutes. In tests, the 2015 model had a battery life of more than 12 hours when playing an HD movie in iTunes, meaning it should suit you well if you enjoy catching up with your favorite TV shows or the latest movies when you're on the go.
Alongside the lightweight nature of the laptop, this battery capacity enables you to go almost anywhere with it, comfortable in the knowledge their power supply won't fail you.
So it's worth strongly considering the MacBook Air if you are a person who uses their laptop frequently throughout the day when away from a charging point, meaning you can work on documents, send emails, and browse the internet for longer without needing to plug in.
Excellent Software Compatibility
One of the largest upsides to purchasing a MacBook, be it an Air or another model, is the extensive list of incredible applications, programmes, and useful software available for Apple products via macOS.
Apple's signature Mac operating system can play host to a number of fantastic apps, including Adobe Photoshop, After Effects, and the Mac exclusive software, GarageBand. The MacBook Air handles all of these applications well, further cementing its position as a great choice for a media creative.
Alongside this, reliable processing power and a healthy amount of RAM makes the Air great for students, who will have access to a wealth of educational and writing tools to aid their studies. These tools can also be an asset to any writer, journalist, or blogger, keeping up with you when you have multiple documents, note-taking apps, and an Internet browser running in the background.
Affordable Computing
Another attractive aspect of the MacBook Air is its low price, especially when compared to other Apple products. This can come in handy if you're a student strapped for cash or someone after a good deal. RefurbMe lists refurbished MacBook Air 13 inch deals for under $400, which is a bargain when you consider all of the features the machine comes packed with. Shoppers can save up as much as 70% buying refurbished and many offers typically include a warranty, giving you some confidence that your device will be protected.
This affordable price also makes the Air a good option for someone who may have a larger machine at home. The durable battery life offered by the Air would allow someone to continue their work once they leave the house and do not have access to this home machine. But at the same time, you won't have to splurge too much for the privilege of working whenever and wherever you feel like it.
And with a vast range of options available to purchase a refurbished Air, you can be sure of getting value for money.
Where is the Best Place to Buy a MacBook Air?
Because of the popularity of the MacBook Air, there are quite a few places where you can buy one from. The main one is Apple itself, but, because the MacBook manufacturer wants to protect its profit margins, it charges a premium for its brand new systems. You're unlikely to get a discount here – or much money off even during sales periods when you buy brand new.
As mentioned, there are plenty of refurbished MacBook Air deals and buying refurbished is generally seen as a cost-effective and environmentally friendly way to get your hands on new technology. Some of the best places to buy a refurbished MacBook include Amazon, which works with third-party refurbished partners and offers decent shipping rates (and shipping with Amazon Prime). RefurbMe is a price comparison platform which compares offers and helps you get the best price across different sites and suppliers, while Mac of All Trades is renowned for its refurbished quality assurance.
It may also be worth exploring trade-in offers with different retailers. If you have an older Windows PC or Apple MacBook, you may be able to shave some money off a newer model by handing over your aging tech.
Why Should You Get a MacBook Air?
It is abundantly clear that the MacBook Air has a long list of positive properties, making it excellent for a diverse range of people.
The impressive battery performance, lightweight and portable design, and wealth of excellent software ensure that the Air is a viable and effective option for any traveler, commuter, or student. Furthermore, the attractive price also makes it a great entry-level laptop for someone new to Apple, or someone wanting a cheap yet versatile PC.