Top Tips to Get Through Boat Stereo Installation Successfully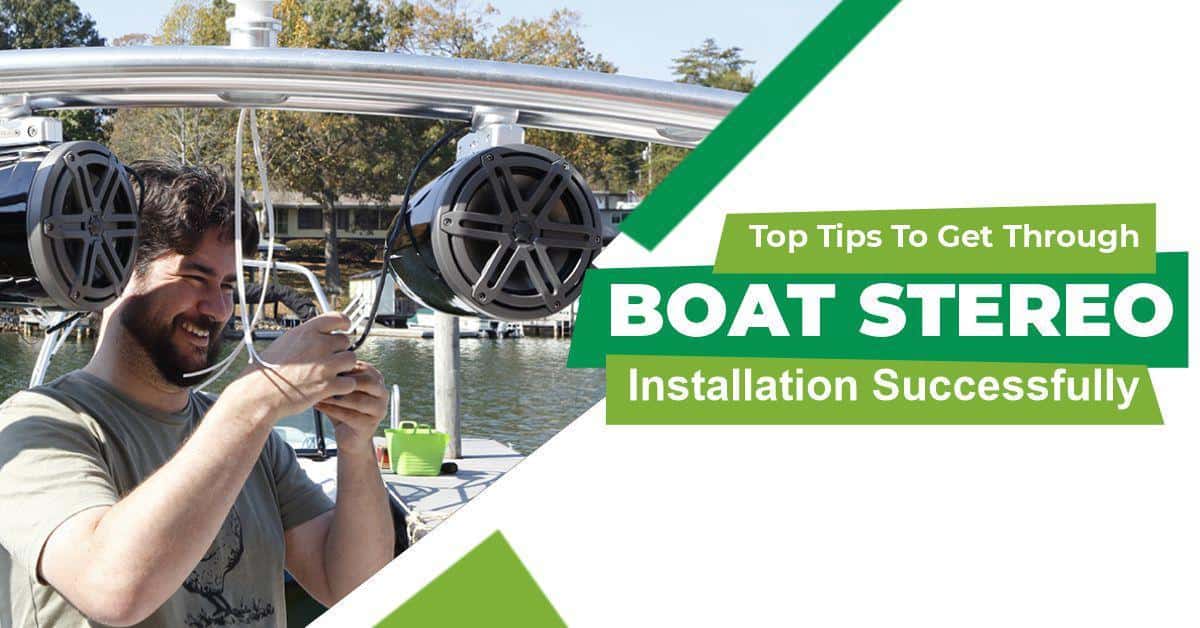 Who does not like to listen to the melodious tales when sailing through the river on luxury boats? Everyone likes to be amused on such journeys but not all luxury boats come with your desirable stereo systems.
If your boat hasn't come with one, that doesn't mean you've to carry through the travels in silence. Instead, you can easily pick up with boat stereo installation service and get aboard with some incredible music on your journey.
But wait!
Do you have enough knowledge to get through boat stereo installation successfully? If not then dive into this blog post because it carries all the top tips to get you through boat stereo installation successfully!
Take a look at these incredible tips and get inspired!
Make Sure the Stereo Complements With the Receiver in Your Boat –
Either you're planning to install a unit stereo system in your boat or go with the mounting options, it is integral to know which type would best complement the stereo receiver in your boat. Traditionally, most boat stereos came as 7*2 inches broad boxes consisting of a CD player. However, the trends have remarkably transformed over the years turning stereos into smart stations which could only play music when connected with digital mediums such as iPods, MP3 players, and smartphones, etc.
Because there is no need for CD players anymore, the size of modern boat stereos varies widely from the traditional ones and are most likely to have smart, smaller cutouts. Either mounting or picking the unit option, you shall always make sure to have a waterproof deck in your boat for successful boat stereo installation. The size of stereo you select shall complement with that of the water-proof deck you've decided to call the stereo receiver.
Speakers – Boxed or Flash Mounted –
There are two types of speakers which could be used in boat stereo installation i.e. box speakers and flash mounted speakers. Both of them come with their advantages and disadvantages. Flash mounted speakers are efficient – they could be installed in out-of-the-way spaces and promise clearer sound. However, these speakers could only be installed in your boat by making a hole. They require adequate air space around the cone for the best frequency response.
Contrary to that, box speakers might look less trendy but they are an attractive option for successful boat stereo installation. They could be easily placed anywhere in the boat that is water-proof and do not call for cutting holes in your boat. They come as secure inside their bodies and already possess enough air space to produce the best frequency of sound. The only drawback of box speakers is that it takes more space than the small and trendy flash mounted speakers.
Now the choice is yours, either go for the trendy flash mounted speakers and risk the strength of your boat or pick box speakers and compromise with the looks. The best, however, is to go with box speakers as long as you have a wide water-proof deck available on your boat.
Positioning Of the Speakers –
When planning for successful boat stereo installation, strategizing the position of your speakers is a crucial step. While you make the strategy, it's important to remember that speakers are directional – they will project sound in the exact direction they point towards.
Most likely, you want your speakers to project sound towards the spaces your ears are likely to be, don't you?
It is crucial with boats because the sound could easily bounce around in the open air and even waters. Thence, make sure to place your speakers in a place where there is the least chance for the sound to bounce and travel. Pick locations in a manner that you could hear music from at least two different speakers in one direction. This will make your stereo experience as best as possible.
Now that you know how to best get through boat stereo installation successfully, it's important that you keep in mind your boat security system at the same time. Always pick a stereo system that goes well with your security system and compliments. Installing a less secure stereo system could impact your boat's security and you might never want to risk the security of your boat for the sake of a trendy stereo system.