How Do Cashback System Work?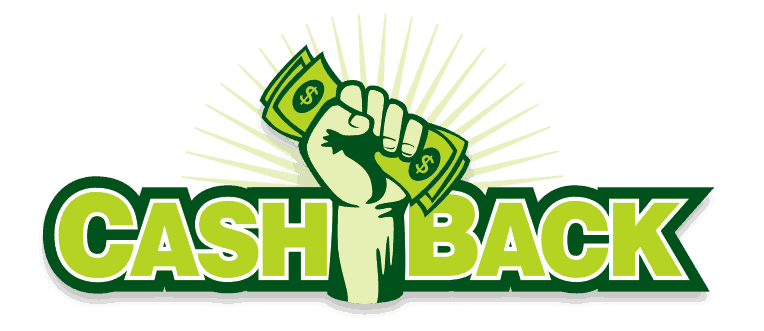 Free Money?
The thought itself gives a risky feeling!
Really!
Money for free!
That's what we take cashbacks for.
Right?
In the world full of numerous money laundering cases, phishing techniques, even a legitimate website giving the money back as much as 30% seems a new fraudster in play!
But, wait!
Don't be so quick to judge!
E-retail websites providing you cashbacks are for real.
Cashback sites such as Savio Plus have a working model similar to reward schemes and loyalty cards. Savio+ offers discounts up to 15% on the famous UAE shopping websites, FarFetch and Shein. Let's get into the details of the actual working of Cashback systems.
What are cash-back sites?
Cashback websites are exclusively dedicated to earning you profits every time you shop online via their links. Whenever you place an order by clicking upon the links on their websites, you are paid by the cashback website which may be redeemed as per their specifications. Not bluffing, you can make up to $100 a year via the cashback sites. Almost all major cashback sites like Savio Plus offer you a signup bonus along with new user promo codes to be redeemed on our first online shopping via their link.
How do cash-back sites work?
Most of the popular cash-back sites like BeFrugal.com, ShopAtHome.com and SavioPlus.com are simple to use. Users firstly need to sign-up for a membership that is generally free of cost.
You shouldn't directly visit the shopping website. Instead, you must log in to your preferred cashback site a click upon the link that shall redirect you to the shopping portal. Now, check out your product as you normally do. That simple!
Once you have completed the shopping, you need to wait for some time. It may take up to 2-4 working days to credit you the cashback depending on the value of your cashback reward. Sometimes, the tracking is time-taking. Rest assured you shall receive the cashback on your transaction is verified.
The percentage of earnings you earn varies from website to website and from store to store.
What is the source of the money?
Let's discuss this with an example. Suppose you click on a product link on Sears. You shall be redirected to the website to complete the payment. Now, once you complete the transaction and it gets verified, you shall receive your reward. A $300 Tv shall earn you a sum of $21.
Cash-back sites can get a bit time taking, but I would say they are worth a try. You need to be consistent with one cashback website to do the earning. Once you earn a reward, you shall be happy!
Now, where does the money come from? Cashback websites make tie-ups with the online retailers and are paid by them to refer new customers to their products. You are paid only a fraction of the sum they receive as a reward. Each retailer has proper arrangements for earning commission from the referrals. So, you can be now even more sure to make the earning.
Important points to consider:
Be sure you don't blindly choose any cashback website! Do proper research over the website that you prefer to shop via. Look for user reviews, mostly negative ones about that website. You may consider the following few important points:
Different cashback sites have different payout periods. Read the associated terms and conditions before you shop via that cashback site. You may not get paid instantly — the sites generally have different payout periods and conditions.
Sometimes, the cashback websites put a limit on the amount you can redeem. You need to wait to earn the minimum limit before you redeem the money into your bank account for that purpose. Also, there is a limit to the total number of times you can redeem your money in a week or month.
Look for the method of payout. The rewards may be redeemed in the form of PayPal, cheques or gift cards depending upon the website.
The same product may earn you different earning percentages on different cashback websites. So, look before you go for the best cashback site.
Don't let the cashback rewards get the better of you. Shop only when you require, not just to earn a reward.
FarFetch UAE and Shein Coupons:
Online shopping deals on fashion are what we look out for! Shopping for the latest trending styles is what we seek! Shein and FarFetch are two such sites that bring you the latest styles that suit you the best no matter what! Shein is in North Brunswick, New Jersey while FarFetch in UAE.
These stores aim at getting you the best fashion at steal deals. They have grown vast over the years and now gained an international reputation. They currently serve happy customers across UAE, Saudi Arabia, Kuwait, Bahrain, Oman, Qatar, India and more. If you plan to buy from these websites, prefer SavioPlus.com for earning cashback: Here is a list of farfetch coupons.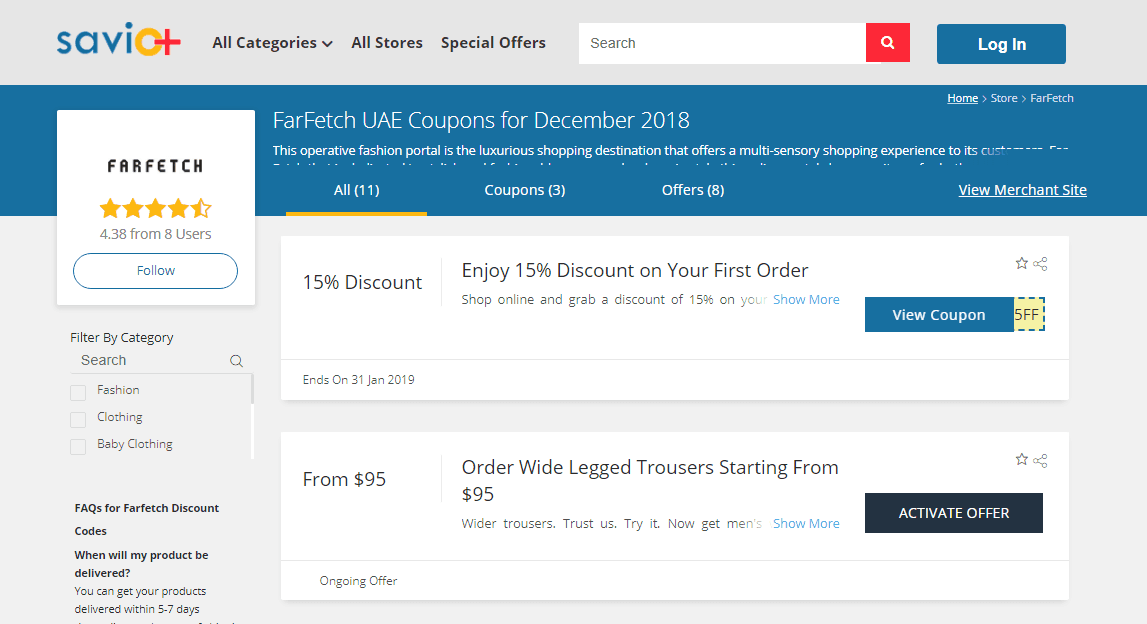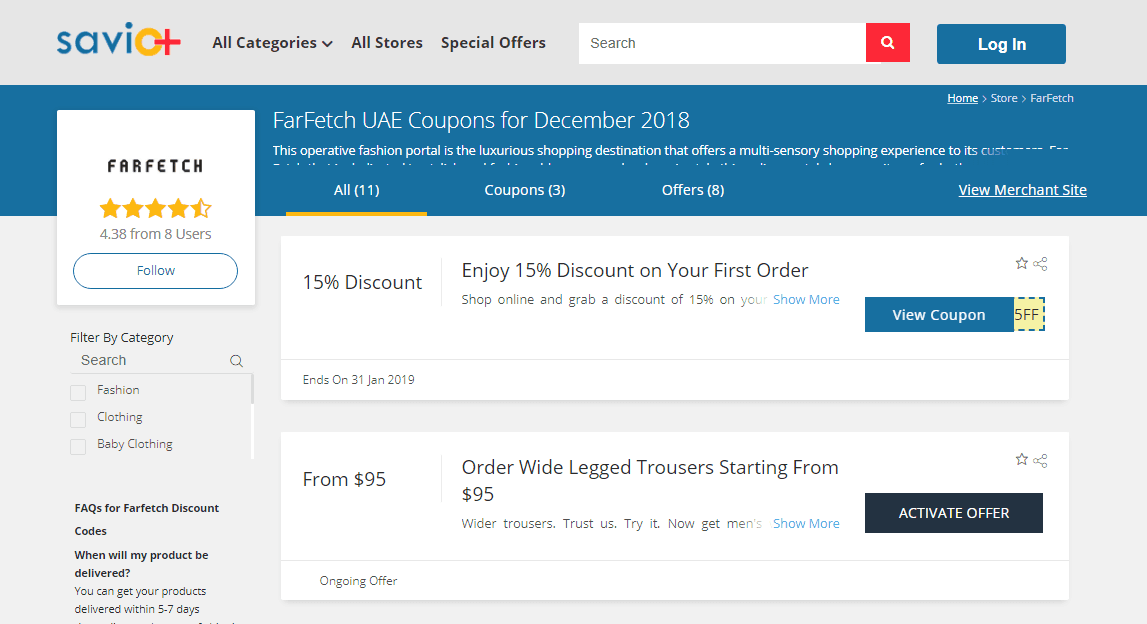 | | |
| --- | --- |
| FarFetch Offers: | Discounts: |
| For Women | Up to 60% OFF |
| For Men | Up to 60% OFF |
| For Kids | Up to 50% OFF |
Here is a list of Shein Coupons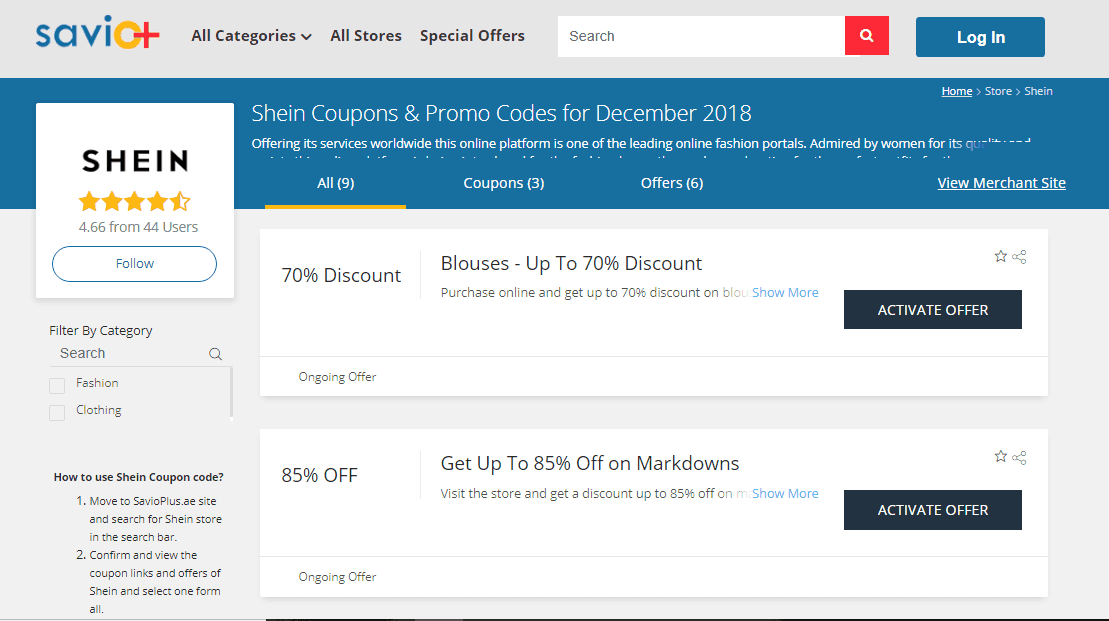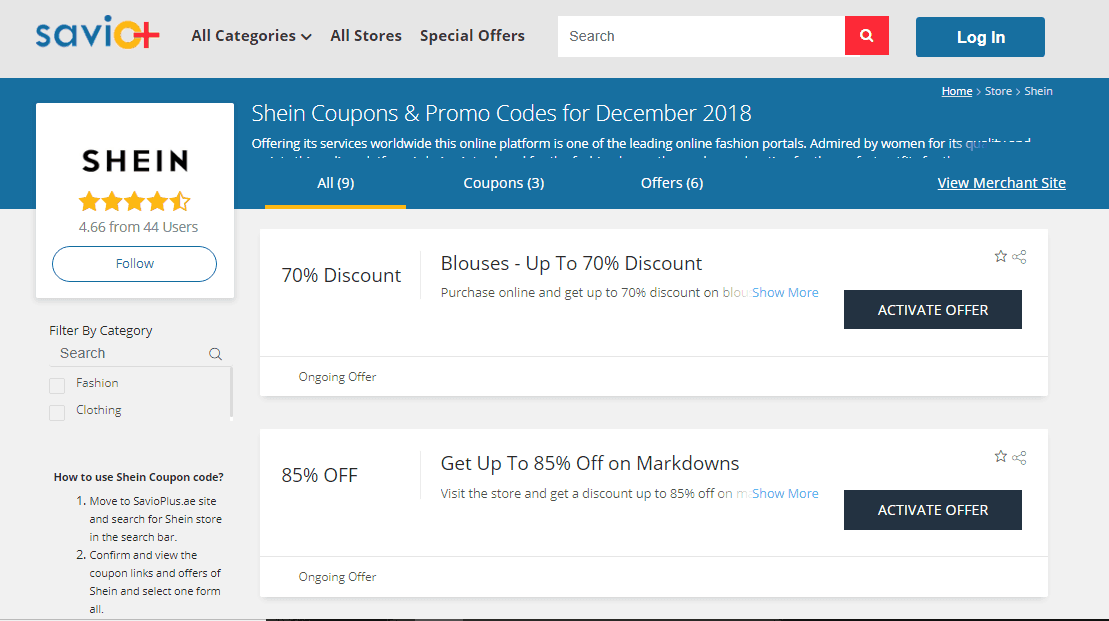 | | |
| --- | --- |
| Shein Offers: | Discounts: |
| Top Clearance | Up to 70% OFF |
| Dresses Sale | Up to 90% OFF |
| Big Deals Offer | Starting Form 60% OFF |
| The Rock-Bottom Sale | Up to 80% OFF |
| Fashion Sale | Up to 30% OFF |
————————————X————————————