How to Crack GRE/SAT/TOEFL Examinations With PrepEd?
Every parents want best education for their children. Students are smarter to decide the best education for them nowadays. Many students are studying in the top Colleges/Universities around the world.
All students need to clean some entrance tests. There are exams such as GRE (Graduate Record Examinations), which a student can take to enroll in Graduate & Business Schools, TOEFL for English Proficiency, and SATs for Undergraduate admissions.
You have to score higher to get into top Colleges/Universities. These kind of exams require deep study, dedication and good preparation on all subjects.
There are several ways to gain highest marks like tuition and online training courses in exchange of an expensive fees. They show ranked students as one of their students to promote their center or courses among new students.  But I've a better solution for you to prepare for these exams without paying hefty fee.
It's an online site, PrepEd. I'm going to tell you more about it below.
So, without any further delay let's find out more info about this site.
Are you ready to begin?
Let's go.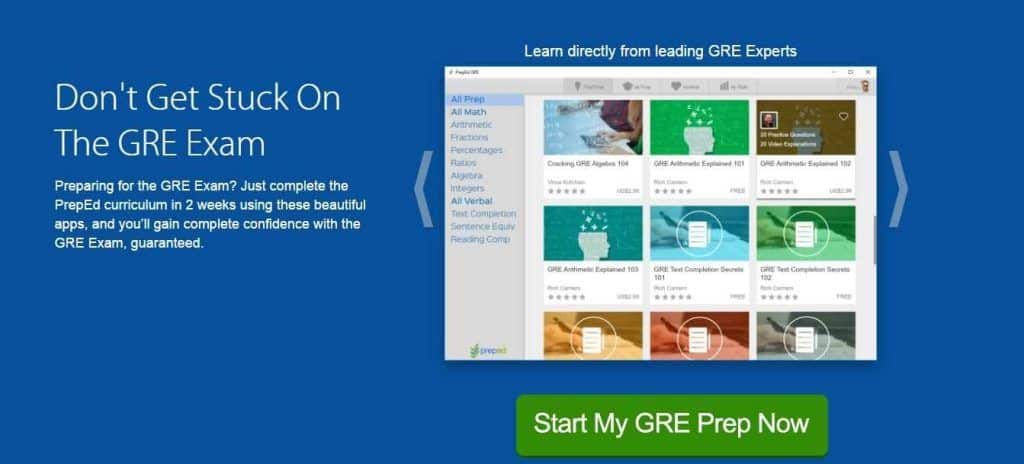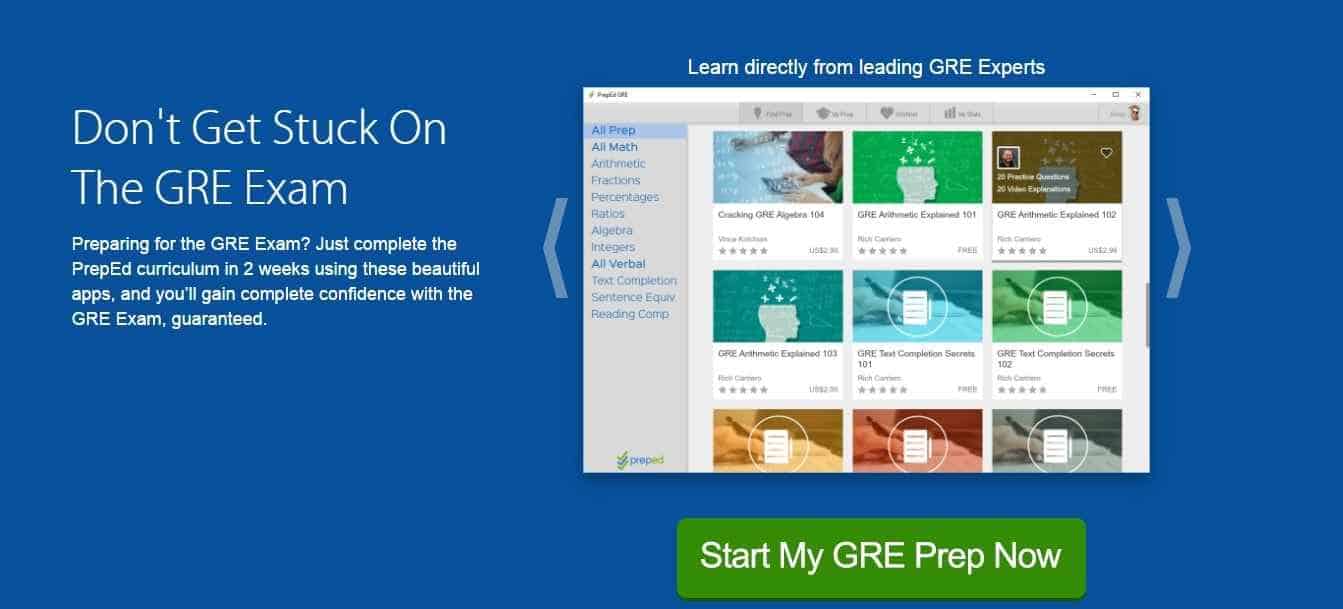 What should you use PrepEd?
PrepEd is test preparation website to help students gain highest rank in the entrance exams of top Colleges/Universities. You will find both free and paid tests on various subjects. There are tests based on levels, features and price.
PrepEd is a perfect place to prepare for GRE as it has many GRE practice tests from GRE teachers and experts all over the web and popular universities.   
Today I am going to tell you why you should use this online site to prepare for exams out of all other online training sites on the web.
Getting Started
Go to the official PrepEd website and begin your 2 week sessions right away.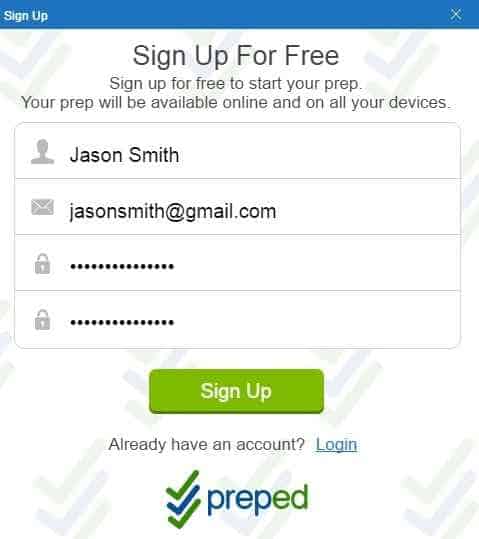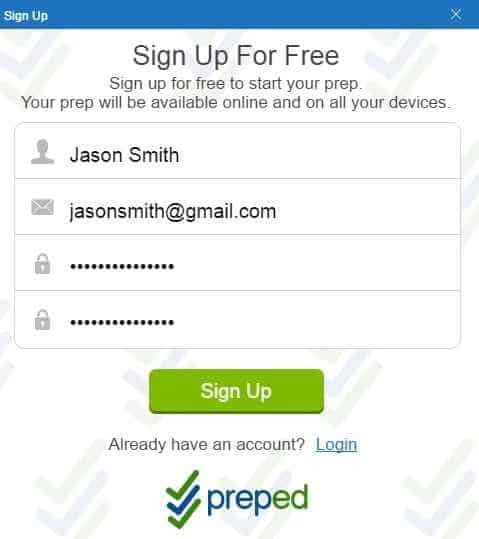 You have to register an account and it will redirect to test preparation page, where you will notice all major subjects alongside price, features and levels.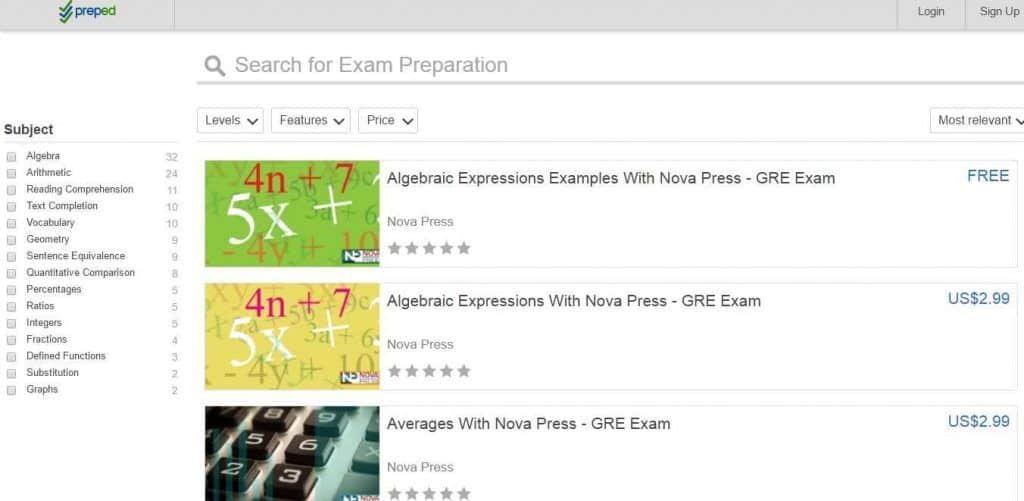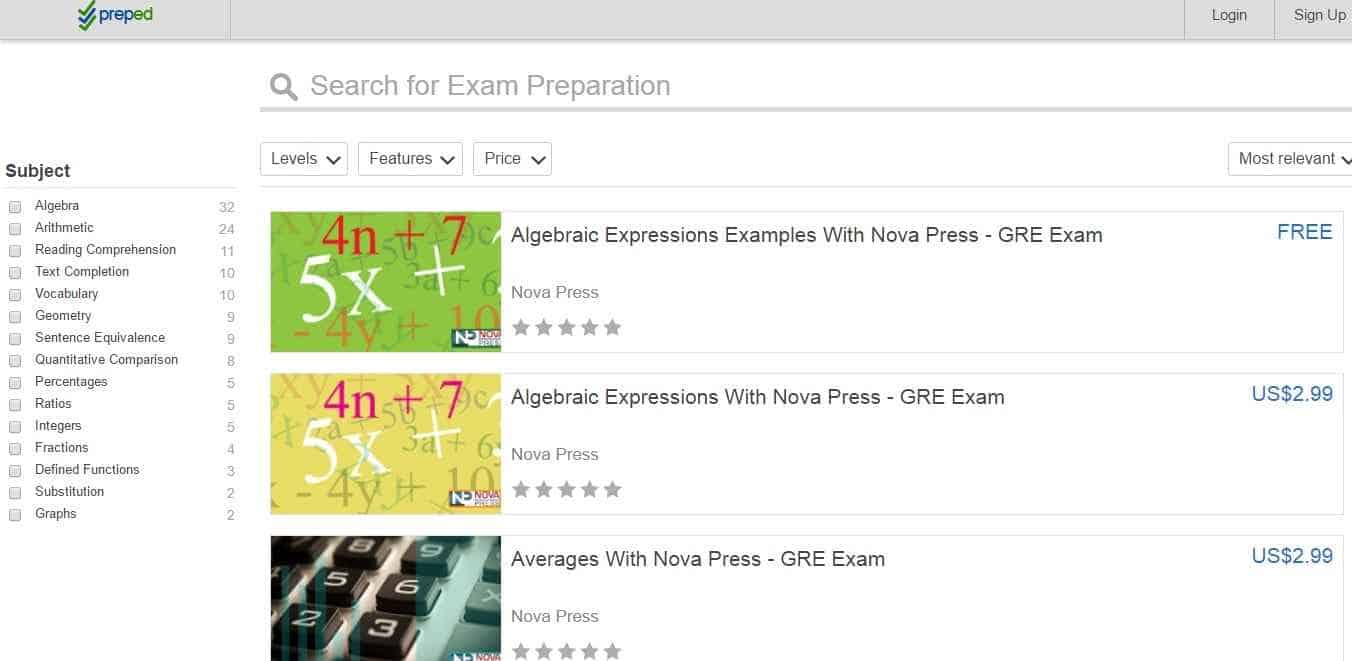 You can start with beginner level and move to intermediate and expert level later. As I mentioned before that it has both free and paid lessons.
The primary subject are mathematics and verbal proficiency in GRE examinations. That's why main topics are algebra, functions, integrals, differentiation's, calculus etc. You should totally check it out now.
PrepEd Review: Things You Need to Know
You will find different tutors for separate subjects to learn connect lessons, question papers and video explanations. Students can access those subjects for 6 months online and offline to learn at their own pace.
It starts with video lessons, which is very helpful to learn the topic online. You can view these videos only on PrepEd website. Select a topic based on the rating to start learning here. It would be better if you start with 101 topics and intros to get a solid knowledge about your subject at first.
PrepEd offers sample test papers to help you with preparation.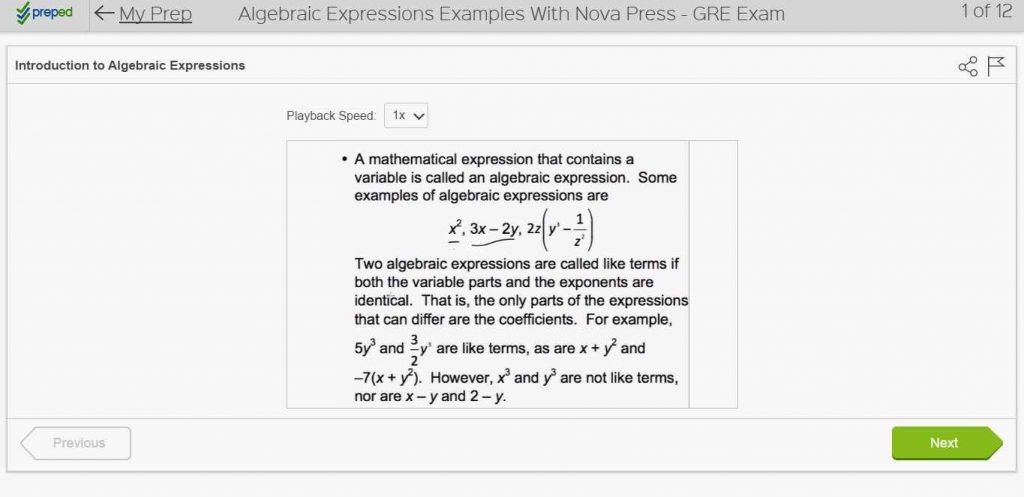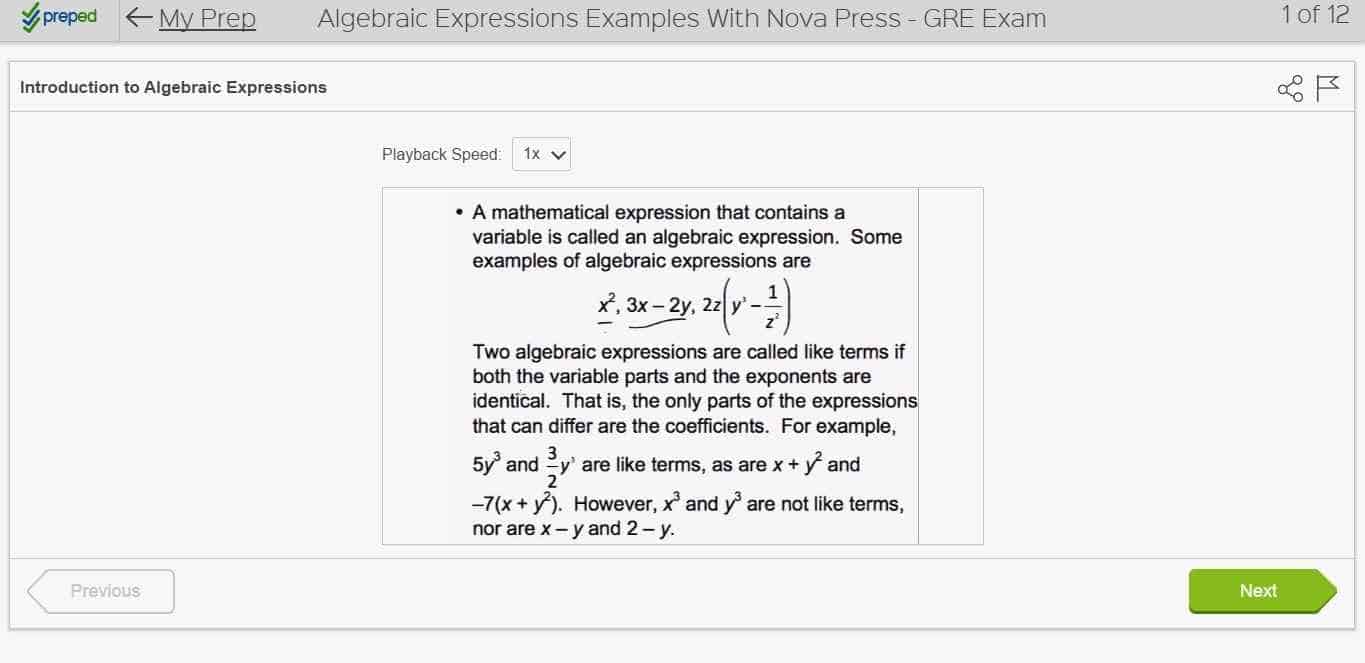 These questions follow same pattern as GRE exams. You need to choose the correct answer from the info. Smart algorithm feature tracks respond time as well, which helps you to know your timing and other stats to improve yourself even further. You can review your results after the test is over.    
How to Crack GRE (Graduate Record Examinations)?
There are many education centers and online training course to help you with GRE exam in exchange  of a hefty amount. But it will be useless if you can't clear this even if you took the best education to prepare for the exam.
You need to buy the best books to get better results.
Isn't it?
You can complain with the price even if it's expensive.
The aspirants require best material to prepare well to get higher marks in GRE exam.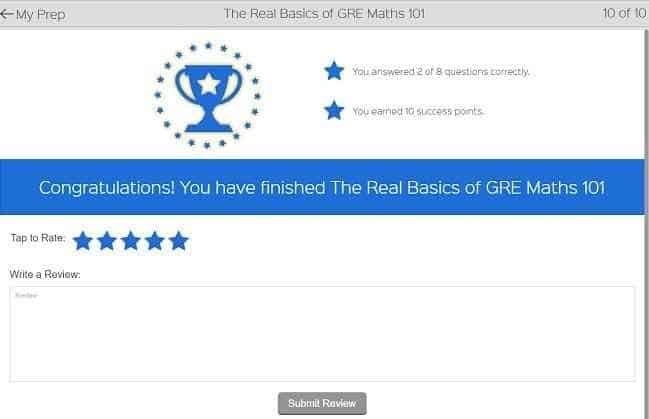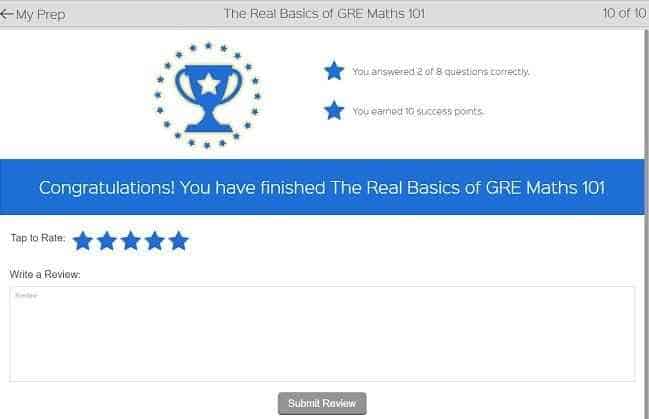 I've covered about PrepEd, which is going to help you to get good marks in exam. No need to expensive fees as you can take advantage of free lesions according to your levels in different subjects. There are many paid course as well. You can check it if you can spend some money to prepare for your upcoming exam.
Apart from the web version PrepEd also offer you software version, where you can test all practice paper with your comfort. Here is the link to download. This supports literally all window version from 2000 and problem for Mac. So, what are you waiting for? Go and download your secret success formula.
Final Verdict
I've told you everything that you need to know before using PrepEd website to prepare for your GRE examination. You can take free testes and some topics too. It's one of the best websites Crack GRE/SAT/TOEFL for sure.
Everyone can't afford expensive tuition fees and online test sites. That's why I'm telling you to use this awesome website, where you can seek both free and paid lesson in various difficulty level. You can choose subjects like Algebra, Arithmetic, Fractions, Integers, Ratios etc.
What do you think about this splendid online test practice website?
I'll be glad to help if you have any question regarding this article.
Just drop a comment below.
Would you?