Best Google Tricks for Saving Your Time
Google is now the primary search engine for all the popular PC browsers. Most of the people only use Google for their searching purpose. There are many Google tricks which will save your time by a significant amount. You have to just follow some specific pattern for your searching query and results will be under your feet. Below I have collected most popular and useful Google tricks to save everyone's time.
1. Scientific Calculator Google tricks

Google tricks for scientific calculator is very useful for solving complex mathematical problems for you. You can use this tool to instantly find out the answer for you. Just type standard mathematical function along with their arguments to get the proper results.
Example: sin (30), log(15), 5! Etc.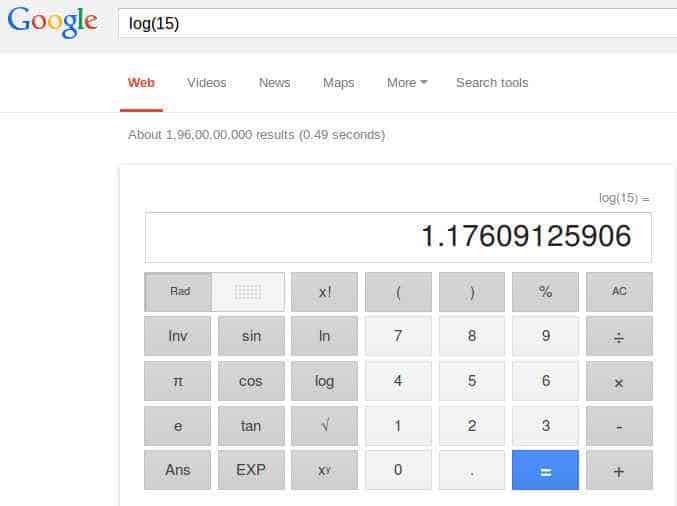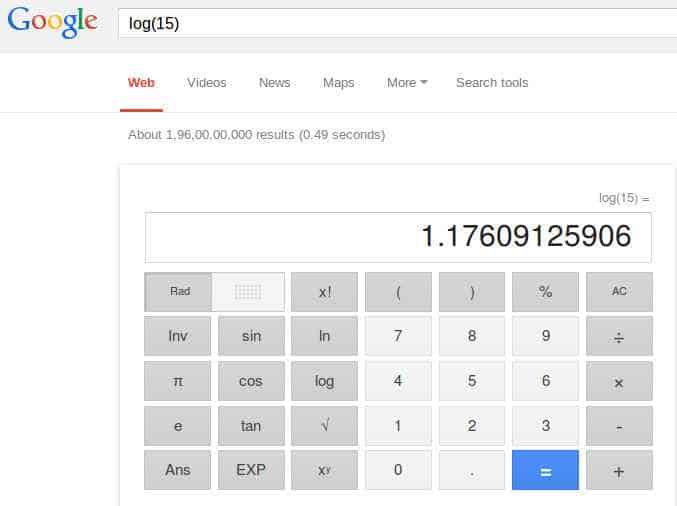 2. Advanced Search Google tricks
This Google tricks is useful if you don't want to remember Google syntax for specific search. This tool can automatically recognize your mind and give you the freedom /*add the necessary info*/ to search freely with your keyword.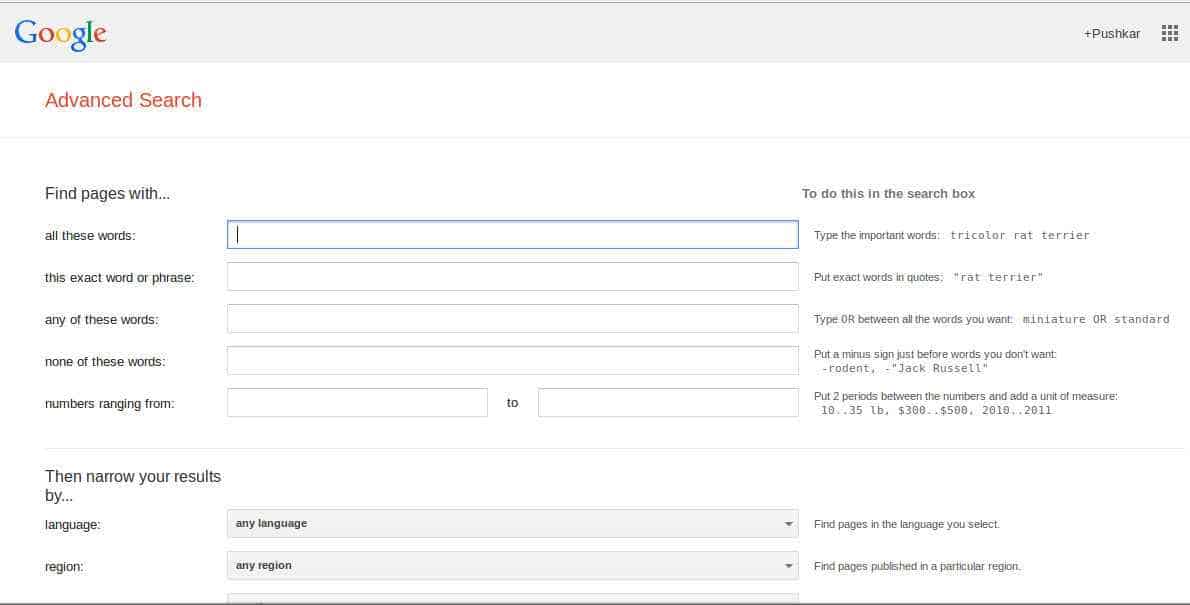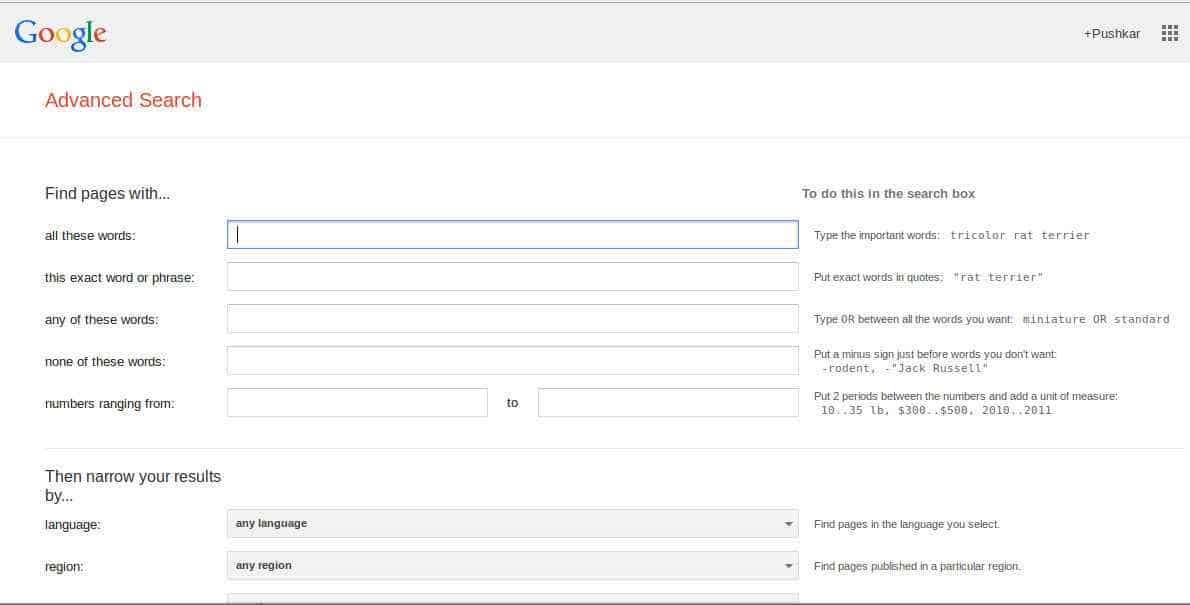 3. Translator Google tricks
If you want to know what we say a particular phrase in another language then this tool is very helpful in that case. This feature of Google is also useful for person who want to train themselves in a language other than their native.
Syntax: phrase to language-name
Replace phrase with your text which you want to convert and language-name by the language in which you want to convert your phrase.
Example: what is your name to Hindi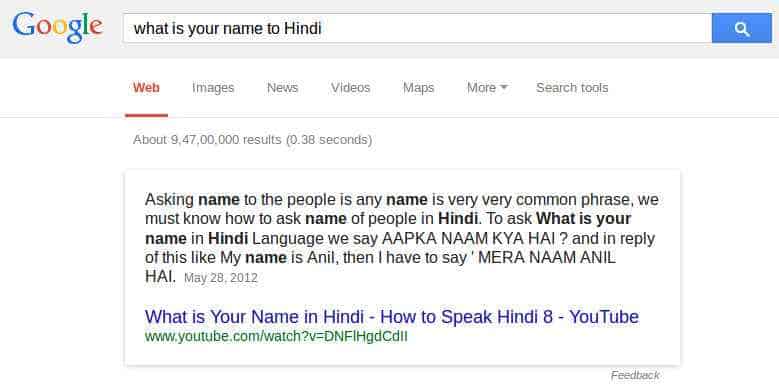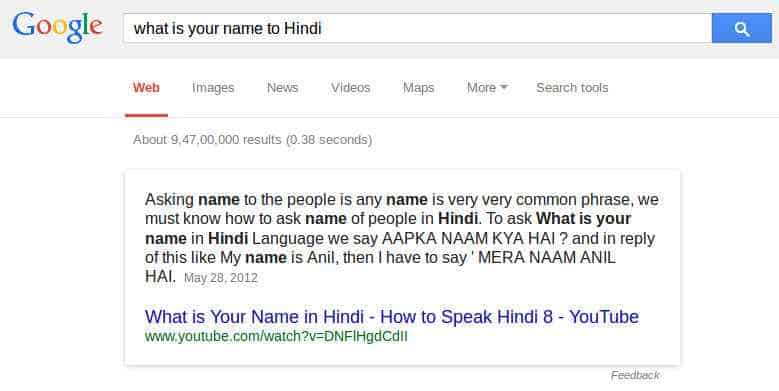 4. Currency Converter Google tricks
There is also a separate extension  for the same purpose for the Chrome Browser. But for converting one currency to another currency just follow the below pattern.
Syntax: 1stcurrency vs 2nd currency
Example: rupees vs dollar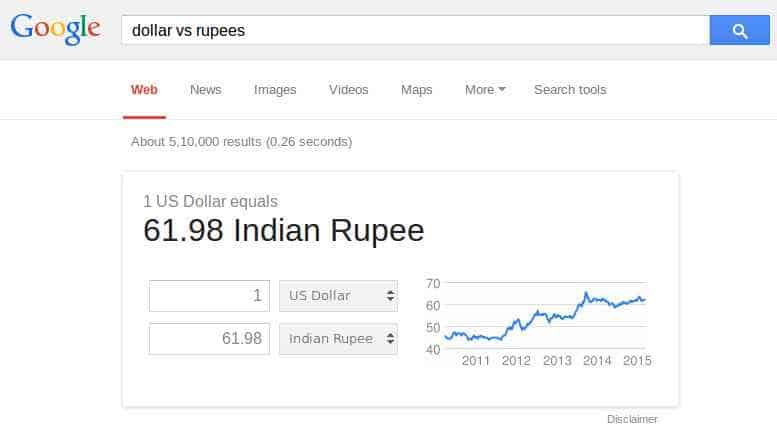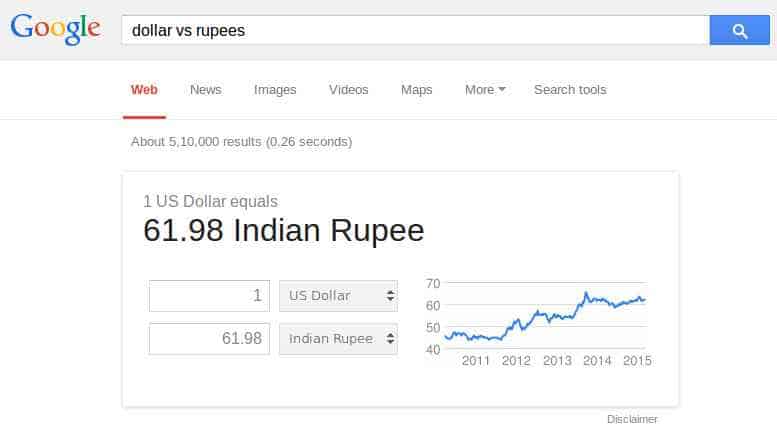 5. Google Online Dictionary
Google can give you the exact definition for a given word. So friends, now stop searching for an Online dictionary
Syntax: Define word
Example define love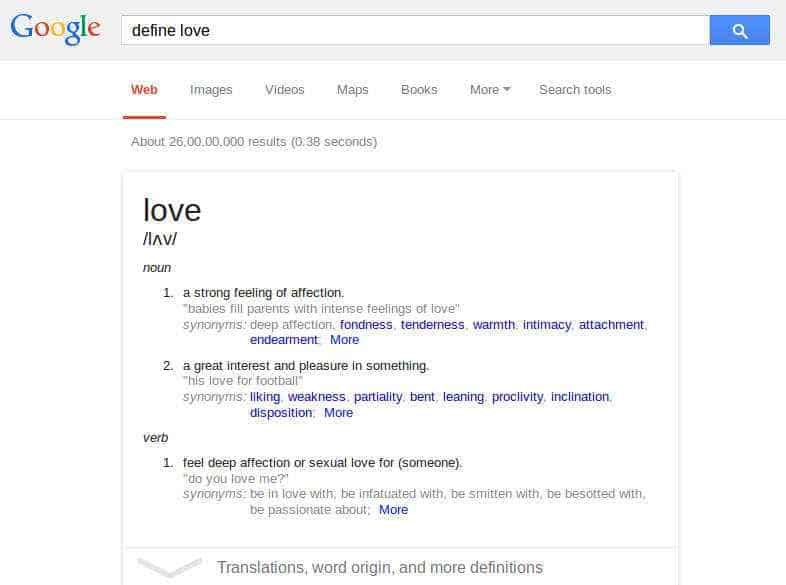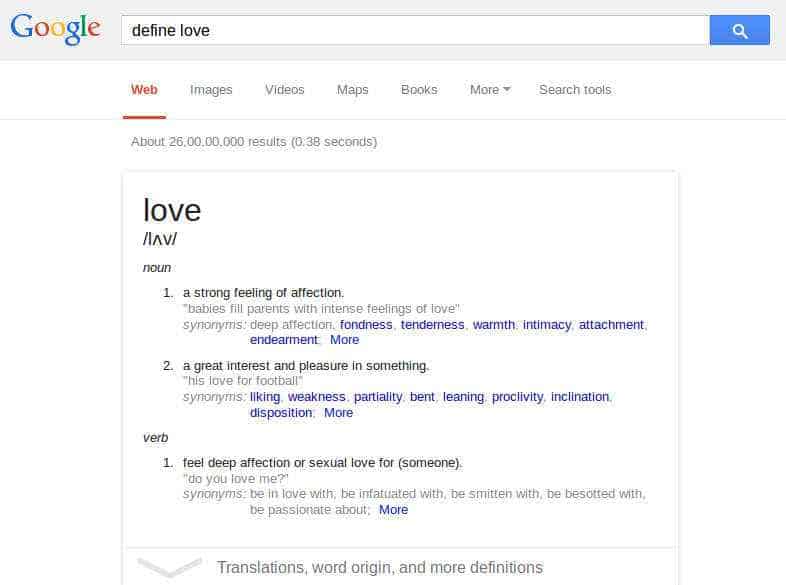 6. Unit Conversion Google Tricks
In a situation where we need a conversion between two units, Google Unit Conversion tricks may play a lead role for you. This tool is particularly made for educational purpose.
Syntax: unit1 to unit2
Example: cm to inch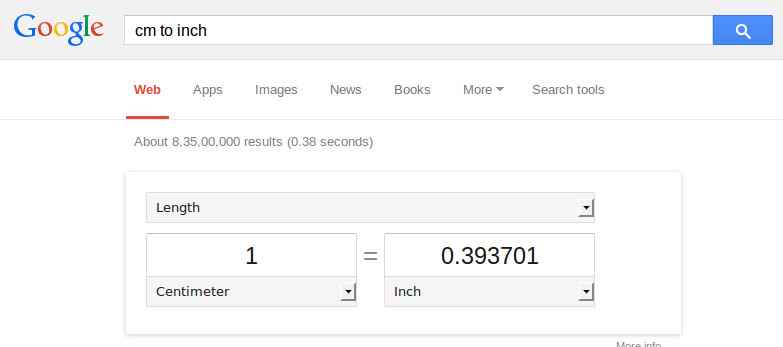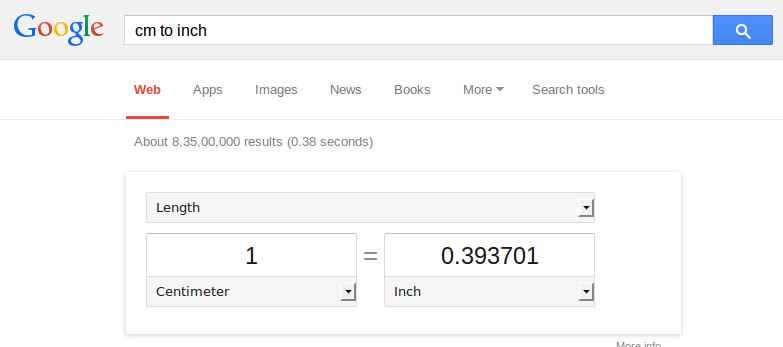 7. Search Inside a Domain Name
If you know a particular website knows better than everyone in a particular field then you can restrict your search within that domain. All search results in Google will come only from that domain's content.
Syntax: query site:domain-name
Example: Google Tricks site : www.techgeekers.com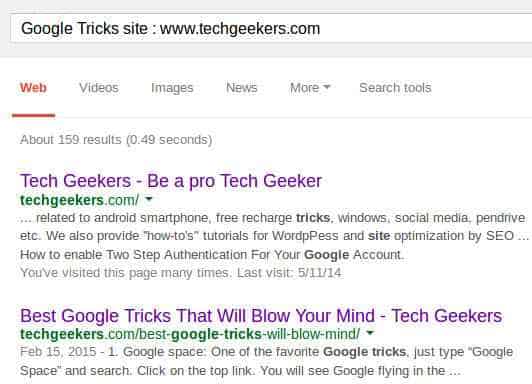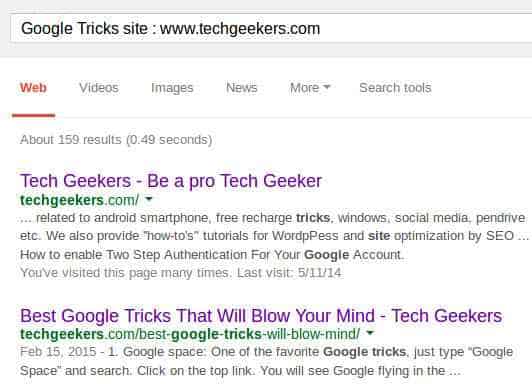 8. Search a particular file type in Google
This Google tricks is useful in a situation when you are looking for a topic on the net. Google will offer you a document for that topic.
Syntax: query-topic filetype:file-format-extension
Suppose you want a ppt in the topic Artificial Intelligence.
Example: Artificial Intelligence filetype:ppt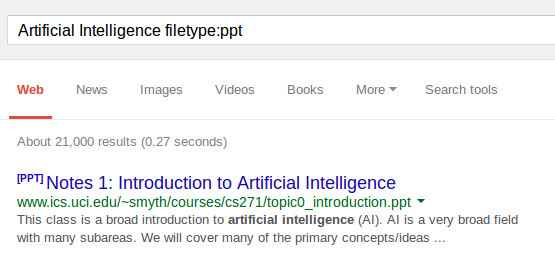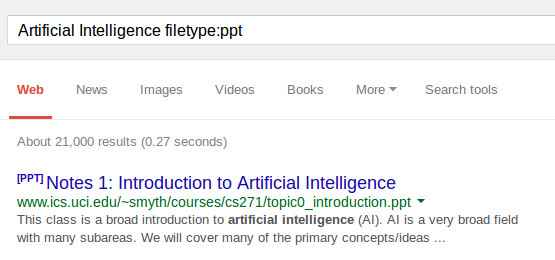 I hope this article introduced you with some of the less known Google tricks. You must have implemented all the tricks described in this post. Please share you experience with these tricks and tell us which Google trick you loved the most in the comments.