Must-have Tool for 4K & HD Video Processing – Convert, Edit & Resize Videos at Fastest Speed
With the era of HD having been shifted to 4K Ultra HD, 4K videos finally rule the roost. They can be found everywhere, be it on YouTube, Netflix, 4K TVs, monitors and projectors, gaming systems, Blu-ray discs, or shot with iPhone, DJI drone, 4K camcorders, or action cameras like GoPro.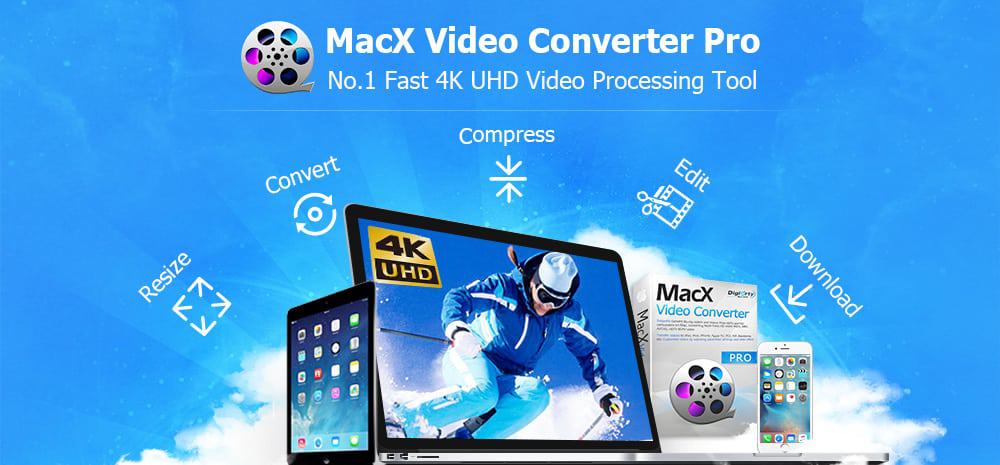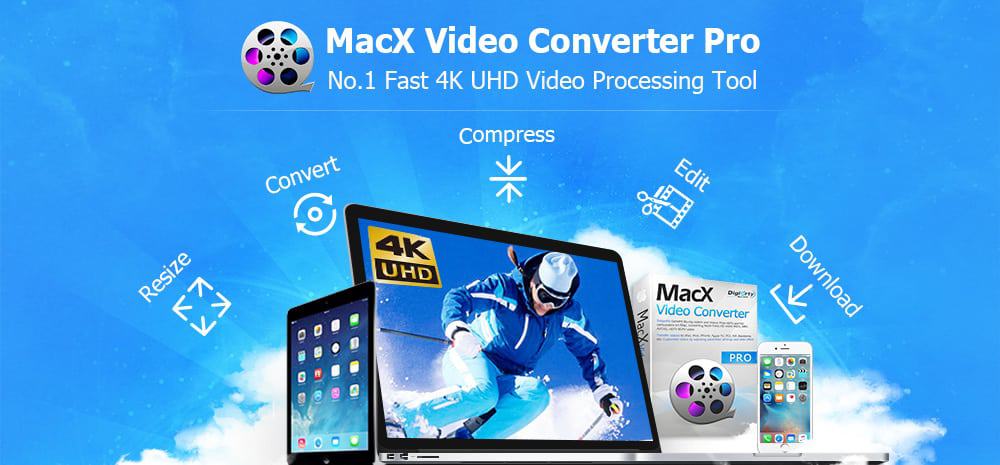 All these devices are from different brands which built upon different operating systems. So we can't watch a particular video on every other gadgets/devices as they are incompatible with different formats. Specially, the large-size of 4K videos takes up too much space, so it's difficult to spread and share with your friends, families or onto YouTube, Facebook, etc.
So, it is necessary for us to choose from a wide range of Video converters to solve all these problems. They could help us to convert video formats, compress videos size, edit vide clips, adjust video parameters to upload and share. But there are bunch of converter tools available in the market, how to find out which is best?
Well, some of them just cannot convert your video without damaging its video or audio quality, while some of them just not support the output format you need, and others may cost a large amount of time.
So here you will came across the best one that not only converts your video files in over 370+ file formats or supports over 400+ devices, but also lets you convert your videos into Ultra HD 4K resolution. It is "MacX Video Converter Pro".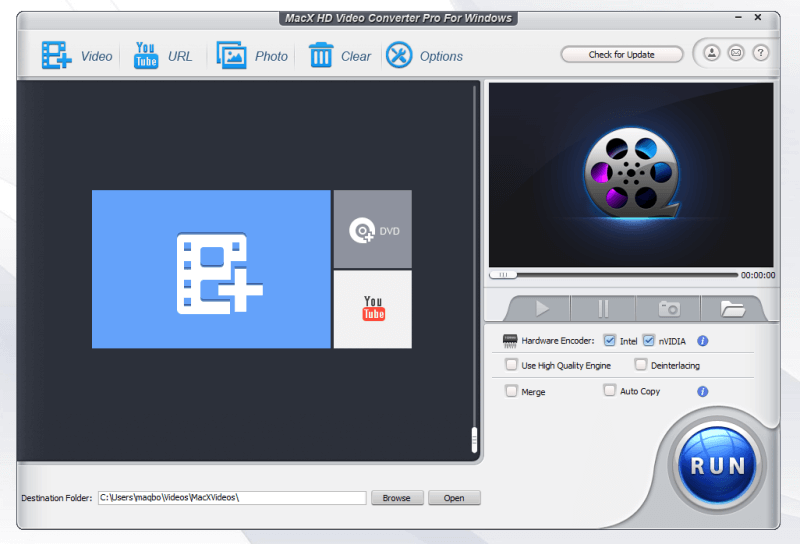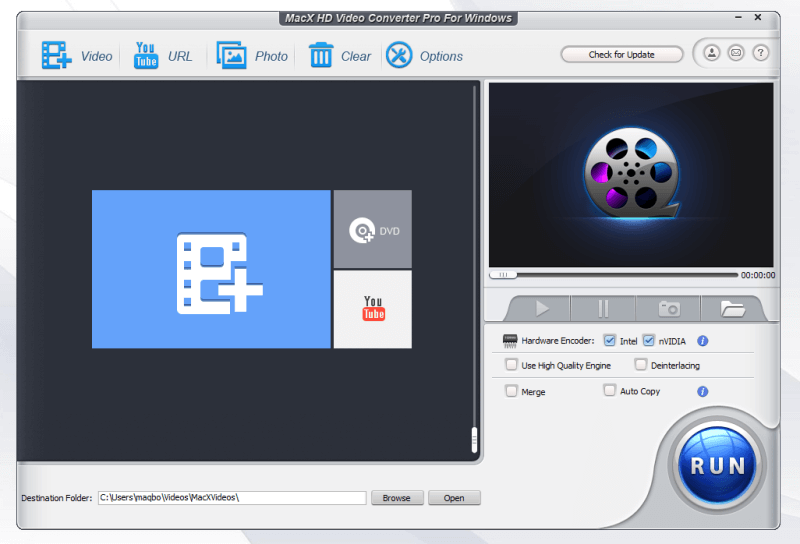 This software comes with a bunch of useful features offering you all your video processing needs. From converting or editing videos to making beautiful Photo slideshows, from downloading YouTube videos to extracting only music from videos, the MacX Video Converter Pro is all want.
No matter if you have Apple, Android, Windows or any other devices, this is one software for all. You can convert your video to SD, HD or even Ultra HD 4K quickly and comfortably without losig any quality.
Specially, This tool uses the built-in Intel QSV/Nvidia/AMD Hardware Acceleration tech to give you real 4K output quality at 5x faster speed than any other similar tool. It runs on thousands of GPU cores in parallel, rather than the sequential part of the workload running on the CPU. These play smooth without any crash on any of your 4K supported display. And that too at compresses video file size that keeps your storage safe for other files too.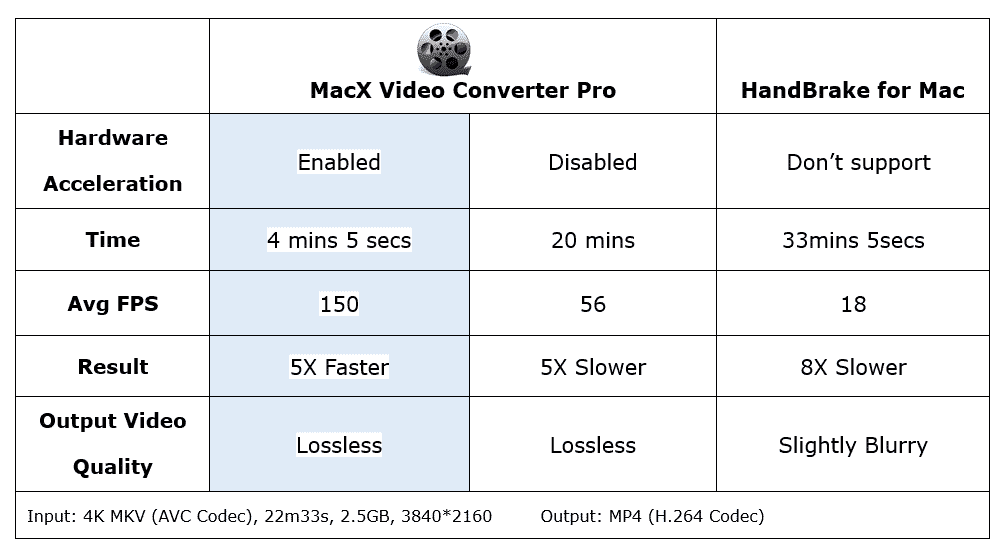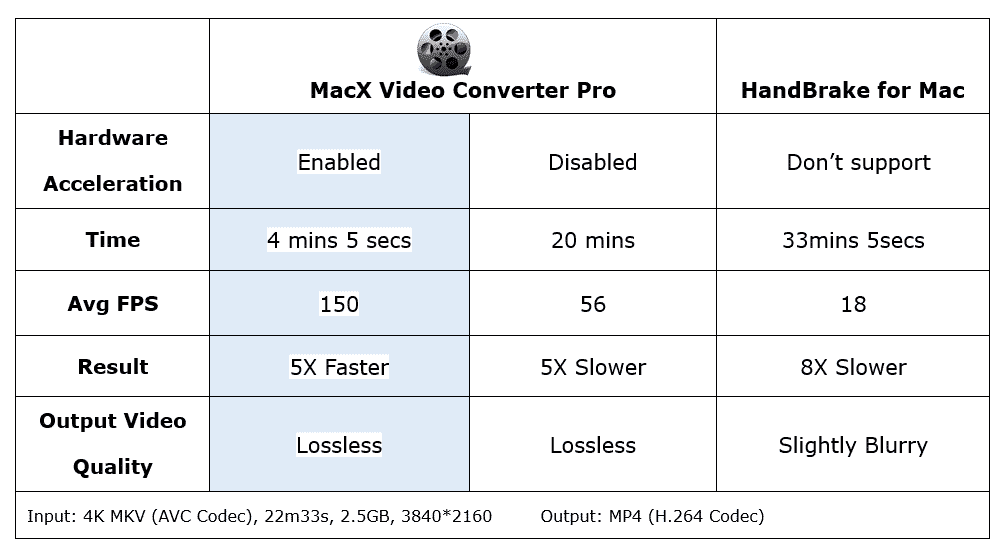 You can see the difference how MacX Video Converter Pro works with Hardware Acceleration.
Here is the quick look at the core features of MacX Video Converter Pro that makes it one of the best 4K Video Converter:
1. Process 4K, HD Videos at the Fastest Speed:
Convert 4K, HD videos to MP4, MOV and 200+ formats
Convert video formats to compatible with Mac, iPhone, Android and 400+ devices
Compress/resize large-sized 4K videos to 1080P, 720P, H.265 to save Mac, iPhone storage space
Edit 4K videos, trim, merge, crop, add watermark and subtitle
Adjust 4K video frame rate, bit rate, codec and more parameters
Fastest video processing speed and lossless video quality based on Intel QSV/Nvidia/AMD hardware acceleration techs.
Lossless output video quality ensured by high quality engine and Deinterlacing tech.
2. Download 4K, HD videos from YouTube and 300+ sites
3. Record Mac screen and shot videos with Mac's built-in camera
Now let's take a deep look in each of these features.
Features:
1. Video Conversion, Editing, Trim, Cut, Merge and Subtitle
Though the name is Video Converter Pro, it is not just limited to converting videos. But a lot more. You can also use this tool as a video editor. The very first and most important feature about it is, Ultra HD 4K video processing at 5x faster speed than any other converters in the market than any other converters in the market.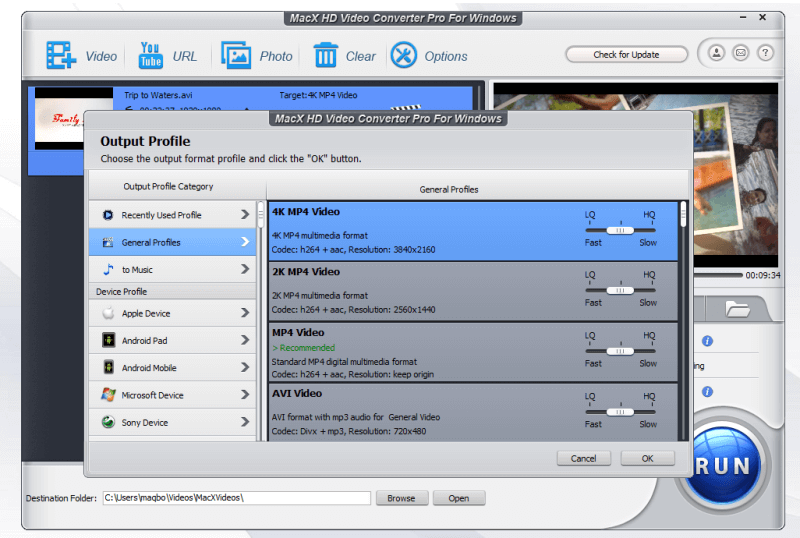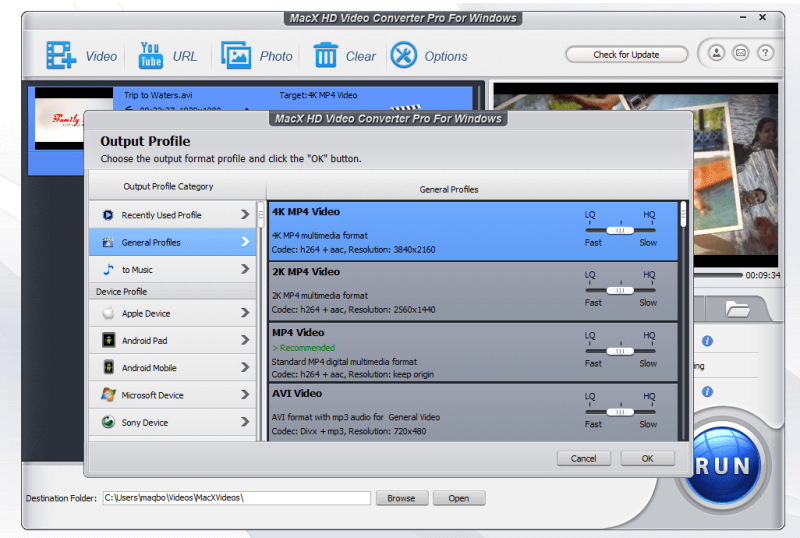 As soon as you add a video (or multiple videos), you will see a lot of options to select the Output Format. It includes 4K option on the top followed by many others. While on the left pane, you can also select as per your Device make and model. For example, when you click on Apple Device from the left pane, you will see a further list of devices such as iPhone, iPad, Apple TV, iTunes, etc. Same goes if you click on Android. This is something that makes you a Pro even if you are doing this for the first time. Just select the brand > device and the format you want to convert your video to.
Apart from the 4K defaults, the software lets you do manual settings too like changing Frame rates, settings revolutions, aspect ratio etc.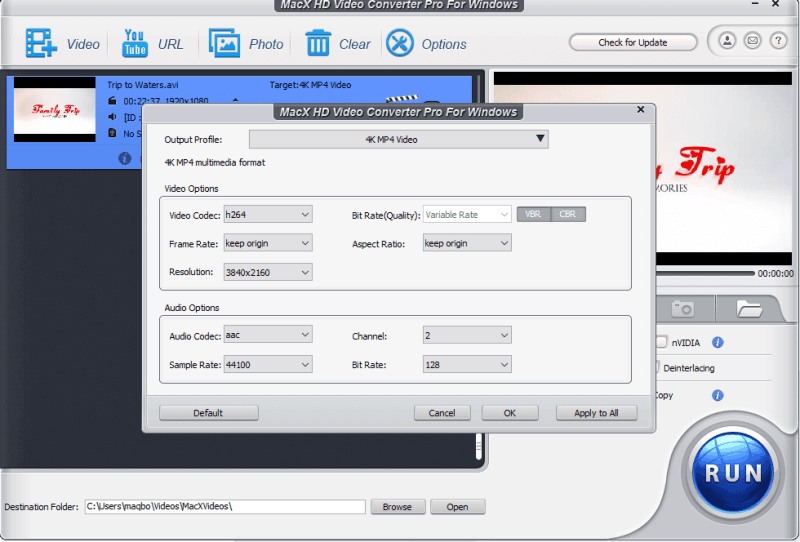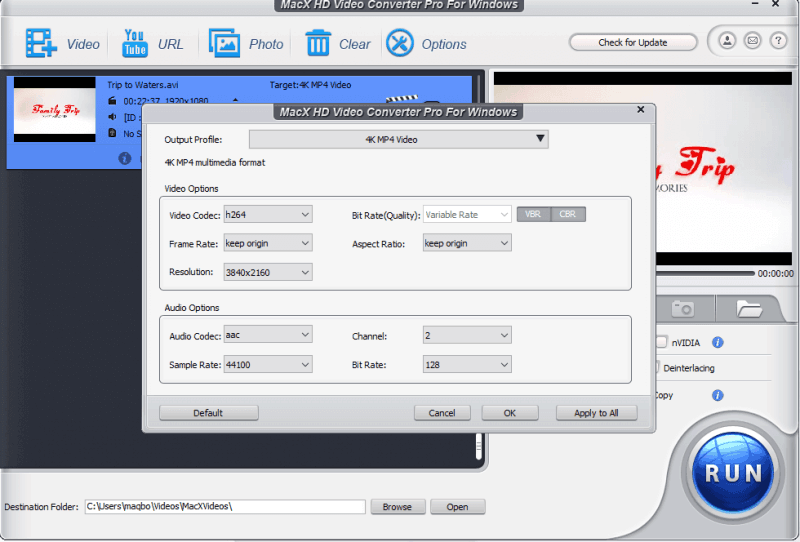 2. YouTube Download & Conversion
MacX Video Converter Pro also lets you download any YouTube videos on the go. Just copy & paste the video URL and select the preferred resolution to download. Actually, not just YouTube videos but you can download online videos from over 300+ websites including VeVo, Facebook, Dailymotion, Vimeo and lots more.
The tool not just downloads your video, you can also edit, add subtitles and convert it to any other file format simultaneously.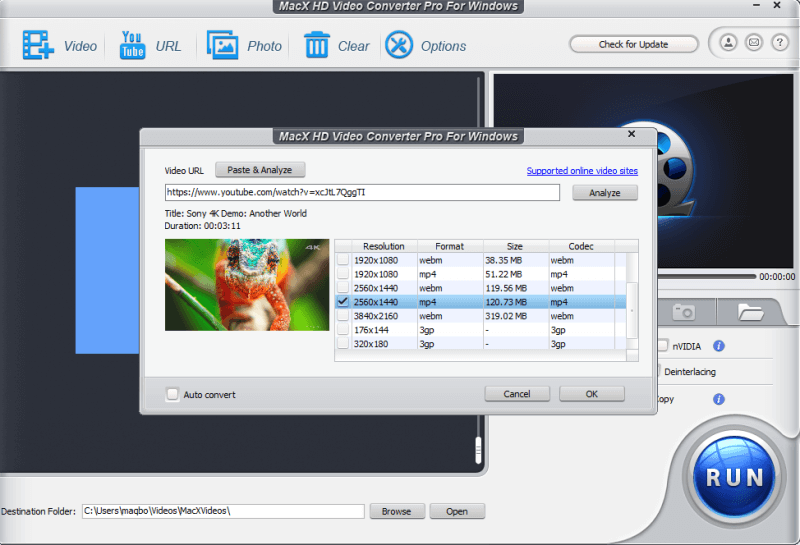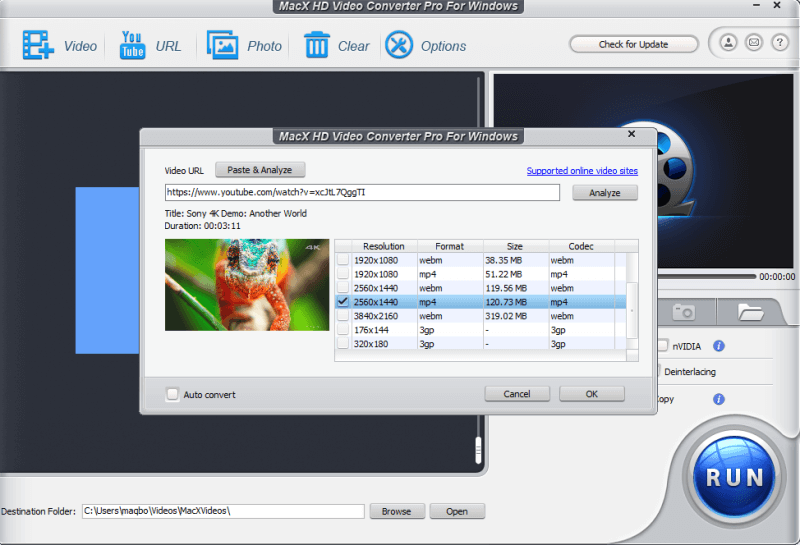 3. Photo Slideshow
The third tab you see 'Photo' is where you can create beautiful Slideshows of your photos in Ultra HD 4K Resolution. You can add as many photos as you want, add a Background Music, change slideshow duration, and more. Just click the RUN button and watch it on your Ultra HD 4K TV or any other display in high crispy quality.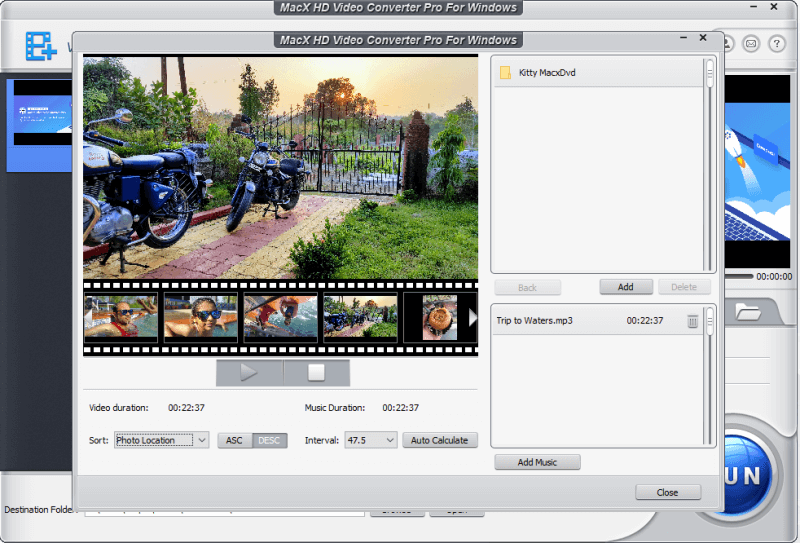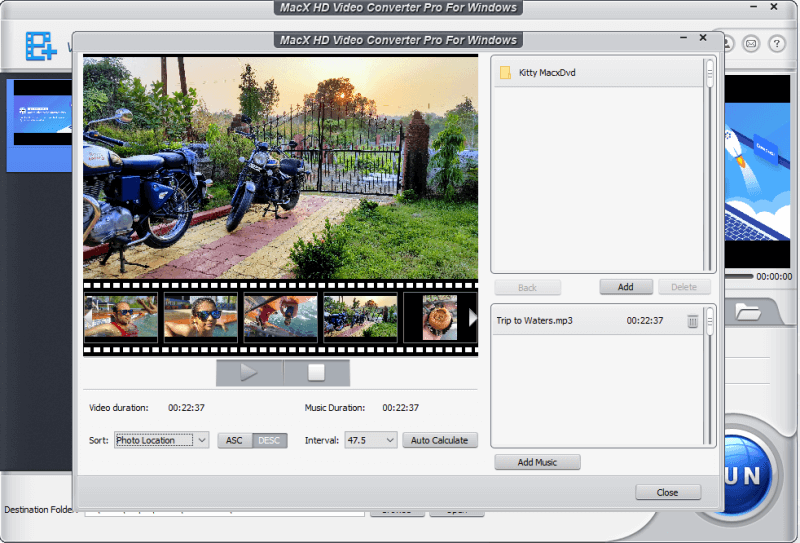 Conclusion:
Now we can see, although there are many of such Video converters in the market, But when it came to Ultra HD 4K conversion, MacX Video Converter Pro is the best in segment. It surely compromise the Quality and video size. It not only gives Ultra HD (4 x FHD) video quality but also saves a lot of GBs on your storage.
All thanks to its Hardware Acceleration Intel Quick Sync Video/Nvidia NVENC Hardware Acceleration tech, High Quality Engine and De-interlacing Engine that not only works on quality and size, but also does it 5x to 10x faster than any other converters. Furthermore, MacX Video Converter Pro lets you convert videos in over 370+ different file formats. If you are pro, simply select the format you want. And if you are new to this, you can select your device make / model from the list and convert. The tool has that simple user Interface. Download and enjoy it!