An Easy-to-Follow Checklist to Find the Best Inverter Battery for Home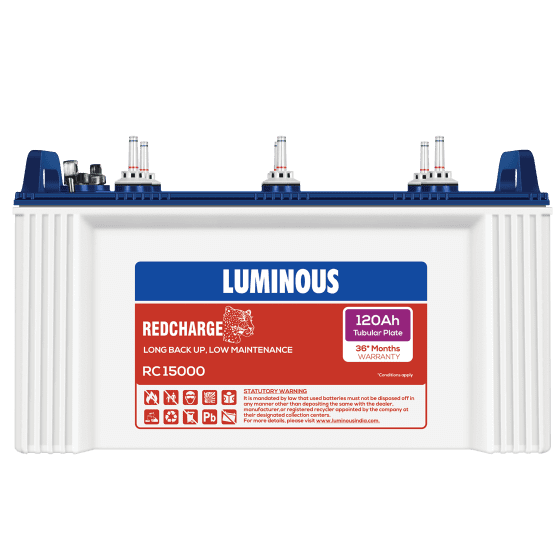 An inverter battery is the backbone of a home inverter system.
You must, therefore, do a thorough research and compare batteries of different brands to ensure that you buy the best inverter battery for your home.
And don't just limit the comparison to the price of the batteries. Instead, compare the batteries on various important factors such as the battery capacity, battery technology, warranty, and more. To help, in this post, we have listed some of the main factors that you should be considering when looking for the best inverter battery for home. Let's take a look.
1. Battery Capacity
The battery capacity of an inverter battery is a measure of the backup a battery can provide during a power outage. So if you live in an area where there are long and frequent power cuts, you need to buy a battery with a higher battery capacity.
You can also find the exact battery capacity, by using the following formula.
Battery capacity = (load requirement * backup-time * aging factor) / (battery voltage*battery efficiency*inverter efficiency)
The following values are constant
Battery efficiency = 0.8
Inverter efficiency = 0.8
Inverter aging factor = 1.25
Battery voltage = 12V (assumption as it holds true in most cases)
Now let us assume that you face an average power outage of 2hrs in your area and you want to run the following appliances during the outage.
Appliance
Power Consumption per appliance
Number
Total Power Consumed
LED Light
7 Watts
8
56
Tube Light
40 Watts
2
80
Fan
70 Watts
3
210
LED Television
70 Watts
1
70
Refrigerator
140 Watts
1
140
Total Power Requirement
556
According to the above mentioned formula Battery Capacity
= (556*2*1.25)/(12*0.8*0.8) = 181 Ah
Tip – Your battery's capacity would deteriorate with age, and therefore, you should opt for a battery with a battery capacity that's 5-10% higher than the calculated battery capacity. So in the above scenario, it is recommended that you go for a battery with a battery capacity of around 200 Ah.
2. Battery Type
Another important thing to consider when buying an inverter battery is the type of battery (based on battery technology). You can choose between the 2 main types of batteries – Flat-Plate Batteries and Tubular Batteries.
Flat-plate batteries are a type of lead-acid battery and they are best suited for areas that face frequent power cuts of shorter durations.
That's because they have a fast charging rate that allows quick charging in scenarios where there isn't enough time between two consecutive power cuts.
Also, flat-plate batteries are quite economical, and therefore, ideal for anyone looking for easily affordable batteries.
The only downsides of flat-plate batteries is that they have low battery capacities which means they can not hold limited charge and that they have shorter lifespans.
Tubular Battery
Just like the flat-plate batteries, the tubular batteries are also a type of lead-acid battery. But unlike the former, the tubular batteries are available in higher capacity. Tubular batteries are, therefore, ideal for households that face long and erratic power cuts. Tubular batteries can further be divided into short and tall tubular batteries. And though tall tubular batteries can hold more charge, they require more space. The other benefits of tubular batteries include a longer lifespan and relatively easy maintenance.
3. Battery Warranty
Inverter batteries are designed to perform under arduous situations and even then a high quality battery continues to perform flawlessly without any breakdowns.
Usually, the inverter battery warranties range anywhere between 12 to 48 months. You can choose a battery with a shorter or longer warranty period depending upon your requirement and your budget.
So, let's say if budget is not a constraint and you want complete peace of mind then you too should opt for a good quality battery that offers a longer warranty period.
But in case, you don't want to spend too much on your inverter battery and are okay with a shorter warranty then you can go with a battery with a shorter warranty.
The good thing is that if you purchase your battery from a reputable brand like Luminous India, both short-term and long-term warranty batteries are available in same quality.
The only difference is that batteries with shorter warranty periods are less expensive as compared to batteries with higher warranty periods.
Want to buy the best inverter battery for home?
If you are looking for the best inverter battery for home then go with a market leader like Luminous India. They are one of India's most reputable inverter battery brands and are known for manufacturing quality products. Also, they have one of the widest range of inverter battery combos and they provide excellent after-sales support. So what are you waiting for? Go online and shop for the best inverter battery on Luminous India's online portal, today!