Career Paths You can Take After UI Designer Course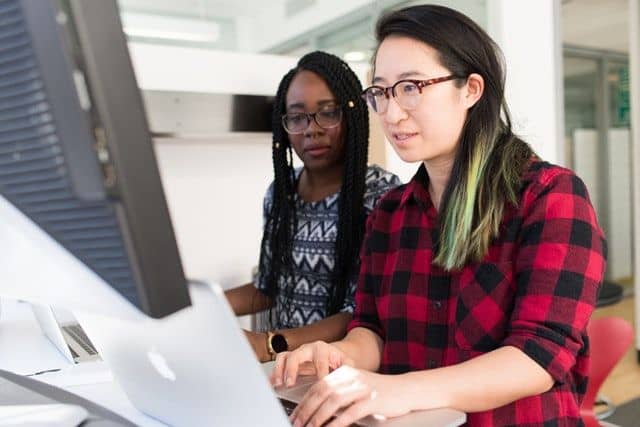 The year 2020 has been a transformative one, and in many ways.
With the whole world coming to a standstill due to the pandemic, the world economy has taken a major hit.
Work from home has become the new normal and many companies have had to change the way they function. While India has been in transition towards a digitalised society, it is safe to say that the pandemic has given us a push into it.
As various industries and domains rush to digitise their work culture, people have had to learn and depend on their digital skills. The upside of this is that there are many online classes like UI design course, data scientist course, SEO analytics course etc., that have opened up to help people make a seamless transition.
People have also found new career options, like UI designers, UX designers, data scientists, product manager, SEO manager etc, which ensure individual growth and fulfil market demand.
Even before the pandemic, UI design as a career had been trending.
The remote working conditions and fear of losing jobs today just made sure that more people looked at UI design as a career path because of ease of transition, learning opportunities, future growth and monetary benefits. Because of this, there's a notable growth of remote jobs in Dallas and other cities in the US due to the pandemic.
While there are many online courses available to learn UI design, there are no clear guidelines on different roles or job opportunities that can be availed after graduating the course.
In this blog, we will explore the various career paths that you can take after completing a UI designer course. We will talk about what kind of skill set is required for a certain job, how to develop it through specialisation, as well as how to find the perfect opportunity based on your set of skills to build a UI career.
What is UI Design? How does a UI designer course help?
There's a lot of confusion between UI design and UX design. User Interface (UI) and User Experience (UX) design are a lot similar but the similarity ends when it comes to the actual process. UI is the process of creating an interface for the user based on the research and data analysis provided by a team to build a UX design.
For example, when you buy a car, there is a certain experience that you are looking for. It is not just about good mileage or safety or money. It is about the feeling that you get when you drive a certain car, like comfort, luxury and a great experience.
What experience a potential car owner wants, is analysed via research, analysis and interaction with the users, while converting said analysis into a tangible product through various tools like placement of gear, seats, upholstery, lights, music system etc., is the job of a UI designer.
So a UI design job is where one uses different tools and elements to bring the prototype designed by a UX designer to a tangible form for the user.
What does it take to be a UI designer?
To get a UI design job, you need to be creative and have a passion for design along with a penchant for people skills. The rules, principles, knowledge and software can be learnt but unless you have good UI design skills, these will only help you so much.
There is no prerequisite for a UI design job. Therefore a student who has studied arts, psychology, humanities, B. Tech, computer engineering or IT or electrical engineering can easily make a good career in UI design.
Secondly, with any kind of educational background, you need to have a good hold on digital technology. Not only do you need to learn the tools but also have an aptitude for it because a lot of tools UI designers work with, keep evolving. So the process of learning is always in flux. You need to develop UI skills and keep working at it.
If you are already working as a professional but want to switch careers, then it would be ideal to take stock of your current skillset and then make a decision.
There are some job profiles like a graphic designer, instructional designer, architect, product designer, business analyst etc., which can handle the transition seamlessly.
A search online would lead to a plethora of UI design courses offering various specialisations. It is important to figure out which particular specialisation interests you before you commit to any course.
This has to be done by taking into account your current skill set, your interests and which aspect of UI design do you wish to make your career in.
These certificate and master's courses available online offer you to teach basic foundations of design, researching, prototyping, information architecture, visual and UI principles, use of tools, elements and patterns, software, wire framing etc., all of which are different aspects of UI and UX design.
If you are looking at making a career in a very specific aspect of UI design like usability analysis, information architecture or interaction designer, there are courses that offer the said specialisation. The trick is to find the one that works best for you.
Another important aspect of a good UI design course is practice.
A good UI design course will not only teach you the theoretical basics but also make you work on practical projects in making use of the theory. It is important for you to build a good strong portfolio to apply for a UI design job.
A good course with emphasis on practical applications and project based curriculum will make sure that you start building your portfolio right from the beginning.
It will help you improve your technique, think of exceptional ideas, make use of user analysis in the best way and to hone your design skills along with industry gurus and mentors.
The best way to learn UI design is to practice and learn on the job, with real projects and real team colleagues.
Career Paths to Take After UI Design Course
There are many aspects of UI design that one can specialize in for a challenging and lucrative career.
As this can be decided after taking into account one's existing skill set, interests and passion and what could be developed via online courses, one can transition step by step into the particular job profile.
Let us discuss in detail as to what the different aspects of UI design entails and how to prepare for it.
1) User Research
User research is a slightly broader field of study than the other aspects of UI design. This is because if one becomes a certified user researcher, one can either work as a UX designer or a UI designer, depending on one's interests.
User research is a strategic and systematic study of target users and their requirements, coming up with an analysis to build design processes that result in tangible products.
A user researcher works with various tools like live interaction with target users, observation techniques, task analysis and feedback sessions to gain insight into what the user really wants.
He also uncovers problems faced by the user and gains information about what kind of solution the user is looking at. A 20-year veteran in the field of UX design and digital product development, Mike Kuniavsky states that research is 'the process of understanding the impact of design on an audience.'
User research is the first step in creating a UI design to provide a certain experience to the user. It involves a lot of interaction with the target users to understand them and their needs.
Using the above mentioned methods, a user researcher finds out valuable information that can be used to enhance the user interface.
A user researcher conducts his research in two ways. The first is a set of qualitative methods, which involves interviews, interactions, observations, field studies and usability testing, resulting in a non-numerical data collection.
The second is a set of quantitative methods which works with surveys, questionnaires and analytics that test the qualitative assumptions. This elicits a more structured, statistical and unbiased data.
As user research involves dealing directly with users, the researcher needs to be familiar with the usual research tools as well as have exceptional communication skills. This is why a person looking to work in the user research domain of UI design should consider specific communication and research skills to develop.
2) Usability Analyst
A usability analyst is someone who tries to understand what a customer experiences while using a product. Through careful observations and questions, they observe the customer using a product and evaluate the customer's experiences.
They make observations with respect to how the product has fared in fulfilling the exact wish of the user, if the user is facing any issues in any aspect of using the product and what could be done to enhance the experience of the user by increasing usability of the product.
A usability analyst then put together his data to form insights and product suggestions. These analyses are presented to the UI design team who then work to enhance the UX design of the product. So a usability analyst could be called the opposite side of a researcher.
While the researcher primarily works before the product is designed, a usability analyst figures out how much the designed product works for the target user and what could be done to enhance it.
As is with the researcher, a usability analyst is required to interact with the user constantly, which is why developing communication skills would be paramount. They need to develop other qualitative skills like creativity, curiosity and intuition.
They need to be tech-savvy and learn the use of statistical and data collection tools. Basic software knowledge for wireframing, prototyping, graphic design etc., would be an added bonus.
3) Information Architect
An information architect works at the core of UI design. Taking the research from a user researcher and the insights from the usability analyst, an information architect creates a basic structure for the product that gives a good positive experience to the user.
User, content and context are the three main aspects of information architecture. It is the job of the information architect to build the structure of a product for maximum efficiency, sustainability and reach.
A good information architect ensures that the user understands where they are, how to reach there, what to expect out of a product and what is around. An information architect needs to understand how to categorise, store, access and present information.
The UI design team uses this database formed by an information architect to build a good navigation system for an application or product.
Therefore, a person who wishes to be an information architect in UI design needs to understand how information and data works for designing a product. He/She should know about metadata, taxonomy, wireframe and sitemaps.
The expertise of an information architect makes the product easy to use but a team of UI designers is what makes the product an experience for the user. This is why an information architect needs to understand designing as well as develop skills like research, use of data, understanding how data and design work etc.
4) Interaction Designer
In simple terms, interaction designers in UI design work on the design of interaction between the user and the product.
An interaction designer works to enhance the interactive aspect of a product to provide a great experience to the user while using the product. He uses elements like motion, sound, space, aesthetics etc., to make the product interactive in a way that satisfies the user and helps in achieving the users' goals.
The main goal of a UI design is to build a great experience for a user.
And experience can be created only through interaction. This is why interaction design is such an important aspect of UI design. It is the job of an interaction designer to figure out the best way to create and enhance the interaction between user and product.
Interaction design involves different dimensions like time, words, visual representations, physical objects or space and behaviour. This is the most important thing an interaction designer should know is graphic designing.
He needs to understand how patterns and designs work to elicit a certain response in the user, which can be achieved only through practical training and on-the-job learning.
5) Visual Designer
Visual designer essentially works as a graphic designer, but keeping in mind the UI design that needs to be built and thus turns it into a complete experience for the user.
So a visual designer uses data provided by a user researcher and usability analyst to design an application or website or product using various design elements like lines, colors, fonts etc. He must make sure that the design, while giving a satisfying visual experience, should not overwhelm or suppress the content and context of the actual application or product.
A visual designer needs to know all about graphic designing, aesthetics and visual elements. More than that, he should understand what kind of reaction a certain visual element elicits in the target user.
Only then his contribution towards building a great user interface will manifest into a satisfying user experience.
Conclusion
Businesses today are more than selling their product. They are all about giving a complete experience to the user. Any business that wishes to build a web presence today will always require a good UI design team for their website or application or product. This is probably one of the reasons behind the soaring demand for UI designer courses.
It is very easy to build a flourishing career as a UI designer, even if you are planning to make a transition from your present career. This is because each aspect of UI design utilises background knowledge from various fields.
So if you have trained in arts or technology, you can easily shift to UI design by simply doing a certificate or master's course.
In big companies, a UI design team is formed by people who have expertise in various aspects of UX design. That is why, if you are looking at any particular role in a UI design team, you can simply do the required specialisation and work towards landing that job.
From the above explanation it is also clear that every role in UI design overlaps with each other.
A UI design course like the one from Springboard guarantees that you learn about each and every aspect of UI design. They cover theoretical concepts, help you with practice your skill through their project-based approach and give one-on-one mentorship with industry veterans, as well as guide you in specialisation and building your expertise.
After all, UI design courses like these aim to ensure that you are able to build a flourishing career in one of the top job profiles today.