Difference of Satellite vs Cable Internet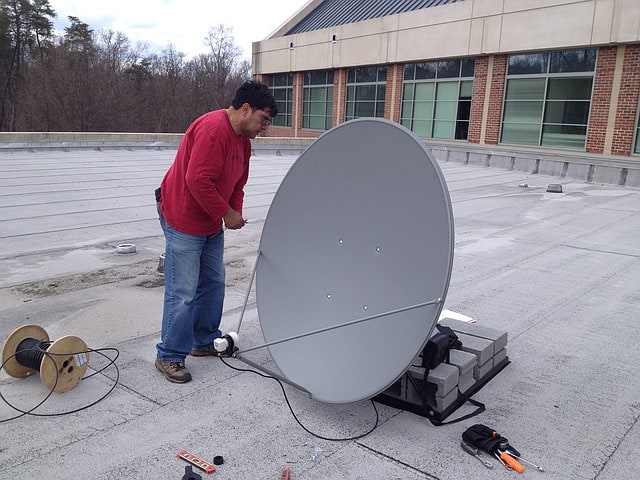 Satellite
It is an artificial body that is placed in orbit around the earth or the moon or another planet to collect information or for communication. Satellite internet is a service of the internet that is beamed from orbital satellites. The best part of satellite internet is availability.
As the signals come from space satellite internet can be picked up from anywhere. The speed of satellite internet depends on the provider you choose.
For example, HughesNet plans is 25 Mbps and ViaSat speed is 12 Mbps. Both these speeds are significantly fast for everyday use and video streaming.
Pricing:
The price of satellite internet is usually higher than other services for a specific speed. e.g., a cable connection with Xfinity at 150 Mbps costs about $54.99 per month.
However, the closest you will get at ViaSat with that price range it will be around 100 Mbps and still it will cost you $150 per month excluding the price of the introductory period. Satellite providers do not have to pay taxes levied by local governments and feature smaller infrastructure, consumers get more bang for the buck with satellite. Satellite offers low programming packages across the board, companies do charge fees per room receiving the signal.
Benefits:
It is the best option in two scenarios. Firstly, when you live in a rural area.
Secondly, you want an internet connection while traveling. In rural areas DSL (digital subscriber line) tends to be slower than satellite and satellite internet might cost more but it is a better alternative. Satellite internet also tends to be faster than dial-up. Moreover, if you are frequently traveling then satellite dish can be your best friend. Satellite is less well known but is available in rural areas even with limited wiring and access.
Cable internet:
Cable Internet is a network of broadband Internet access that uses up the infrastructure of the cable TV network to provide Internet services.
Cable internet is transferred through coaxial cables.
These cables use copper wire which is covered by insulation to move data. Coaxial cables transmit cable TV signals and are much faster than phone lines but are not as fast as fiber optics. Cable internet is faster than satellite it can reach up to 2000 Mbps. Coaxial cables move data faster than satellite transmissions. If you want to stream a lot of HD go with cable.
Pricing:
A typical cable package costs around $50 to $70 per month.
Since we already know the average price of satellite internet we can easily observe that cable internet is a lot cheaper comparatively.
Cable internet has some disadvantages as well that include availability. There are a lot of parts in rural areas that don't have the adequate and proper infrastructure for worthy cable internet. Furthermore, some parts in rural areas have cable internet-friendly infrastructure but don't have reliable and efficient providers for a smooth service. Moreover, you can bundle cable internet with TV service as well. For example, Spectrum offers amazing internet and TV bundles at affordable prices. With Spectrum channel lineup, you get great variety in terms of programming belong to all genres.
Final Verdict
For a satellite, you will have to have a dish installed on a balcony or roof that has a clear view.
But if you live in a medium or large city you are very likely to have cable access.
But if you live in remote areas, you might have trouble getting the service due to the lack of cable wires in the area.
Satellite TV can be used to provide programming to the city and countryside residents but you will only require a clear view for that. In some areas of the country, the outages with the cable service are more prevalent but they are infrequent.
Generally, cable internet has a liable internet connection because the internet signal is transmitted through a physical property that is cable.
Whereas satellite internet can be interrupted by bad weather, thunderstorms, sun spots, cloud cover, trees, mountains, snow, and buildings.
Cable internet requires low maintenance as a home internet router is all that we need.
On the other hand, satellite internet requires more setup and you will need a satellite receiver, other connections to accompany the satellite receiver as well as a home internet router.