Alternatives of Google AdSense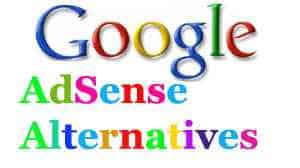 When you are in the blogging world you keeps a name in your mind from the beginning of your blog i.e. Google AdSense. Because the amount of money you get from Google is much more than any other, this happens to be the first choice for any blogger to monetize their blog. Google has much more relevant ads for blogs under any niche. But folks we also know the fact that the getting Google AdSense approval is not that easy. The difficulty for getting AdSense has grown these days due to Google's condition for it.
If you are not able to get approval for Google AdSense then this post for you. Here I will discuss the alternatives you can try out in this conditions.
But first I want to clear one thing that there is no perfect alternatives of Google AdSense. Its market is so big that it's not an easy task for other advertising networks to provide the kind of ads as Google have. Nevertheless we can go for the bellows.
7. Infolinks
Infolinks pays for per click on the ads. Infolinks allows to earn revenue through specific keywords. In the Infolinks mechanism it indexes all of your websites page. It can then automatically add some hyperlinks in your text. So that they get highlighted and target for particular website. This is not a CPM program. It takes some time for you to start earning some regular income through your blog. You can start using Infolinks right now.
6.BuySellAds
If you have spaces for ads in your websites but you are not finding any client to land on, in this situation BuySellAds is the solution for you. In BuySellAds mechanism it allow you to sell a space unit to many client according to their need. You can post for your website's adds spaces here and as soon as you find a client for it you will get the 75% of the revenue earned. There is no starting limit to withdraw here as in case of Infolinks. You can get your payment by paypal twice in a month. But the main condition here applies is that you should have high visitors on your site to get this.
Click here to go to BuySellAds.
5. Text Link Ads
Text link is another alternative for Google AdSense which you might want to give a try. This gives you text links ads for selling them on your site. The advertising price you will get, varies on the different factor like Page Rank, Alexa Rank, the amount of traffic you are getting on your site etc. There is minimum limit of $25 here.
Click here to go to text link ads.
4. Clicksor
Clicksor provides you text, contextual and popup ads kind of adds to your blog. This is the healthy alternatives for Google AdSense.
Clicksor share 60% of the revenue generated by adds with you. You can get your payment by paypal.
You can sign up for Clicksor here.
3. Chitika
Chitika is similar to Google AdSense in many ways. It allows much customization of the ads than others. Chitika serves only contextual ads. You can also combine it with the Google AdSense if you are the reader of having Google Adsense. The combination works without any problem.
You can go to chitika website from here .
2. Tribal Fusion
There are number of reasons for putting Tribal Fusion on the second on the list. It is very large advertising network. It works on CPM basis. But there is also a big condition for getting the approval, you should have at least 500,000 unique visitors per month on your blog. I am findind this network only suitable for the websites which are viral in nature.
Click here to go to Tribal Fusion.
1. Revenue Hits
And here comes the number 1. Revenue Hits is really a great contender for Google AdSense. They are very user friendly and have dedicated team for assisting different clients for any query. Revenue Hits is a Performance Ad network (CPA). They also have CPM and CPC types of models too. There are different kinds of adds available. Ex. pop –under, buttons and more. For using Revenue Hits you need to create an account and some few minutes.
Go to Revenue Hits.
TechGeekers words on this
Life acts so rudely with us sometimes. But we have to keep going.
We can't rely on one thing for whole of our life.
Change is the inevitable laws of nature exacting its toll on people lives.
But we have to adjust with the things now we have. We should always look forward for what we can do from now.
You should look for as many sources of income as possible to your blog. And you can find a way to top the expectation from your inner sole.
Although your AdSense account has been banned but do always remember this is not the end of the world.
It is just a beginning…
to your better future.
Good luck folks.