Why You Should Invest in the Ultimate Gaming Laptop Set-Up?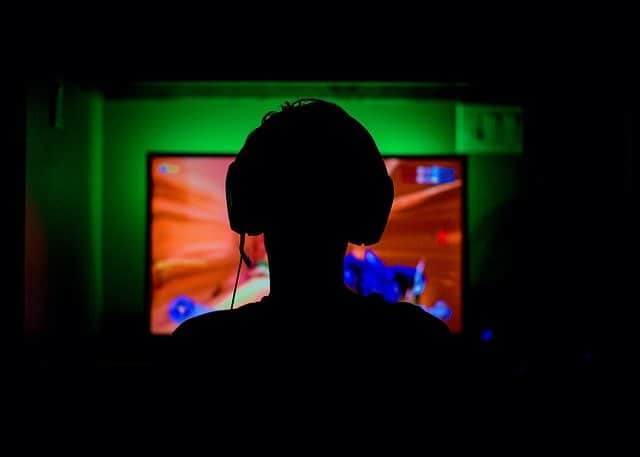 Gaming laptops have given gamers the freedom to game on the go.
With slimmer and sleeker designs, they are perfect for giving gamers the versatility to the game from anywhere without breaking the bank.
Did you know that, with the right accessories and peripherals, you can create the perfect set-up for stay at home gaming, and have a desktop experience?
Let me show you how.
Choosing the right gaming laptop
The development of gaming laptops has provided a refreshing sense of versatility when it comes to gaming devices. It goes without saying this is the first step of creating the ultimate gaming laptop set up.
It is important to think about what features you desire and what is compatible with the games you play.
The age-old CPU and GPU argument has divided the gaming community for many years so it is important to do your research.
Remember these are not replaceable once you choose so they will need to support your desired resolution and frame speed.
Connectivity is key when it comes to the ultimate gaming experience.
It is important to ensure that the device has enough ports to support any extra peripherals or features. Intel recommends ensuring your device can support a Thunderbolt™ 3 port which is particularly helpful with transporting large files or connecting your gaming laptop to external monitors. It can act as a permanent dock for your gaming laptop and wires.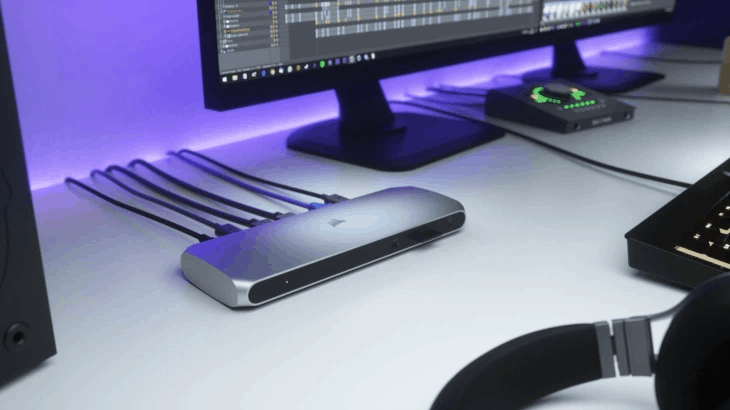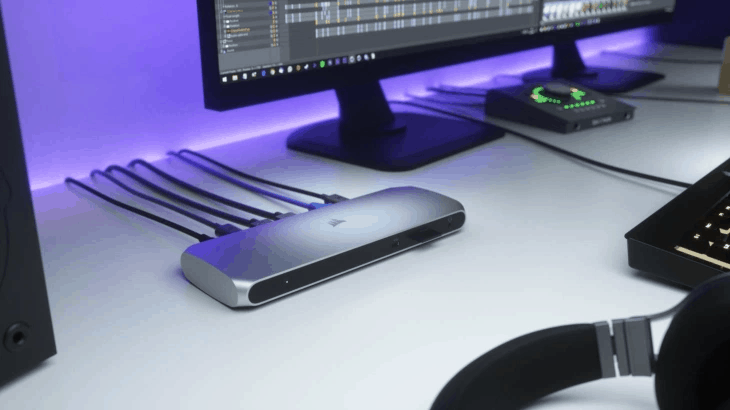 The image is taken from Techcrunch.com.
Finally, when it comes to choosing a laptop for your ultimate gaming laptop set-up, you need to think about design.
As gaming laptops are getting more compact and slimmer, it is important to consider whether you want your gaming laptop to be your only screen or whether you are willing to invest in a monitor to expand your display. That being said, there are gaming laptops with displays that are as big as 17 inches which are great for immersive experiences. Considering the design of your gaming laptop and size will also give you a good idea of the layout of your set-up and how much room you have for additional peripherals. Gaming laptops also come in a range of colours and designs to fit your aesthetics.
If you cannot find one that is your cup of tea, there are a number of outlets that allow customers to customise their design. It can be a little pricey, however, so it is important to consider whether it fits into your budget.
Accessories, accessories and more accessories
Now you have the perfect gaming laptop, it's important to maximise its full potential for your gaming set-up. There are a number of additional accessories that you can purchase without breaking the bank to give you an almost identical experience to gaming PCs.
Screens and monitors
Considering using a stand-alone monitor is a great way to ensure an immersive and high-resolution gaming experience. Even just using the dual display and spreading tasks across multiple screens can help improve your focus and productivity. It is also a great way to chat with friends or monitor streaming software without having to swap in and out of the game. Additional monitors can also ensure that you are sitting in an ergonomic position, which will help tackle any health risks that come with long gaming marathons. Jumping from a gaming laptop screen to a monitor can also create clearer, crisper and quicker images and will provide a more seamless gaming experience.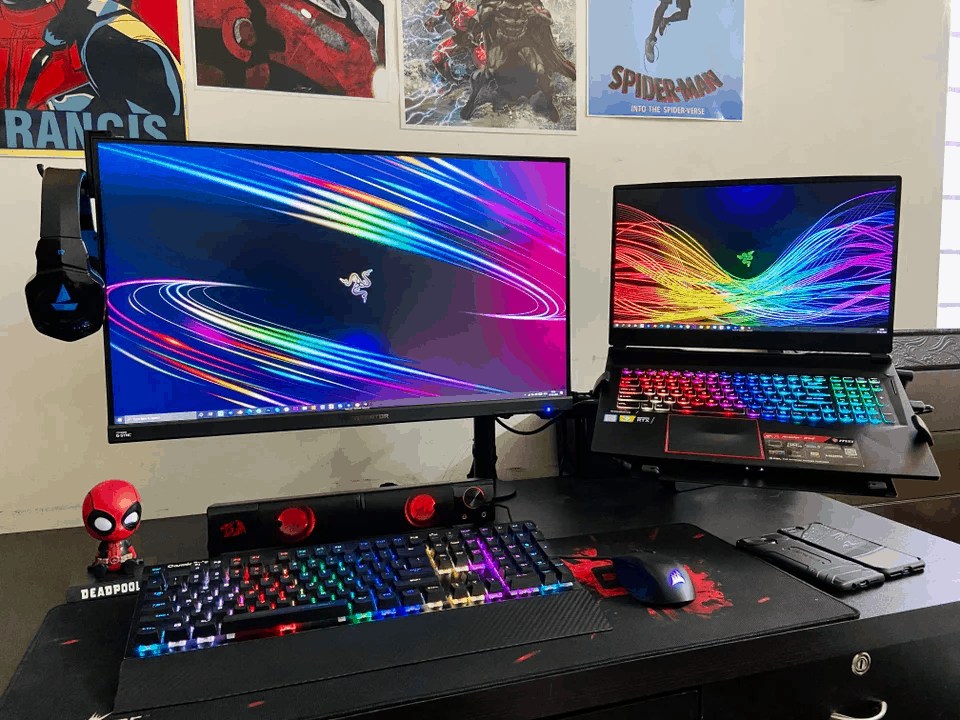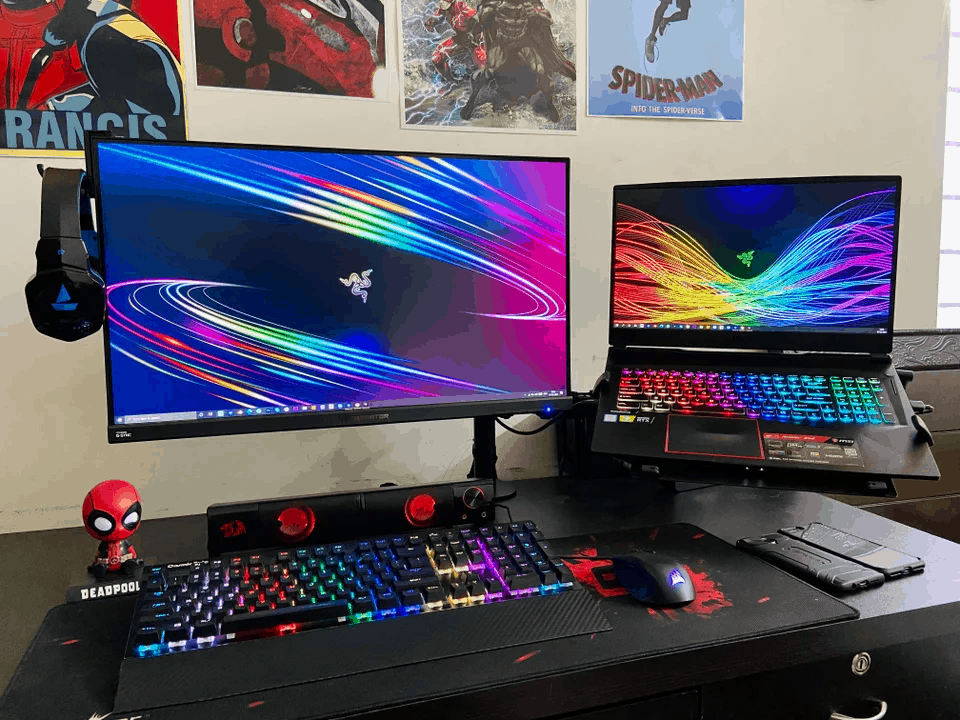 Taken from Reddit.com
Keyboards and mice
Gaming laptops have developed momentous amounts since they were first introduced. Now offering complete and responsive keyboards that can be customised for a spectacular light display. Using a mechanical gaming keyboard allows personalisation for your home gaming laptop set-up. Users can customise buttons for different in-game features and can provide a more accurate typing experience. The keyboards come in a variety of styles and sizes to compliment your gaming set-up aesthetics.
Although laptop touchpads have become increasingly more responsive, using a gaming mouse is a better way to increase accurate movement in gameplay. Gaming mouses commonly have customisable buttons to enhance gaming performance and to aid quick-fire movements.
Another great feature of choosing gaming keyboards and mice is they offer wireless and Bluetooth connectivity which allows freedom for your set-up and prevents clutter.
Audio and headsets
Getting a speaker system can provide theatre-like surround sound. Although gaming laptops are designed to provide crisp and clear sounds, they can be enhanced by speakers to increase audio transparency. This is the same for gaming headphones and can provide accurate in-game experiences like footprints approaching. This is extremely beneficial for quick-fire games like Call of Duty.
Gaming headphones are also fitted with surround sound and noise-cancelling features to ensure you have an immersive gaming experience. They can also be popped into your bag for gaming on the go with your laptop.
Personalise your space
It's important to make your space comfortable and a reflection of your personality. Investing in a large desk will allow you to fit your set-up together without having to cram everything. It is also worth considering setting up away from the window to stop any glaring lights affecting the visibility of your screen.
Decorate your space with posters and figurines of your favourite gaming characters and create an immersive atmosphere with LED lights around your space and monitors. There is loads of inspiration online to help you design your ultimate set-up space that will wow your friends.
Summary
Gaming laptops are great for freedom and versatility, however, sometimes it's better to have an at-home set-up. Using extreme features like monitors, sound systems and creating an aesthetic space are just some of the best ways to create your ultimate gaming laptop set-up.
---
---
Author: Emily Johnson has a passion for music and film. She can be found at Tillison Consulting as a Digital Campaign Manager working with clients from different sectors and campaigns to help with all their digital marketing needs.