A complete guide about Pazu Netflix Video Downloader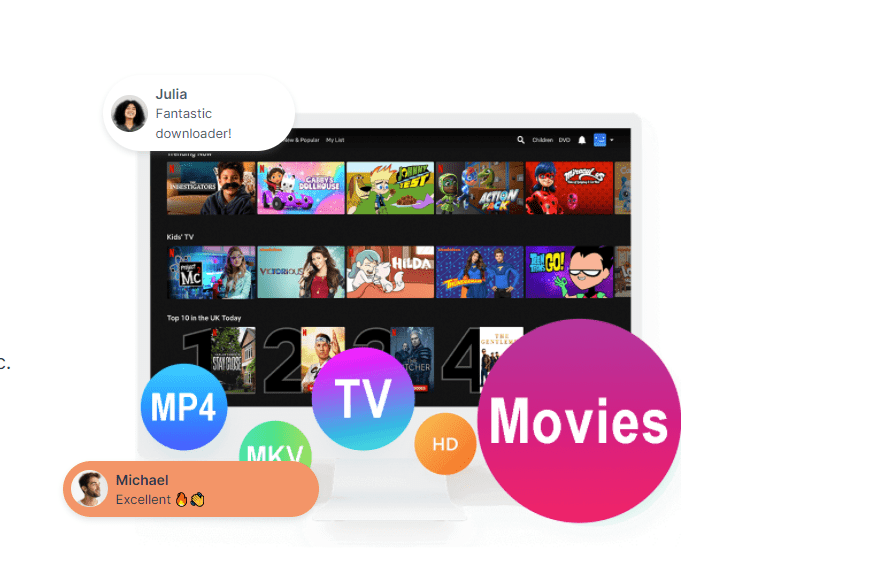 As recently as last week, Pazusoft announced the introduction of their Netflix Video Downloader application. This one is the latest in a long series of practical and inventive apps.
The Netflix Video Downloader program allows Mac and Windows users to download Netflix movies and TV shows in the MP4/MKV format.
The videos can then be downloaded and played on any device without the need for a Netflix app or browser.
Jeff Matt, the founder and CEO of Pazusoft spoke at the event and stated, "Our team is driven by innovation and a desire to produce unique and valuable software tools for our users. Please join us in welcoming Netflix Video Downloader to the world! Movie fans worldwide can now use our technology, which we've been working on for a long time.
The Netflix Video Downloader program allows you to download as many movies as you like. No Netflix app is required to download movies of up to 1080P quality. The Netflix episodes and movies you've downloaded will continue to work even if you discontinue your service with Netflix.
There are no restrictions on how you can use Pazu Netflix Video Downloader to download Netflix movies and TV series on Mac and Windows in MP4 and MKV formats. Following is a list of some of Pazu Netflix Downloader's most notable features:
Netflix allows you to download limitless videos in 1080P if they are available.
There's no need to install Netflix app.
All audio and subtitles should be saved.
You can save videos in MP4 or MKV format.
Get Netflix Videos as MP4 or MKV Files
The Pazu Netflix Downloader's user interface is straightforward. Your knowledge of its operation should be complete when you first open it. For a step-by-by-step walkthrough, go to the list below.
Step 1
Pazu Netflix Video Downloader can be downloaded from the official website for free. Obtain the software for your Mac or PC.
Step 2
Sign in to your Netflix account when the show has finished. You can use the search bar to look for movies or TV shows by title or URL if you're logged in.
Step 3
You can begin downloading your results by selecting the Download option. You may also select audio and subtitles by clicking the Gear symbol next to the Download link. As an Embedded subtitle, you can save the subtitles as a single file or as an independent subtitle file.
When you click on the Download icon, the application will begin downloading and update you on its progress in the right panel. You'll be able to see all of your previously downloaded Netflix content under the History heading.
Selecting individual episodes or selecting all of them at once is possible if you want to download TV programs. Audio and subtitle options are available for each episode as well.
By choosing the gear icon at the upper right, you may also change the default settings. Video format (MP4 or MKV) and video codec (H264 or H265) may all be modified from there, audio and subtitle languages, and output folder.
Netflix Video Downloader by Pazusoft has been well accepted by its customers.
The best Netflix video downloader on the market. Fast and professional, says one satisfied customer.
This is an understatement to say that switching to Pazuvideo has changed my life." With this, you can download any Netflix video you want in HD resolution," a happy client says.
Licenses are available in three flavors: monthly, annual, and lifetime. Several different license options are available depending on how the product will be used. The company's customer service department can answer any questions customers may have about installing or using the app.
Plan for pricing
Pazusoft places a high value on its customers, ensuring that they have access to the most recent and most up-to-date versions of its software. Clients are happy to utilize and promote the company because of the organization's unwavering dedication to customer satisfaction.
Pazu Netflix video downloader can be downloaded for free and used for a trial period without requiring a payment card or email address. If you enjoy it, you may unlock the complete edition of the software by purchasing a registration code.
There are three alternatives to choose from. An annual subscription costs $59, while a one-month subscription is $16.You have the option to cancel your subscription at any moment if you feel you no longer need the service. For a one-time fee of 129.90 USD, a lifetime plan is available. All plans come with a 30-day money-back guarantee and no additional fees for updates.
Pazusoft's Background
Pazusoft is a well-established provider of audio and video conversion utilities. Visit https://www.pazuvideo.com/ to learn more about PazuSoft.