5KPlayer Review and Download :Easy Free Video Player for Windows 10/Mac in 2019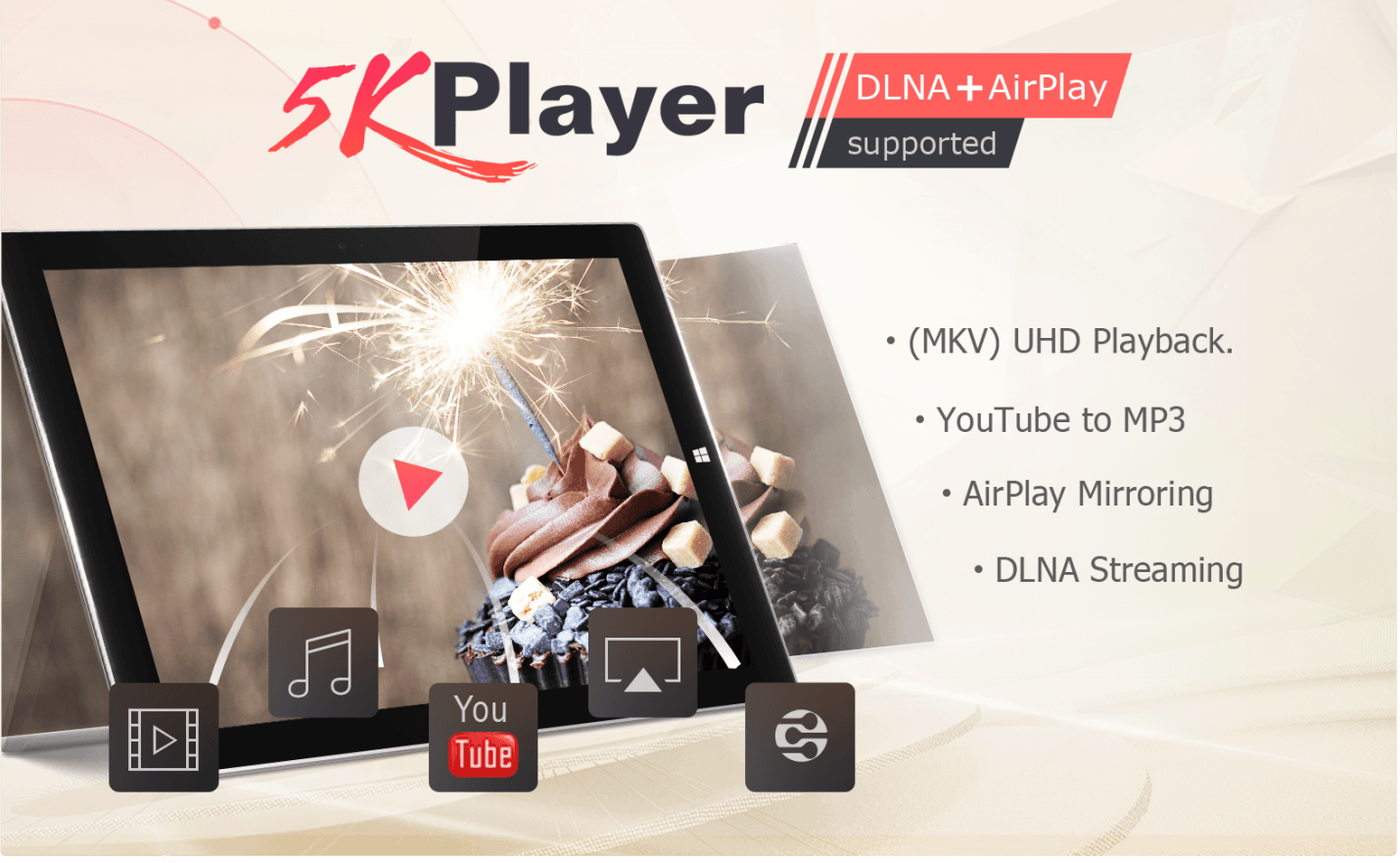 Want to screen mirror your videos and music from your little iOS device to your Mac's larger screen?
5KPlayer is an AirPlay-enabled HD video player, music player and video downloader that makes multiscreen playback easier than ever.
With this handy media streamer, you can share the contents of your iOS device with family and friends quickly and easily without fumbling for a cable. But that's not the only media problem this free, all-in-one software will solve.
5KPlayer is a media player and streamer that supports Apple's AirPlay music and screen mirror. So you can stream audio files from your iOS device to your Mac. It is also an AirPlay sender for wirelessly mirroring your music and video files from iMac or MacBook to Apple TV, AirPlay speakers and so on.
The free HD video player is also a video downloader that lets you grab videos from hundreds of top sites including YouTube, Facebook, Yahoo, and Vimeo. The software converts online videos to MP3 or AAC music formats as an independent YouTube-to-MP3 video downloader and converter.
5KPlayer also boasts a built-in radio player that can receive radio from sources including the BBC, Heart, Capital, Gold — click and choose from a number of Internet radio stations as you please.
Installation and Configuration:
For windows: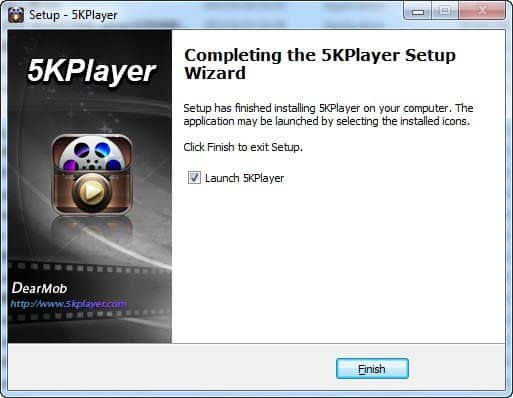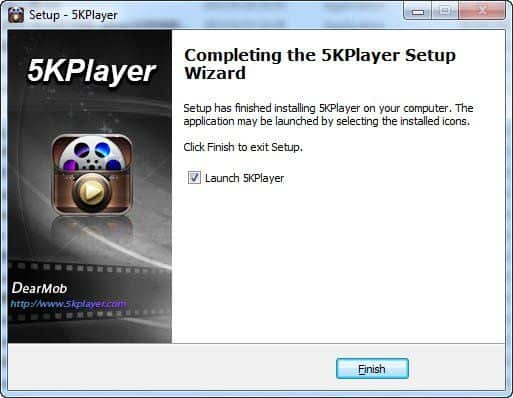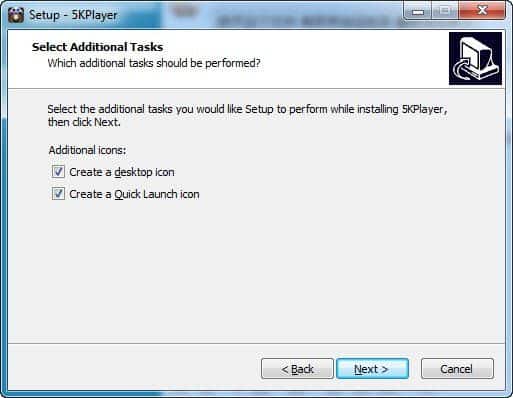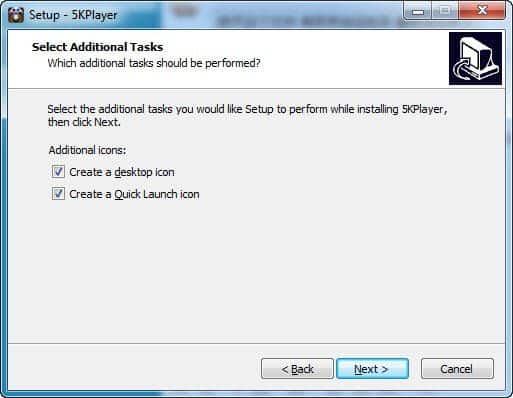 Step 1: Hit Download for 5KPlayer setup free download.
* This takes you to 5KPlayer setup for Windows download page, you'll get the latest version 2019- 5KPlayer setup for the latest version.
Chrome users: Top right corner > Downloaded Content > 5KPlayer Setup
Internet Explorer users: Find installer > Click Run
Firefox users: Top right corner Arrow icon > Show All Download Content > 5KPlayer Setup
Step 2: Choose target folder to save 5KPlayer Setup to, click Save File.
* File size of 5KPlayer for Windows 3.4 is 37.9 MB, lightweight and full-functional without the need for any plug-in.
Step 3: Follow instructions of 5KPlayer Setup Wizard.
* The whole process takes less than the 50s and you won't recommend downloading any other software.
Step 4: Accredit license agreement > Set destination location > Start menu shortcut, desktop icon, quick launch icon are optional > Hit Install, and 5KPlayer setup and installation takes roughly 60s.
Step 5: When your system pops out a Security Alert box, rest assured to click Allow Access to public networks/private networks.
5k player is safe for Windows 10/8/7/Vista approved by McAfee, Kaspersky and Norton it is now the NO.2 Softonic downloaded video player.
For Mac: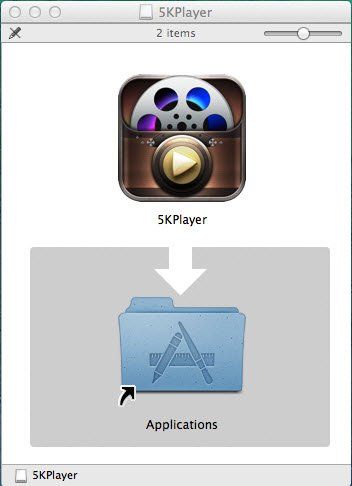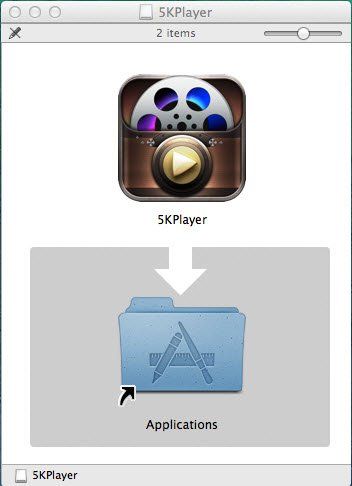 Step 1: Hit Download, and get 5KPlayer setup free download for the latest version.
* This takes you to 5KPlayer setup for Mac download page, hit Download.
Step 2: 5KPlayer setup dmg download starts immediately when you hit the download button. Currently, the 100% safe setup file is only available on 5KPlayer website, we'll keep you posted when the setup file hit Apple App Store;
* File size of 5KPlayer setup for Mac macOS is 61.53 MB.
Step 3: When download finishes, a dialogue box will pop out for you to drag 5KPlayer setup for Mac into the Application Folder.
*The download of setup files takes roughly 80 seconds, directly launch 5KPlayer for Mac.
5KPlayer is safe for Mac macOS Mojave/MacOS Sierra/El Capitan/Yosemite/Mountain Lion, approved by McAfee, Kaspersky and Norton.
UI and Interface
Once you open it, you will find that app is divided into 2 tabs, first one is labeled 5KPlayer, which works just like a Now-Playing screen and the second one called the Library. The first one is simple and works just like it should and the second one is where most organization and playlist management can be done.
The library is divided into many sections each for categorizing Music, Videos, YouTube downloads, and Playlists. There is a straight forward search bar at the top right corner and a button to toggle list and grid view. The UI is easy enough to navigate around without any trouble, and I liked how you can mark a media file "Favorite" just by one click.  This marked music and video files can then be quickly accessed from the Favorites section from the navigation pane. I would like to have an option to change the skin to light colors though, maybe it will come in future with an update.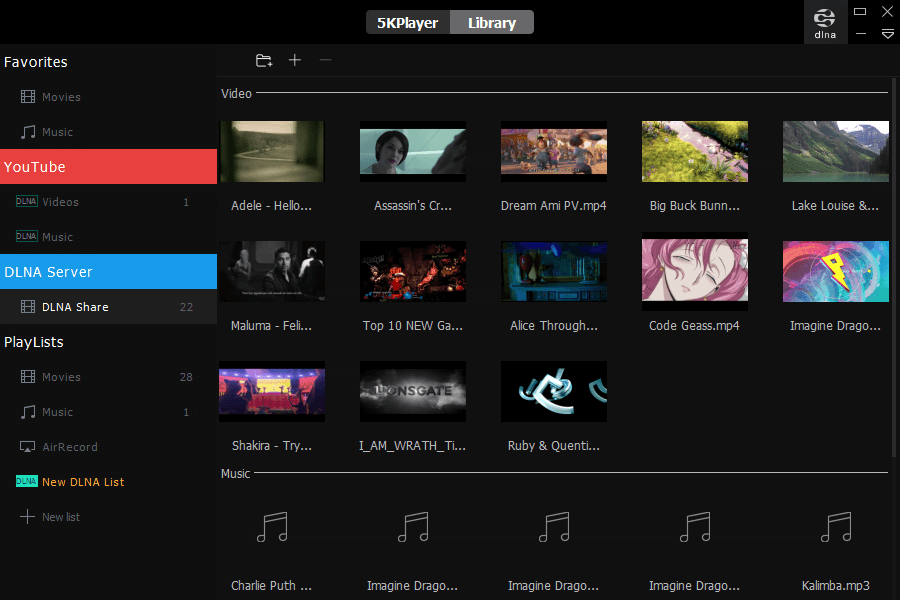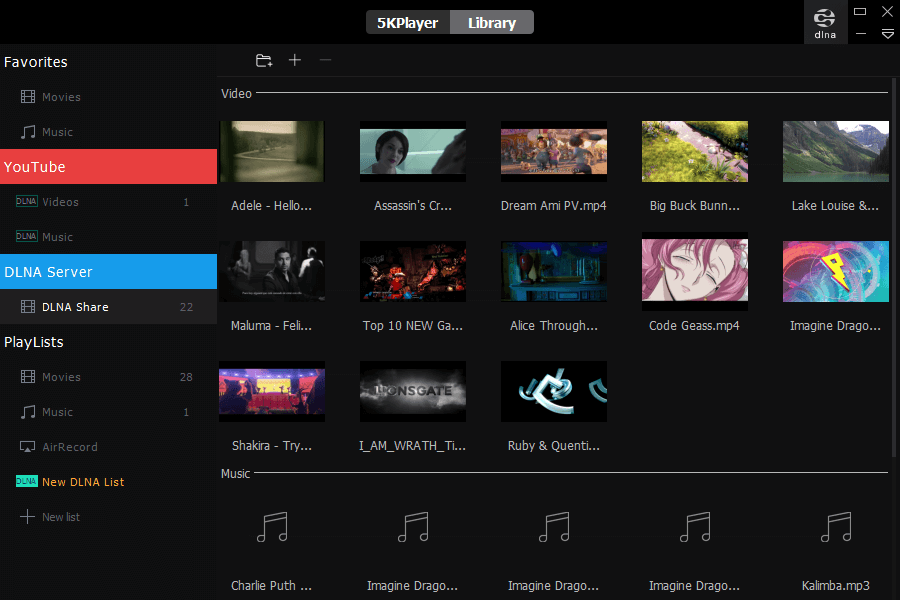 Usage
5KPlayer has responsive launch times and I liked how despite being free, it did not show any obtrusive ad to me. If you are adding a ton of videos to the library, it may take some time to process files for the first time, but once it's done once, the library navigation is quick and easy.  I threw some ripped MKVs and downloaded 4K mp4 videos to the app and the performance was smooth on my laptop that ran on i7 6700HQ and Geforce 960M graphics card.
It supports almost all common media formats including mp3, mp4, mkv, wmv, wma and flv. I tried playing some DVDs and ISO files which also worked very well.  When playing a 1080p video, 5KPlayer takes around 140 MB footprint on RAM which is definitely impressive compared to other heavyweight media players.
What makes it different from rest ??
•H/W acceleration makes it easier and smoother to play extremely large video files such as 4K/UHD movies.
•Being able to play multi-region DVDs on Windows, no matter in which country you bought the DVD, 5KPlayer is free to unlock the region code.
•Download and Play: offer free access to download unlimited online video/music clips to play offline directly.
•Multi-screen playback: Free AirPlay mirroring service and DLNA feature to make you beam iPhone/iPad/Android screen to PC/Mac and stream video from PC/Mac to Smart TV.
Special Highlights:
AirPlay & DLNA Wireless Stream Support
With built-in AirPlay™ tech, 5KPlayer shines as bespoke AirPlay Mirroring software for instant screen mirroring. It helps render the whole screen of iPhone/iPad to computer and Mac/PC to Apple TV in a flash for clearer visuals. Associated with Mirroring, there is also a screen recording utility that allows up to 4K UHD video records.
5KPlayer is moreover a nice blend of DLNA controller, DLNA renderer and DLNA server. It magically links billions of DLNA-compliant devices so they can interoperate with each other. In specific, it helps share MKV AVC Webm 3GP VP8/9 AAC video music from Android to PC/Mac and DLNA stream H.264/MP4 MP3 AAC media on PC/Mac to smart TV, PS 3/4, Xbox, etc. DLNA devices can also access 5KPlayer's rich media library of bazillion videos music songs to realize infinite multi-screen share.
Top among players in hardware acceleration:
Deserving of the name 'best hardware accelerated video player', 5KPlayer assembles an enjoyable interface and enough horsepower to render crystal-clear UHD/4K/8K/HDR etc playback on PC/Mac and even on a low-powered computer. By enabling hardware acceleration of 5KPlayer, the graphics chip of your computer will be automatically used to accelerate decoding of H.264/AVC, HD, 4K, 8K, HDR, etc high-res videos and at the same time free the main processor (CPU) from involving such heavy tasks. Coming with a user-friendly design, this free hardware acceleration video player grasps the common three hardware acceleration technologies, say DXVA2, NVIDIA and QSV hardware acceleration, to allow you to have much freedom to play high-res videos and large files according to your computer's configuration. Trust me, 5KPlayer will assure you fluent performance and joyful entertainment.
Playing hardware accelerated content: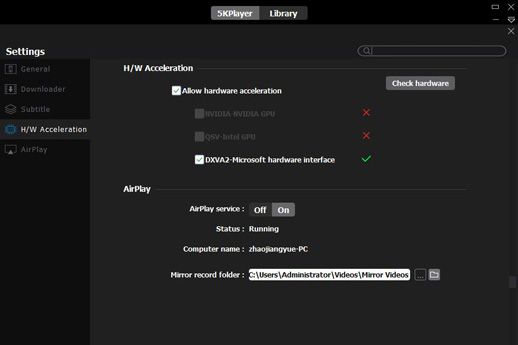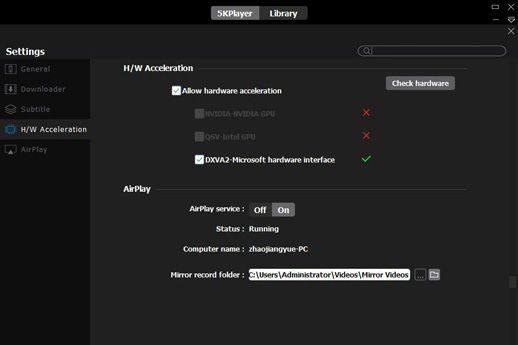 Step 1: Free download 5KPlayer newest version, install and launch it on your computer.
Step 2: Right-click the main UI of 5KPlayer or the large video to access the Hardware Acceleration option.
Step 3: Click Allow hardware acceleration and check the hardware. This hardware accelerated video player will automatically detect what types of hardware decoding your computer supports.
Notice: 5KPlayer supports QSV, NVIDIA CUDA and DXVA GPU acceleration, check whichever one your computer supports to enable hardware decoding for fluent high-res videos playback.
Special Anniversary Offer
DearMob is celebrating the 4th birthday of 5KPlayer and they are offering great benefit to their users. 10 lucky winners will each get a prize pack including HD Projector and indoor screen, Roku Ultra & Popcorn maker to extend the joy of playing movies with 5KPlayer.
What's more, every participant will get a giveaway version of VideoProc – an easy video processing tool for beginners and pro.
5KPlayer 4th Birthday Sweepstakes, join to win Home Theater Gadget Pack X 10 for Movie Buffs, the package includes-
HD projector and indoor screen worth140 USD
Roku Ultra worth 80 USD
Popcorn maker worth 100USD
Videoproc worth78.90 USD for everyone (video converter, recorder, downloader, and DVD ripper)
So you just need to visit https://www.5kplayer.com/5kplayer-download-windows.htm and enter your email to be eligible for the contest. Hurry up, it is a great deal to be availed.
Conclusion:
DearMob, a vigorous software provider with forefront developing outlook. DearMob is led by its innovative tag-line products including DearMob iPhone Manager, free apps like 5kPlayer, iPhone Photo Manager, iPhone Music Manager, etc. The brand is ready to enable more dynamic growth with compact and competitive products for Mac/Windows/iOS/Android users in the near future.
Verdict:
5KPlayer is a must-have free player on Windows and Mac, easier than VLC and more powerful than Windows Media Player and is a great recommendation. Do give it a try and rest I assure that you will forget others.