Get WinX MediaTrans for Free: Easily Transfer Files Between iOS and Windows without iTunes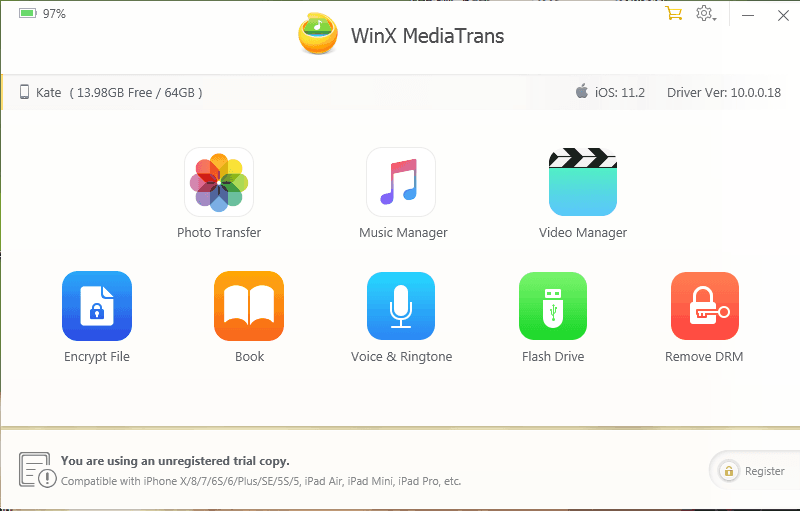 Since the advent of storage facilities in our electronic gadgets and mobile phones, our access to photos, files and documents have become a lot easier than before. Previously our storage options were very limited. But now we have many options. The most mesmerizing development in this field has been the option to transfer or share the files between two systems, phone or gadgets. We no longer need to carry a pen drive to transfer files. There are many applications and software that helps us to transfer data in the form of files, documents, photos, songs, etc. to other devices very easily.
But there is a twist in the story. Some devices like iPhones and iPads are very restrictive and have limited data transfer options. Well, whatever may be the reasons, the fact remains asserted that we face inconvenience in files between or from these devices. iTunes is an application that allows you to share files, data, images, videos, songs, documents etc. But is this application really efficient? Sadly the answer is no. It has many issues and bugs, especially in Windows operating systems. This is a cause for concern but not anymore. WinX Media Trans is the best iTunes alternatives for windows. It allows sharing of files and data between Windows and iOS devices.
Here are some of the astounding features of WinX MediaTrans that make it a best file transfer applications.
Easy to use:
WinX MediaTrans is extremely easy to install. One click and you are all set to go. The user interface is very much user-friendly and easy to use. It is very fast. Just plug the iPhone to your PC and it will be connected within a second.
Free to download:
WinX Media Trans is available for free trial and full version. The good news is, the full version is currently being given away! For a limited time, you can free download a licensed copy at this giveaway page and enjoy all features without limits! Grab the chance now and get an advanced iTunes alternative for free!
Music customizations:
When it comes to songs and music, WinX MediaTrans has a lot to offer. Using WinX MediaTrans you can easily transfer data and files between iOS 12 and Windows OS without any risk of data loss and leakage. You can make your own music playlists as per your choices without iTunes or Apple ID. You can also add or make your ringtone for your iPhone.
Excellent video and photos transfer options:
iPhones and iPads don't support all video formats. Hence it is necessary for you to convert the video or photos to format which is compatible with iPhones and iPads. WinX MediaTrans auto-converts any video and photo format to that of iPad and iPhone. Big video files are automatically reduced to 50% of their size without any quality loss. You also get the options to import or export 4K, 1080p and HDR videos. The list of features doesn't end here. WinX MediaTrans allows you to transfer photos selectively or in batch without wifi.
Safe transferring of files:
One of the most irritating things with iTunes is data loss. You may lose your data from your PC while syncing. WinX MediaTrans comes to your rescue. It makes sure that you back up and sync data and files between iOS and Windows devices without any data loss.
Highly secured:
Using WinX MediaTrans you can have your files and data password protected with highly secured encryptions. You can encrypt transferred as well as local data and files. Hence, there is no possibility of privacy and data breach, no one can access your private photos or videos
Fast transferring speed:
By fully utilizing hardware acceleration, WinX MediaTrans delivers an ultra-fast loading and transferring speed than iTunes. This iTunes alternative nets you the power to finish transferring 100 photos in 40 seconds, transferring 100 songs in 35 songs.
Wide applications:
Not just transfer photos, videos, music, ebooks, voice memos, etc. between iPhone, iPad, iPod, and Computer. You are no longer required to follow a hectic process of file sharing of iTunes. You also get options for photo backup; using iPhone as a free USB drive to store files; converting ebooks to the right format for flawless reading,
These pool of features make WinX MediaTrans a best iTunes alternatives for Windows. You no longer have to face the slow and inconvenient iTunes for files transfer.