How to Convert Videos Effectively?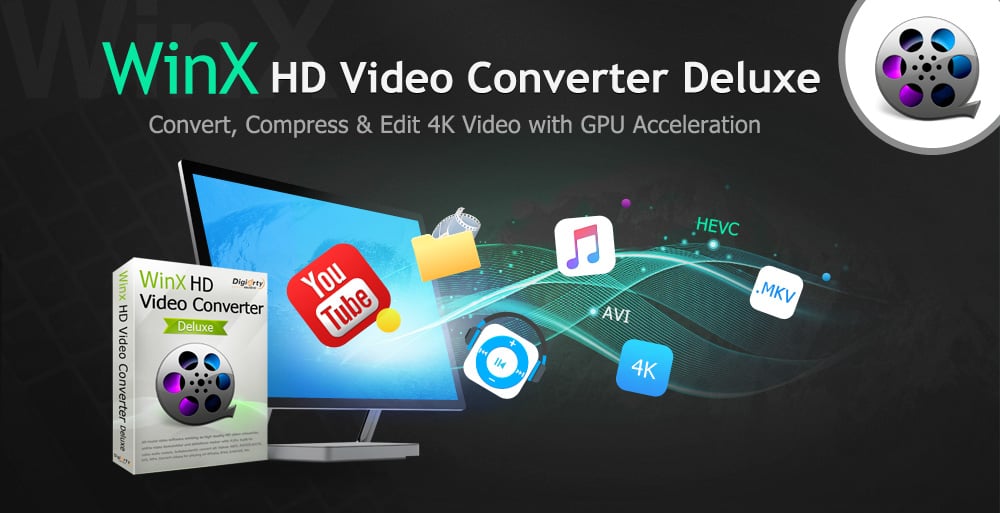 As devices get more and more pocket friendly and packing more camera lenses, our ability to shoot 4K videos has increased exponentially.
We are getting high resolution videos from GoPros, DJIs, DSLRs, iPhone or Android devices. Now the question is how to play and store them. 4K videos, on one hand can provide rich details, better sound and colour reproduction, but on other hand tends to take up too much space. A standard one minute of footage in 1080p at 30 frames takes up about 130 MB. Same in 4K takes a whopping 375 MB.
Another drawback of 4K video is that most hardware, which is 3-5 years old, cannot handle the video easily. It results in problems such as choppy 4K playback in VLC or iMovie, frame dropping, sound and video out of sync, no sound on video, blurry playback quality, failed to play due to format issue, etc. So, the only solution is to compress the files and convert to other formats for easier playback and storage.
Sure, there are plethora of tools out there which claims to do the same, but with what I will be recommending, I am pretty much sure that you wouldn't need other tools, as they lack in most useful features.
WinX HD Video Converter Deluxe is an all-in-one video software as a 4K HD video converter/compressor, video downloader, and video editor, which gives you an ultimate control over any video files on your PC.
So, why should you use this tool?
1. Hardware Accelerated
WinX HD Video Converter Deluxe is few of the tools that use level 3 hardware acceleration. GPU computing is highly useful to the video processing with large data volume, or say intensive, highly parallel and simple controllable computing that will be executed in stages. GPUs, unlike CPUs can process intensive and repetitive tasks. When playing the large 4K H.264 or HEVC video files without hardware acceleration, your player has great chance to crash, stutter, lag, freeze or have errors in reading, loading, or playing.
Most monitor units cannot process such large video size and high definition, resolution, bitrate, code rate and frame rate. However, what they collect are the raw video data signals, and mostly are a series of dynamic video signals. They will cause data explosion, causing a huge pressure on CPU calculation, and accordingly might even even damage your CPU. 4K videos usually utilize H.264 and H.265 codecs, with high compression ratio. So the decoding needs weighty operation and has high requirement on the decoding power of PC, player device, editor apps, video format converters.
GPU-based acceleration will be beneficial to fast and smooth video conversion. It will offload CPU burden maximally, reduce power consumption for video decoding and encoding, and motivate CPU and GPU to work together in optimal and coordinated way, keeping the temperature of CPU can be maintained at a low and normal level without overheating the CPU.
2. 370+ Built-in Codecs
There are various codecs and file formats used in the video industry, and even some proprietary ones. This 4K video converter guarantees that it will accept every possible formats or codecs, whatever you throw at it, thereby winning hearts of the professionals and normal end users alike. Some of the formats it can supports are 4K video, H.264/MPEG-4 AVC (*.mp4), HEVC/H.265 (*.mkv), MPEG2 HD Video (*.mpg; *.mpeg), Quick Time HD Video (*.mov), WMV HD Video (*.wmv, *.xwmv), Blu-ray Video (*.mts, *.m2ts), HDTV Video (*.ts), Matroska Video (*.mkv), AVI, MPEG, WMV, MP4, FLV, F4V, H.264/MPEG-4, DivX, XviD, MOV, RM, RMVB, VOB, ASF, 3GP, 3G2, QT, DAT, Google TV, WebM, DV, Vpx 8, G2M4, iCod, YUV411, mp2v, MXF, DAV and many more, so that you are supported in every way.
3. 420+ Output Formats
Not only it can take in variety of formats, it can output that many formats too. Apple devices, Android devices, Windows and make it friendly with SNS, game consoles, HDTV and portable players or share them to YouTube.
5. Video Editor
WinX HD Video Converter Deluxe allows you to trim video clips, remove black margins, merge multiple video files, choose a desired language and subtitle track and attach the external SRT subtitles downloaded online before conversion. It auto fixes incorrect data in the video file and guarantees a stable video conversion process.
6. Small Size
WinX HD Video Converter Deluxe uses "Yadif Double Frames" De-interlacing Engine and Auto Copy technology to optimize image quality dynamically, reduce noise and adjust definition to make the output video clearer. All thanks to GPU acceleration and using the best video compression algorithm, the file size of the video can be reduced largely without any compromise in quality of the video.
7. Download Video
WinX HD Video Converter Deluxe uses Online Video Download Engine, which enables you to download up-to 4K videos from YouTube, Yahoo, Facebook, DailyMotion, Vimeo, Vevo, SoundCloud and over 1000 video sites in 30 seconds. It also allows you to convert the said files to other formats for easier consumption.
8. Slide show
WinX HD Video Converter Deluxe comes with a slide show maker, in which you can import your images, and enjoy the slide show. You can additionally customize your slide show with effects and sounds to make it more intuitive.
How can you convert using WinX HD Video Converter Deluxe?
1. Add your video files by clicking "Video", or simply use handy drag & drop features to import files to the program.
2. Once the files have been loaded, it will pop up an "Output Profile" window. You can choose a format or device from the list of preset profiles.
General Profiles: You'll find output formats that are commonly used here.
to Music: If you want to extract audio from video, you can directly choose audio format here.
Device Profile: Change your video format for playback on a number of popular devices, like iPhone, Android, tables, smart TVs, game console, iTunes, Final Cut Pro, etc.
Web Video Profile: Transcode video to MP4, MPEG4 or FLV for YouTube, Facebook and other social networks.
Common Video Profile: Convert any video for PC or Mac, DVD format, HD and more.
3. Select your desired preset profile with original resolution, and click "OK".
Press "Browse" and change the location where you want to save converted video.
4. Hit "RUN" in the lower-right corner to start the conversion.
Other useful tips:
You can enable "Intel" or "Nvidia" accordingly to improve the video converting speed.
For the best possible image quality, turn on "Use High Quality Engine".
Set "Deinterlacing" if your source is an interleaving video.
Import all clips you want to put together, and click "Merge"to combine them into one.
Click "Auto Copy" if the output video codec files are the same with the input.
One more reason to use it:
WinX HD Video Converter Deluxe is providing a License Giveaway. Just head to the official giveaway page, and enter your name and email to register yourself for a chance to win WinX HD Video Converter Deluxe along with other gifts.