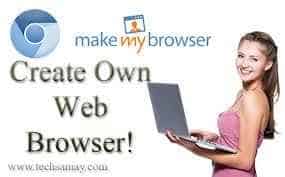 This article will show you the trick by which everybody can get their own browser within a few minutes. This browser will give you the same speed as the popular chrome browser have and also same level of security. Is not amazing?
Why we need a headache of your own browser?
In the countries where a pc need to be shared with other family member like in india. Everybody wants some privacy but in these cases it is quite difficult to maintain the word like privacy. Although you have the option to go in incognito mode but remember folks this will not remember your browsing history and password for the sites. It is quite annoying if you visit some sites frequently and you have to enter the password again and again in this mode. So to go beyond all these headache. Why not create your own browser?
For creating your own browser follow the below steps.
Steps for creating your own browser
Steps 1:
Visit the site Makemybrowser.com and click on Start now button.
Step 2:
Here provide the name of browser which you would call like it to and upload an image for icon if you wish a different one from the default given here.
Step 3:
Add the bookmarks in this steps. It is also possible to import bookmarks from other browser.
Steps4:
To install extensions in your browser, click on the add features button. Choose all extensions which you would like to have in your own browser.
Please note here that these extension will extend the size of the browser. So be careful while choosing.
Step 5:
This steps will give you the facility of choosing any custom theme for your browser. Check the I Agree to the Terms of Use box. And click on the Finish and download button.
Step 6:
This will give you a 450 KB file. This is what your browser setup is. Double click on the downloaded file and it will than install all the necessary files from internet.
Step 7:
After the setup has downloaded all the necessary file. You can open and run your browser from the desktop. You can also download other extensions if you want more.
How this tricks gets worked?
Makemybrowser simply use free and open source code browser chromium and simply add in it your own settings.
I hope you made it too.
However if you have any troublesome than tell us below.
Please like us on facebook and follow us on twitter to get our daily tech tips and trick.