Attractive 5 Best WordPress Contact Form Plugins for Your Business Website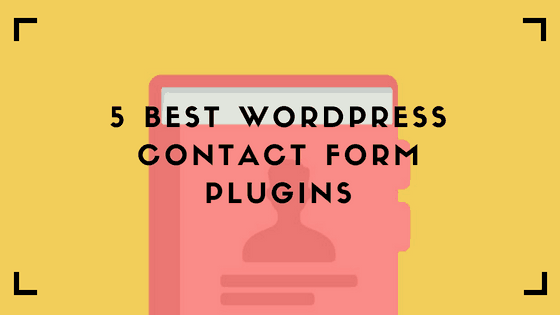 Introduction:
Confused about how to add contact forms to your business website?.
It's a very simple process with WordPress contact form plugins.
But a difficult task is picking the right contact form plugins for your website with plenty of WordPress contact form plugins on the market.
The most important tool for any business website is that the way for customers or clients to contact you easily and quickly. The common way to do it through contact form which is placed on the contact page in a sidebar or footer visible from all the pages. All the contact forms are not similar, and you need to customize them to work with it.
Eventually, WordPress contact form plugins allow you to create contact form easily, and place them on your website and help you to collect information from the clients who fill the form. A notable factor about WordPress is that there are tons of WordPress plugins available on the market to create a contact form.
But you cannot state that all the plugins are worthy. In order to save your time, we have collected and listed few best WordPress contact form plugins to make use of it.
List of Best WordPress Contact Form Plugins
Contact Form 7
Contact Form 7 is a very simple, user-friendly, and flexible WordPress plugin. It is one of the most important and popular WordPress contact form plugins available on the market. The default form is good and is used as such by many people, but you can also create and manage any additional forms if you require.
With this plugin, you can easily customize each form and its email notification using simple markup. This plugin has very powerful features like Captcha, ajax submission, and spam filtering. In this plugin, there are lot more extensions to add additional functionality.
Contact form 7 plugin is completely free to install and you can use this plugin for as many sites as you want. This plugin enables you to fully customize practically of all aspects of your contact form.
With this plugin, you can build only basic contact forms and lets you add to your website. In order to use this plugin, you need to know basic HTML knowledge. There are no add-on features available for this plugin. However, the third party plugins which can serve as add-ons to contact form 7.
Contact form 7 is extremely easy to use and has a user-friendly interface where you can create multiple forms within less time. In this plugin, you can create an unlimited number of forms, use several types of fields like date, URL, email, and text, while also including the email address of your choice to receive your messages from customers.
2. Ninja Forms
Ninja Forms seems to be a wonderful plugin for developers and beginners.  For developers, Ninja Forms has a range of filters and custom field templates for high-level customization. In this plugin, the basic form doesn't include any conditional logic, which is a desired feature for many users.
However, the feature is available as an add-on. This plugin lets you create stunning forms, just by using drag and drop interface. With this plugin, you don't require a single line of code. Manage, edit and export every submission that comes through the form, and save some of the fields you create as favorites for use in the future.
One notable feature of this plugin has a date picker. Ninja Form plugin gives the ability to provide messaging to multiple people along with the confirmations to the customers who submit the forms. This plugin gives a stunning user interface and you will be able to create your own contact forms.
There are no limitations for forums, fields, or emails received, and you can save your forms for later. The free version of this plugin provides only basic fields and features. But with this plugin, you can configure your forms easily and makes your website looks attractive. If you want additional add-on functionalities, then try using the premium version of this plugins.
3. Gravity Forms
Gravity Forms is the most famous and premium WordPress contact form plugin for your website. This plugin has advanced form creation and customization. Gravity forms have a wide variety of add-on features such as payment processing, signature handling, email marketing, marketing automation, and much more.
This plugin gives you an easy drag and drop option to create forms. It gives you a best design contact form. Once creating the form, you can add it to your pages and posts by clicking an Add Form button in the post editor toolbar. With this plugin, you can use shortcodes and function call to manually add forms to your website.
Gravity Forms allows you to install from a huge list of optional add-ons that let you integrate your form with a variety of third-party services. The developer of this plugin keeps on adding advanced features. This plugin is integrated with anti-spam features, like to add Akismet and Google reCAPTCHA.
In addition, they offer a deep integration library with email software, automation software like Zapier, and payment processors like Stripe and PayPal so you can accept payment with your forms.
Using this plugin, you can change the default themes. This plugin is stated as the best plugin for its uniqueness to design forms.
4. JetPack Forms
JetPack forms are yet another powerful contact form plugin. This plugin has numerous features, one out of which is its contact form module. As soon as the module is activated from the settings screen, you will find an option for creating the contact form that appears in the WordPress editor.
This plugin has limited customization options. This plugins feature comes with tons of free tools to power up your website and makes your website run smoother. It includes features such as site performance tool, stats, mobile responsiveness builder, social network commenting system etc.
This plugin is integrated with Akismet to clear the spam form submission. It is a basic contact form and that works well in your website. Jetpack is not a standalone contact form plugin, but instead a collection of plugins from Automattic that provide WordPress.com functionality to self-hosted WordPress sites.
5. WP Forms
WP forms are one of the best user-friendly WordPress contact form plugins. With this plugin, you can create the most beautiful and powerful contact forms easily and quickly.  Building online forms in minutes using one of the many pre-built WordPress form templates.
This plugin provides you with all the tools and features to create a required contact form. WP Forms integrates easily with your email service provider, configures to collect booking, and the order payments. This plugin gives easy drag and drops access where you can create your forms easily.
WP Forms lets you create complex online forms, including order forms, donation forms, survey forms, email subscription forms etc. The forms you create with this plugin works effectively on all devices like mobiles, tablets, desktops etc. This plugin is inbuilt with dozens of pre-built form templates that work fine and save much of your time.
This plugin is integrated with captcha and honeypot method where you don't have to worry about the spam submission at all. WP Forms is a great plugin if you wish to work with the most reliable and advanced features.
Wrapping up
'Contact us' page is important for any business website. It helps you to make communication with your customers very easily and effectively. If your website runs on a WordPress platform, then you are lucky using wide range WordPress contact form plugins for your website.
Easy to use contact form is efficient that can help you to connect with your website visitors. Choosing a best contact form plugin is quite a tricky work and time-consuming. In order to save your time and effort, we gathered you the 5 best WordPress contact form plugins.
Each plugin has its own features and functionalities. Try making use of these plugins. If you have any doubt using these plugins to your live website, try working them in XAMPP and then pick anyone for your real-time website. If you have any queries or if you come across some other best contact form plugins please leave your comment.