6 Luxury Fashion Brands And The Ecommerce Platforms That Power Them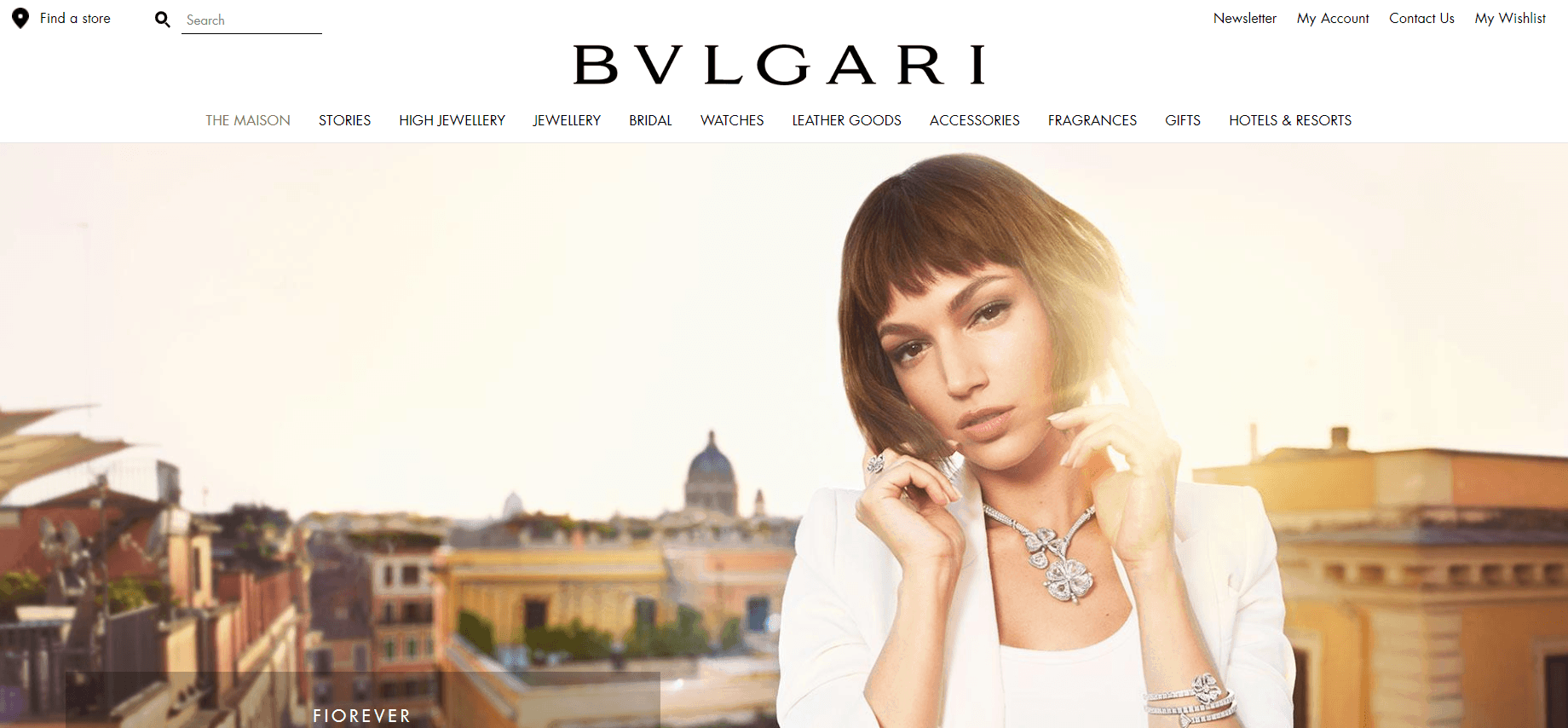 For luxury fashion brands, sophistication and exclusivity are essential to what makes them tick. These brands may cater to a niche market, but once successful, they have the power to rule the world via their ecommerce platforms. From De Beers to Christian Louboutin and Kylie Cosmetics, here's a look at 6 luxury brands and the ecommerce solutions they use to promote and sell their high-end products.
It's All About Luxury: High-End Fashion Brands And Their Ecommerce Platforms
When it comes to luxury fashion brands and ecommerce platforms, the look and feel of the platform speaks volumes about the designer product. While some have been in the market for decades, newer brands are making an appearance in the luxury brand industry. Old or new, it's elegance, classiness and a subtle minimalism that separate these brands from others.
1. De Beers Group
De Beers introduced Lightbox to sell their lab-grown diamonds
Founded in 1888, De Beers Group is the top diamond company in the world and the world's largest producer of diamonds selling 35 percent of the world's production of diamonds. With so much history on their side, this luxury brand uses Shopify to promote and sell lab-grown diamonds through their newest business line known as Lightbox. Catering especially to young women who celebrate everyday events like Sweet 16 birthdays or high school graduations, the online store has pastel shades and neutral hues with a focus on beautiful, vibrant images. The store is easy to navigate and users can quickly pick out a product they want.
Consider microblading to speed up your morning routine. 
Mishaesthetics 
offers different eyebrows methods to provide you with the most natural-looking brows. Your brows will be perfect all the time with no morning prep required.
2. MVMT Watches
Style and class rule in MVMT Watches' online store run by Shopify
Started in 2013 by Jake Kassan and Kramer LaPlante, this watch brand has soon taken over the luxury watch market. Using Shopify, MVMT Watches has built an online store that is classy and minimalist and a perfect place to showcase their exquisitely crafted watches. Based in Los Angeles, they sell not only watches, but also sunglasses and other premium accessories that are bang on trend, making ecommerce platforms such as Shopify a perfect fit for the company.
3. Warby Parker
Luxury eyewear company run on Magento
Eyewear company Warby Parkers aims to provide customers with premium products without the premium price tags. Through their successful online store, they have now captured a huge share of the eyewear market in the country. This luxury brand runs on Magento's ecommerce platform and takes advantage of features such as virtual eyewear trials and providing customers with an experience that is very similar to an in-store one. Warby Parkers experienced a 500 percent annual growth with Magento.
4. Bvlgari
A gorgeous online portfolio of all the luxury products you would want
Using Magento to showcase the products from their high-end, luxury brand, Bvlgari is not an online store in the traditional sense. The luxury brand uses Magento as a platform to display their products and give customers a detailed look into each product. It does not let customers make online purchases, but rather provides a look and feel of the brand before buying the product at a physical store. Some of the luxury products showcased on their online portfolio include jewelry, watches, leather goods, accessories, fragrances, and more. The setup is simple and elegant and allows potential customers to easily access the products of their choice.
5. Christian Louboutin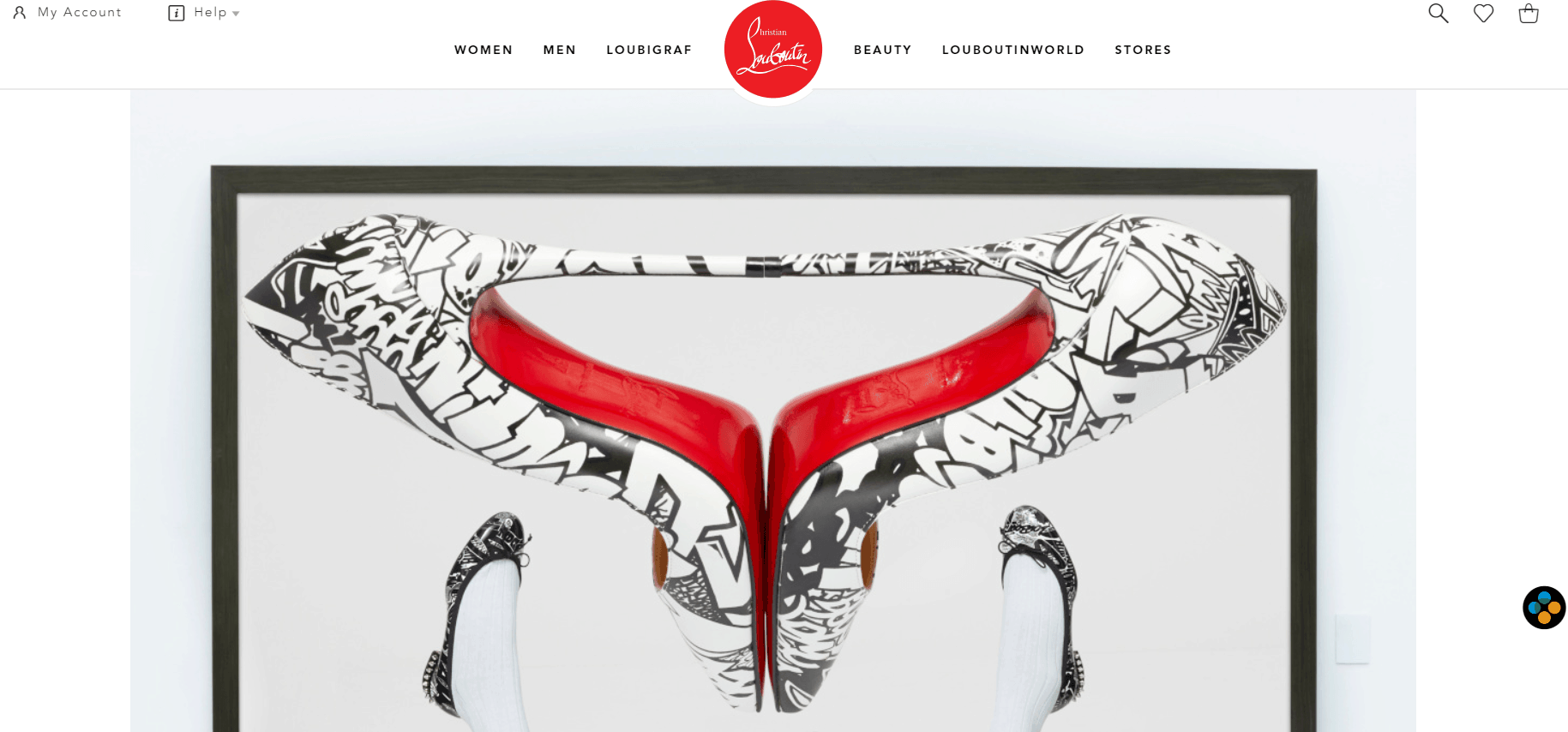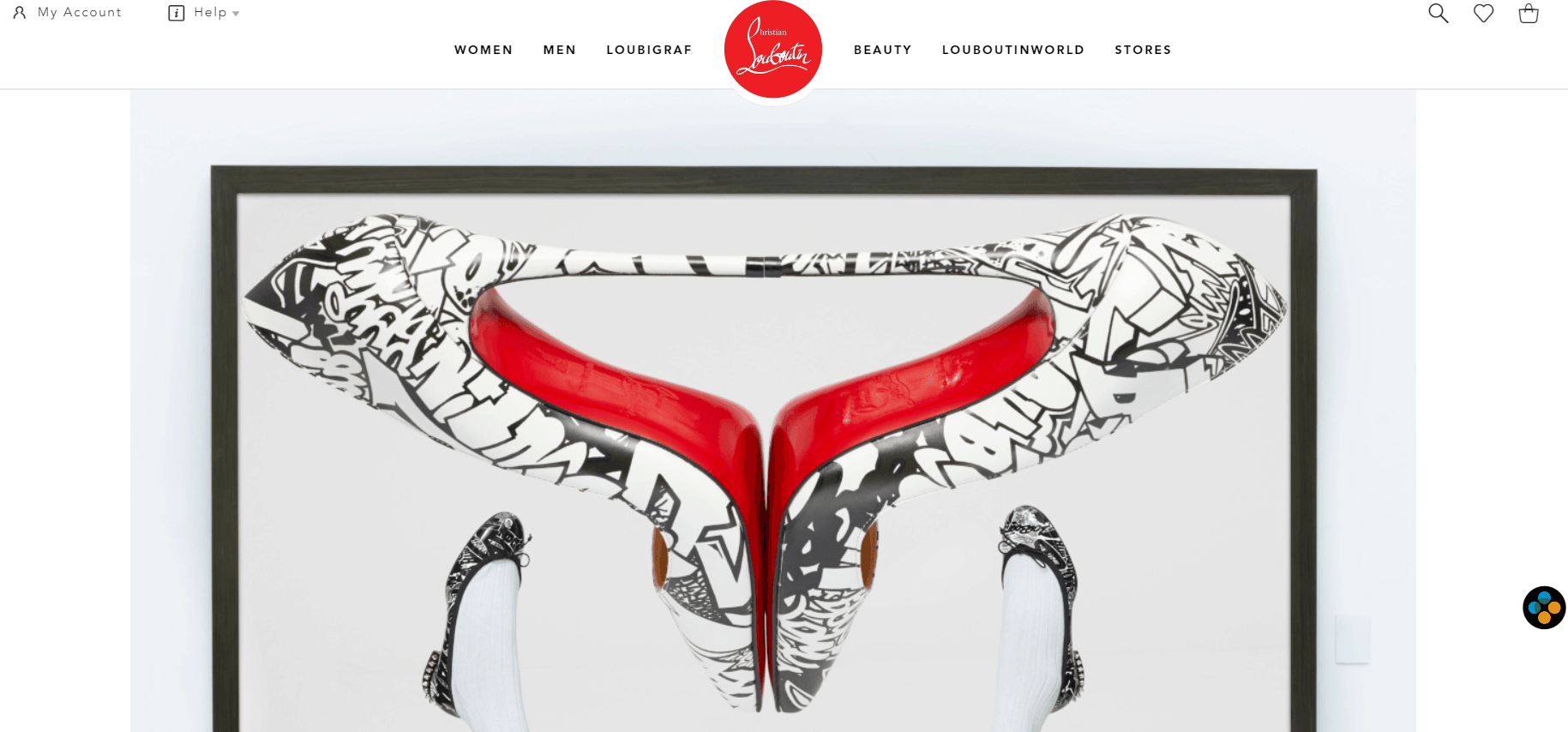 Christian Louboutin's minimalist online store is powered by Magento
Minimalist and classy, high-end footwear brand Christian Louboutin also uses Magento to power up their online store. Popularly known for their luxury stilettos for women, Christian Louboutin also caters to luxury footwear for men and other fashion and beauty products such as bags, leather goods, makeup, and more. A vibrant slideshow of their new and popular products on the homepage welcomes customers to the site. The simple navigation, easy drop-down product menu, and speedy reach to products helps maintain the luxurious online customer experience that the brand aims to provide.
6. Kylie Cosmetics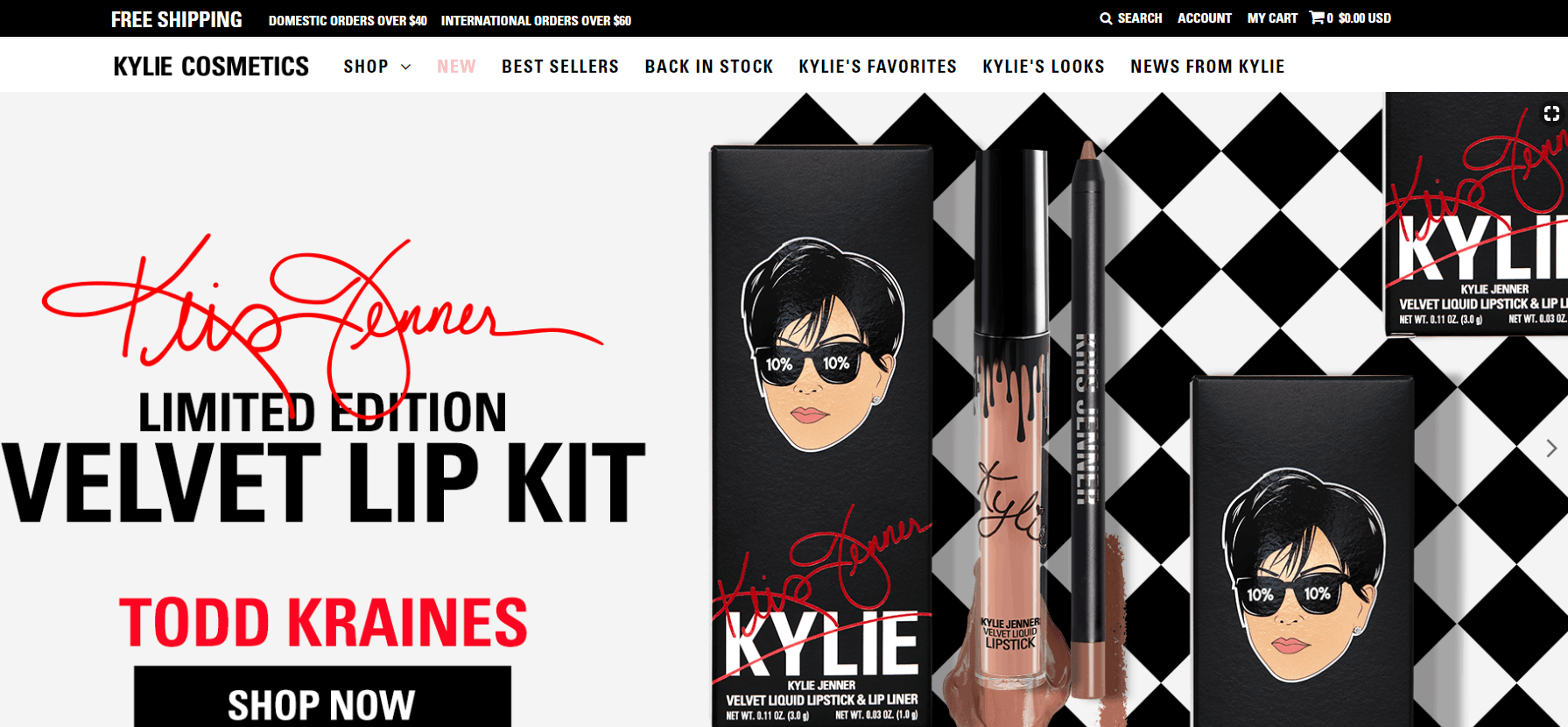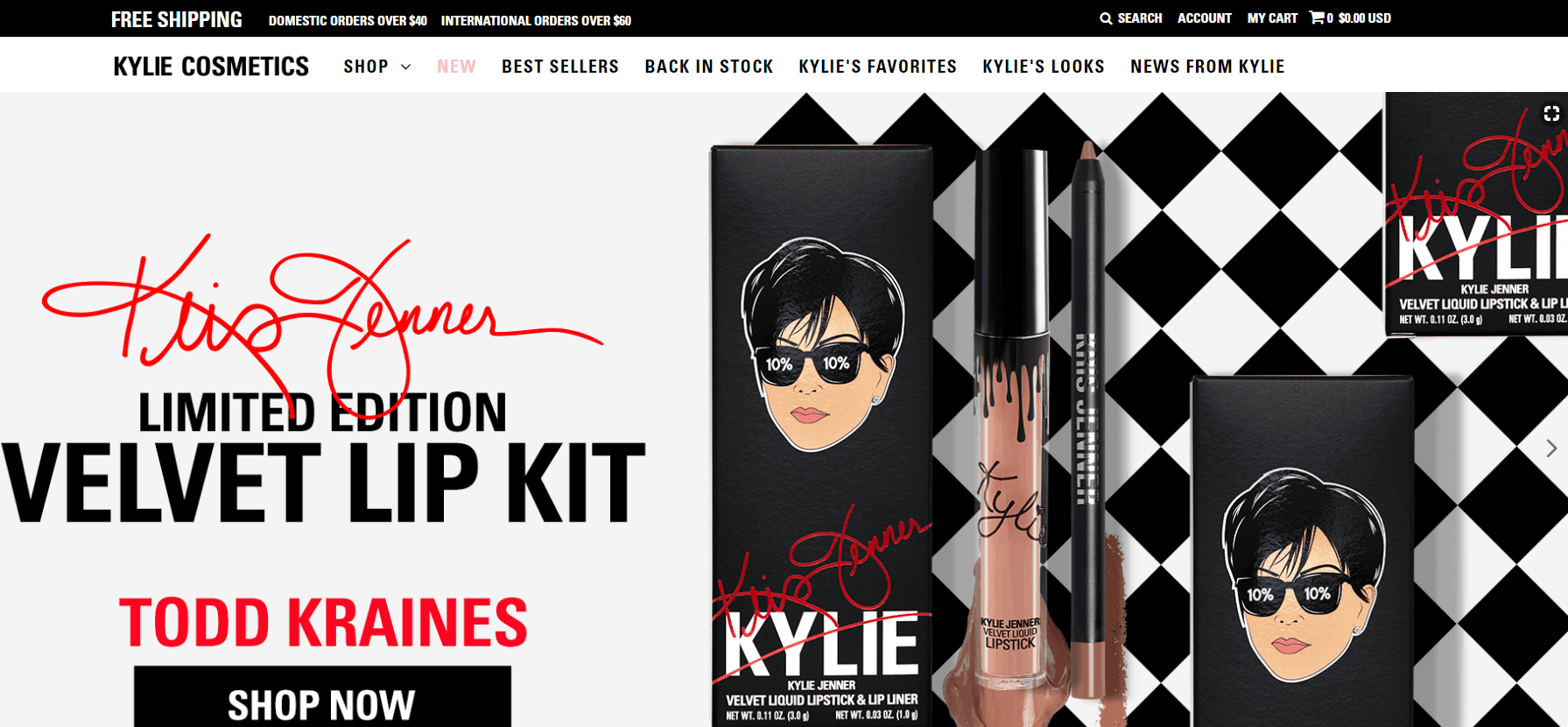 Kylie Cosmetics is one of Shopify Plus' most successful brand launches
Kylie Cosmetics by reality star and fashion icon Kylie Jenner is one of the most popular luxury beauty brands at the moment. Run on Shopify Plus, the brand launch was one of the biggest ones on the platform. Using Shopify Plus has proved more than lucrative for Kylie Cosmetics as the brand made sales worth $420 million in the first 18 months of launching and $10 million on Kylie Jenner birthday! With such high volume of sales and heavy traffic at all times, Shopify has proved to be the frontrunner in ecommerce platforms to help celebrity brands build and customize their online stores and deliver products on time. From Kylie's favorite products and cover shoots to beauty tips shared by the celebrity, the online store has it all.